It may be far from where you live, but Ecuador has a friendly culture that will make you and your guests feel right at home.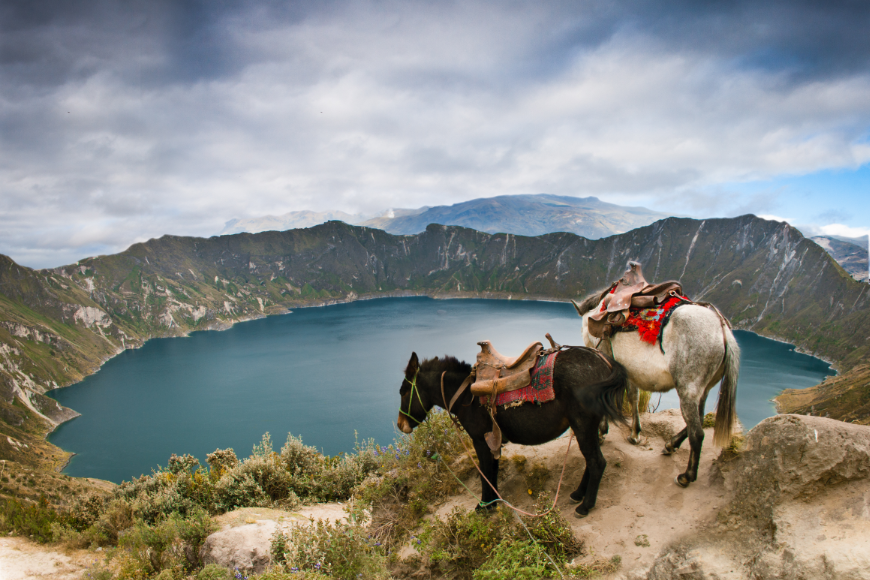 Make your destination wedding in Ecuador memorable when you take your wedding party on exciting outdoor excursions such as a visit to Quilotoa Lake.
Weddings are big productions in Ecuador, and you'll be surrounded by people with experience who are making sure everything goes smoothly. It's also home to several stunning, once-in-a-lifetime destinations, so you can quickly get from the alter to your dream honeymoon.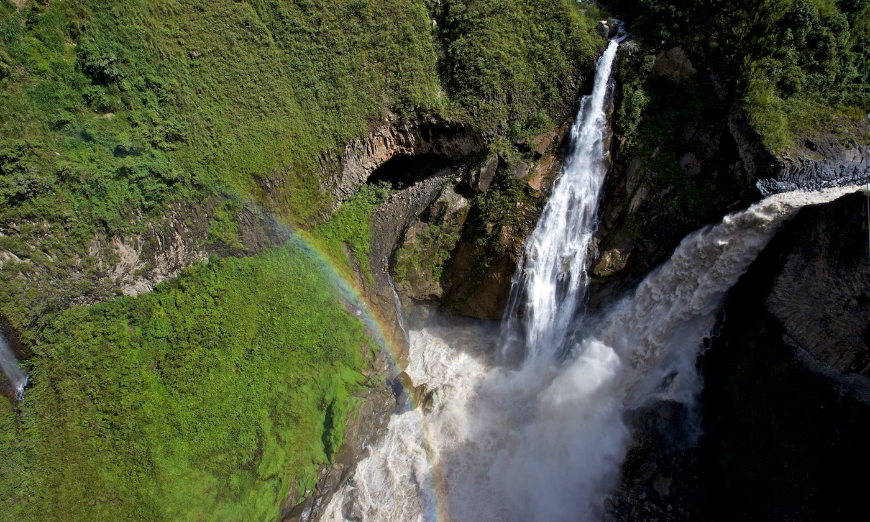 Surround yourself with the beauty of Ecuador. Hold your wedding in the city, then spend your honeymoon exploring sites such as the Baños-Puyo Waterfall Route.
Just a heads up — religious ceremonies in Ecuador aren't legally binding. If you want to be legally married in Ecuador, keep in mind that you must be in Ecuador for 75 consecutive days before the marriage takes place.
1. Budget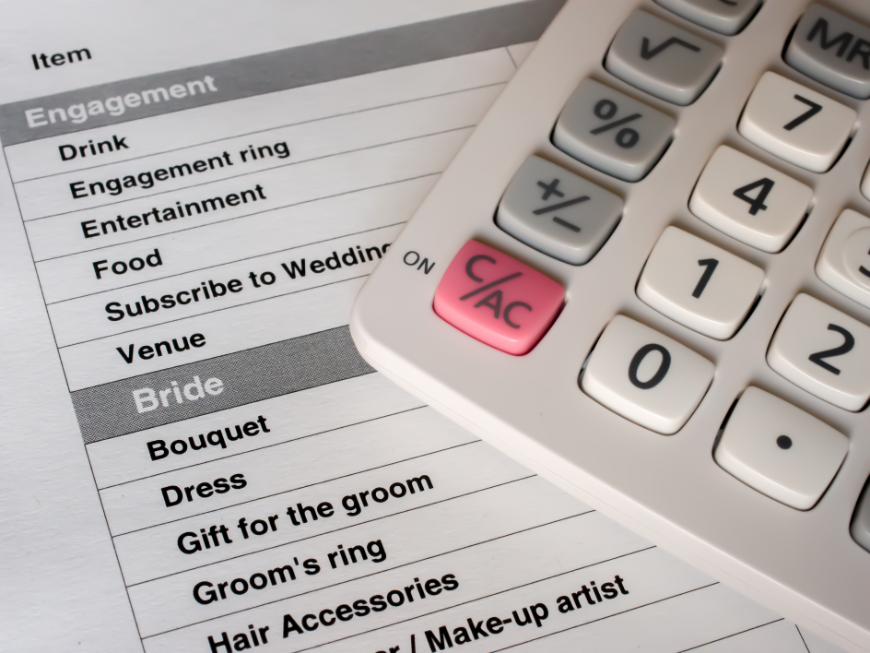 Budget friendly destination weddings are real. Make your dream wedding come true when you have your destination wedding in Ecuador.
Destination weddings can come with a hefty price tag, but Ecuador's prices for accommodation and food can be relatively inexpensive compared to what you'll find back home. You'll be surprised at just how far you can stretch your budget, and how many destinations have priceless views. It's easy to tempt your family and friends into making the trip if you can provide them with photo evidence that Ecuador should already be on their bucket list.
2. Sweet Traditions and Local Desserts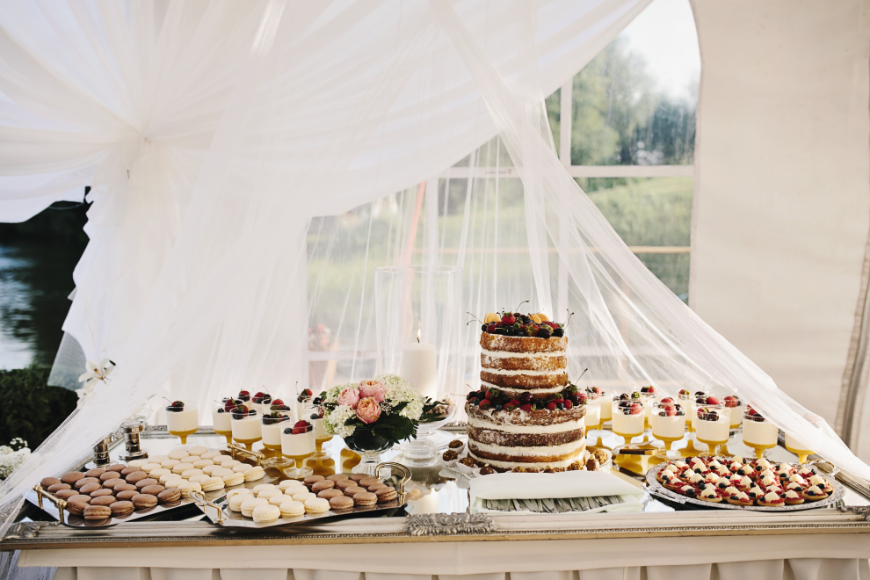 A dessert table is a wedding tradition everyone can get on board with.
In Ecuador, they know that weddings are all about the dessert. It's tradition in Ecuadorian weddings to have a table devoted just to sweets — called the mesa de dulces — in addition to an elaborate wedding cake. Consider including a few Ecuadorian favorites, like miniature dulce de leche and tres leches confections.
3. Entertainment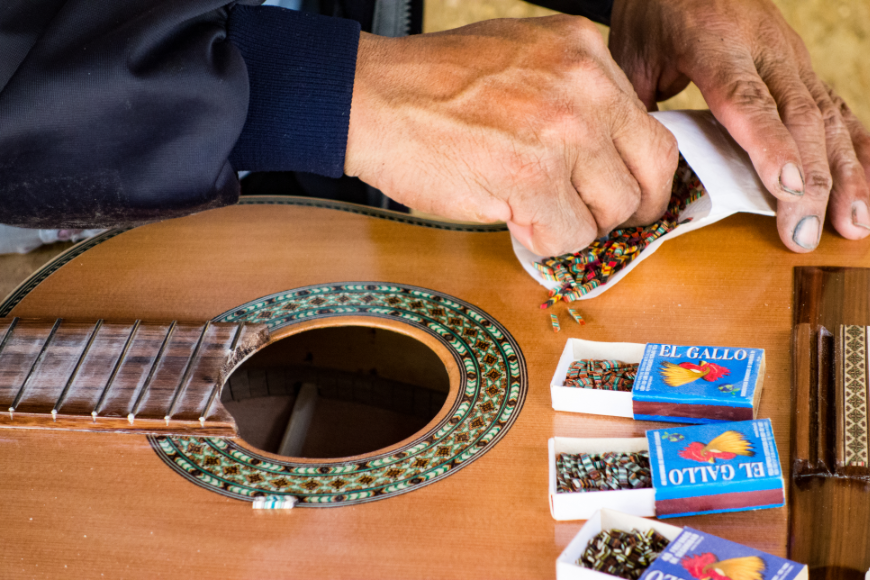 Odds are good that if you have live music at your wedding, someone will be playing a San Bartolomé handmade guitar.
Book entertainment that will make your reception stand out from what you've come to expect back home. You might have a mariachi band serenade the dining room or have a salsa performance kick off the reception. These musical styles aren't exclusive to Ecuador, but they're popular among Ecuadorians and allow you to incorporate some local flair into your celebrations.
4. Gorgeous Cathedral weddings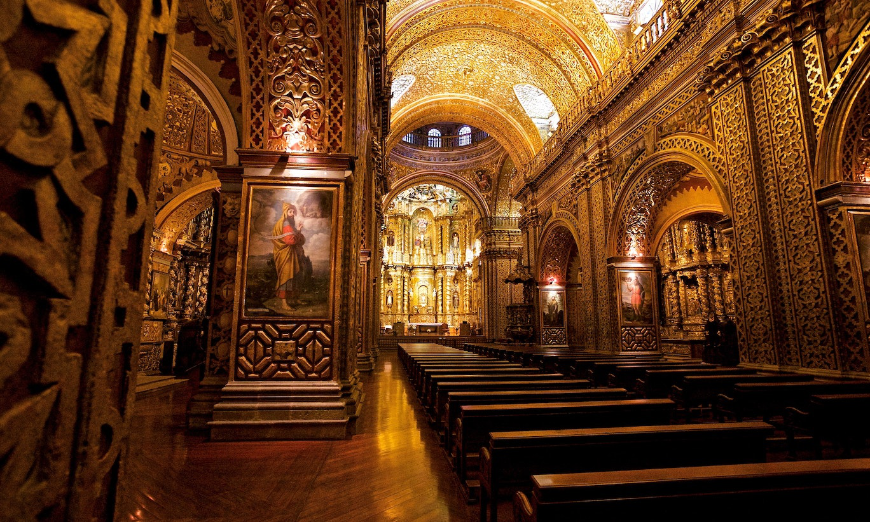 Looking to add a special touch to your wedding. Get married in the golden interior of La Compañía de Jesús cathedral.
If you're looking to have a Catholic ceremony, you'll have a wealth of beautiful options. For example, you could have your wedding at Quito's historic La Compañía de Jesús cathedral, which you must book at least a year in advance. Couples get married here so they can have the opulent gold interior as the setting for their ceremony.
5. Honeymoon Hotspots
Here are just a few of the top places to take a honeymoon in Ecuador. All of these destinations offer upscale accommodations in an incredible setting.
Galápagos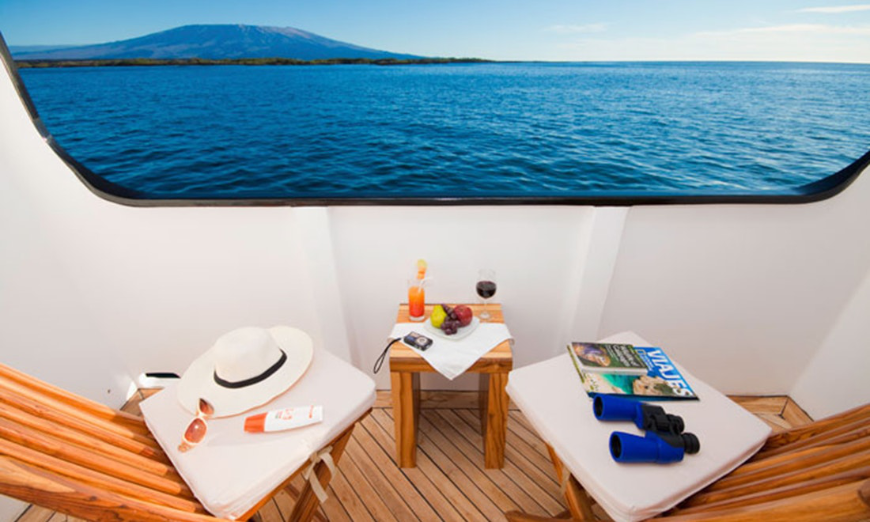 An adventurous honeymoon can still be luxurious when you take a cruise of the world famous Galápagos Islands.
Take a romantic cruise around the Galápagos Islands, and pick from itineraries that bring you to some of the best spots for bird watching and snorkeling around the archipelago, including stops where you can see endemic species like the blue-footed boobies and Galápagos tortoises. Most visitors choose Santa Cruz island as their home base — you can stay in the lap of luxury when you book a suite at the Red Mangrove Inn in Santa Cruz. This is a more expensive option, but many travelers consider it well worth the price to see animals that you can't find anywhere else in the world.
Mindo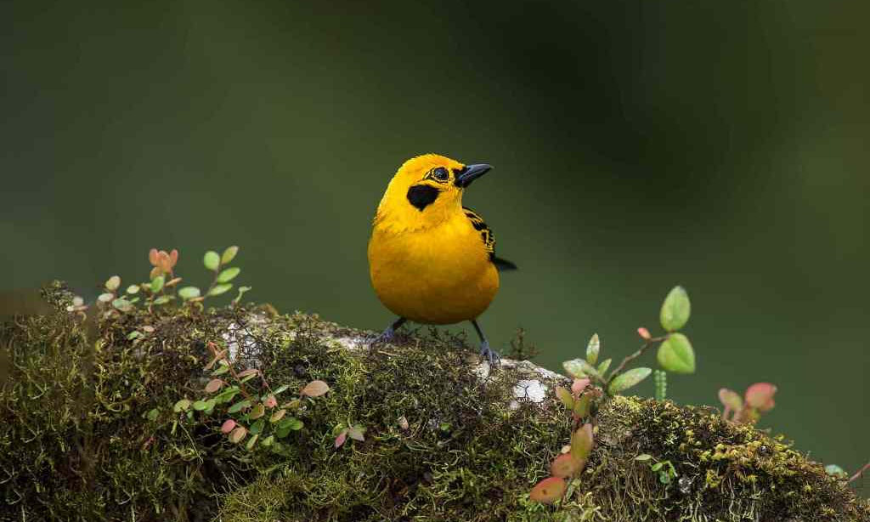 Mindo, Ecuador's Mashpi Lodge offers seclusion, sophistication, and beautiful birds such as this Golden Tanager.
If your idea of romance includes outdoorsy adventure, Mindo is a strong contender. Spend a few afternoons hiking in the Mindo-Nambillo Cloud Forest Reserve. Stop to admire the Nambillo Waterfall and the exquisite colors on display in the local butterfly garden. This is also one of the best spots in Ecuador for zip lining, with a lush canopy and a huge variety of birds to see.
Remote resorts like Mindo Coffee Lodge and Spa allow you stay tucked away. They cater to honeymooners with packages that include massages and special spa treatments. Mashpi Lodge is another 3-star hotel in the area with spacious rooms that offer stunning views of the forest.
Napo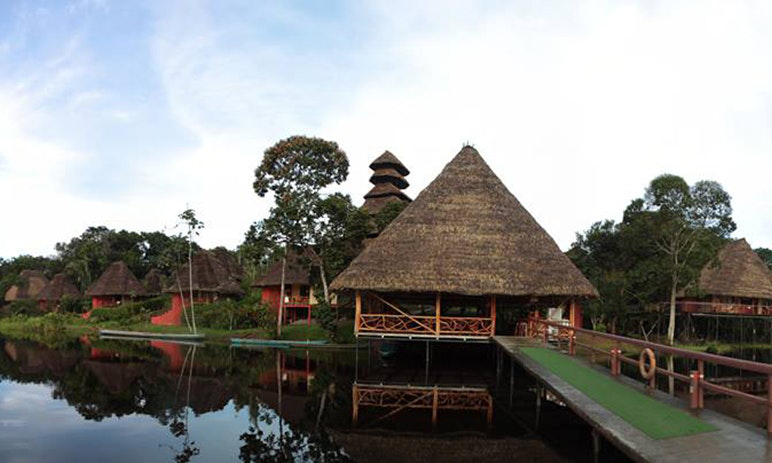 Starting your new life together at the Napo Wildlife Center Lodge will be an extraordinary way to go from destination wedding in Ecuador to destination honeymoon in Ecuador.
You can find luxury even in the most remote corners of Ecuador. There's a luxury resort called Napo Wildlife Center Lodge in the Yasuní National Park. Start your honeymoon with a boating trip — you'll arrive in a canoe, which is the only way to reach this riverbank lodge. This type of honeymoon allows you to share something truly extraordinary during your first trip as a married couple.
Fall in Love with Ecuador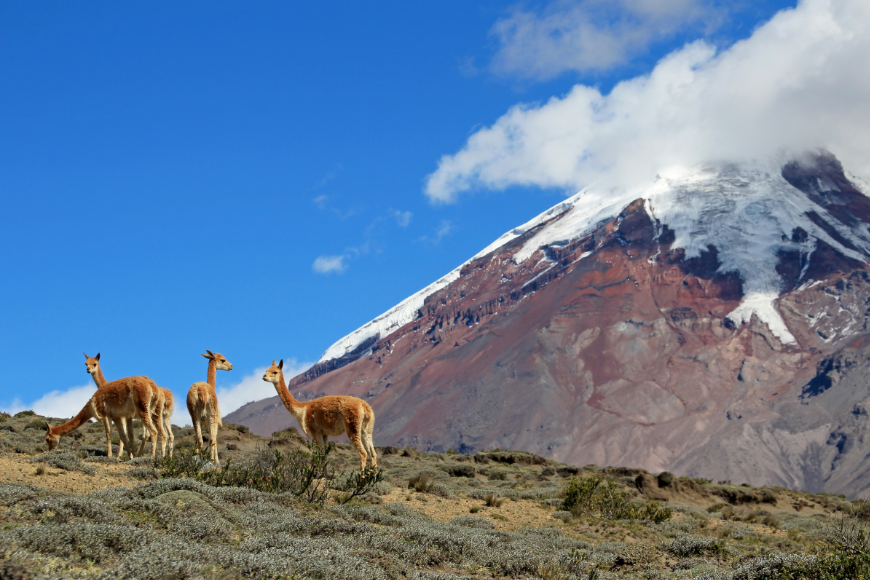 Make even more friends when you trek through the Chimborazo Ecological Reserve
and come across grazing vicuñas.
Discover a love for travel while you celebrate your love for each other. Having travel experts along for the ride means that you can make last-minute changes quickly and easily — focus on each other instead of worrying over the details of your itinerary. You have enough on your plate as you plan for the wedding, so plan a honeymoon that can guarantee true relaxation.