Three generations of the Serkin family women explore Costa Rica on their own terms—learning, laughing, loving, and living 'pura vida' along the way.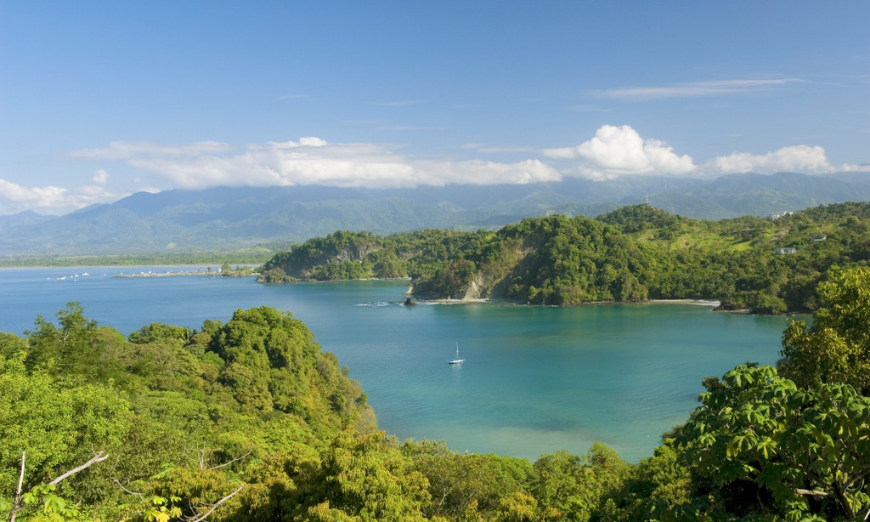 What tops breakfast in bed? This view of Manuel Antonio, Costa Rica—for starters.
A Guest Post By: Dee Serkin
*In honour of Mother's Day 2018, we're publishing this month's client story a week early. It may be too late to plan a Costa Rica Mother's Day getaway this year, but you can still get inspiration for planning Mum's best gift ever next year. Show her how much you care by treating her to a Costa Rica Mother's Day adventure in 2019 and beyond...*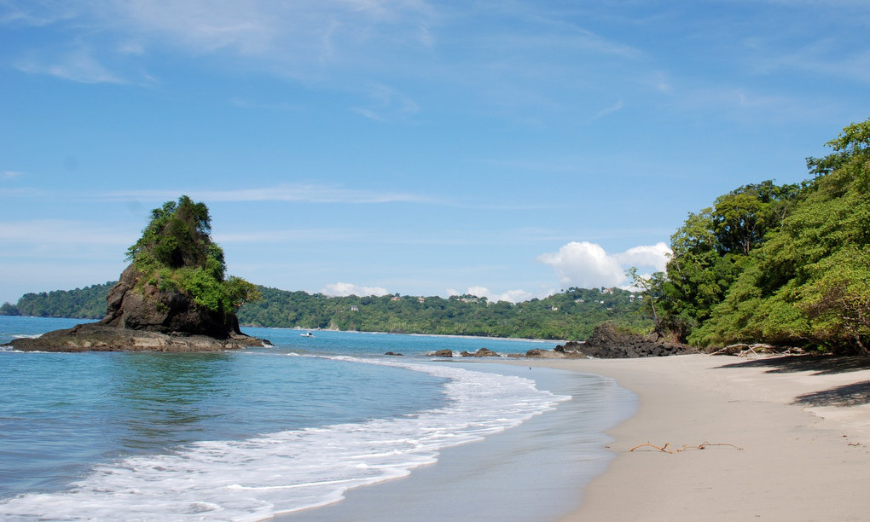 One of Manuel Antonio National Park's beautiful beaches.
Every year, my daughter, granddaughter, and I do a spring break trip. Three women, three generations. Last year as we sat in a café in New York City with snow and ice everywhere, we discussed where and what we were looking for on our 2018 destination. Grace, my granddaughter, came up with Costa Rica. My response was "Let it be said, Let it be done!"
I am well-traveled, but had never been to Costa Rica, and had only heard good things about this Central American country. Upon my return from the Big Apple, I set about doing some research for our next trip and stumbled onto Anywhere.com. "Free Trip Planning" the ad said.
Me, being the skeptic that I am, thought, "Well, let's just see how free, free really is."
As I navigated their very user-friendly site, adding in the excursions, hotel, and driver pick up/drop off at the airport, I found that free really was free. I promptly received a quote by email, spoke to the girls, and a trip was born! Now, all we had to do was wait for a year to pass.
What if your 'Costa Rica Mother's Day' getaway is a Mother's Day vacation in a different country? Don't worry, you can still pack Mum's bag as a surprise if you read Anywhere's "Getting Started Guide: What To Pack for A Trip To The Tropics."
A Pura Vida Adventure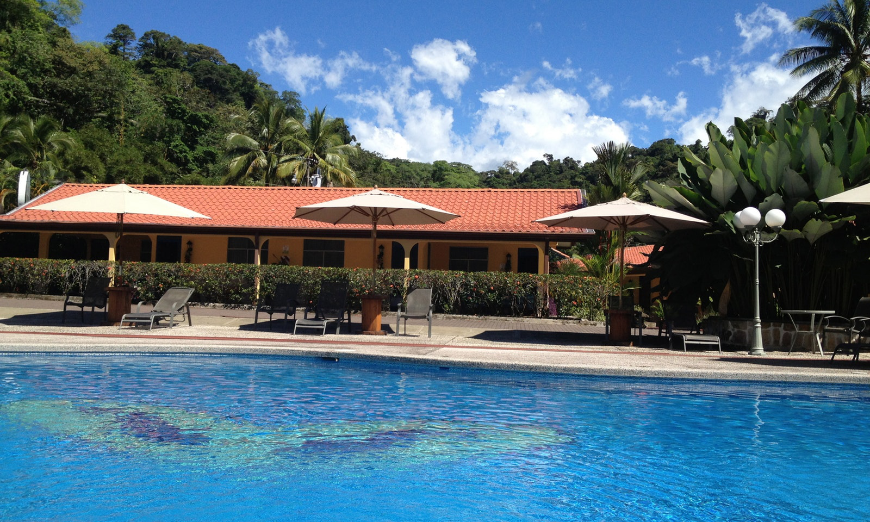 The lovely accommodations at Cabinas Espadilla will ensure that Mum comfortably enjoy's sleeping in.
We arrived in Costa Rica on a Sunday afternoon, retrieved our luggage, made our way through immigration, and found our driver immediately. We had about a 2 ½ hour drive that turned out to be amazing. Such a beautiful country! Our driver was wonderful as well; answering our questions, giving us information about Costa Rica—including restaurant recommendations.
Arriving at our hotel, Cabinas Espadilla, we were warmly welcomed by Yafet, the desk clerk. Anywhere.com had done a fabulous job so far and we were thrilled! As we picked his brain for information, Yafet showed us to our cabin, which had all the comforts of home, including a small kitchen. We spoke with him about adding a snorkel and repelling excursion [to our itinerary] and he was all too happy to take care of the booking. WOW! After getting settled, we made our way down the hill into Manuel Antonio, about ¼ mile. We found a beachfront restaurant, had some dinner, made our way back, and promptly hit the beds—excited for the next day. What a relief it was to be out of the Midwest winter and into warm, balmy temperatures!
Day 1 - Soaring through the trees and soaking up the sun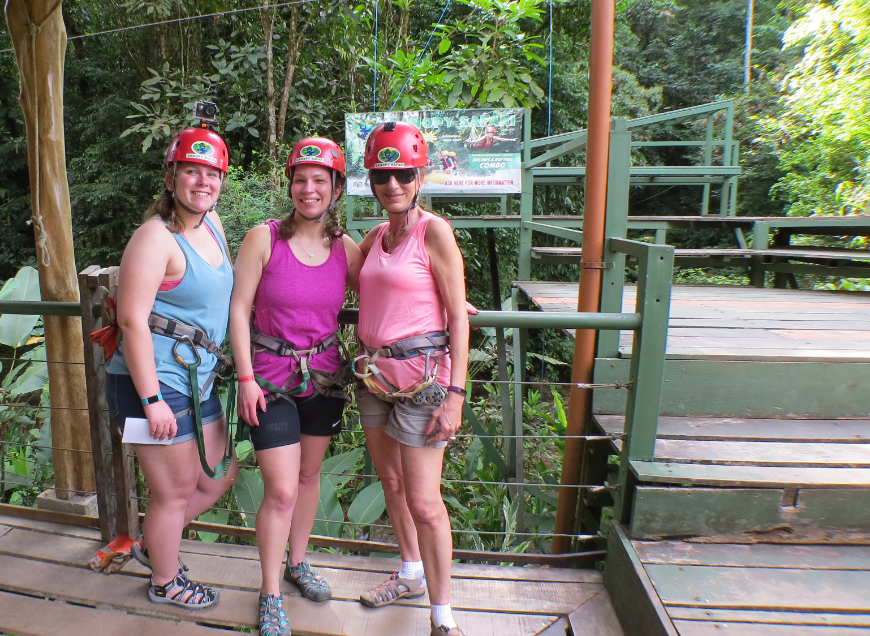 Three generations of Serkin women lived Pura Vida in Costa Rica. How will you celebrate your family's matriarch?
Waking to the sound of Howler Monkeys, breakfast was included at the hotel but our pick up by Canopy Safari was too early to indulge. However, included in the excursion was breakfast, which was wonderful to anticipate. After an hour or so drive to the site of the zip line (our first activity), we were served a delicious breakfast of the freshest, juiciest fruit we have ever eaten, scrambled eggs, rice and beans, Costa Rican coffee, and fresh juice. We were in heaven!
The zip lining was awesome; we soared through the canopy about 300 feet (91 m) up. All three of us had prior zip line experience, but this was a particularly impressive excursion. Alex and Luis (our guides) provided us with all we needed for safety, and [gave us] an excellent experience. We were off to a spectacular vacation! After getting back to the hotel, we decided it was beach time. We had seen big waves and surfers as we passed by, and were excited to get there. Normally, in tourist areas, the vendors hound you to death trying to sell their wares, but not the case here. So refreshing!
Day 2 - Riding the day away; walking off into the sunset
Two of the Serkin women prepare to ride off into the sunlight.
Horseback riding was on the agenda for the next day. After a hearty breakfast at the hotel, we were picked up by Maurisio of Mulguri Horseback Tour Adventure. Another long drive to reach our beautiful mountain destination. Looking out at the mountains and gorgeous valley, we feasted on a treat of fresh pineapple and watermelon as Maurisio went over what we should expect from the ride, and instructions on how to handle the horses. After riding these well-trained animals, we knew lunch was included, but we were in for a real treat. A family opened their home to us and had prepared a fabulous chicken stew, mango salsa, a salad, and starfruit juice, followed by Costa Rican coffee with a fantastic cinnamon syrup—a Costa Rican treat. We were allowed to wander their property, which was laced with fruit trees (which we were given samples of), chickens, and pigs. Another great day!
Arriving back at the hotel, fully immersed in the Costa Rican culture, we weren't quite ready to end the day. We had been told about a wonderful restaurant that had fabulous sunset views and off we went! Not really hungry, we were anxious to see what all the hype was about regarding the sunsets in this gorgeous area and, of course, we weren't let down. We had the awesome privilege of witnessing a gorgeous, and very colorful, sun setting. We saw a sloth in the trees, watched the lights come on in the hillside homes, and listened to the cicadas serenading us. After, we walked the 2.2 km (1.4 mi) back to the hotel, never feeling unsafe. [Upon our return], again, we hit the beds. Could the next day be any better?
Day 3 - The rainforest and the sea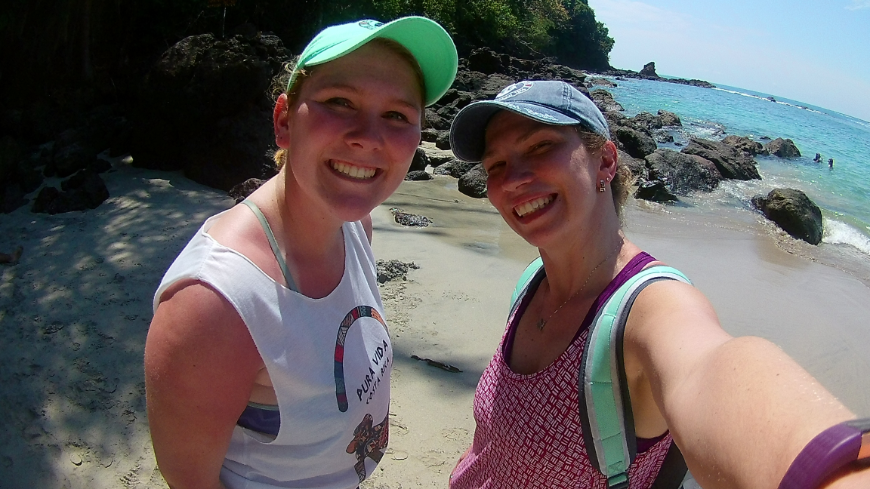 Author Dee Serkin's daughter and granddaughter smile at Manuel Antonio National Park.
Our hotel was situated about 1500 meters (4,921 ft.) from Manuel Antonio National Park—the 2nd largest but most visited park in Costa Rica. Our excursion included hotel pick up and as usual our driver from Jade Tours was right on schedule. The trip included a well-trained naturalist who had a keen eye for finding and pointing out the wildlife in the park. Trekking through the park, we marveled at the natural beauty around us, and wound up on a beach where we found hoards of monkeys and raccoons waiting to entertain us with their antics.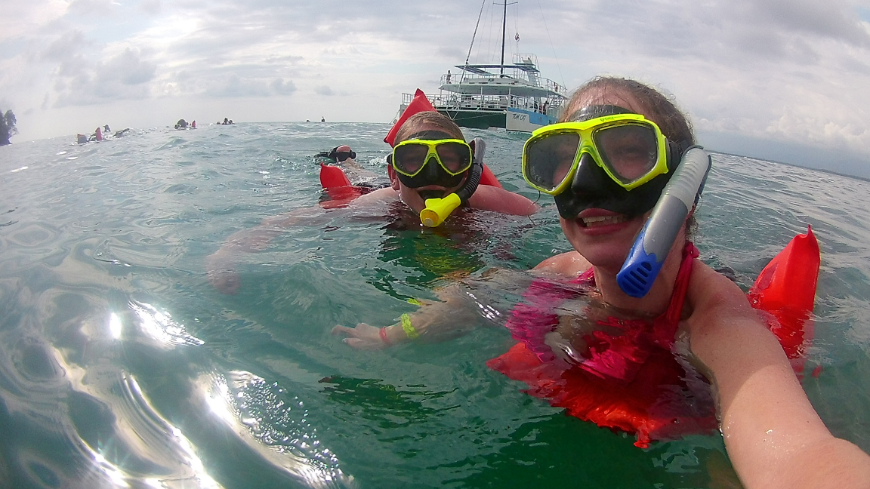 Author Dee Serkin's daughter and granddaughter snorkel during a sunset cruise.
After our rainforest tour, we hurried back to the hotel to prepare for our snorkeling and sunset boat tour. My granddaughter and daughter snorkeled as I enjoyed the quiet boat, and took joy in snapping photos of them. Having a GoPro camera, they got some amazing underwater shots of the marine life. After getting back on the boat, the three of us had a blast sliding down the slides into the Pacific Ocean, and then were treated to another amazing meal.
Day 4 - A wet and rugged excursion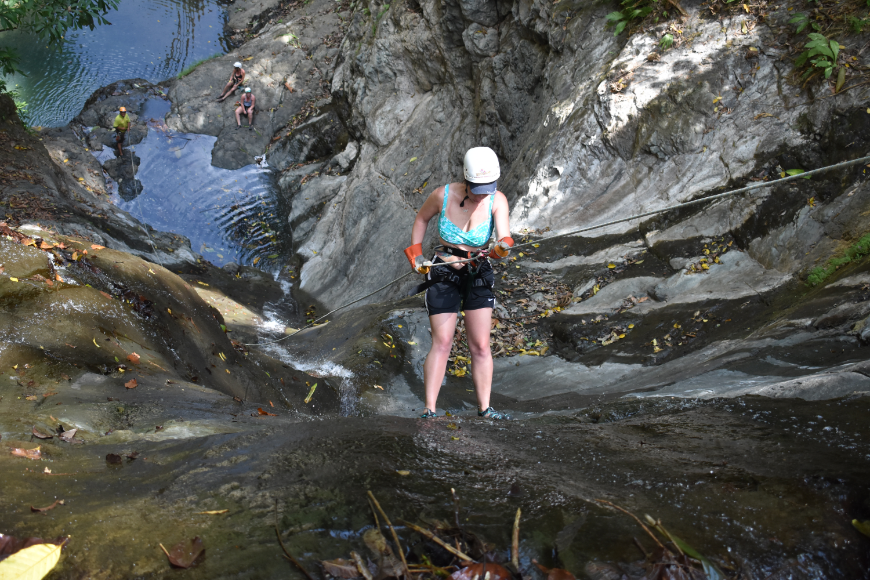 It seems like an adventurous spirit doesn't skip a single generation of the Serkin women.
Day four found us challenging ourselves, and each other, as we went on a waterfall rappelling adventure. With only six internationally certified guides in Costa Rica, we were blessed with Baron and Luis as our guides. The final rappell was down a 165ft (50 m) waterfall. How proud we were to have accomplished that feat and return with only one small bruise. This was exciting beyond belief! What a way to spend our last day in Costa Rica! At dinner that evening (another beachfront restaurant), we witnessed a sloth meandering its way across power lines, and we were served the best tres leches cake ever!
Speaking of desserts, is Mum a chocolate aficionado? Then add a decadent excursion to her Costa Rica Mother's Day trip and treat her to a chocolate tour.
Living and Learning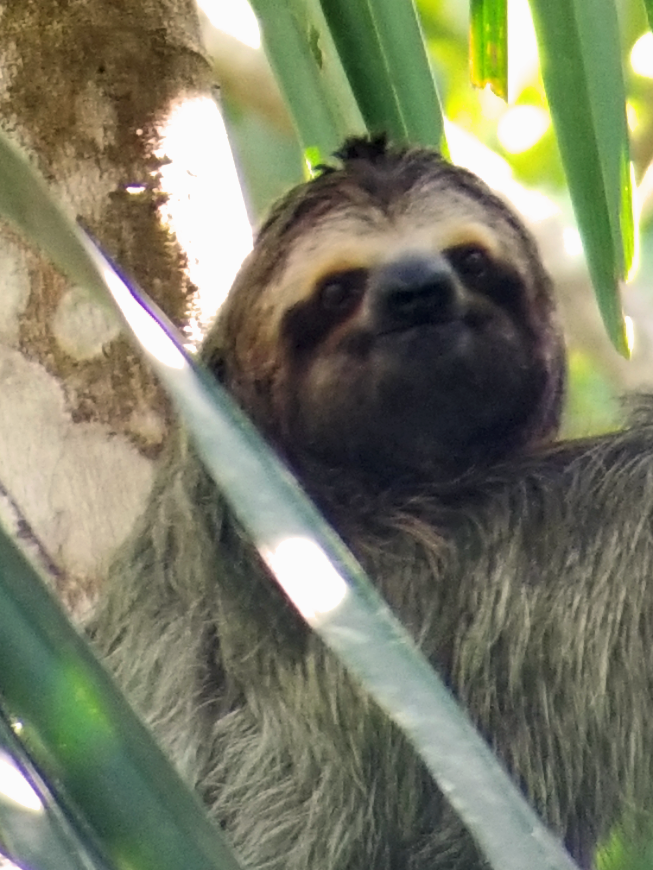 Placing an importance on nature is one of the things that makes not only Puntarenas, but Costa Rica in its entirety so special.
As we adventured our way through the Puntarenas region of Costa Rica, we picked up amazing information from the people we met, our guides, and drivers. I'd like to share that information with you along with some of our personal observations:
It's hard to miss the richness of the culture with these environmentally appreciative and conscious people, who are all friendly, warm, and welcoming. Proud of their country, the Costa Ricans most often put community before self, and live simply and pure. Pura Vida! The five nights that we were there, we saw only one police officer and never saw a need for police nor did we ever feel unsafe.
We noticed that many of the more rural roads were tree-lined and asked about this. It was explained that a certain width of trees is required to give a safe pathway for the migration of wildlife. We were also very surprised by the absence of nasty pests like mosquitos, flies, and gnats. Toucans fly free, three indigenous species of monkeys own the trees with their playful antics, and raccoons scavenge without mercy. Although there are three varieties of macaw parrots—red, yellow, and blue—, the only indigenous birds are red.
Muchas Gracias, Anywhere!
The sun never sets on the amazing memories you make when you travel with those you love.
Three American Midwest girls returned from Costa Rica with a new lease on life, knowing that we had challenged ourselves and had the time of our lives. We are inspired, grateful, and have lived Pura Vida!
Anywhere.com did an amazing job selecting our hotel, the tour companies and the driver. Everything was as promised with no glitches and the three of us owe a huge "Thank You" to Harold, our Anywhere Travel Agent. We couldn't be more grateful to him and the company for [providing us with] an amazing spring break!
Dee Serkin is a travel writer at travelover50.info, where she specializes in destinations, culture, travel tips and advice. She is dedicated to inspiring travel in all and loves to share her adventures with others. Contact her at travelover50.info@gmail.com