This Anywhere Client Story lets us share the journey of the Pianta family as they take a long-awaited Costa Rican family adventure. It's time to tag along with: The Piantas in paradise...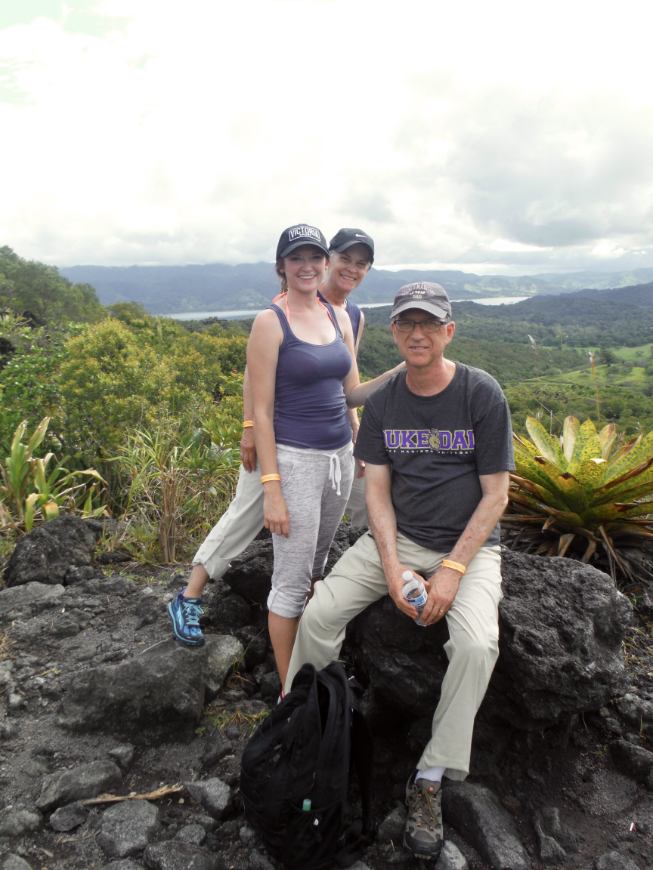 The Pianta family smiles whilst Costa Rica's beauty serves as a background.
A Guest Post By: Tom Pianta
My plan for traveling has always been to explore and to relax. I want my family to experience new cultures and new places, while also having time to just chill. To that end, we usually take two vacations a year; one local beach-type trip, and one new and exciting adventure to a place we have never been. We had thought about visiting Costa Rica for some years, and once we decided to go, the search and plan was made very easy by Anywhere.
I usually spend two or three months searching for vacation destinations, as well as accommodations and activities. As I searched for locales in Costa Rica, I became connected to Harold Montero from Anywhere. In Harold, I felt like I had a friend who could assist me in making my decisions, and design the best trip possible. Harold was always responsive and really listened to what I was looking for. We spoke and/or emailed multiple times while designing the perfect vacation.
Ultimately, we decided to visit a volcano and go to the southern, more wild part of Costa Rica instead of the beach lounging northwest portion. We could do the beach lounging some other time. Once Harold knew what I wanted, our plans were easily set—and all within the budget I was aiming for.
A warm welcome
Costs Rica is a very welcoming place!
From the moment we stepped out of the airport in Costs Rica, people were helpful and friendly. People standing by at the airport were all helping us find out guide! Our private van to the first location at the Arenal Volcano area cut a curvy and long ride into the center of the country. Finally, (it was a really long drive), we arrived at Arenal Springs Resort. This resort is a lovely location facing directly at the volcano, with hot springs and a pool bar to boot!
Again, Anywhere had provided us the ability to forget about planning as all the events and transportation were setup long before our arrival. After longing in the pool, we had a decadent dinner in the open air dining room.
A Costa Rican family adventure begins
The Pianta's Costa Rican family adventure took them to a waterfall in La Fortuna—where will your adventure take you?
The next day we started our activities. Our guides had water to drink at the ready, and were extremely knowledgeable about all of the flora and fauna of the country. It was also nice to do the activities in small groups, so we could easily get to know our companions. For our first activity, our new friends were from Australia!
Our first stop was at La Fortuna Falls. We had to hike almost 600 steps down to the base of the falls. I can't begin to describe the sounds this majestic site made, as it was very loud! My daughter and I went into the water at the base of the falls—we never miss a new experience!
From there, it was back up those 600 steps to a local restaurant for lunch. The food was magnificent, and the meal was intimate as we enjoyed conversation with our new Australian friends.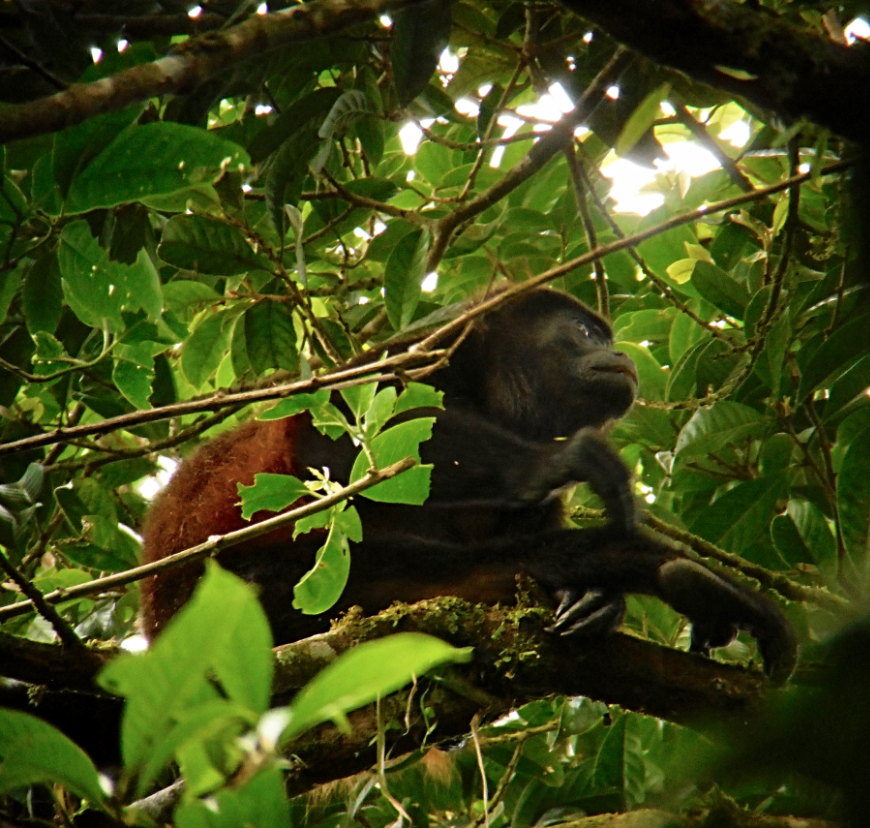 Even the animals of Costa Rica want to welcome you! Maybe that's why howler monkeys make so much noise.
Our guide then took us to a hike up the volcano—as high and as close as we could get, since the volcano is still active. What a view!!!! Our group took a rest at the top. Along the way, we saw lots of interesting natural sites, like leaf-cutter ants and a sloth.
Next, on to the rainforest. The coolest thing in the rainforest was the sounds and sights of the howler monkeys high in the rainforest canopy, Out guide was an expert at finding and viewing these animals.
After a busy day, we relaxed in the pool and enjoyed drinks poolside (actually a hot spring, not a typical pool) from our bartender Rudy, who was a highlight of the trip. Again, everyone we met in Costa Rica seemed to embody the spirit of the theme "Pura Vida".
Great times and new friends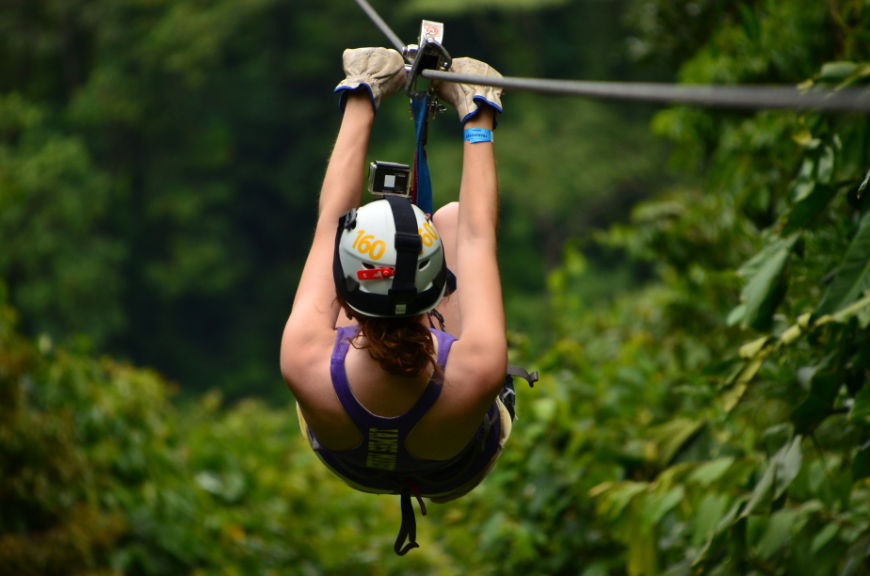 Alexa Pianta zip lines across a Costa Rican forest canopy.
The next day, we took off on what everyone talks about in Costa Rica—zip lining. Our trip was even more exciting, as the zip lining took place right next to the active Arenal volcano. My wife and daughter were all in, but I, unfortunately, decided my discomfort with heights made this something I was going to sit out. But no big deal. They enjoyed it!
After a brief personal plane flight (we were the only ones on the plane!) from Nature Air, the only airline in the world that can boast it is carbon-neutral, we landed on a remote strip in the southern part of Costa Rica for the second half of our adventure in Drake Bay.
You never know what will happen next though as our van driver drove through rivers and jungles, finally coming to stop at a beach, and telling us to get out of the van. We didn't know what to expect when a group of men took our bags and got us into a boat—our resort could only be reached by boat! The boat landing kind of reminded me of Fantasy Island, but it was actually MUCH cooler than that.
Our host at Aguila De Osa, greeted us warmly and explained how thing worked at the resort. Adventures during the day, drinks, hors d'oeuvres, and conversation, followed by dinner each evening. The resort only has 14 rooms, so there were only a few people there and this allowed us to get to know people from all over.
We enjoyed meeting a couple from Boston, Fred and Wendy, who went on an excursion with us. The food at Aguila de Osa was FABULOUS!
The employees of the resort and the guides clearly loved their country and Aguila de Osa, and their knowledge of the natural world in Costa Rica was amazing.
Our first activity was a trip to Cano Island to snorkel. A long boat ride, but the ruggedness of the ride was really exhilarating. The snorkeling was cool, as we saw sharks, coral and local fish. After we were done, we went to another island for a picnic provided by Aguila de Osa.
Face to face with a dangerous beauty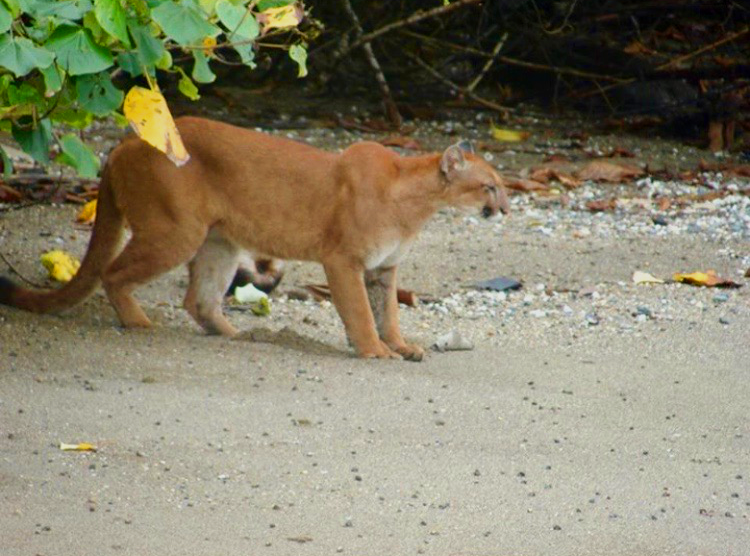 Puma's are incredibly beautiful...and best observed from a distance.
Our final excursion was one for the books. A hike through the rainforest led to an encounter not too many have, and I'm not sure too many want to. After coming out of the rainforest onto the beach, we saw hundreds if not thousands of hermit crabs scurrying along the beach to change shells. My daughter Alexa was fascinated, and stooped to take pictures. The rest of us, about 6 people and the guide, went further along the beach.
All of a sudden, Alexa was literally face to face with a puma...
Our guide acted like this was NOT a good situation, but for some reason, Alexa did EXACTLY what she was supposed to do, and the puma went back into the rainforest. For a little while, Alexa was a celebrity at Aguila de Osa. I didn't understand anything the guides were saying to each other, but the name "Alexa" kept coming up again and again! According to our guide, no one had even gotten that close to a puma before.
Even after the puma, we continued to hike in the rainforest and the camaraderie of the group was awesome.
Our trip was truly an adventure and it was made easy and comfortable by the staff of Anywhere, Arenal Springs Resort, and Agula de Osa. Pura Vida!!!!!!
To learn more about the Pianta family's exciting and active adventures, follow Tom online…
Facebook: facebook.com/tom.pianta.9