Arenal Volcano and La Fortuna
One of Costa Rica's most notable natural features is the Arenal Volcano. This impressive volcano resides within the 29,960-acre Arenal Volcano National Park. Although the volcano entered into a resting phase in 2010 – meaning that its eruptions have paused – it is still a stunning sight. Rising above the rainforest that surrounds its base, Arenal frames the skyline with near perfect symmetry. The immediate area hosts a wealth of activities – including whitewater rafting, waterfall rappelling, hiking and canopy tours – as well as the friendly town of La Fortuna.
Made up mostly of primary rainforest, The Arenal Volcano National Park encompasses four different life zones and harbors a tremendous amount of flora and fauna. In fact, nearly 75% of the total 850 species of birds that have been identified in Costa Rica can be found here, including the resplendent quetzal. Other creatures include two and three toed sloths, white-faced capuchin monkeys, coati, jaguar, deer, and snakes, including the infamous fer-de-lance, parrot snake, and boa constrictor. The plants are just as varied and include guayabo de monte, laurel, cirri, palms, orchids, heliconias, ferns, and bromeliads.
Arenal's smaller — and much older — sibling, the Chato Volcano (Volcán Chato), adjoins Arenal. This volcano, which resides at a height of 3,740 ft (1,140 m), has been inactive for some 3,500 years and has a crater that's filled with aqua-blue water. The park has several walking trails and is open from 8 AM to 6 PM. The entrance fee is $6.
The quiet town of La Fortuna is 4 miles (6.4 km) from the Arenal Volcano. It's 16 miles (26 km) from Ciudad Quesada and 75 miles (120 km) from San Jose. If you're driving from San José, it'll take around 3 hours to get here. The town itself is small, central and warm. Its location provides visitors with easy access to the Arenal area and its amenities make staying here pleasant. There are hotels both within and outside of the town, many of which stipple the countryside at the base of the volcano. La Fortuna hosts good places to eat and buy groceries, and has an assortment of banks, shops and bars. The activities within this area are endless. Horseback rides can be made through the nearby hills and whitewater rafting can be done on the Peñas Blancas, Toro and Balsa rivers. Each river is different in both intensity and scenery – participants can choose between leisurely safari floats or exciting Class IV rapids. A variety of other water sports can be enjoyed on Lake Arenal, including canoeing, fishing and kite surfing. Inland diversions include hiking and waterfall rappelling, as well as canopy and hanging bridge tours.
The La Fortuna Waterfall, a breathtaking 230 ft (70 m) cascade that drops into a misty pool, is just 3 miles (5 km) south of La Fortuna and makes for an easy day trip. A short hike (or horseback ride) drops visitors into the base of the pool, where they can swim, take photos and enjoy the scenery. The volcano's geothermal activity heats dozens of underground water flumes. Local landowners, tapping into this natural source, have created a number of beautiful hot springs. These springs are varied and indulgent (some have waterslides, wet bars and cold pools) and offer visitors a perfect way to end a day in Arenal Volcano.
Botanists, whether professional or amateur, should head to the Arenal Botanical Gardens, which are located a few miles outside of town. Here you'll find some 2,500 species of tropical plants. Many are rare, including several types of bromeliads, orchids, ferns, and roses. Butterflies and birds flit through the gardens, pausing to perch in a tree or rest on a flower. Although somewhat close to Arenal, the Venado Caves feel like an entirely different planet. Located just 1.9 miles (3 km) outside the town of Venado and a 45-minute drive from La Fortuna, the caves are a spelunking and adventure-seeker's dream. The 1.5-miles of caves feature stalagmites, stalactites, and subterranean streams. As you explore the caves, you may see bats hanging from the ceiling, sightless fish swimming in the streams, and colorless frogs clinging to the rocks. Nature buffs will enjoy a day trip to the Caño Negro National Wildlife Refuge, which is set near the border with Nicaragua. Exploring this vast network of wetlands and the huge Caño Negro Lake provides ample opportunities to spot birds and other tropical creatures. Yes, there is something for everyone here. The quaint town, beautiful surroundings and ample activities make Arenal one of the cornerstone destinations of Costa Rica's.
The area was completely safe. Everyone was extremely friendly. Tony our tour guide was extremely knowledgeable of the forest, and showed us things that no other tour guides were showing people
Overall it was a great place to visit. Beautiful, lush green forests.
We didn't know anything about La Fortuna or Arenal before arriving - and we are now huge fans. The area was absolutely beautiful, even with overcast skies and lots of clouds. We didn't see the volcano until day two due to fog, but we were lucky enough to see it in all its glory after that and it was absolutely beautiful. We were very happy to be here during the off season as it did not feel too crowded (only 9 people in our hotel!), but it seemed as if there was plenty to do for visitors. We enjoyed walking through the town of La Fortuna and stopping in to different places to eat. Everyone we met was very friendly and welcoming. The scenery was beautiful and hearing about the history of the volcano was fascinating.
Beautiful area. If I could suggest something is telling people to stay there longer. The city is still very unique and not transformed into a tourist center, the locals are incredibly nice, the nicest we met in the trip. The closest to nature you can be, while still feel like you are in civilization. And then, there are tons of activities around.. Would have definitely stayed longer
We are very impressed with your company. We made changes to our itinerary and your team accommodated us! You take customer service to a whole new level. It was truly PURA VIDA. We cannot say enough about Rain Forest Explorers. Edgar and his daughters represent Costa Rica and share their love and passion for ecotourism, sustainability, and Pura Vida in what they do!
Arenal was a great experience. It was quite a relaxing time at Arenal. Although the town was busy it did not feel crowded. The local people were very hospitable. My 8 yr old daughter had lot of fun enjoying the nature and sloths!! The fruits and food was fresh and very nice. We had some rain during the day, but not as heavy as we expected. A good rain jacket is always great..
We had a great time in Arenal. The locals were very accommodating and helpful. The Hanging Bridges, Waterfall hike, and Volcano hike were very informative and the landscape gorgeous!
Most beautiful place I've ever been to. I loved every bit of it and then some. All of the people were super nice and even the food was delicious. I would definitely come back here in the future.
- CHRISTOPHER M, AUG 2018
Fantastic area to se wildlife and birds. We visited during the wet season which lived up to its name! It also meant that it was not crowded
Arenal was amazing, it's such a beautiful place. The volcano is beautiful. We saw so many amazing creatures. I would recommend coming here for sure. We will be back to visit again.
Arenal was wonderful- we loved everything from the volcano to the hot springs to the rafting and rapelling. The food was good and the people were friendly.
People were very nice.
The trip was amazing, Tony is a great guide always looking for some extra spots to see (like sloths and toucans) The places were amazing and also the people, thanks a lot for the great trip! Totally recommended!!
Canyoning and white water rafting were the best! Both companies (Pure Trek and Wave expeditions) were amazing....very friendly, joked around, seemed to really want to make sure we had a good time and made the most of our adventure. Best experience our whole trip!
I highly reccomend Arena and Costa Rica in general. The people are humble, helpful, and pleasant. It was as if family that you love was taking care of you. Not even close to exaggerating here either. Please visit the area, you wont forget it. The Arenal Manoa is the place to stay also!
The area is beautiful. There was no need for a guide to the waterfall, but it was great to have a guide for the volcano tour. The guide, Michael, stopped twice along the way so we could view sloths, the only ones I have seen so far.
Our guide was excellent! Great tour!
Todo el tour fue excelente! El guia sabe muchas cosas de la naturaleza, de especies, la historia del volcan, de costa rica y cultura general. La gente del lugar siempre muy serviciales y amables. Quedamos enamoradas del lugar y de costa rica! Pura vida. Catalina Leal
Arenal/La Fortuna is a beautiful area, full of great restaurants and lots of activities. The views of the volcano were awesome too!
Arenal was a beautiful area. The 3 in 1 hike guieded tour was perfect if you have limited time in the area to see the volcano, rain forest with hanging bridges and the famous La Fartuna waterfall.
Loved our tour guide Michael and our transportation driver! Both were very knowledgeable and kept the humor flowing!
Our tour guide and transportation driver were wonderful! They provided some interesting history of the area!
I went to Arenal at the start of the rainy season, so the volcano was visible only one morning. And I, idiot that I am, did NOT take a photo. It was smoking and beautiful. I stayed at Los Lagos. The food there was excellent and their spa facilities were absolutely stunning. My first morning I had a horseback ride scheduled, but cancelled to take care of a pinched nerve that occurred during my flights. Anywhere.com rescheduled the ride for me. Don Tobias horseriding tour was incredible!!! We got very close to the volcano, but it was socked in by then. I highly recommend the horseback ride with them. I also went on the Chocolate and Coffee tour with Don Juan Coffee. It was really fun and not too long. You get to make your own chocolate bar!
Arenal was an amazing experience! We were treated as welcomed guests by all hospitality workers and the locals. The town itself was full of culture and delicious food. We felt safe everywhere we went. There were countless tours choose from. I will say, if you don't have the money to do a tour, it is difficult to do on your own. Be prepared to spend about $50 a day per person to get the best experience as possible out of Arenal. We loved it!
My trip to Costa Rica was simply the best. Everything from the people, sights and the food- it's just an incredible place! We did a a 4 in1 tour with Rainforest Tours. These guys are just so professional, knowledgeable and good! The tour was very informative, entertaining and safe. Edgar and Michael- thank you so much for showing us Arenal- you made our trip the best! In general, I would recommend Costa Rica to anyone and especially booking tours with these guys!
The volcano tour was worth it, and specifically liked the hot springs!
Breath taking beauty
Everyone around here was great. I felt very safe at night walking thr streets. The area was very cleanly and we were suprised by all the fauna. Our receptionist at the monte real hotel maribel was just lovely and very helpful.
Our tour guide was amazing. He was very informative and could always find the animals we couldnt see.
Amazing area of Costa Rica
Arenal was a great place to relax, enjoy adventures and not to mention great scenery!!
Our guide Enrique was very friendly amd informative, there were plenty of bathroom breaks
Great experience and enjoyed the river ride to Monteverde
Best place I've ever visited. Arenal is so wonderful! So much to do, wonderful people, and excellent views. Wish we could have spent more time here!
Best experience so far and Arenal Manoa staff did a great job of making our stay pleasurable
Our guide Carlos was great! Informative and very good with our six year old's questions and sociability. Rainforest tours in Arenal/Fortuna is highly recommended.
What a wonderful first place on a 2 week trip. Our room facing the volcano way exceeded expectations. Everyone at the lodge was really friendly and helpful and there are a nice range of walks, mostly easy, immediately on your doorstep. We managed to get some great sightings over our 4 days
Our stay at Arenal Kioro was memorable - the grounds were beautiful, our suite was huge, with a perfect view of the volcano - couldn't have asked for more!! Their gardens were very active with birds - saw a lot just sitting in our room!
Great experience,the people working there were excellent
Excellent local people, hot springs a must see and do!
Arenal Volcano and La Fortuna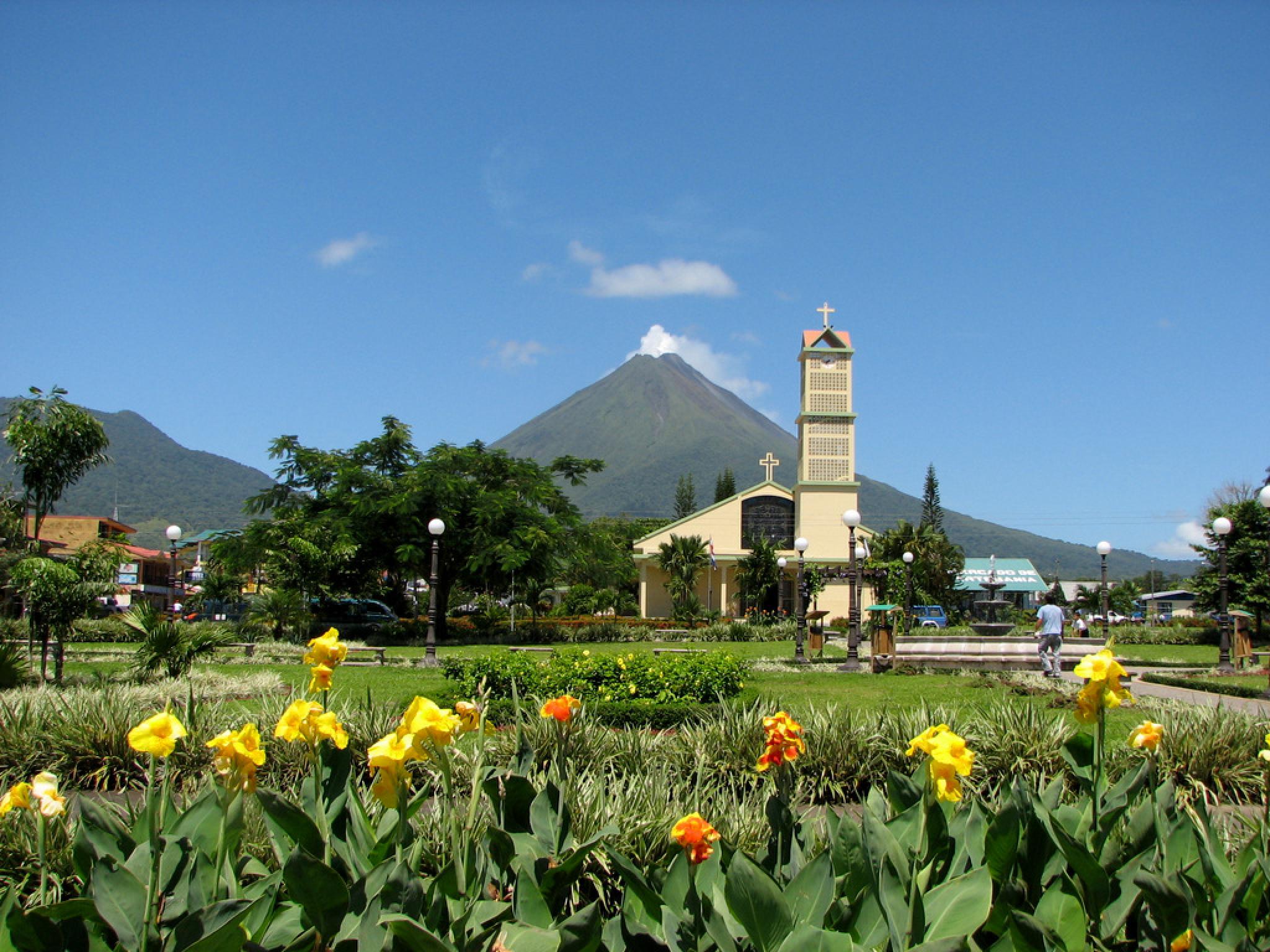 29555
Anywhere.com