Arenal Volcano and La Fortuna, Costa Rica
The charming and welcoming town of La Fortuna is a perfect getaway for families, couples, and friends. The only requisite is that you love outdoor adventure! So if you can't wait to spend your vacation in the fresh air, biking, kayaking, hiking, and more, then discover why the Arenal region is just what you need. Best of all, you can enjoy luxe accommodations that boast volcanic views, and pamper yourself with a luxurious soak in a hot spring. Nature is waiting for you, and she's easy to find when you book your Arenal adventure with Anywhere.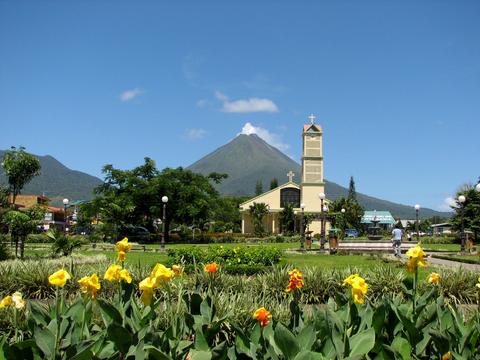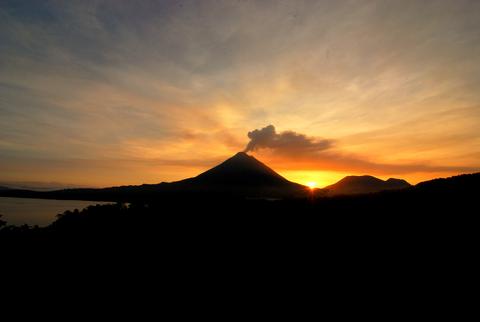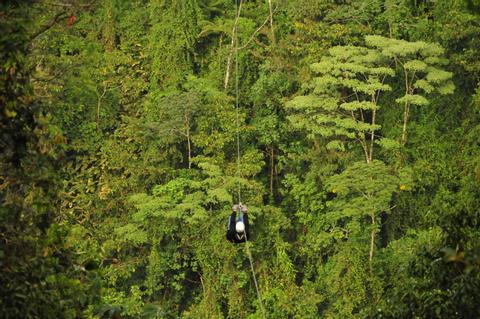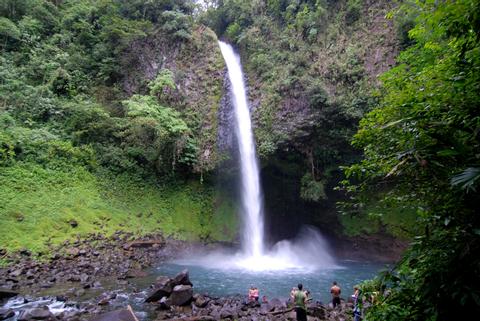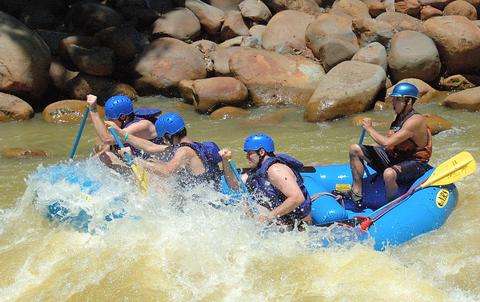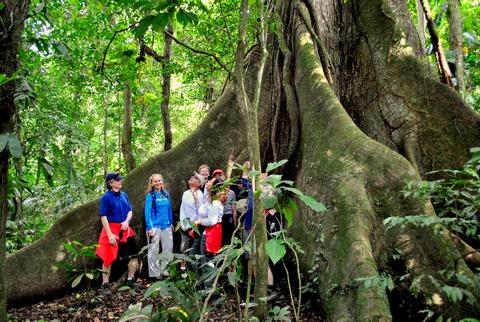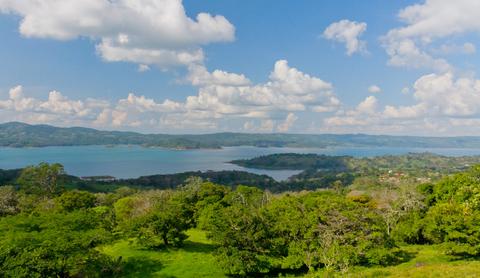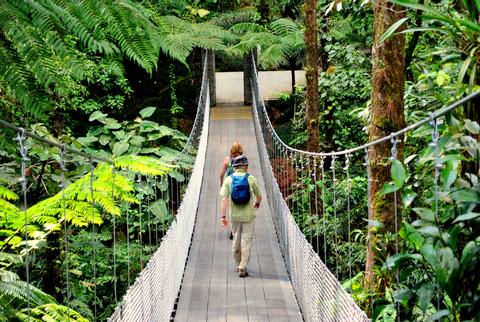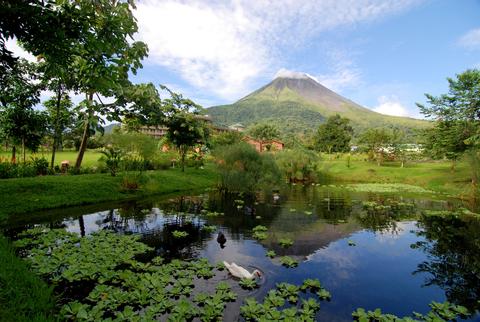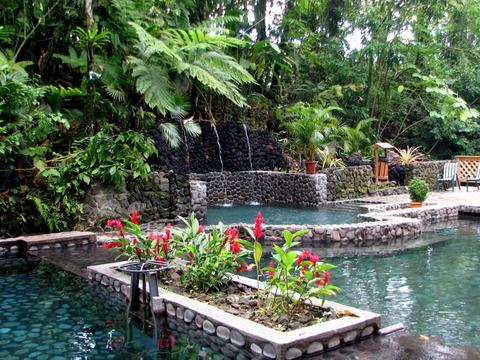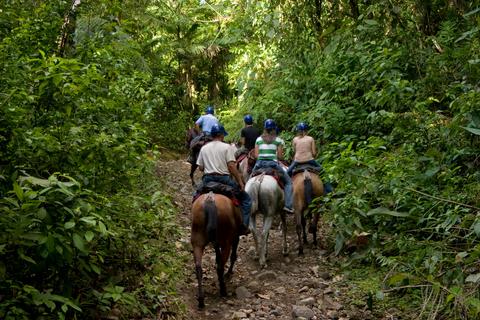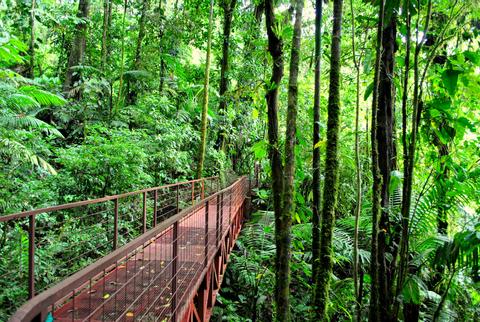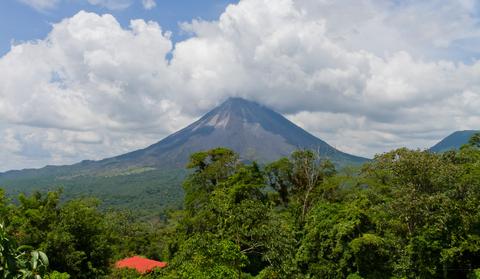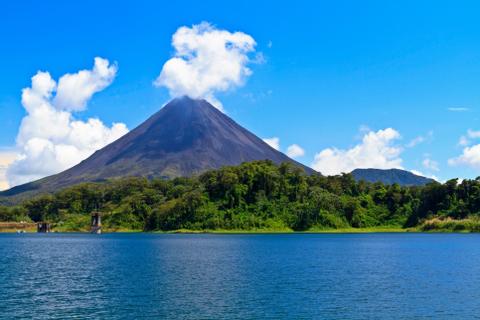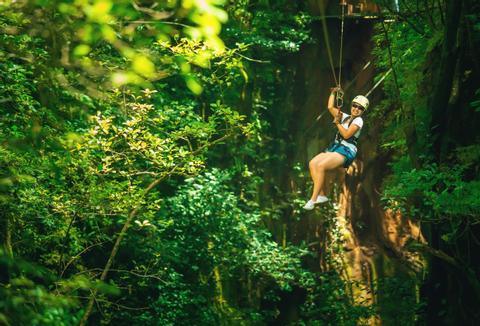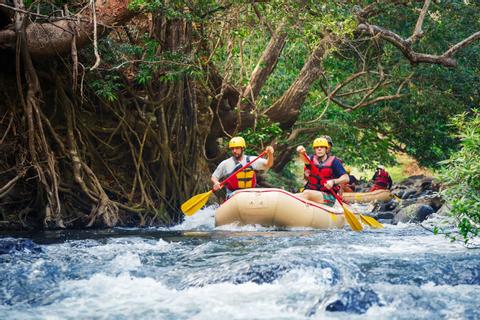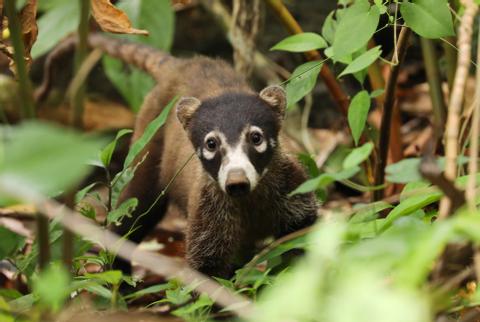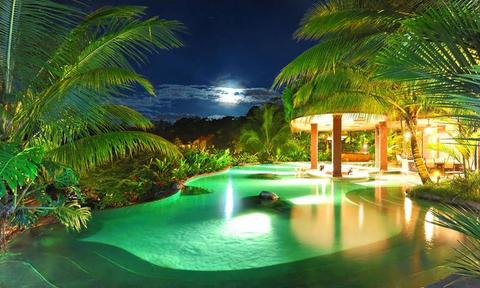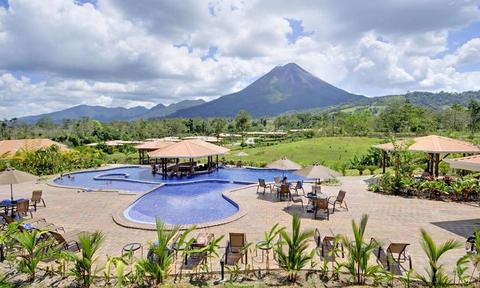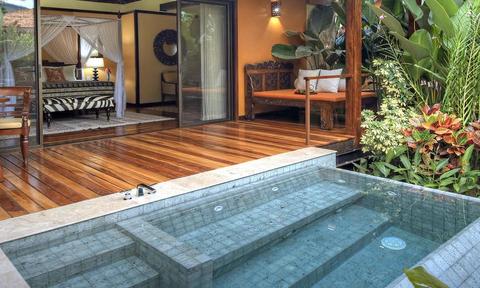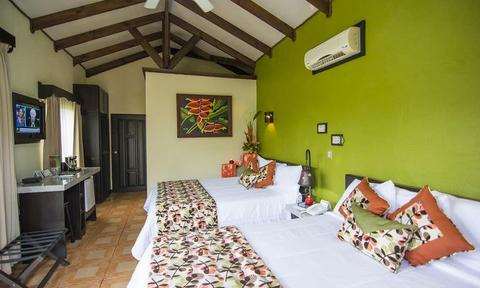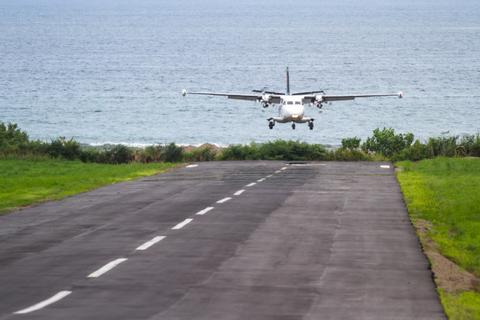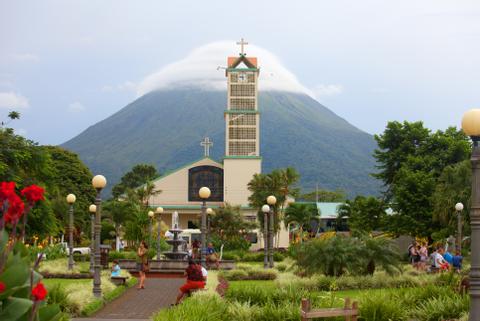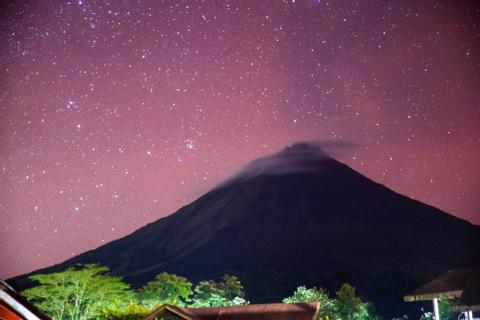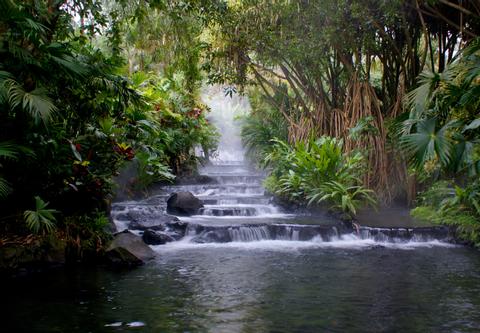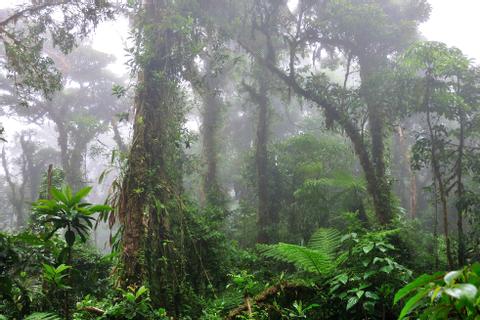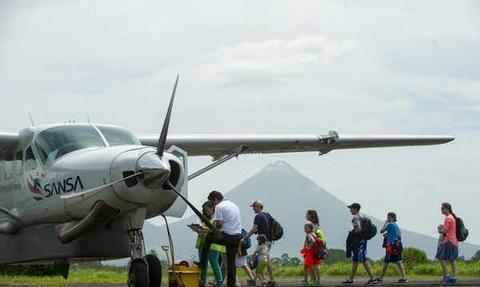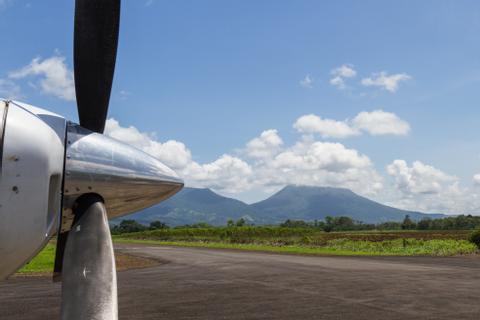 When was the last time you really took advantage of the great outdoors? Vacation time is a breath of fresh air, especially when you go to La Fortuna, Costa Rica. Home of the greater Arenal recreation area, the entire region is paradise on Earth for outdoor adventurers. Volcanic views grace the landscape and heat up several geothermal hot springs. A lake and rivers beckon you toward aquatic adventure. Refreshing waterfalls reward you after hikes, offering crisp pools and spectacular views. There's no need to visit a zoo when you can see the animals on their home turf. As for your accommodations, we could say, "Enjoy all the comforts of home," but odds are, your neighbors aren't tropical birds that sing with the morning sun…
What to Do in La Fortuna, Costa Rica? — The Top Sites & Tours You Can't Miss in Arenal!
The first thing on your travel to-do list has got to be Arenal Volcano National Park. This glorious 29,960 acre (12,124 ha) park is going to be the setting for many of your adventures and is an absolute must during your time in the region. Made up mostly of primary rainforest, Arenal Volcano National Park encompasses four (4) different life zones and harbors a tremendous amount of flora and fauna. In fact, nearly 75% of the total 850 species of birds that have been identified in Costa Rica can be found here, including the elusive resplendent quetzal — birders rejoice! Other creatures include two and three-toed sloths, white-faced capuchin monkeys, coatis, jaguars, deer, and snakes, including the infamous fer-de-lance, parrot snake, and boa constrictor. The plants are just as varied and include guayabo de monte, laurel, cirri, palms, orchids, heliconias, ferns, and bromeliads.
Arenal Volcano
Unsurprisingly, the crown jewel of the national park is Arenal Volcano — one of Costa Rica's most notable natural features. Standing at 5,437 feet (1,657 meters), this volcano has been resting (i.e. not active) since 2010. However, it is no less majestic to behold, as it's practically a behemoth against the region's perfect skies. Rising above the rainforest that surrounds its base, Arenal Volcano frames the skyline with near perfect symmetry. Not to be outdone, Arenal volcano's smaller (and much older) sibling, the Chato Volcano (Volcán Chato), adjoins Arenal. Chato Volcano, which resides at a height of 3,740 ft (1,140 m), has been inactive for some 3,500 years and has a crater that's filled with aqua-blue water. The park has several walking trails, and you can enjoy a full day of exploration because it is open from 8:00 AM to 6:00 PM.
What is Costa Rica Known for? Adventure!
Some of Costa Rica's tourist attractions simply cannot be missed, and for good reason! Your vacation is practically incomplete if you don't indulge in these top rated adventures in Arenal.
• Sky Trek and Sky Tram: An aerial tram ride through a luscious forest canopy. Getting even better than a bird's-eye view when you share a suspension bridge with cheeky and brave animals. And, of course, a zip line. Climbing trees was never this exciting.
• Canyoning: this adventure's other name is 'rappelling.' Hold on tight when you make your way down trees and cliffs. Amp up the adventure when you experience the cool, misty thrill of rappelling down a waterfall.
• 2-in-1 Waterfall and Volcano: Double your fun when you see more of Arenal in a single day. Explore La Fortuna Waterfall and Arenal Volcano for a memorable experience. Bonus? Add a soak in a hot spring to this fantastic excursion.
• Zip Line: Add this to other activities or enjoy it on its own. Zip lining in Costa Rica is beloved because it takes you through exquisite forest canopies, giving you a spectacular view of Arenal's natural beauty.
• Caño Negro Wildlife Reserve: 350 species of birds is just the beginning of what you can see on this amazing floating safari. Keep your eyes peeled for the reptiles who call the Frio River home.
• Chocolate Tour: An educational tour that's absolutely delicious! Learn how coffee goes from fruity bean to finished bar. Yes, there will be samples — we know, we know…how grueling.
Adventures Recommended by The Experts
When an insider tells you that you don't want to miss something, you really don't want to miss it! Zip lining and rappelling are top activities that also come highly recommended by Anywhere's local experts, but so are…
• Whitewater Rafting: A wet and wild adventure when you careen over rapids as you're whitewater rafting.
• Hiking: Go on at least one hike. Whether you choose a rainforest, a hanging bridges, or the area surrounding Arenal Volcano, explore nature one step at a time.
• Hot Springs: With several geothermal hot springs to choose from, add this indulgent activity to your itinerary. Experience the pleasure of soaking in nature's bathtub.
Make Friends With The Locals — Get to Know The Animals of Arenal
When you're enjoying your outdoor adventures, don't be surprised if Costa Rica's animals look at you with the same curiosity that you do them. Catch them peering from leafy branches or skittering cautiously under leaves and up tree bark. Spy frogs, snakes, and other reptiles enjoying the climate. Watch and listen to monkeys as they play in trees and chatter to (and about) you. Discover the surprising charm of the humble sloth. Spiders become strangely beautiful and fascinating when you see them thrive in their natural environment. As for feathered friends, prepare to see lots and lots of birds. Specific Costa Rican creatures you can look forward to seeing include iguanas, coati mundi, and colorful toucans.
Steps From Adventure…and Comfort — Top Hotels in La Fortuna
Oh the perils of vacationing in the great outdoors! To enjoy fresh air and adventure, you have to sacrifice sleeping on cushy king size beds, and showering in immaculate and well-polished bathrooms. Why do you have to choose between the activities you love and the accommodations you deserve? With Anywhere, you don't have to choose — enjoy the best of both worlds when your Local Expert helps you add amazing tours and accommodations to your itinerary.
Anywhere Experts' 3 Best Family Hotels in Arenal
Booking a family getaway with the children? Get expert advice on selecting family-friendly hotels that offer perks such as plenty of room for games of tag — let the children tire themselves out as they run around on perfectly manicured emerald lawns. Play Marco Polo in crystal-blue swimming pools, some with poolside bars and restaurants where you can take a break from the game; enjoy a Mommy/Daddy moment and some adult conversation while you keep an eye on the kiddos. Walk the trails of your hotel's grounds and enjoy the scent of local flowers sweetening the air as you go on impromptu nature excursions to spot birds and other wildlife. This vacation, quality time is offline and outside.
Arenal Manoa: Surrounded by the La Palma River, you'll enjoy volcanic views and large bathrooms with small gardens from the comfort of this hotel.

Arenal Springs Resort: Well-appointed rooms with rocking chairs on the balcony, plenty of spots to sit in the garden, a sizeable swimming pool with a stone waterfall feature. There's plenty of room to relax and explore.

Los Lagos: Enjoy volcanic views from your bedroom, and, oh yeah — 4 pools with thermal waters, 3 with cool water, water slides, a volcano shaped kids pool, a butterfly garden, a frog pond…
Anywhere Experts' 3 Best Luxury Hotels in Arenal
Or perhaps a romantic getaway is on the agenda? After days spent laughing, shouting, and splashing, top off your day with a nice soak or refreshing shower with a view. Indulge in a sunset cocktail or a glass of wine on your balcony. Fall asleep to the sounds of the jungle — unplugged from your electronic devices and plugged in to life…not daily responsibilities.
Nayara Springs: This adults only hotel offers elegance, relaxation and plenty of health and wellness. Take advantage of an on-site fitness center, large swimming pool, yoga pavilion, and spa treatments.

The Springs Resort and Spa: Enjoy a room with a private terrace, bathrooms with marble fixtures, and grounds featuring on-site hot and cold springs.

Tabacon Thermal Resort and Spa: Go for a swim in elegant surroundings, then head to Shangri-La — the hotel's garden which lives up to its name (reserved for the enjoyment of those 18 years and older).
Anywhere Experts' 5 Best Overall Hotels in Arenal
Look forward to beginning and ending your day when you choose from these great hotels that offer you everything you want — including amazing access to extraordinary adventures. Choose from a selection of accommodations that will suit your party's travel needs, and your personal needs — whether that's a complimentary breakfast or a jetted tub.
You CAN Get There From Here — The Best Way to Get to La Fortuna
Although this journey seems comparable on paper, there are a few subtle differences between getting to La Fortuna from SJO versus LIR. Traveling by land from either airport means 3 hours on narrow and curvy roads, which is why Anywhere's transportation services are highly recommended. It is much better to make this drive with an experienced driver who is familiar with these roads. Most airlines are known for being slightly less expensive when they fly out of SJO, but if you've added Guanacaste beach destinations to your itinerary, then you might want to look into LIR for your arrival or departure. It's not uncommon to arrive in SJO and depart from LIR or vice versa in order to end your trip closer to your departure airport.
Exploring La Fortuna — The Town
Adventures are great, but what about when you're between tours? What is there to do in La Fortuna proper? Actually, a lot! This friendly and quiet town is the perfect accompaniment to your outdoor adventures, because the town itself is small, central, and warm. Frequent local restaurants serving hearty helpings of authentic Costa Rican food (Hope you like beans and rice, because they're delicious staples!). If your accommodations feature a private kitchen, then stop by the local markets to purchase the ingredients you need for a delicious meal full of fresh, local produce. Because the nation is full of tropical fruit, we highly suggest adding at least one fruit salad or fruit parfait to your menu. When you want to get out and explore or just need to get more toothpaste, you'll find the town of La Fortuna has everything you need — banks, shops, bars…
Travelers just like you say that, "The city is still very unique and not transformed into a tourist center, the locals are incredibly nice, the nicest we met [on] the trip. The closest to nature you can be, while still [feeling] like you are in civilization." - Guilherme M.
Anywhere's Insiders Say...
Here, you can do anything you want to do — except beach activities (La Fortuna is not a coastal town). Hot springs, zip lines, and rafting are a must in the area. Overall, the area is really safe; you can hang out in the city late at night with no problem. Also, you have a great variety of restaurants featuring authentic Costa Rican and international cuisine; sample the fare at both local hangouts and elegant eateries. Stop by souvenir shops and supermarkets for mementos, a taste of everyday life, and excellent produce. Arenal is one of the best destinations in the world to find a little bit of everything on vacation — outdoor adventure, luxurious accommodations, a quaint town, many supermarkets and shopping centers, plus nature surrounding the entire region.
While You're in The Area
• In La Fortuna/Arenal you're steps from Monteverde, Costa Rica — another top adventure destination, and home to one of the world's few cloud forests. Take the scenic route when you cross the calm waters of Lake Arenal by boat, because these top destinations are across from each other.
• If you favor road trips, then pack up your bag and leave the driving to us so that you can look out the window, or rent a vehicle and head on down to Sarapiqui, Guapiles, and the Caribbean Coast — it's a smooth trip thanks to the new road servicing these areas.
• La Paz is a great stop to make if you're coming from SJO; stop and take some pictures at the stunning Waterfall Gardens. If you're coming from LIR, that 3 hour drive rewards you with some excellent photo opportunities when you near Lake Arenal. When planning your route, be sure to ask your Local Expert if the San Ramon Cloud Forest is on your way— if it is, you'll definitely want to make a stop there!
1,345 Satisfied TripAdvisor Travelers Can't Be Wrong
"LOVED Arenal! We had the best time going on all the adventures we did. All the guides were fantastic. It was hard to leave." - Brittany C.
With top reviews and a TripAdvisor Certificate of Excellence, it's no wonder Anywhere is the leading choice in adventure travel. We're your new friend in Costa Rica, and your constant travel companion. Booking with Anywhere is a breeze, and lets you explore the world with the reassurance that help is only a call or click away — something you don't get when you're bargain hunting on major travel portals. But we'll let our clients tell you what a great time they have traveling with Anywhere…
"We had an excellent travel experience. The hotel and travel accommodations superceded my expectations. If you ever get a chance, check out the volcano town of Arenal. The hot springs were out of this world." - Bryan A.
As for the area's natural beauty...
"The volcano was breathtaking and the rainforest was beyond beautiful! The birds were exquisite and the flora was prolific. The hot springs were magical and the entire area was peaceful. This is the most ideal location to vacation!" - Jenna D.
So book your own Arenal adventure, and discover why travelers choose Anywhere time and time again, saying, "One of the most memorable [trips]. I had all the travel arrangements, tours and hotels arranged by Anywhere.com. I could not have made a better choice. I will certainly use their services for the next visit." We're the friend in travel that you can count on, and we can't wait to introduce you to La Fortuna, Costa Rica.
What is the Current Lava Flow at the Arenal Volcano?
Currently, there is not a consistent flow of lava from the volcano. Arenal has entered a resting phase after more than 40 years of consistent activity.
Can I Climb to the Summit of the Arenal Volcano?
No, it is not possible to legally or safely climb to the summit of the Arenal Volcano.
How Close Can You Get to the Arenal Volcano in Costa Rica?
Visitors can hike as far as the perimeter of a high-risk danger zone. Before your arrive at this point, you can explore trails that wind around the Arenal Volcano National Park, El Silencío Mirador, the Observatory of Los Lagos, and the Tabacón Hot Springs. All of these areas are generally safe, but no new construction is permitted, and they are monitored in case the volcano becomes more active.
Arenal Volcano and La Fortuna Personalized Trips
Arenal Volcano and La Fortuna Things to Do