Special Feature: Part three of our series. Pack your bags for a whole new chapter in your life, because you're moving to Belize! Anywhere's CEO Zach Smith tells you what Belize is like when the vacation ends and real life begins.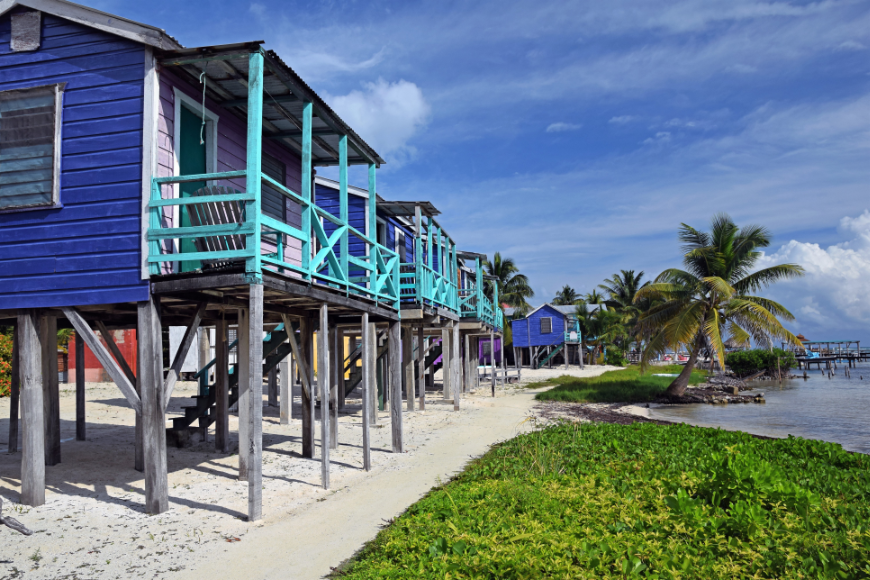 Thinking of moving to Belize? Before you buy that beach house, get preview of your daily life in paradise.
If you've already read Part I and Part II of our moving abroad series, then it's time to take a peek at what your new life might be like in one of the world's foremost tropical destinations. If haven't read the first and second articles in this series, go read those before you finish this piece. There are some important things to consider before you fall in with the idea of moving to Belize. Go ahead...we'll wait for you...
Brilliant sunlight, sandy beaches, and warm, crystal clear waters. This isn't a fantasy (or even Hawaii)—it's the beautiful nation of Belize. Lauded as an island paradise, Belize is not only a popular travel destination, it's also a favourite of expatriates. On the surface, the appeal is obvious, but once you get past the weather and activities, what is day-to-day life in Belize really like? What do you need to know if you're moving to Belize as a retiree or expatriate?
Anywhere CEO Zach Smith once again offers his expertise, and teaches us that if you move to Belize for a slower pace of life, you're going to get just that. New Yorkers, Londoners, and other dwellers of on the go cities—consider yourselves warned!
What's the language most often spoken in Belize? Can I get by if I just speak English?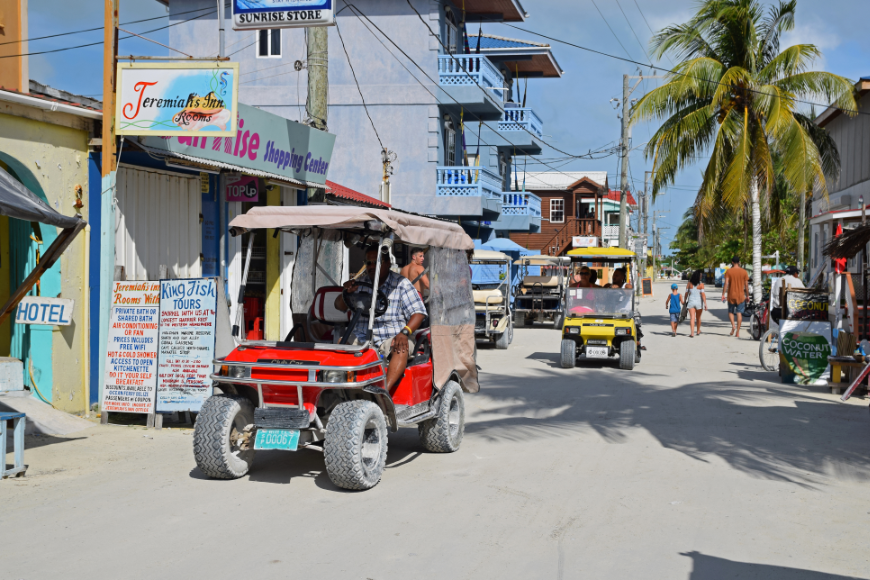 Need to stop and ask someone a question? English is the predominant language of Belize.
Belize is an English-speaking country and English is their official language. But, in some areas on the Caribbean side of the country, people speak Creole, which is related to Jamaican Patois. Getting by if you only speak English is not an issue, as far as going to a restaurant, supermarket, checking into a hotel, or asking for a taxi. You will not run into a language barrier.
How are the rules of etiquette or customs different in Belize?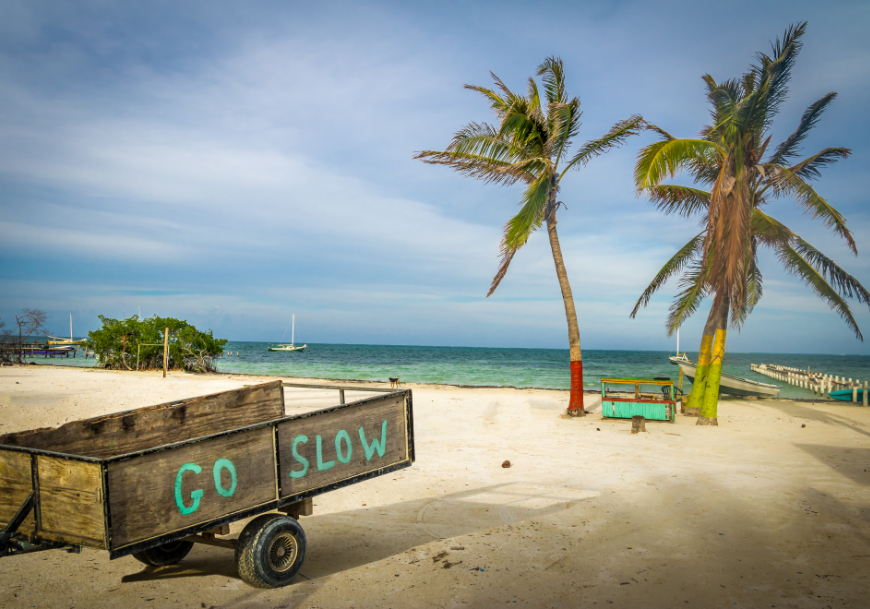 "Go Slow" could be the Belizean motto. Culturally, Belize is a slower paced country, lacking the sense of urgency the world's major cities tend to have.
There is generally a relaxed attitude in Belize. If you try to change that, it is usually a very big turn off to whomever you are engaging. Whereas if you meet relaxed with relaxed, there is an opportunity to have a meaningful exchange. I don't believe Belizeans respond to pressure or urgency very well. That takes a little bit of getting used to for a lot of people [especially those from major cities].
We coordinate travel around the country, so we want to ensure that things happen on time and that everyone is on the same page about any particular service in question. We have found that when we do encounter an issue—like a delay, for example—we try to be an arbiter between the client and the local operator [since our travel consultants are locals who are familiar with the country's customs]. [There is] a relaxed sense that is more exaggerated in Belize than [in other tropical countries]. So, if you are planning on moving to Belize, you should be prepared for these occasions.
Let me cite a comparison between cultures: Compared to Belize, Costa Rica is quite used to international visitors, and the visitors' cultural framework. [The country] does a good job of [meeting the expectations of foreigners]. However, if something goes wrong or if there is a delay, the [resolution approach] is similar to Belize. Be sensitive as you critique, if you find it necessary to critique. You don't necessarily want to put a ton of pressure on [people] or make them feel bad, because that ends up compounding the issue. In general, if you go to Costa Rica, you're going to experience timeliness and a lot of professionalism—particularly in the tourism industry, since they have such practice with it. [Belize is definitely more laid-back.]
What is the dress code in Belize? What kind of clothes do they wear?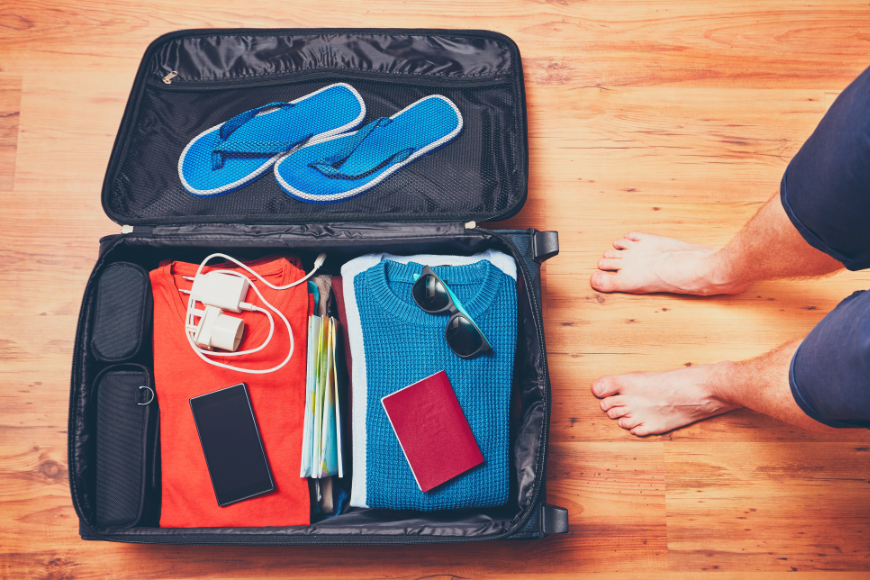 Belize is a very laid-back nation. If you move there, bring plenty of casual clothes.
Belize is a shorts and flip flops kind of place. I haven't been to every part of Belize, so it's hard for me to comment on the whole country, but in general, people in Belize like wearing very light pants (if they need to wear long trousers) paired with a white shirt or a comfortable light shirt. It's not a formal culture in general.
There are establishments in which you will dress up in a formal way just like any other [upscale establishment] across the world. If you want to go to the nicest restaurants in town, they're not going to bat an eye if you're rather casual, but the general vibe of it is going to be people that are dressed up. You will see people who are tucking in their shirts, combing their hair, ditching the flip-flops and wearing dress shoes. There's not necessarily a strict dress code by any means and that is true for most of the region.
One thing that seems incongruent [with vacationing in other destinations] is that men in Belize do not just walk around with their shirts off. Going out in public without a shirt in Belize is considered an impolite thing to do. But in general, there's not a strict dress code. If you're going to the bank, wear something nice but they are not going to care if you don't. The dress code in Belize just depends on what makes you feel good as a person, and what you are comfortable wearing.
How are the restaurants in Belize?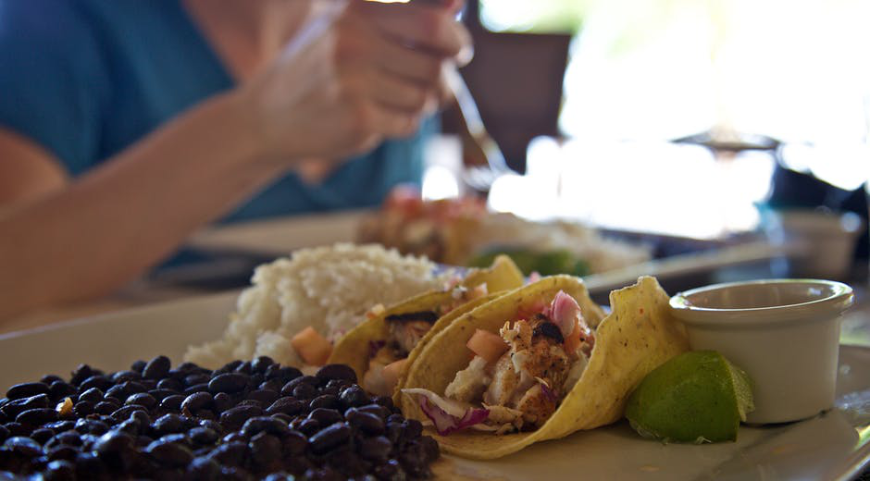 If you're a fan of hearty yet healthy staples, and don't like food that is too spicy, then you will enjoy Belizean cuisine.
In general, if you go to a restaurant in Belize, you are going to eat as soon as the chef is done preparing your food. Sometimes there is a lack of speed and efficiency, but you are going to get healthy, fresh food. Often, there is an option of fish, beans, and rice—overall, it's a good diet.
You will also find international cuisine in Belize. There are many people who have started businesses here and brought in new tastes, which has influenced some of the local cuisine as well.
I wouldn't say food is particularly amazing in Belize [but it's very pleasant]. It is less spicy than Mexican food. In general, food in Belize [may not be as adventurous] as other international cuisines, but [it is fresh, tasty, and] it will sustain you.
What are the best things to do in Belize?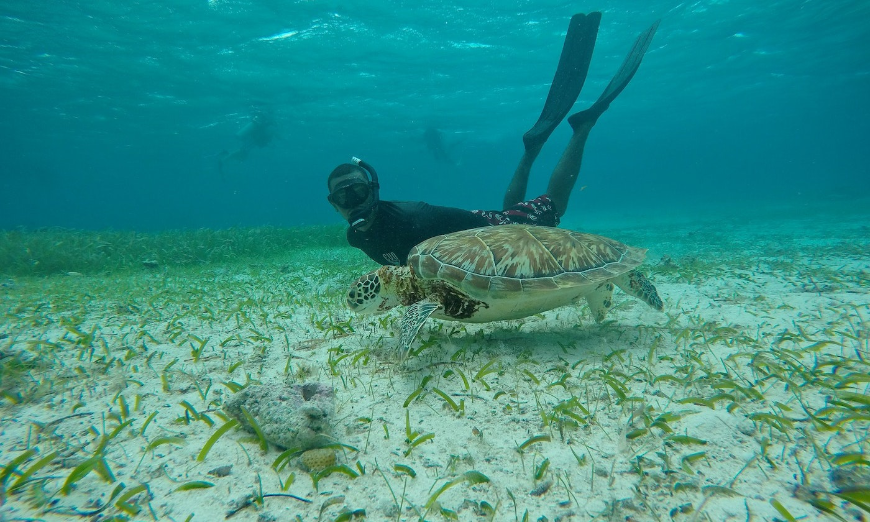 It should come as little surprise that aquatic adventures are some of Belize's most popular activities.
The top 5 most iconic things to do in Belize are [in no particular order]:
1. Scuba diving.
2. Cave tubing.
3. Visiting Mayan ruins.
4. Tarpon fishing.
5. Snorkeling.
There are a lot of islands or "cayes" (pronounced "keys"—cayes is the word Belizeans use for islands) all over Belize, and the water is calm and clear. The reefs of Belize are relatively healthy and you will find a lot of diving, snorkeling, and sport fishing around them. Water activities are one of the major attractions in a location like Belize.
You can access the cayes most of the time via a small plane and if not that, a small plane plus a boat. You will often find a public ferry or shuttle boats, so people who live in the cayes—especially Belizeans—use various modes of transportation. Hiring a boat is very common.
Tarpon fishing attracts a lot of people. You will find fish throughout the reef and around it, so a lot of sport fishermen really enjoy catching tarpon.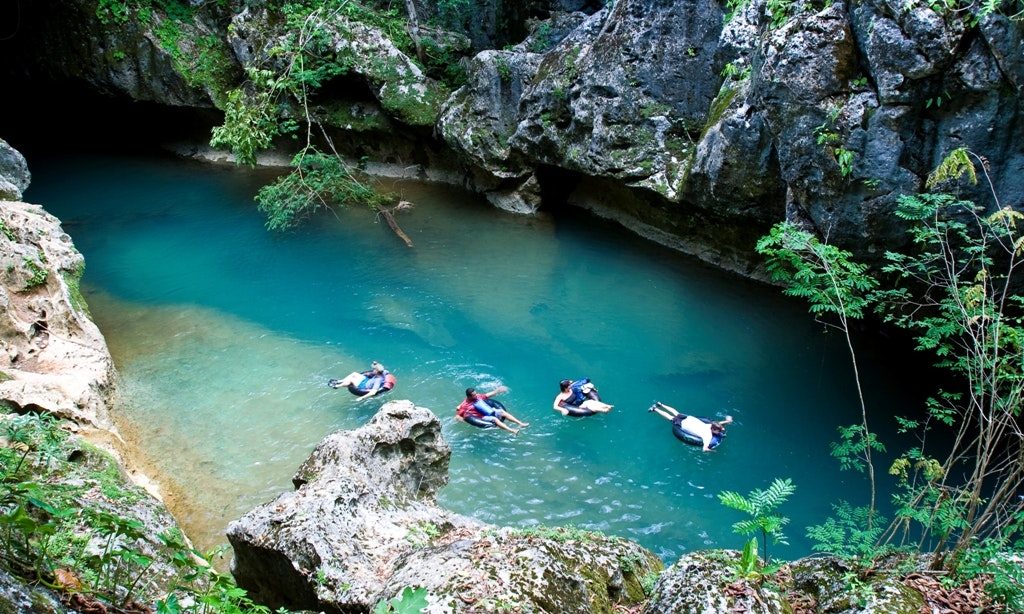 Cave tubing is the perfect mix of adventure and relaxation—it makes a great story, but is a fairly leisurely activity.
Another nice thing to do in Belize is cave tubing. There are a number of caves on the north-eastern part of Belize, around Belmopan. These caves have water in them and there are large cavernous zones where it's possible to float on a tube through them. It's very safe and it's a very interesting way to see an environment. It's rather unique, too, so it's an iconic Belizean experience. You jump on a tube with a guide and it winds through the cave, and you experience what it feels like to see the Earth open and close around you. [In some caves] it's very dark, and in others, you have wide openings to appreciate the aqua colors and surrounding jungle.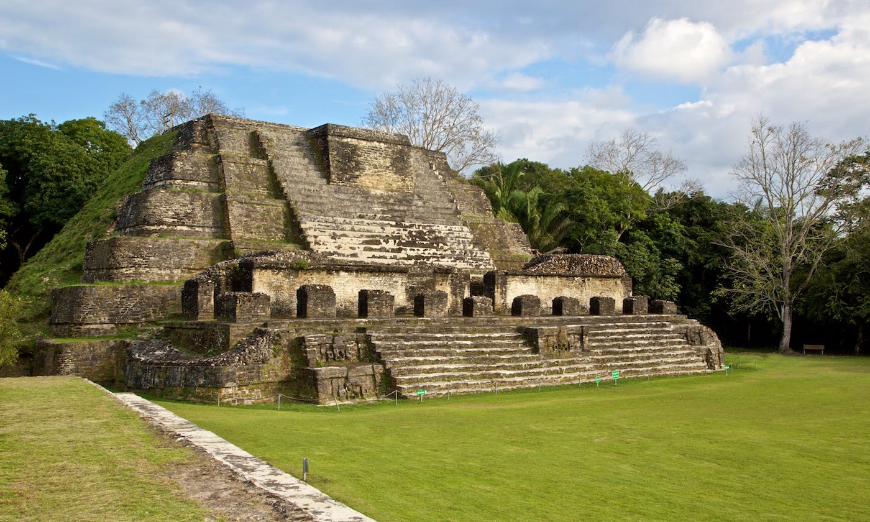 Just because you live there doesn't mean you can't see the sites. Get to know your new country's history by exploring Mayan ruins.
If you are not into water activities, you can enjoy your visit in Belize by going to the Mayan Ruins. Belize, just like Guatemala and parts of Mexico, was home to the Mayan Empire. The Mayans built structures, temples, and made a lot of carvings in stone. There are Mayan monuments throughout Belize, as well as Guatemala and Mexico. They are usually in a rainforest zone and then there is an opening where there is a temple. If you visit a Mayan Ruin, you will pay an entrance fee as well as a guide who can explain the history. It is a learning opportunity and it is one way to appreciate the country of Belize.
Part IV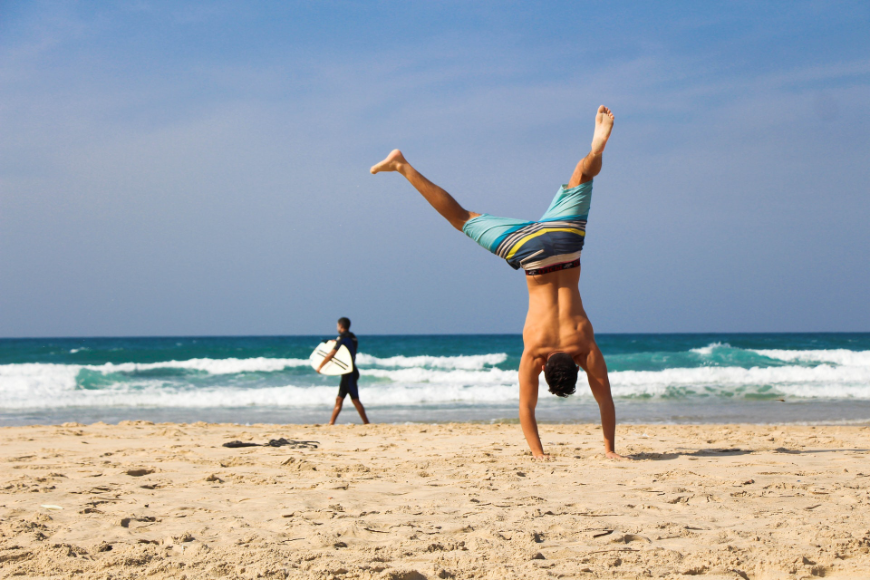 Playing on the beach is just the beginning of the fun times awaiting you if you make Panama your new home...
All good things must come to an end, and we'll be rounding out our series with the Central American nation of Panama. If you're unfamiliar with the country, save for knowing it's the home of the world-famous Panama Canal, here's a peek at what a new life in Panama has to offer:
A, potentially, great cost of living.
Easy access to a variety of outdoor adventure.
A unique blend of modern and indigenous cultures.
Great food, new friends, and beautiful beaches, and more are waiting for you. So, get your passport stamped one more time in Part IV—the final installment of our retiring abroad or moving abroad series!