Part IV of our moving abroad or retiring abroad series concludes with moving to Panama. Anywhere's CEO discusses why moving to Panama has much to offer retirees and budget-conscious telecommuters.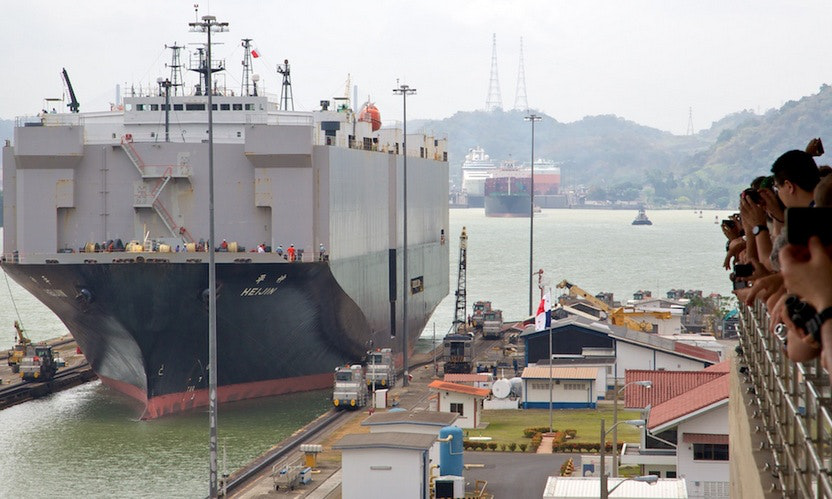 Okay, you would be remiss if you didn't pay at least one visit to the Panama Canal...
It's time to wrap-up our international relocation series in Central America; today, you're moving to Panama. ...Okay, technically this article discusses daily life in Panama, but use your imagination, and then book your trip. The best way to determine whether or not retiring to Panama or moving to Panama is right for you is to spend a few weeks there, per the advice of Anywhere CEO Zach Smith in Part I of our series. (Don't forget to read Part I, Part II and Part III, first—if you haven't yet.)
So, why should Panama even be on your radar? Apart from the Panama Canal, what else does the country have going for it? The answer is: Quite a lot! Keep reading as Anywhere's CEO once again shares his expert knowledge to teach you why Panama may be the country which lets you live out out your dream lifestyle. Pack your bags, and let's head out the door...
How is the standard of living in Panama?
Urban & Rural Living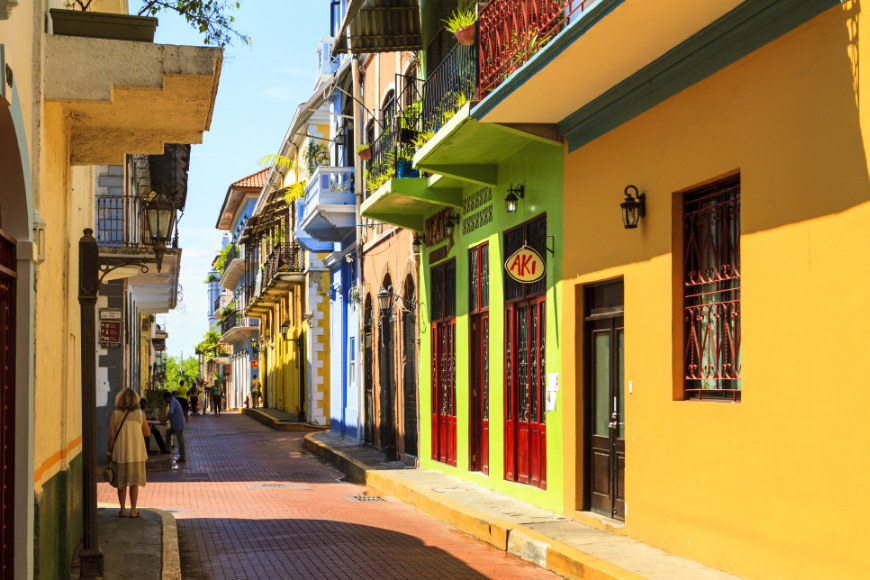 Want to live in one of the most colorful (and historical) parts of the city? Consider Casco Viejo (Casco Antiguo)
when moving to Panama.
The standard of living in Panama varies. Panama has a number of indigenous cultures, [but also] a huge metropolitan area—Panama City—, and it has a lot of rural territory, too. Panama City itself is rather cosmopolitan. A lot of business and banking occurs there. As far as locations in Central America, Panama City is probably the most cosmopolitan, and most formal, capital city.
Away from Panama City, you will find a lot of rural areas, small towns, and areas of smaller population. They are rather basic and the standard of living in these areas is rather low. I wouldn't say that there is poverty by any means, but a North American or Western European person might consider it a rather basic environment—as far as the options available for eating, drinking, living, and accommodations. There are also some places in Panama that are not dangerous but are not [visually] attractive.
There are a lot of indigenous reservations in Panama. I believe there are eight different indigenous groups in Panama that have their own territories or reservations that are called Comarcas. This is a segment of the population that is probably the most economically deficient, and you will see a bit of poverty in these locations. Because they are sort of independent territories within Panama, there is support from the central government, but it's also a bit more challenging for the children—as far as education goes. Job opportunities are a little more scarce too.
Expat Living
When moving to Panama, you can make your new life as luxurious or down-to-earth as you want it to be.
The standard of living for an expat in Panama runs the gamut. There are people who would want to live in a luxury apartment in Panama City, or in a colonial art deco apartment in Casco Antiguo [another name for Casco Viejo/Old Quarter], which is quite a classy experience. There are also people who prefer to live in a location like Boquete, where it's cooler and there are rainforests and mountains around you. Some people in Boquete have built stunning custom homes.
There are expats in Panama who live on the beach in a midrange home. There's not a ton of suburbia-type developments in the touristy or in the attractive locations for retirees. But a lot of people end up buying a plot of land and then working with locals in the region or an architect in the region to construct a house. If you want to spend US $500,000, you're going to get a very, very nice home in Panama. Some people spend three times that amount. Some people spend a third of that amount. It really depends on how much you want to invest and what sort of environment you want to live in.
Compared to The States...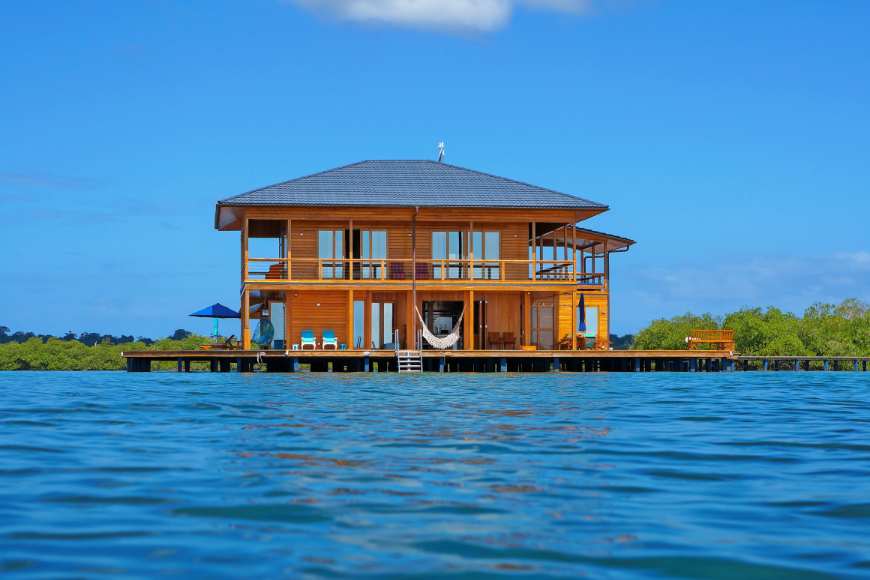 Ever dream of having a home right on the water? In Panama, you might be able to afford it...
I am currently in Seattle [Washington], which is one of the more expensive cities in the United States right now. I think the average median home in Seattle right now is around $700,000 USD. That is for a nice home, but it is not a luxury home. Whereas with $700,000 USD [in Panama], you could get what would probably be considered a luxury living standard. Also, in Casco Antiguo, there are historical buildings that have to be restored. Those restored places in Panama can be seven figures easily. It really depends on your budget. You can go high, you can go mid, or you can go low. Panama does have a lot of opportunity for people of various economic levels.
As far as I know, the government of Panama also has some incentives for retirees. I believe that there is health care that is covered if you make an investment in Panama.
There is a reason why billionaires live in Seattle – it is a really beautiful city and they can get great homes. Billionaires can have live-in chefs, house cleaners, and live comfortably anywhere they want, even in really expensive places. However, for those with more limited resources, you have to talk about numbers. So, if you have a household budget for mortgage, dining and entertainment, and so on, your money goes a lot farther in Latin America. You might even be able to afford a live-in chef, daily house cleaner, and driver. However, you have to adapt to the Latin American cultural dynamic. In general, you can get a good meal for $7 USD in Latin America but you might have to wait a little longer, and you could be sitting on a plastic chair. It really just depends on preference.
Where is the best sightseeing in and around Panama?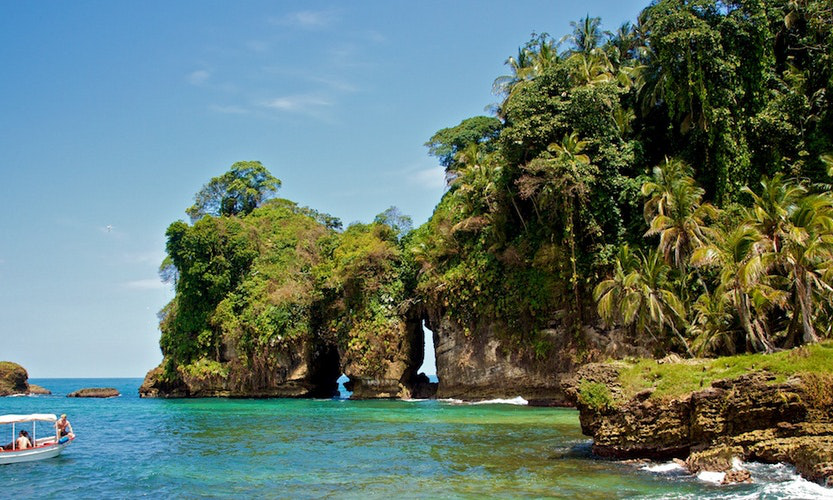 Get out and explore your new country as you pay a visit to Bocas del Toro.
There are a couple of areas that are quite interesting for sightseeing in Panama. One, is the San Blas Islands, which is home to the Guna Yala Indians and very, very small islands on the Caribbean that are quite interesting to see and explore. Isla Contadora and around the rest of the Pearl Islands are also some of the best areas for sightseeing—on the Pacific side. They are just a ferry ride away from Panama City.
Casco Antiguo is an area that has been totally revitalized in the last decade. It used to be a hotbed for gangs. It was more or less a no man's zone for a long time, but it has since been completely restored. Casco Antiguo has historical buildings that have been restored and it is a UNESCO Heritage Site, which really transformed the region. Now a lot of embassies are located there. You will also find fancy restaurants. It's quite a scene.
There are also a series of islands in Bocas del Toro, that are best for sightseeing in the northeast region of the country. Bocas has a lot of beautiful islands that are forested. It is a great place for snorkeling, and they have really good food, too. Bocas has been a tourism hotspot for quite some time, and there is a sizable expat community there.
Boquete is a premier place to be. It has fresh air, lots of good coffee... You're not going to be sweating as soon as you walk outside, so a lot of people prefer that climate. It has attracted retirees for quite some time.
Are there rainforests and cloud forests in Panama? What are they like?
The rough, rugged, and untamed Darién region.
The only cloud forest area in Panama is up and around Boquete in the Chiriqui Highlands.
There are rainforests in a few locations around Panama, the densest being all around the Darién, which is not a very friendly place for visitors. There are a number of indigenous groups that inhabit that area, the forest is quite thick, and there are lots of canals through there. It's not a friendly place to visit in general. It is interesting because of the "Legend of the Darien," about an area that is untamed in North America where there are no roads. After seeing the area you would understand why. (BBC News Magazine noted how foreboding it is, in their article "Silent Darien: The gap in the world's longest road.") Inter-Americana Highway does not go through there because it's simply not the type of land that is meant to be developed. It's very marshy and endless so it could also be a real puzzle to try to put together continuous roads through the Darién.
How's the ecotourism in and around Panama?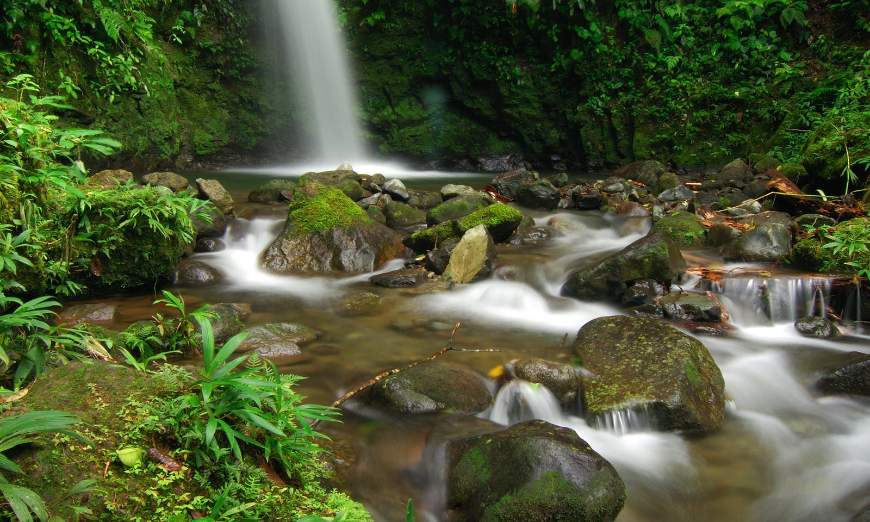 Moving to Panama from an urban jungle? You may be pleasantly surprised by how beautiful nature can be.
Panama has made an effort to be an eco-friendly location. However, I think they're a little behind their neighbors, like Costa Rica. There has been a lot of deforestation in Panama and there is still a decent amount of deforestation in Panama. So, that is probably one of the things that the government could work on immediately.
The people of Panama haven't necessarily gotten into the ecotourism, sustainable mindset, despite some of the marketing of the government. There are beautiful national parks and there are pristine sections of Panama that are eco-friendly and have attracted a lot of wildlife. However, these national parks are a lot less stunning compared to a location like Costa Rica, because it doesn't feel quite as natural. If you compare Panama to Costa Rica, you will see that Panama is much further behind when it comes to ecotourism; but if you compare Panama to West Virginia, South Dakota, or Texas, then Panama is an eco-mecca.
How's the kayaking and rafting in and around Panama?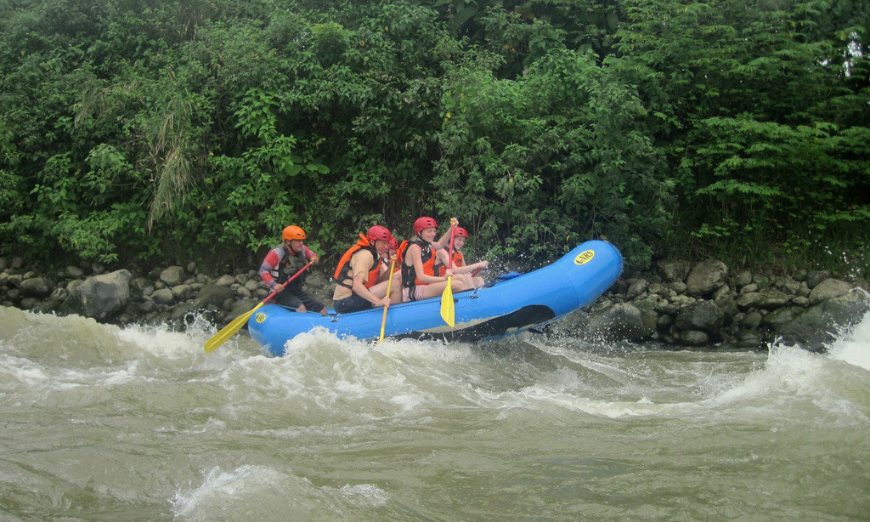 There is no shortage of adventure awaiting you if you're moving to Panama. The country has great rafting and surfing.
There are a couple of rivers up by Boquete that are fun for rafting and kayaking. [You can go] sea kayaking around the Azuero Peninsula, the island of Coiba, around Isla Contadora, and out in Bocas del Toro. There is no shortage of recreational activities on the water in Panama. Panama probably has over a thousand islands all around it. It's quite interesting how many are scattered about, many of which are not inhabited. There are a lot of things to do on the water there.
You can go rafting in Panama but it is seasonal. It's better to go rafting when the rains are there. You can go rafting in the western highlands of Panama on the Chiriquí River, which is the river that most people use if they're going to do rafting.
Pack Your Bags for Panama!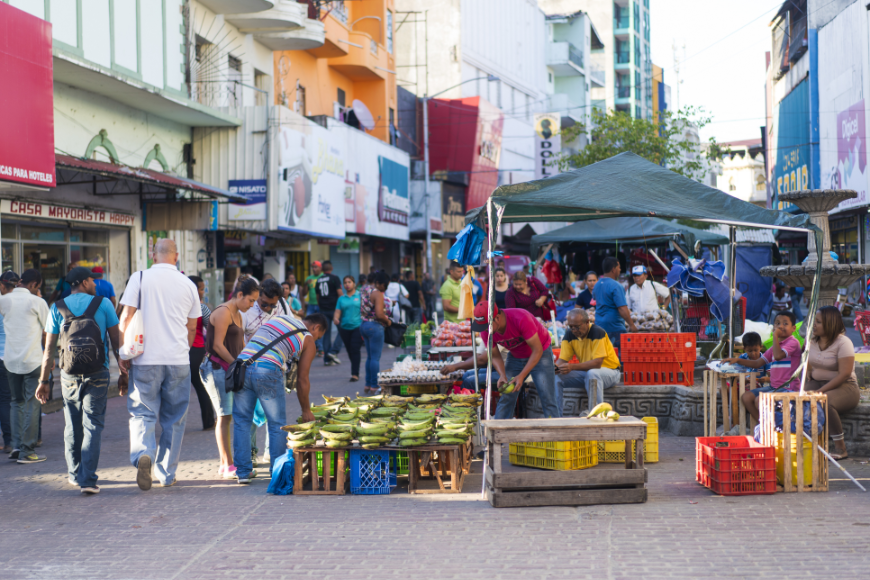 If you're moving to Panama, then become a part of your new community. Frequenting local markets is a great start.
If you're seeking a different kind of adventure where you can maximize both your budget and adventure, then consider Panama. Home of multiple UNESCO World Heritage Sites; a strong mix of cosmopolitan and indigenous culture—each with a strong emphasis on family; healthy, hearty, and affordable cuisine; and activities galore, Panama should certainly be on your radar. Whether or not moving to Panama full-time is the right decision for you, we hope that you will at least pay this beautiful country an extended visit, and discover why Panama is so much more than its canal.