People often say that the Belize diving season peaks between the months of April and June, but if you believe that then you're missing out! There is actually incredible diving all year round at Belize's stunning marine parks and reserves.
last updated: 1/07/2020
![Diving In Belize Image: Belize's 'Great Blue Hole,' a vibrant submarine sinkhole.](/blog/images/diving-in-Belize-Blue-Hole.png "This is Belize's famous (and aptly named) "Great Blue Hole."")
Step into a world of blue when you spend your next vacation diving in Belize.
If you're a scuba diver, you probably already know that Belize is one of the best destinations on the planet for a diving adventure. It has the second largest coral reef in the world and a stellar reputation for clear water, stunning visibility, and a rich variety of sea life including whale sharks, which can be reliably seen in certain spots. So, to get you buzzing with excitement and ready to blow bubbles, we've put our experts to work to test out Belize's diving map, and identify the most mind-blowing Belize marine parks, and even some secret dive spots for your next underwater adventure in Central America.
Just so you're aware, diving in Belize is not just for experienced scuba or tech divers. The marine parks and reserves we've chosen have a range of dive sites to suit every level, and are also great for snorkelers, so don't worry if someone in your group is not PADI or SSI certified yet. Before you start planning, it's also important to understand that the dive sites close to the mainland can be murky with silt from the river waters, so we only recommend spots in the outer atolls to make sure you get the best diving in Belize.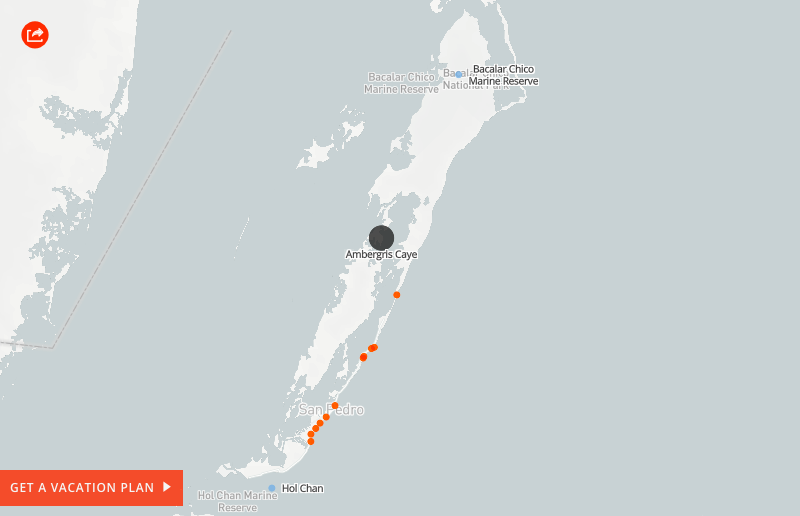 View locations listed in this article using Anywhere's interactive map!
Logistically that means it's wise to stay at Ambergris Caye (the closest you can get to the Belize barrier reef) or Turneffe Atoll, and avoid the long daily boat trip from the mainland. Anywhere Travel has local travel planners on the ground in Belize who can set you up with accommodations and anything else you may need for an unforgettable Belize diving adventure in this gorgeous bucket list destination.
1. Hol Chan Marine Park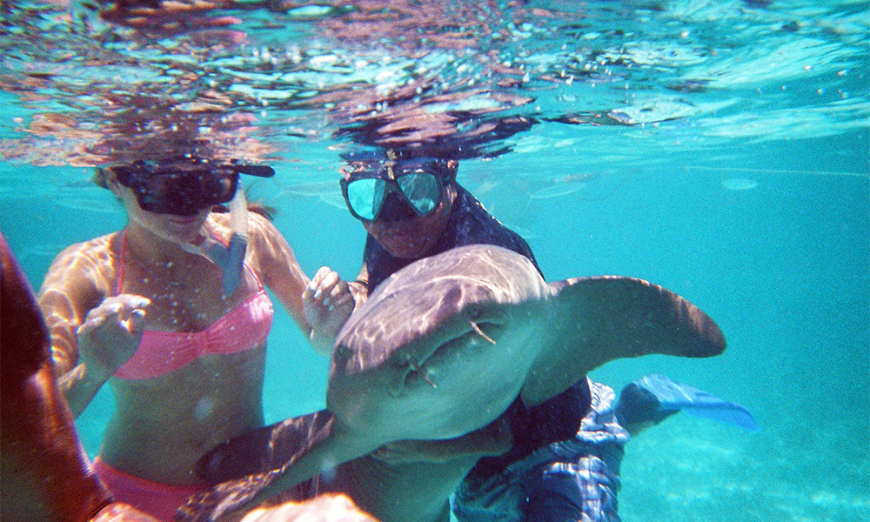 Are you brave enough to handle the excitement of diving in Belize?
Hol Chan Marine Reserve has been strictly protected from anchoring, fishing and coral destruction since 1987, and the results are mind-blowing. You'll find this reserve to be one of the best spots on the Belize diving map, as it's rich with a wide range of marine life and healthy Elk-horn coral. The name Hol Chan means 'Little Chanel' in Mayan. The park is three square miles but the first highlight worth mentioning is the wall dives which run along a deep cut in the barrier reef off Ambergris Caye.
Shark Ray Alley is a dive site that should definitely be on your Belize diving adventure checklist, and due to the shallow depth, it's best accessed by snorkelers who want to meet the local residents: stingrays and nurse sharks on patrol along the shallow sandy bottom. Dive guides use fish scraps to lure in the sharks and rays so make sure you take your camera. You don't want to miss the chance for an 'up close and personal' photo when you're diving in Belize's most famous shark diving destination.
Belize Diving Species Checklist:
Here are just some of the species you can expect to see at Hol Chan Marine Park.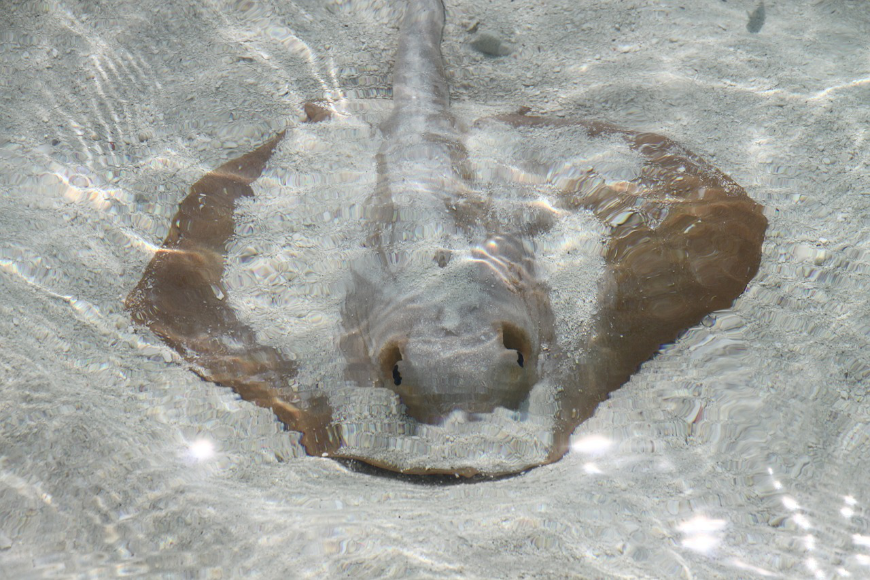 Remember to do the 'Sting Ray Shuffle,' and drag your feet in the sand to create vibrations so you don't step on (or get stung by)
creatures resting on the sea's floor.
2. Bacalar Chico Marine Park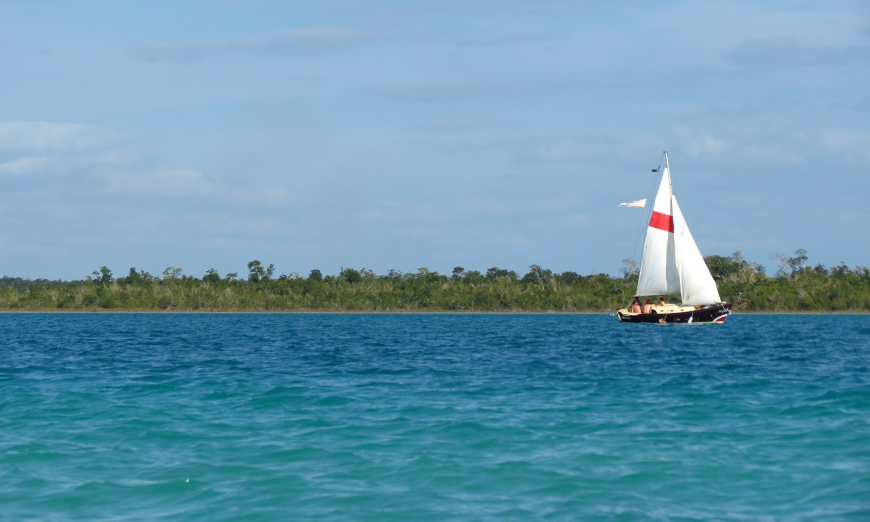 Getting to your dive spot is half the adventure, so get your sea legs ready.
Belize's Bacalar Chico Marine Reserve is a barrier island with an unusually high level of marine biodiversity, despite the historic damage done by storms, rising water temperatures, and overfishing before it was declared an official marine reserve. It has decent options for both underwater and on land adventures. The marine life here is more tranquil with fewer large pelagics compared to other areas of Belize. This makes it great for casual snorkeling, bird watching, and even mangrove forest exploration.
It's worth mentioning that the coral in this area is still in recovery from white band disease and the effects of bleaching due to temperature change, so the colors aren't as bright as they are in other areas. However, strict national park protection laws have set Bacalar Chico Marine Park back on track. There is an increase in coral health each year, and we think this area is an often underestimated treat for those looking to head North.
Furthermore, if you're in the Bacalar area and up for a Belize diving challenge, you should definitely consider a trip to Cenote Azul in Bacalar Lagoon. This underwater sink/hole is a deep technical dive that requires careful planning, but the natural limestone formations and deep caverns make it absolutely worth the risk. It looks like a small lake surrounded by jungle vegetation, and divers from all over the planet find themselves beckoned by its azure depths. You can dive here many times as a novice in the shallows or down deep if you're nitrogen certified. Whatever your skill level, you'll walk away from this dive site feeling ecstatic to have ticked this spot off the Belize dive site map.
Belize Diving Species Checklist:
Here are just some of the species you can expect to see at Bacalar Chico Marine Reserve.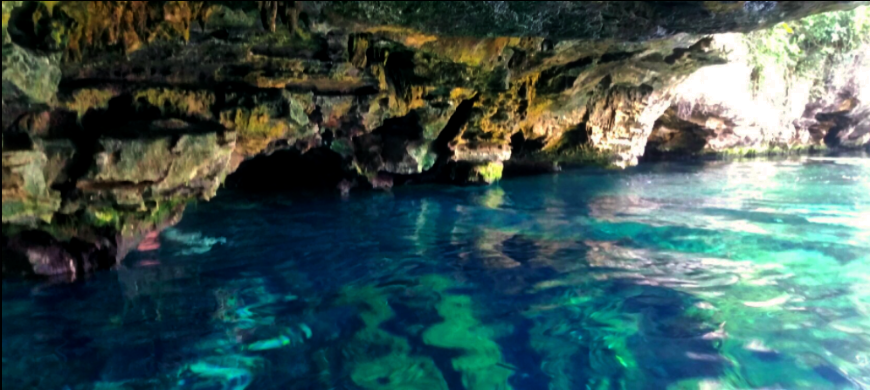 Cenote Azul: Photograph courtesy of Trip Advisor traveller Lettrica.
3. Southwater Caye Marine Park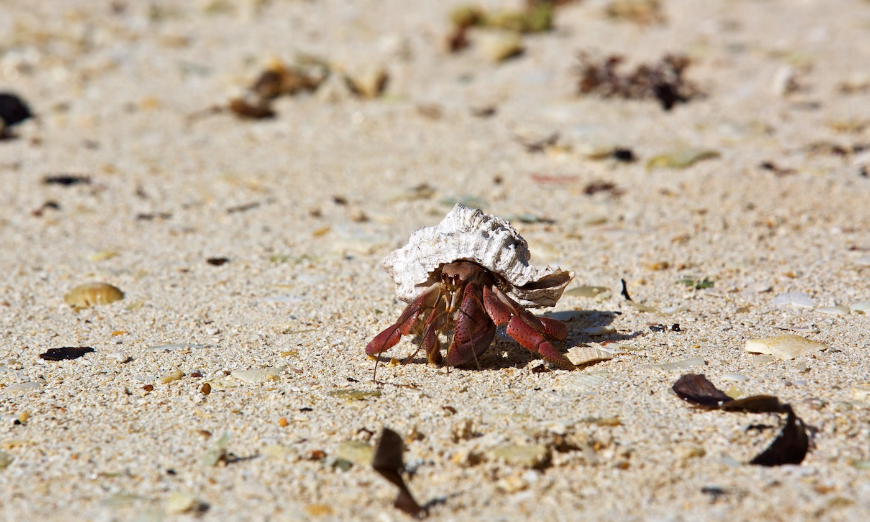 There are new friends awaiting you above and below the sea.
The dive sites in Belize's Southwater Caye Marine Reserve take a little bit of courage to access, but they're well worth the trip once you make it through the channel crossing. If you're heading out during the rainy season, we recommend that you take sea sickness pills for the journey, which takes about an hour from the mainland. Once you get there, the reef will shelter you—creating the perfect conditions for kayaking, swimming, and diving. There are dozens of dive sites and lots of little islands to visit. As a diver, you can expect everything from shallow reefs to stunning wall dives.
It's well worth asking your captain to ferry you over to Tobacco Caye, which is also part of the reserve. This five-acre island is right smack bang in the middle of the Belize Barrier Reef, and a favorite of those wanting an idyllic Caribbean adventure. Think turquoise waters, hammocks strung between palm trees, and day after day of incredible access to the reef, where you should keep an eye out for the white spotted toadfish. These little creatures normally tuck themselves away in crevices but as a species only found in Belize, observant divers will be rewarded.
Belize Diving Species Checklist:
Here are just some of the species you can expect to see at Southwater Caye Marine reserve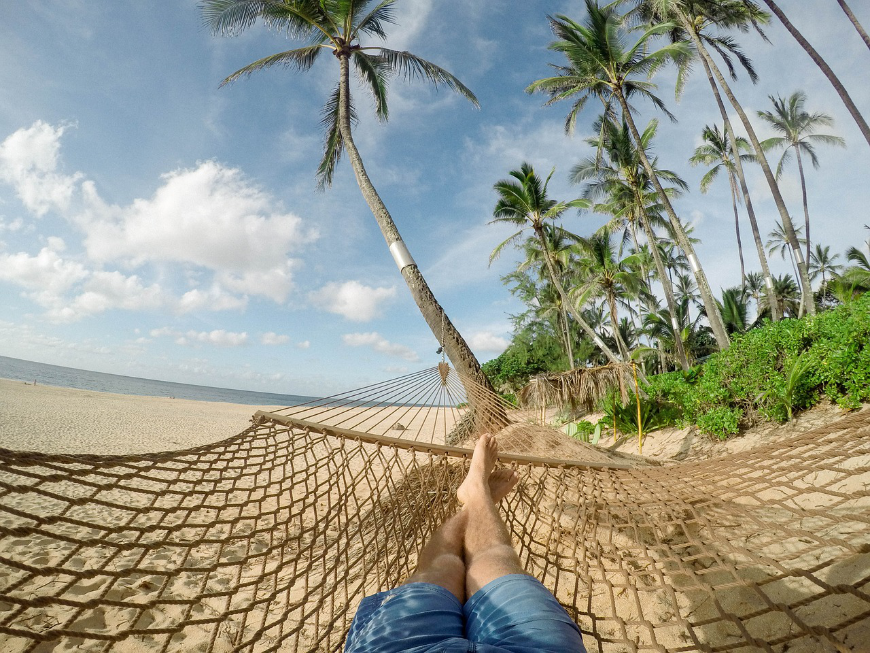 After a day of diving, a nap in paradise is earned.
4. Glover's Reef Atoll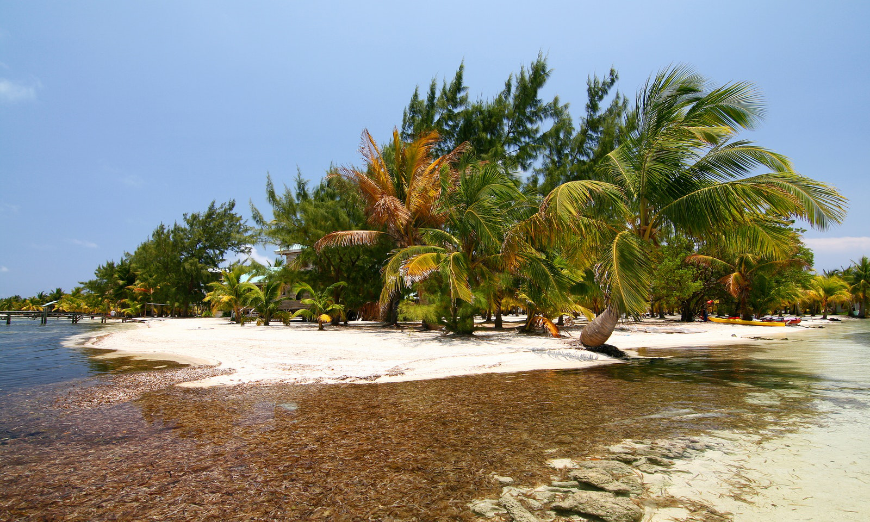 Eventually, you'll have to surface for a break. Break for lunch at one of Glover's Reef's islands.
If you're interested in the areas south of the mainland, then Glover's Reef Atoll could be just the ticket for a Belize diving adventure with a difference. It's a UNESCO World Heritage Site that's made up of five small islands and a partially submerged reef. At this well known Belize marine park, you can spoil yourself with wreck dives, channel dives, and all sorts of incredible, colorful and exotic fish sightings. In particular, Glover's Reef is one of the last known spawning sites of the Nassau Grouper fish.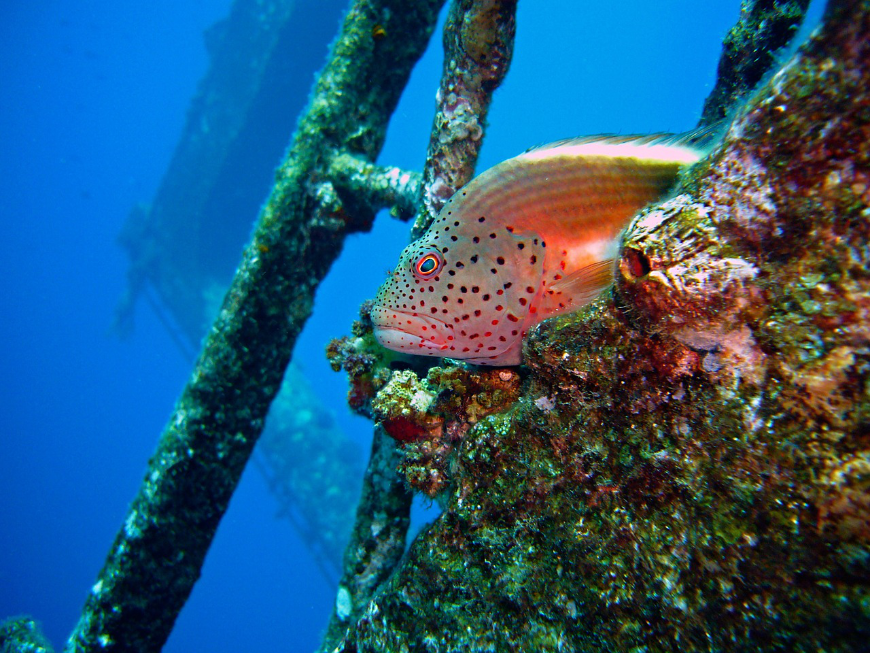 Ship wrecks hold a mysterious beauty—they get reclaimed by the sea, and become a home for a variety of ocean life.
Belize Diving Species Checklist:
Here are just some of the species you can expect to see at Glovers Reef Atoll
5. Turneffe Atoll Marine Park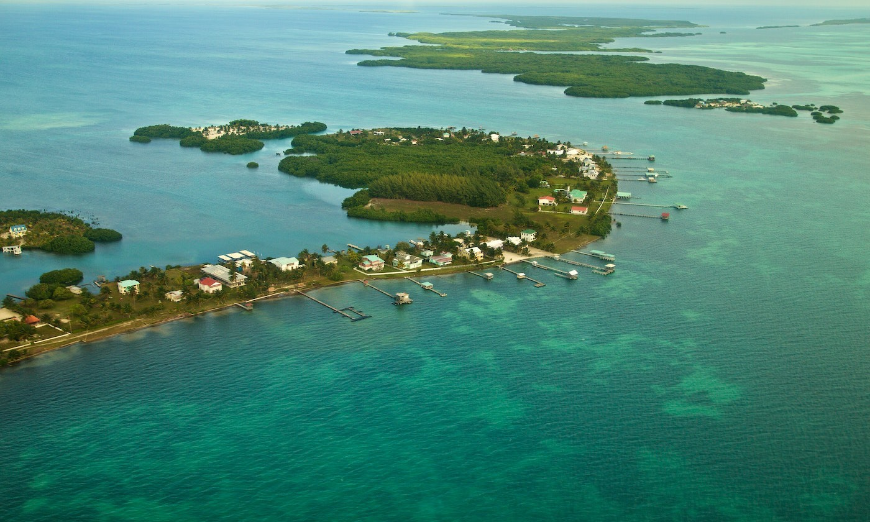 Sometimes you get so caught up in the view below the sea, you forget how beautiful the world above can be.
It wasn't declared a Belize marine reserve until 2012, but Turneffe Atoll is still one of the most biologically diverse reserves in the area. The deep blue waters, seagrass beds, and mangrove forests are the fodder of a diver's dream and you'll find over 500 different species of fish, dozens of coral varieties, dolphins, turtles and even manatees. For thrill seekers, Turneffe is a must see as the deep oceanic water attracts all sorts of large pelagics.
The temperature is warm, averaging between 80–84°F (26–29°C) with visibility distances between 75–80 feet (23–24 m). Another bonus of choosing this particular spot on the Belize diving map is its proximity to Belize's famous Blue Hole. A sinkhole that draws divers from all over the world. The Blue Hole is 300 meters across and 125 meters deep and provides a thrilling but admittedly risky Belize diving adventure due to the depths required to tour the caves.
Belize Diving Species Checklist:
Here are just some of the species you can expect to see at Turneffe Atoll Marine Reserve
*(Insert image of dolphin)
Belize Diving Adventures That Make A Difference
Look at a dive map of Belize and you'll be spoiled for choice. There are literally hundreds of dive sites packed into this tiny central American slice of paradise. But if you want a Belize diving adventure that makes a difference make sure you pick one of these incredible marine parks which support conservation efforts to protect Belize's incredible Barrier Reef. With Anywhere Travel, you can plan a dive trip at any time of the year and feel secure that you're supporting the country to continue their sustainable practices.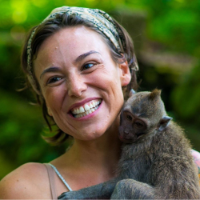 Emma Harrison-Clark, Anywhere Contributor
Emma Harrison Clark is a Bali based writer and adrenaline junkie who loves to travel. When she's not diving, riding fast motorcycles or fighting at mixed martial arts gyms you can contact her at www.emmaharrisonclark.com.