Located in Bali's tropical haven of Nusa Dua, the Sol Beach House Bali Benoa is an all-inclusive resort that focuses on fun and relaxation with its offer of luxurious rooms, world-class facilities, and exciting activities. Tajung Benoa is in the heart of Benoa Bay; this once sleepy fishing village is now the home to outdoor water sports galor. When you book your stay at Sol Beach House Bali Benoa, you're booking the ideal beach getaway — and an all-inclusive experience.
Featured in:
Beachfront, Honeymoon, All Inclusive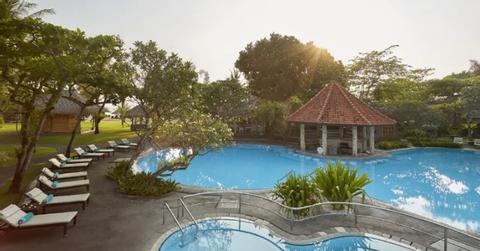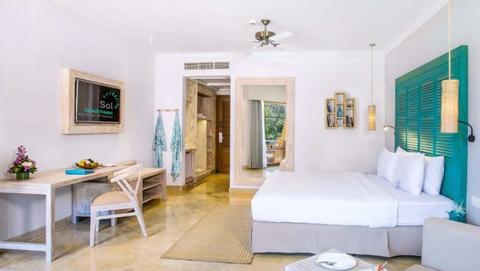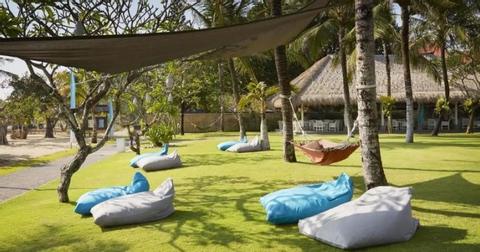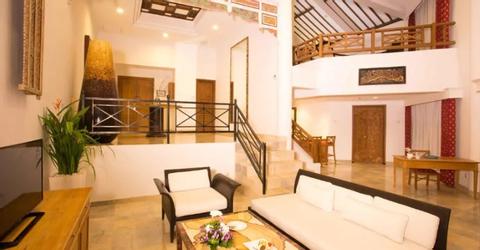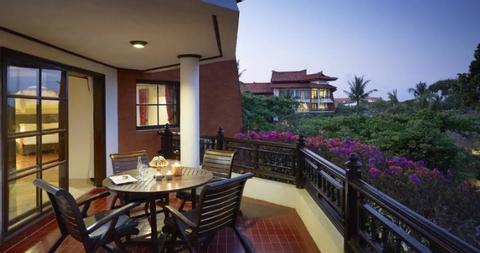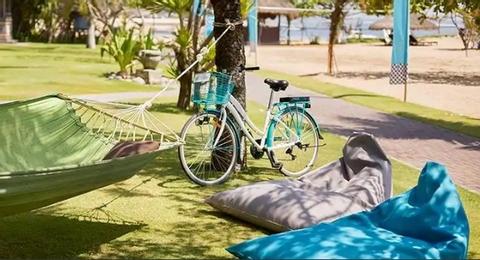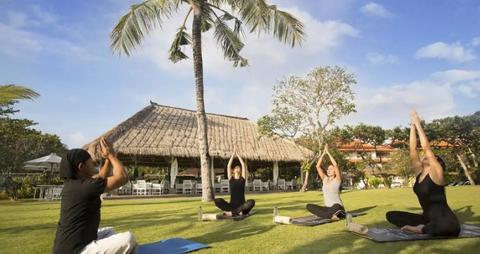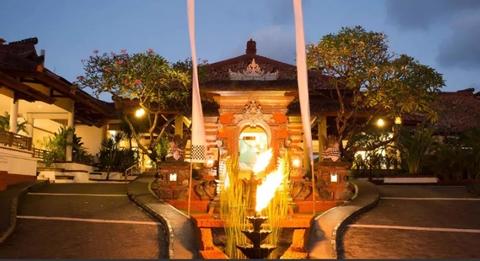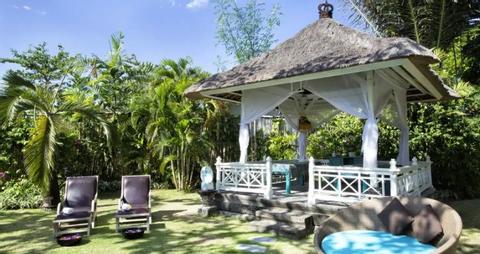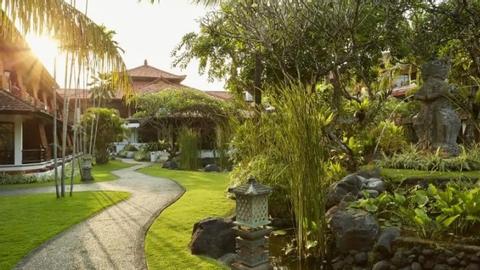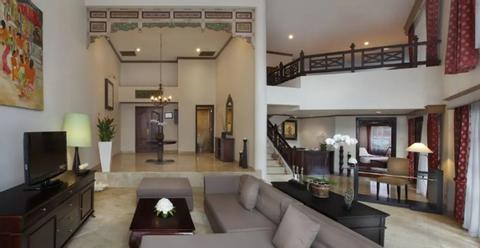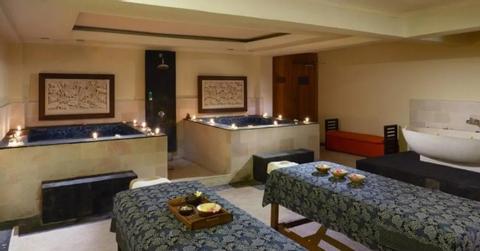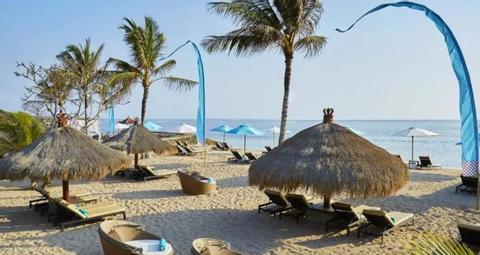 2:00 p.m. check in
12:00 p.m. check out
Restaurant in Hotel
Spa Services
Swimming Pool
Wireless Internet
Free Breakfast
Welcome to the island of Bali, Indonesia. During your stay at Sol Beach House Bali Benoa, you'll enjoy Tanjung Benoa and the beautiful Benoa Bay. This former fishing village has been transformed into an outdoor mecca for watersports. There's no need to choose between beachside fun and adventure when you can go parasailing, snorkeling, or scuba diving. Fancy yourself an avid fisherman? Your next great catch is waiting for you an a fly fishing tour. Take the kiddos out on donuts or a banana boat. Go on an ecological adventure when you take a tour of marshy mangroves. See how many plants you can identify and how many different types of wildlife you can spot! Hitting the beach is just the beginning of this vacation…
Sol Beach House Bali Benoa is your all-inclusive home away from home. You'll have incredible access to meals and snacks, entertainment, and waterfront fun; most importantly, you'll enjoy exquisite accommodations. Enjoy a taste of paradise when you watch the rolling Indian Ocean from your private balcony. Appreciate well-maintained landscaping and lush tropical gardens. When it comes to your individual room or suite, choose from the following options:
Beach House Room - This economical option is till big on luxury. With 538 square feet (50 sq m) of space, you'll never feel cramped. Spread out on a king size bed or choose 2 twin/single beds. Even your bathroom has the added indulgence of a rain showerhead.
Xtra Beach House Junior Suite - When you simply have to have a little mor space, opt for the Xtra Beach House Junior Suite, and get more of everything. At 753 square feet (70 sq m), even with a king size bed it's impossible to feel cramped. Treat yourself to the decadence of extra space. A favorite for romantic getaways.
Xtra Beach House Suite - This duplex suite is perfect for family getaways, or a great alternative to a summer share in the Hamptons. At 2,723 square feet (253 sq m), you'll have more than enough room to make yourself at home. Enjoy 2 bedrooms, living space, dining space, and even a powder room for guests.
Need a nibble or a refreshing beverage? No worries; that's part of your all-inclusive package:
Enjoy a breakfast buffet or an à la carte lunch or dinner at The Kitchen.
Sample authentic Italian cuisine at Amarta Restaurant.
Menage Seaside Restaurant serves up beautiful views and themed lunch and dinner buffets.
Ayoda Lobby Bar allows you to enjoy a drink and Wi-Fi. It's a popular spot for meetings and appointments.
Nelayan Pool Bar ensures that you're never far away from taking a dip and having a sip.
When you just can't seem to indulge yourself enough, you can book a spa treatment at the resort's Body & Sol Spa. There's nothing quite like relaxation and wellness by the sea. The spa takes a holistic approach so you can pamper your body inside and out; choose classic treatments such as facials or body scrubs, and soothe your tired muscles with a Balinese massage or reflexology.
The best part about your stay at Sol Beach House Bali Benoa is that you can feel good about it from start to finish. The resort boasts a Super Platinum Tri Hita Karana Certificate and a Master Earth Check Certificate. Translation? Sol Beach House has proven their comment to supporting both the local culture and environmental sustainability. It doesn't get better than this. Oh wait — it does! Because your Anywhere Travel Expert is managing all of your trip's logsitics, including transportation and tours. The only thing you have to do is get yourself to the airport on time. This really is the best vacation ever.
More Property Amenities
Air Conditioning
Bar
Beach Access
Breakfast Available
Cable TV
Conference Rooms
Full Size Gym
Internet Access
Massage
Mini Bar
Ocean View
Room Service
Safe Deposit Box
Telephone
Wet Bar
Accommodations
Suite Room with Silver All Inclusive Packages
Sleeps 4
Air Conditioning
Balcony
Cable TV
Hair Dryer
Mini Bar
Safe Deposit Box
Telephone
Wireless Internet
Living Room
Junior Suite with Silver All Inclusive Packages
Sleeps 3
Air Conditioning
Balcony
Cable TV
Hair Dryer
Mini Bar
Safe Deposit Box
Telephone
Wireless Internet
Beach House Room with Silver All Inclusive Packages
Sleeps 3
Air Conditioning
Balcony
Cable TV
Hair Dryer
Mini Bar
Safe Deposit Box
Telephone
Wireless Internet
Air Conditioning
Balcony
Cable TV
Hair Dryer
Mini Bar
Safe Deposit Box
Telephone
Wireless Internet
Air Conditioning
Balcony
Cable TV
Hair Dryer
Mini Bar
Safe Deposit Box
Telephone
Wireless Internet
Living Room
Air Conditioning
Balcony
Cable TV
Hair Dryer
Mini Bar
Safe Deposit Box
Telephone
Wireless Internet
Similar Hotels