Going on vacation is supposed to be about indulging and taking a break from the stresses of everyday life. With one flight, all of your worries are put on pause as you enjoy a life of nothing but happiness — a trip to paradise, beautiful accommodations, delicious food, fun activities, and plenty of napping. Welcome to The Mulia Bali — where each day is more beautiful than the last. Enjoy exceptional accommodations and service for everyone in your family — including the youngest members.
Featured in:
Beachfront, Luxury, Honeymoon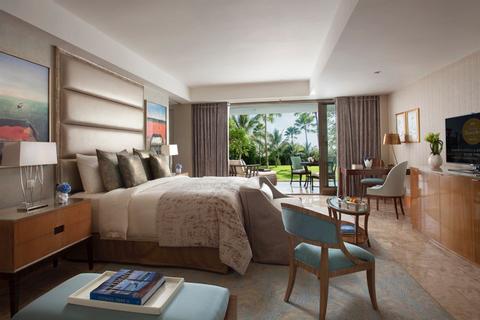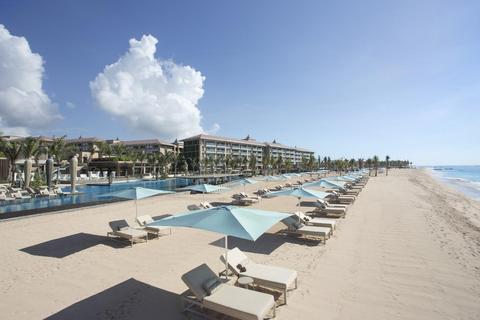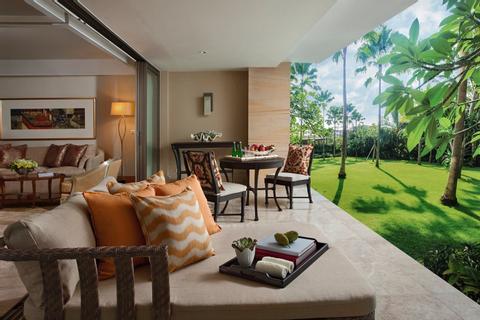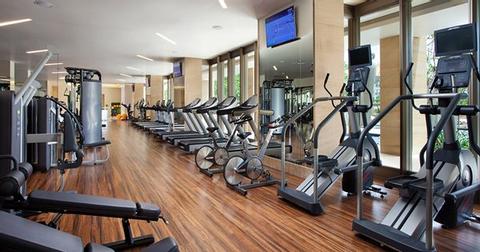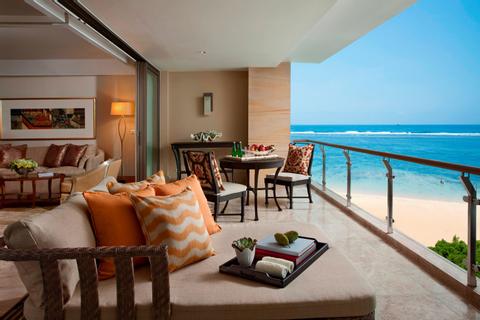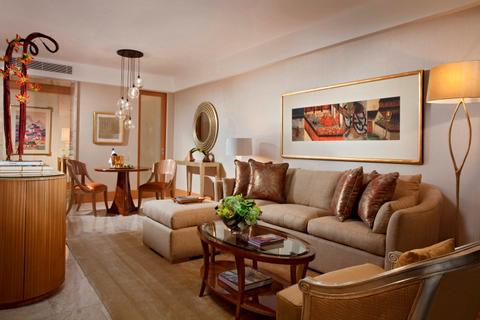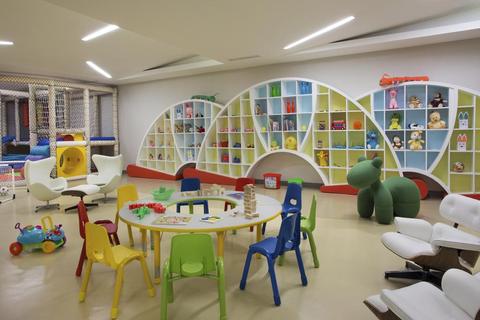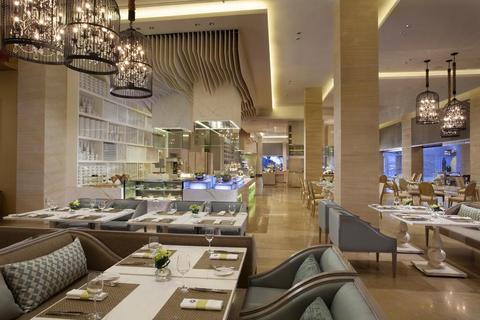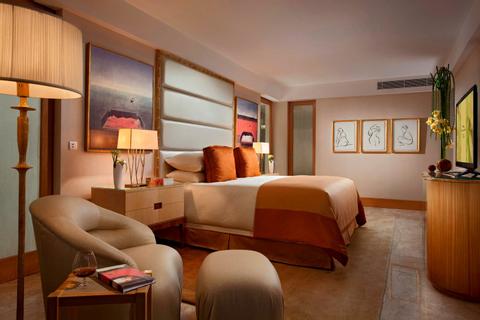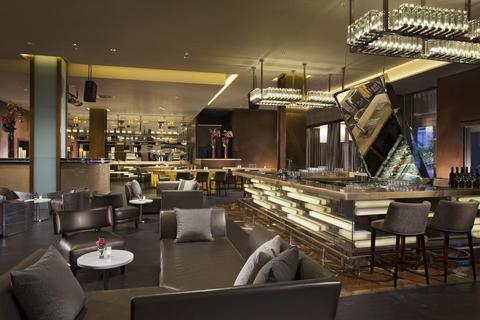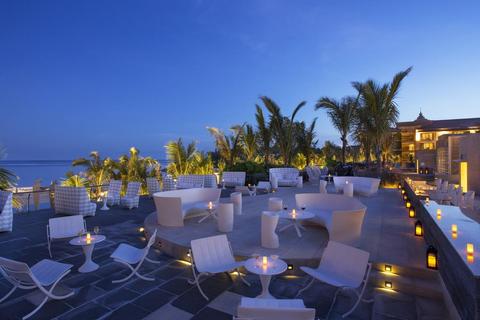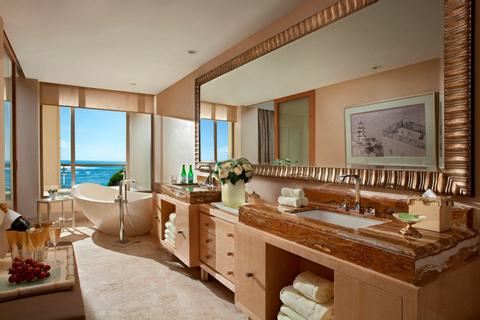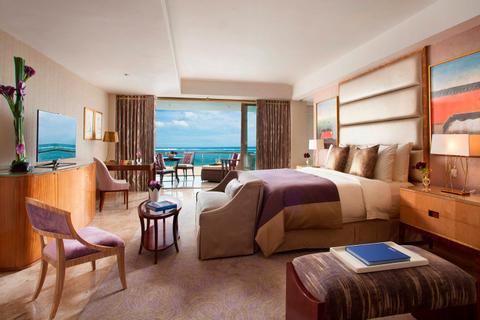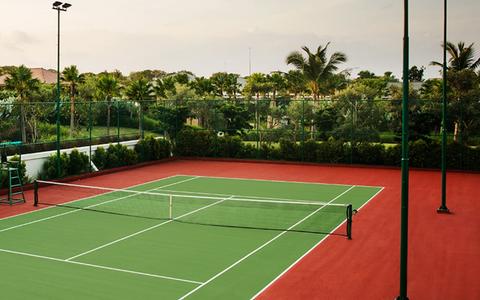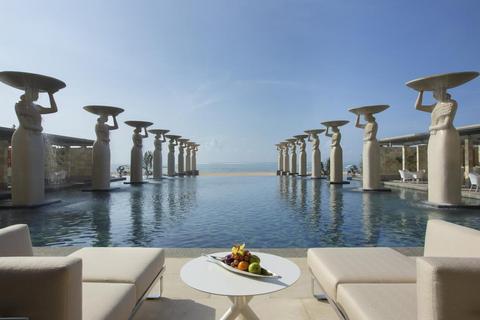 3:00 p.m. check in
12:00 p.m. check out
Restaurant in Hotel
Spa Services
Swimming Pool
Wireless Internet
Although the entirety of Bali, Indonesia is incredibly beautiful, Nusa Dua is in a class of its own. As Bali's premier resort destination, Western travelers will feel quite at home when it comes to having easy access to the amenities they are accustomed to. From an impressive shopping center to an 18-hole golf course, everything you could want in a comfortable and luxurious getaway is at your fingertips (and within walking distance) in Nusa Dua. At the same time, when you're not enjoying the comforts of home, you can still have an authentic experience when you take the time to visit local shops, restaurants, temples, museums, and more.
The Perks You Deserve
When you make The Mulia Bali your home base, you'll enjoy panoramic views of Nusa Dua Bay and a private balcony with a view of the Indian Ocean or the resort's immaculate gardens. Although you can choose from three (3) varieties of suites (The Marquess, Earl, and Baron), each comes with an exceptional view, built-in wardrobe, and oversized bathrooms — minimum. Additional perks are dependent upon the suite you purchase.
Speaking of perks, when was the last time you had a private butler? The answer will be your last vacation, if you book your stay at The Mulia Bali. You'll also enjoy access to a fitness center boasting today's most popular equipment (Elliptical and spinning, anyone?) and complimentary classes. If you prefer to get your exercise in the water, you can go stand up paddle boarding in the Indian Ocean or take a dip in one of the resort's six (6) swimming pools — the most famous of which is the Oasis Pool. This beachfront beauty lined with private cabanas for your pleasure and comfort.
Satisfy Everyone
Luxuriating sure can work up an appetite, that's why you'll be treated to a complimentary breakfast each morning. You'll also enjoy afternoon tea, and cocktails and canapés. When you want something a little more substantial, the resort boasts 11 restaurants and lounges serving everything from Japanese to Mediterranean fare — plus room service and other private dining options.
The Mulia isn't just a dream come true for adults, it also warmly welcomes children. Little ones 3 to 8 years of age will enjoy activities, crafts, and snacks at 'Mulia Kidz.' Older children and teens 9 to 15 years of age can head to the 'T-Zone' for a variety of games, crafts, and lessons. The schedules for each of these centers is always packed, so there's never a need to worry about the children being bored or unable to find something to do.
You Can't Indulge Too Much
Now that they little ones are entertained, it's time to really indulge. Book a treatment at Mulia Spa and let the holistic relaxation commence. Enjoy not only a traditional Balinese massage or a beauty treatment, but the full-fledged rituals for the mind and body. After your treatment, we suggest a leisurely midday nap on your large comfortable bed.
Tranquil moments are waiting for you at The Mulia Bali, where you needn't worry about a thing. Make this your most stress-free vacation yet when you let your Anywhere Local Expert manage every aspect of your trip's logistics accommodations, tours, and transportation. Pamper yourself with the click of a button.
More Property Amenities
Air Conditioning
Bar
Breakfast Available
Cable TV
Conference Rooms
Full Size Gym
Hair Dryer
Internet Access
Jacuzzi
Mini Bar
Room Service
Safe Deposit Box
Telephone
Tennis Court
Yoga Lessons
Accommodations
The Earl Suite Beachfront View
Sleeps 2
Air Conditioning
Cable TV
Hair Dryer
Jacuzzi
Mini Bar
Safe Deposit Box
Telephone
Wireless Internet
Living Room
The Earl Suite Garden View
Sleeps 2
Air Conditioning
Cable TV
Hair Dryer
Jacuzzi
Mini Bar
Safe Deposit Box
Telephone
Wireless Internet
Living Room
The Baron Suite Beachfront View
Sleeps 2
Air Conditioning
Cable TV
Hair Dryer
Jacuzzi
Mini Bar
Safe Deposit Box
Telephone
Wireless Internet
Living Room
The Baron Suite Garden View
Sleeps 2
Air Conditioning
Cable TV
Hair Dryer
Jacuzzi
Mini Bar
Safe Deposit Box
Telephone
Wireless Internet
Living Room
Similar Hotels