The resort's 400-plus rooms are just stops from the beach, on 17 acres (7 ha) of breezy, tropical opulence. You'll find plenty to do at the resort and can do a lot of exploring at the beach itself. This resort is ideal for family vacations, with so much to do within such a short reach.
Featured in:
Midrange, Beachfront, City Center, Great for Families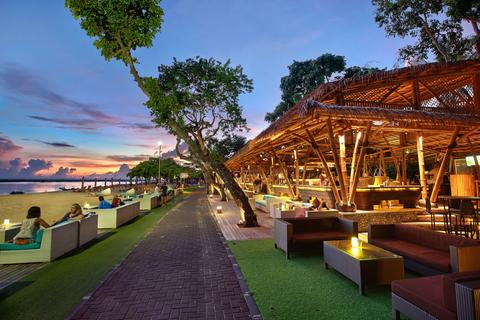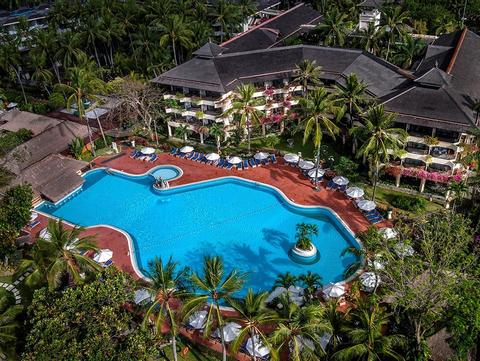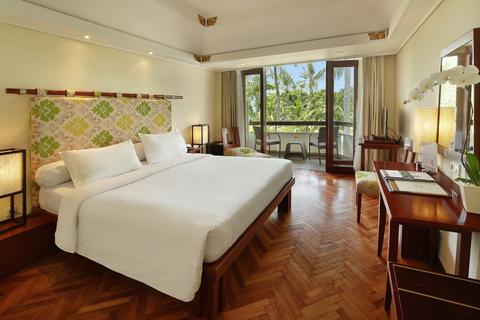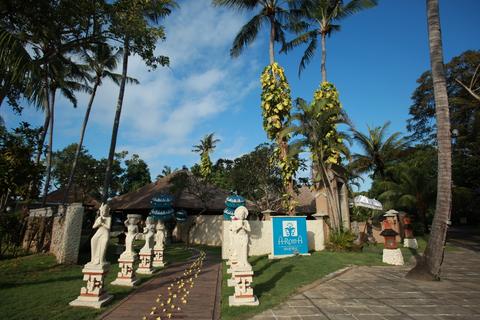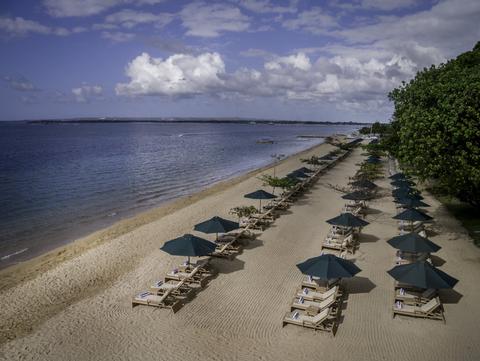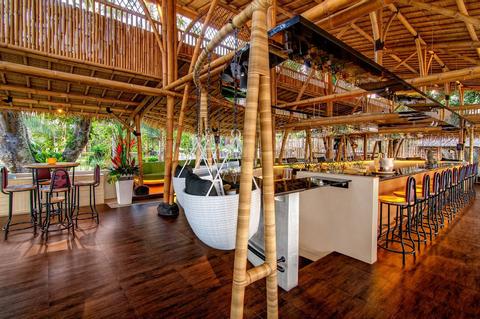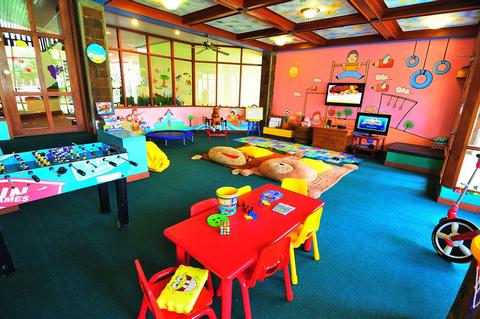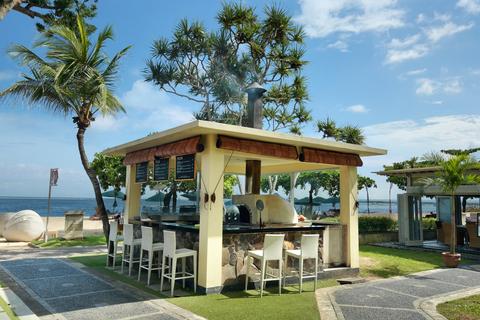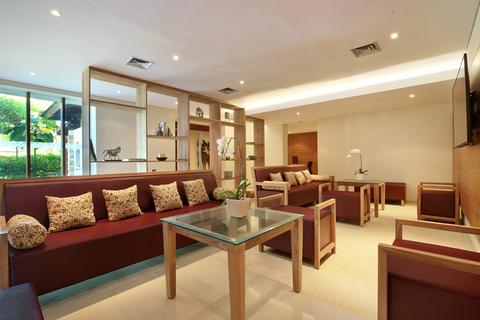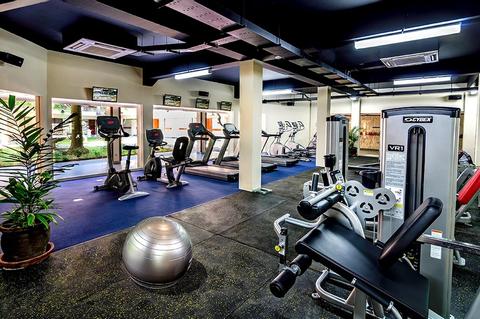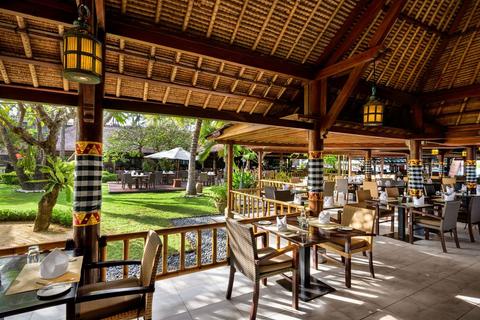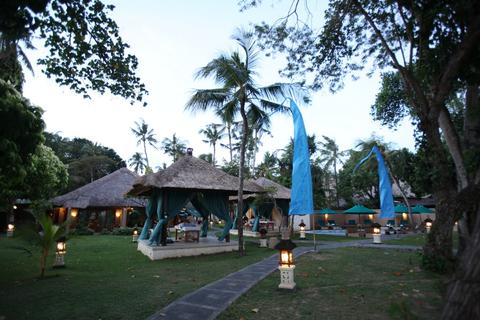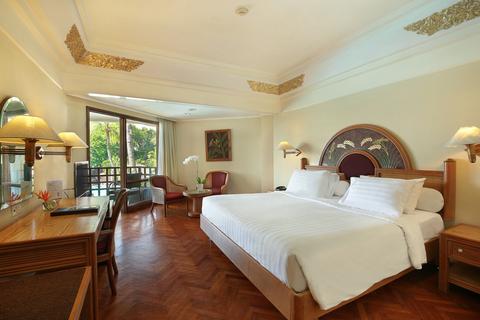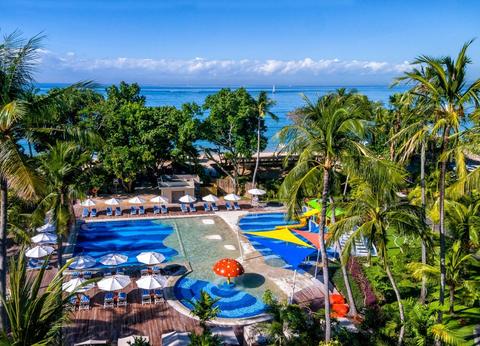 2:00 p.m. check in
12:00 p.m. check out
Free Breakfast
Restaurant in Hotel
Spa Services
Swimming Pool
Wireless Internet
Attractions & Sites
25 km
Prama Sanur has its own stretch of beach, where swimmers and kite surfers make the most of the seaside location. Coral reefs in the area block waves and create lovely, calm areas for swimming. There's also spots where you can surf. If you want to see more of thes surrounding area, the hotel also offers a bike rental so you can see the tropical forests. If you'd like to see some more of Balinese culture, travel about 20 minutes inland to see the city of Denpasar, where you can experience authentic culture and lots of good shopping.
There a bar and lounge right on the beach where you can order drinks as well as wood-fired pizzas. Dine in the on-site beachside restaurant, which has a high ceiling and beachy, wicker furnishings. The lounge also embraces the sunny atmosphere and relaxed ambiance.
Take a dip in the lagoon pool and get a refreshing cocktail from the poolside bar. This resort is designed for families and you'll find the hotel has fun activities for all ages—there's a splash zone with waterslides. Prama Sanur has a large spa where you can find every pampering treatment you could want. Visit the fitness center and check out the nice range of cardio equipment.
Get some serene time to yourself in the library. Business travelers can set up a presentation in one of the large conference or meeting areas and check out the business center for anything they need in the meantime. If you have a formal event to throw, check out the beautiful outdoor facilities at the resort.
All of indoor areas have air conditioning and there is Wi-Fi throughout the resort. Your room will come with views of either the tropical garden or the ocean. You can store your belongings in safety deposit box. Rooms have private bathrooms equipped with hair dryers. There's a telephone and cable TV in the room, as well as 24-room service.
More Property Amenities
Air Conditioning
Bar
Breakfast Available
Cable TV
Full Size Gym
Gardens
Kids Pool
Mini Bar
Ocean View
Private Parking
Room Service
Safe Deposit Box
Telephone
Accommodations
One Bedroom Pool Villa
Sleeps 3
Air Conditioning
Balcony
Cable TV
Hair Dryer
Hot Water
Jacuzzi
Mini Bar
Safe Deposit Box
Telephone
Wireless Internet
Living Room
Dining Room
Air Conditioning
Balcony
Cable TV
Hair Dryer
Hot Water
Mini Bar
Safe Deposit Box
Telephone
Wireless Internet
Air Conditioning
Balcony
Cable TV
Hair Dryer
Hot Water
Mini Bar
Safe Deposit Box
Telephone
Wireless Internet
Air Conditioning
Balcony
Cable TV
Hair Dryer
Hot Water
Mini Bar
Safe Deposit Box
Telephone
Wireless Internet
Deluxe Garden View
Sleeps 3
Air Conditioning
Balcony
Cable TV
Hair Dryer
Hot Water
Mini Bar
Safe Deposit Box
Telephone
Wireless Internet
Air Conditioning
Balcony
Cable TV
Hair Dryer
Hot Water
Mini Bar
Safe Deposit Box
Telephone
Wireless Internet