The Blue Karma Seminayak is just a 20-minute walk from the nearby beach, and not far from the urban environments of Kuta and Denpasar. Get in lots of shopping and sightseeing as well as long afternoons on the sunny beach.
Featured in:
Midrange, City Center, Honeymoon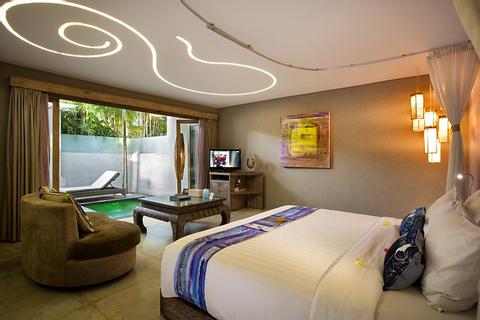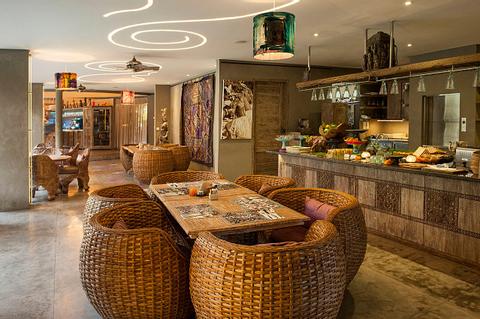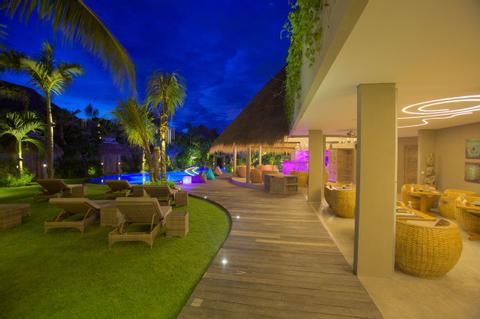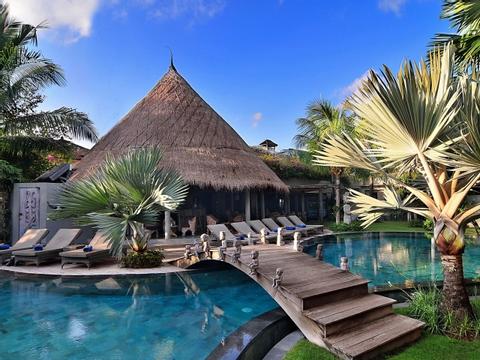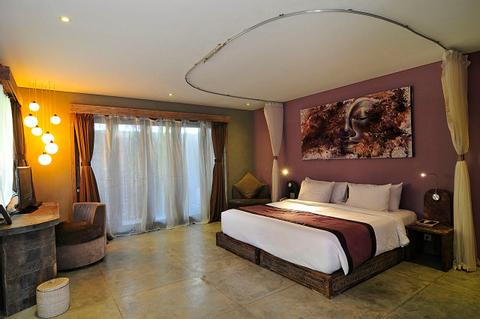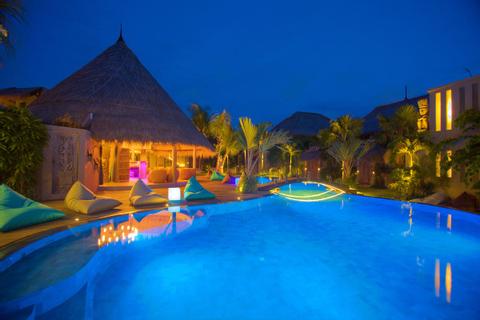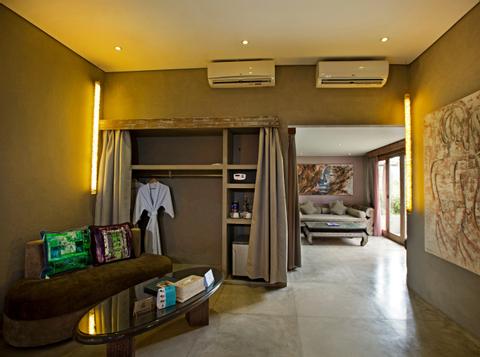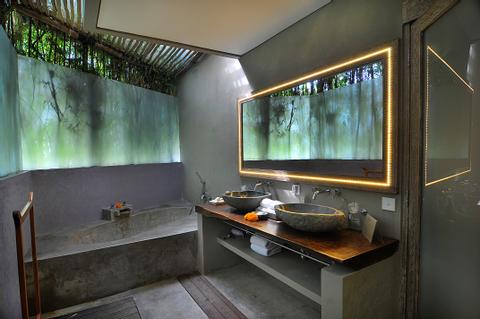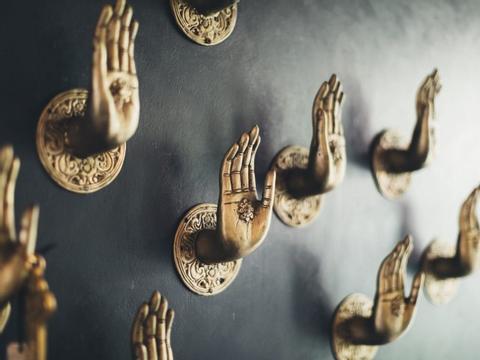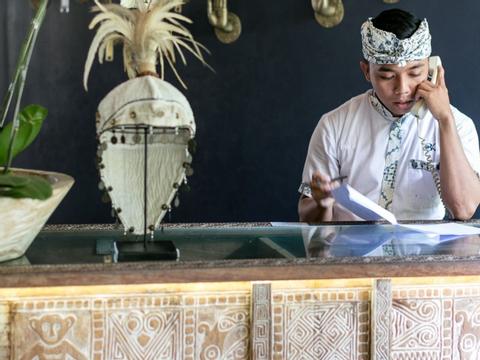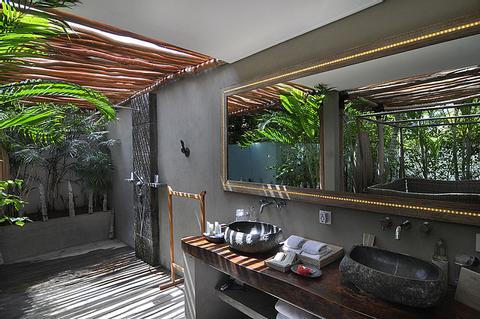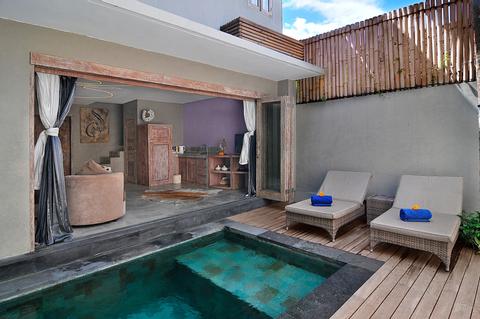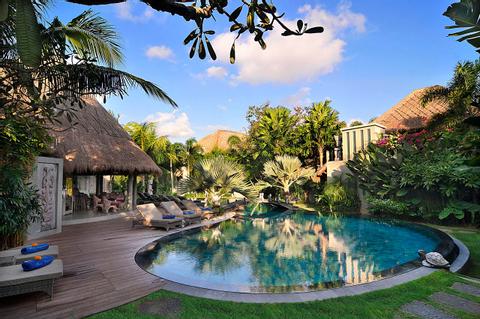 2:00 p.m. check in
12:00 p.m. check out
Free Breakfast
Spa Services
Swimming Pool
Wireless Internet
Attractions & Sites
9 km
15 minutes from the busy streets of Kuta and the popular shores of Kuta Beach. This is a busy place—ideal if you're here for people-watching and nightlife, but plan to travel a bit farther if you want a truly tranquil beach. If you're looking to take a break from heavily touristed areas, travel about 20 minutes inland to reach downtown Denpasar, a busy city that has authentic Balinese culture, and because there aren't many visitors, lots of excellent shopping. Cultural attractions in Denpasar include Hindu temples and the Bali Provincial Museum.
Room here are spacious and have calm, earth tones from natural materials like teak and lava stone that contrasts with colorful art. All of the suites and villas are air conditioned and come with private bathrooms. If you book a villa, your guest accommodations will come with their own private plunge pool. You can connect to the Wi-Fi anywhere in the resort. Feel free to ask the hotel staff handle your laundry as well as your dry cleaning.
This resort offers intensive yoga retreats. Take a break next to the pool, which comes with a charming footbridge. Visit the spa and choose from a menu of trendy treatments like colonic cleanses as well as traditional Balinese massage. This environment is ideal for meditation and encourages travelers to take a few moments to connect with themselves.
The on-site restaurant offers a simple menu of Balinese classics, and breakfast is included in your stay. Feel free to order room service. You can also request for fun dining experiences like a picnic in the rice paddies. Sidle up to the bar for a refreshing sip of something cool after a long day of exploring.
More Property Amenities
Mini Bar
Room Service
Safe Deposit Box
Telephone
Yoga Lessons
Accommodations
One Bedroom Suite with Pool
Sleeps 3
Air Conditioning
Cable TV
Hair Dryer
Hot Water
Mini Bar
Safe Deposit Box
Telephone
Wireless Internet
DVD Player
Deck
Two Bedroom Suite with Pool
Sleeps 6
Air Conditioning
Balcony
Cable TV
Hair Dryer
Hot Water
Mini Bar
Safe Deposit Box
Telephone
Wireless Internet
DVD Player
Living Room
Three Bedroom Suite with Pool
Sleeps 9
Air Conditioning
Cable TV
Hair Dryer
Hot Water
Mini Bar
Safe Deposit Box
Telephone
Wireless Internet
DVD Player
Living Room
One Bedroom Suite
Sleeps 3
Air Conditioning
Cable TV
Hair Dryer
Hot Water
Mini Bar
Safe Deposit Box
Telephone
Wireless Internet
DVD Player
Four Bedroom Suite with Pool
Sleeps 12
Air Conditioning
Cable TV
Hair Dryer
Microwave
Mini Bar
Safe Deposit Box
Telephone
Wireless Internet
DVD Player
Living Room
Dining Room
Deck
Similar Hotels