Sule Shangri-La is in the thick of the action in Yangon. From here you can get to some of the most interesting neighborhoods as well as some of the must-see Buddhist monuments.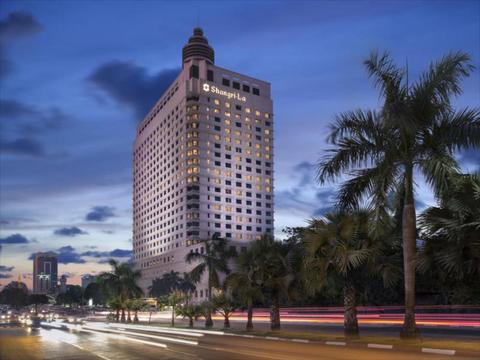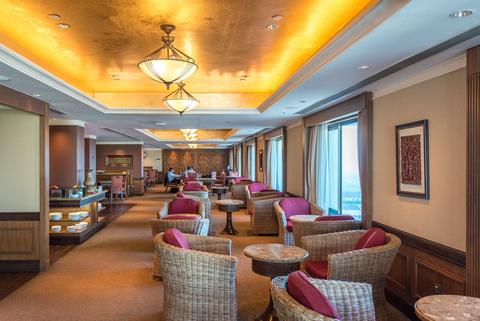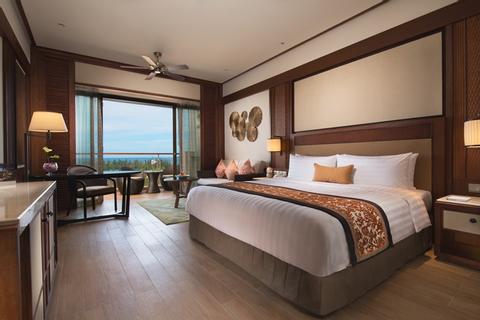 2:00 p.m. check in
12:00 p.m. check out
– Some rooms feature –
Wireless Internet
It's a 10-minute taxi ride from the hotel to the Shwedagon Pagoda, which is one of Myanmar's most famous pagodas. This pagoda dazzles the senses with walls covered in gold and jewels, surrounded by flower offerings. You can take a 10-minute walk from the hotel to reach the Sule Pagoda, which at 2,000 years old is even older than Shwedagon Pagoda. In the same vicinity, you can visit the Colonial Quarter to see buildings left behind the British — the Queen Anne-style architecture stands in stark contrast to the Buddhist stupas. The colonial quarter is next to the Chinatown market, where you can survey a wild variety of street food.
This is an enormous luxury hotel with a total of 484 guest rooms. Your room will look out over the city, the Shwedagon Pagoda, and the nearby Yangon River. Help yourself to a drink at the room's minibar, as well as the coffee and tea making station.
All of the rooms come with Wi-Fi and cable TV. You can safely store your belongings in the electronic safety deposit box. Each room also has a direct dial telephone that comes with voicemail. Private bathrooms come equipped with a shower and a separate bathtub. They're also stocked with high-end toiletries and a hairdryer. You'll also have access to an iron and ironing board.
If you have an event to host, check out the ballroom that can accommodate 480 people. There are also smaller meeting rooms with audiovisual equipment and an exclusive lounge for club members.
Guests can choose from a wide range of menu items, including international options at the buffet. There's also a pub and a lounge that serve a tempting menu of snacks. The pool bar also has an a la carte menu in a relaxing poolside setting. If you prefer to stay in, you can rely on the 24-hour room service.
Choose from a variety of pampering treatments. Swim a few laps in the swimming pool and stop by the beauty parlor.There's a fitness center, as well as a hot tub, a sauna, and a steam room.
More Property Amenities
Accommodations
Air Conditioning
Cable TV
Hair Dryer
Hot Water
Safe Deposit Box
Wireless Internet
Air Conditioning
Cable TV
Hair Dryer
Hot Water
Safe Deposit Box
Wireless Internet
Similar Hotels