The Akwadup Lodge is located on a small island near Achutupu in Guna Yala. The hotel, which consists of seven cabins and a restaurant, is one of the most comfortable places to stay in Guna Yala.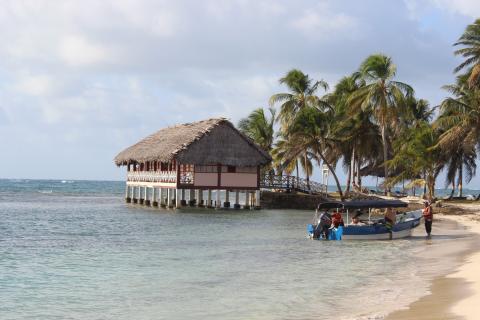 2:00 p.m. check in
12:00 p.m. check out
Restaurant in Hotel
Free Breakfast
Achutupu is located near Achutupu along the southeastern portion of Guna Yala. Don't confuse this Achutupu with the one by El Porvenir. This island is home to a large Guna village, whereas the other is uninhabited. The village is a fun place to walk around and get glimpses into Guna culture. There are scatterings of lovely, uninhabited islands nearby and on the mainland you can hike through the rainforest or visit old Guna burial grounds.
The Akwadup Lodge is set on a small private island. Bordered by a white-sand beach and covered in green grass and palm trees, the setting is idyllic. The hotel is owned and operated by a friendly Guna family that works hard to ensure that guests have a positive experience.
Accommodations consist of seven brightly colored, thatched-roof cabanas that sit over the water. Accessible by a wooden boardwalk, these cabanas are a nice mix of traditional Guna design and modern comfort. The beds are firm and comfortable and have mosquito nets draped overhead—some rooms have two double beds, while others have three single beds. There are ceiling fans to keep the inside cool (ocean breezes help too) and lighting powered by solar panels.
Each cabana has a tile-floor bathroom with a sink, flush toilet, and shower—impressive amenities for this remote of a location. Private balconies with hammocks look out over the Caribbean and offer guests a pleasant place to relax.
The hotel's restaurant is located in a large open-air rancho. Breakfast, lunch and dinner are included. The seafood – lobster, shellfish, snapper, and more – is fresh and tasty. In fact, most of it will have been caught the same day. Chicken and beef are also available, and there are side dishes of plantains, yucca, rice, and kidney beans. Fresh local fruit is typically offered as well. Drinks, both alcoholic and non-alcoholic, are available at an extra cost.
During the day, guests can lounge on the island or take trips to other islands to swim and snorkel. You can also take boat rides up the river on the mainland—with mango and palm trees hanging over the water, the experience is scenic and exotic. You might also visit the island of Achutupu to watch local Guna women craft colorful molas.
Important Note: Village taxes are not included on rates, those are paid in cash when you enter in the Guna Yala Village, the cost is $15 per adult and $9 per child.