Achutupu Island, Panama
Achutupu is a tiny private island along the western edge of the Gula Yala archipelago—both El Porvenir and Cartí are fairly close. You may hear this island referred to by its old name, Isla Perro, or "Dog Island." Travelers come here to meet with the Guna, on one of the most densely populated islands in the archipelago.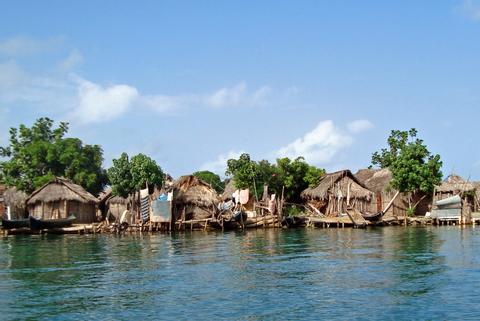 This is one of the most far-flung islands with a Guna village, so it's one of the best places to experience unadulterated Guna culture. You'll see people living off the land, in simple huts with yards where pigs roam free. It's also one of the best places to go on the hunt for your very own molas – these are colorful squares of embroidery that Guna women sew to the front of their blouses, but travelers often simply frame them and use them as stand-alone decorations. Achutupu has a reputation as one of the very best places to find quality molas.
Like most islands in the Guna Yala comarca, the white sand beach makes a memorable place to go for a swim. The water here is calm and clear and great for snorkeling, and there's even an old shipwreck off the south side of the island. Colorful coral grow along the ship's sides and tropical fish swim around it. It's a fun place to peer beneath the water and marvel at marine life. Travelers might plan a day trip from here to the nearby island of Ailigandi, where the Guna Revolt took place in 1925. Today, the island has a small museum that houses an original Guna Yala flag.