Coco Blanco Island, Panama
Coco Blanco is a tiny island that you can circumnavigate in 10 minutes. There are cabins for travelers who want to sleep not far from the idyllic Caribbean shore. The accommodations here are quite basic, and travelers here should plan to enjoy the simple luxury of lounging on and exquisite beach. But if a serene beach getaway is what you're looking for, you've come to the right place.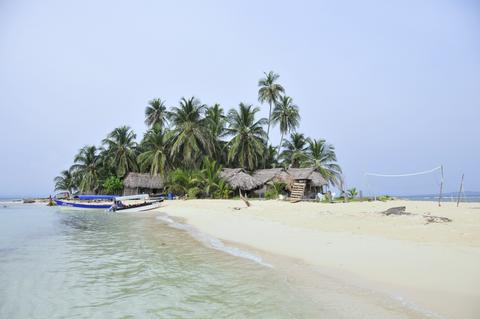 Embrace your adventurous side and plan trips to other islands in the area. The San Blas archipelago covers 378 islands, giving you plenty to see on boating and snorkeling trips. Guides here can show you some of the best snorkeling spots, which feature thriving coral reefs and a shipwreck from the 1930s.
Islands in San Blas specialize in perfect, white sand beaches as well as fascinating Guna communities. The Guna live according to tradition, and for the most part shun modern conveniences. They live off the land, and eat a locavore diet of lobster, coconut, rice, and other food harvested from the surrounding waters.