Senidup Island, Panama
Senidup Island is actually just half of an island – the other half is called Franklin's Island. You can choose from private huts or dormitory-style accommodations. It's a hospitable place for backpackers, as well as anyone ready to let go and unwind.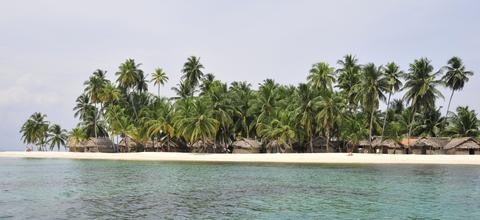 There's plenty of space for visitors to enjoy the beach, with hammocks where you can collect your thoughts, or simply enjoy the sounds of the island. You might also spread out a picnic blanket under a palm tree and watch the world go by. The white sand and coconuts complete the heavenly atmosphere provided by the atmosphere – but remember not to pick the coconuts yourself, as they're an important commodity for the locals.
This island has places to stay, and easy boat trips to the surrounding islands make it an interesting place to spend a few days. Although you'll see lots of marine life while you're here, keep in mind that fishing is not allowed in these protected waters. You will get to try some of the seafood that's here in the meals that come with your all-inclusive stay.