Costa Rica adventure vacation packages are exciting, but how exactly do they work, and how do you make sure you have the best experience possible? Read this article to find out…
last updated: 1/08/2020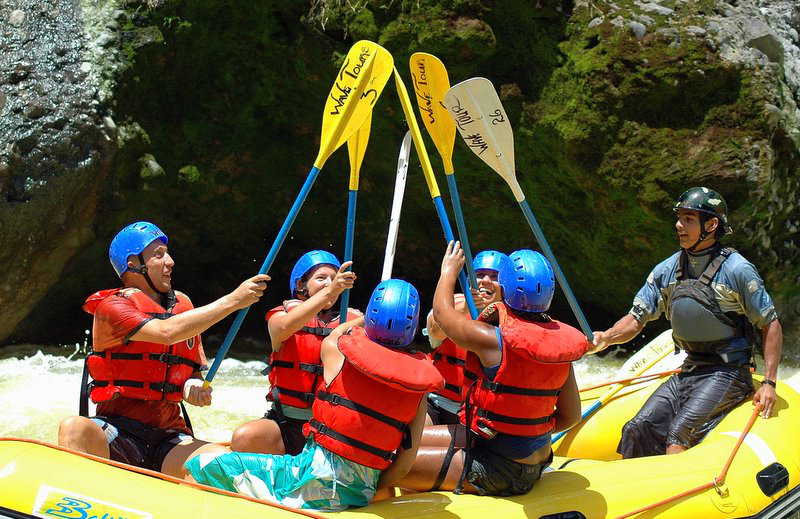 A group of whitewater rafters and their instructor cheers their adventure by touching paddles.
Adventure trips in Costa Rica—you've read a lot about them, and seen the amazing photographs of what awaits you, but how do they actually work? What are the logistics of adventure trips in Costa Rica? How do you get from Point A to Point B? Who is in charge of procuring equipment? How do you stay safe during all of your activities? Will you be running around during your entire vacation, or will you have a moment to relax and enjoy the scenery? Today, we're going to answer all of your outstanding questions…
How do adventure trips in Costa Rica work?

Sometimes it's best to leave the driving to the professionals…
When you work with an adventure travel specialist such as Anywhere, you don't have to worry about a thing. We can arrange transportation to and from your excursions so that you don't have to navigate bumpy and unfamiliar roads. The tour operators we work with will provide you with all of the equipment you need to participate in your activity—the only thing you will need to bring with you is a sense of excitement and the appropriate apparel.
The best adventure trips in Costa Rica are a hybrid—part rest and relaxation, and part activity. With adventure travel, coming back from your vacation rejuvenated doesn't mean you'll spend the entire trip passively sitting on a beach and shopping, it means you'll have a great time actively exploring and experiencing Costa Rica. You'll get off the beaten path by engaging with authentic Costa Rica—trekking through the native land and feasting on local cuisine.
I've seen some amazing activities, but are they safe?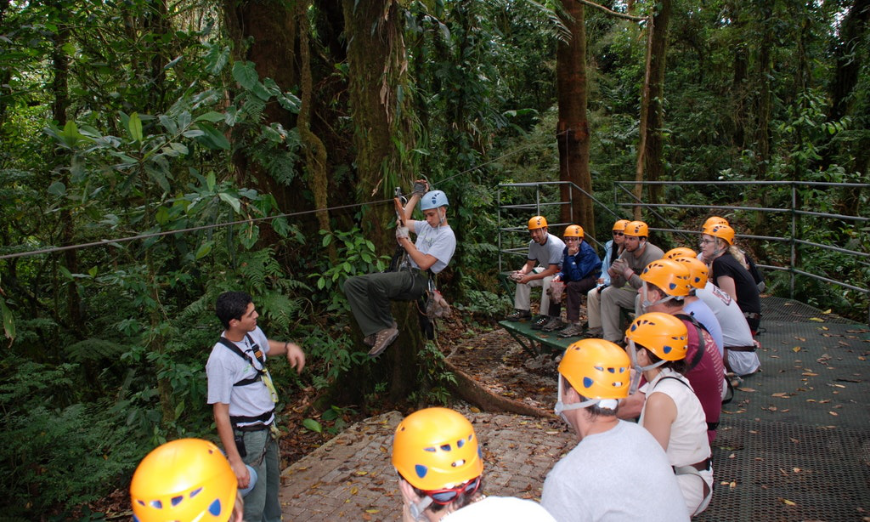 Zip liners observe and listen to instructions before partaking in this Costa Rican adventure activity.
Anywhere is a professional travel agency that specializes in offering safe adventure tours in unique destinations such as Costa Rica. We only partner with adventure tour operators who see the value of investing in training and safety. These operators are ICT certified, and boast impeccable safety records; they strive to ensure that everyone has a fun and safe time—especially inexperienced participants.
In life, accidents happen, but there is no excuse for not going above and beyond to prevent them. The adventure tour companies we work with regularly undergo inspections and are required to maintain comprehensive insurance policies for their staff and their participants. Whatever adventure you choose, safety equipment is checked before each use, and you will take part in a safety/instructional practice session which will teach you how to operate your equipment, and stay safe throughout your entire activity.
How do I ensure the best experience?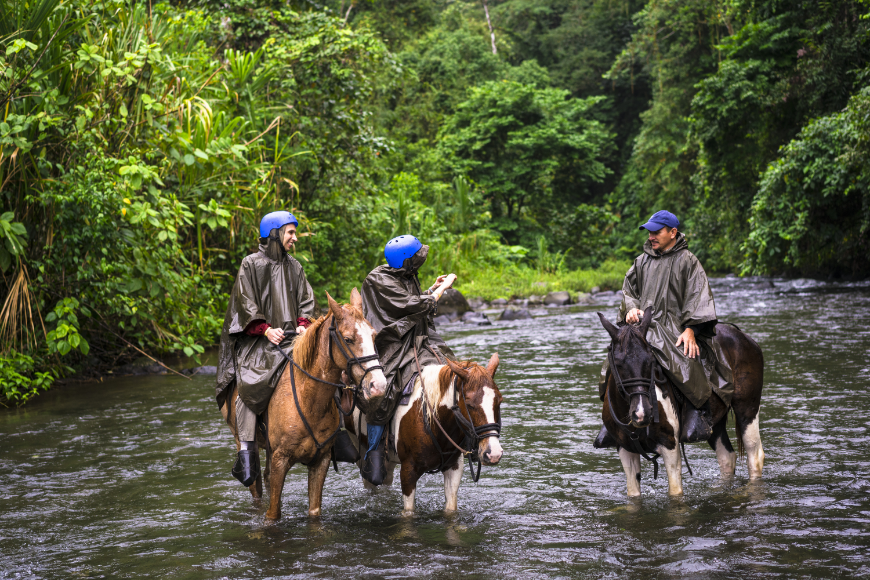 Taking selfies while crossing the river Arenal on horseback near the small town of La Fortuna, in Costa Rica.
Honesty. When you're planning your itinerary, be honest about your needs and experience level, because tour operators factor this information in, and they rely on its accuracy. It may seem trivial, but information such as your height, weight, and experience level is used to determine everything from what size and temperament of horse you should ride, to what class of rapids you can handle on a rafting trip.
You don't need to be worried about missing out. There's a misconception that only those with the most experience have the greatest adventures and stories, but nothing could be further from the truth. Your vacation is your adventure, and Anywhere's tour operators know how to ensure that even those at a beginner's level have an amazing and unforgettable experience. The best part? Because you'll be participating based on your skill level, you'll have a great time—you'll be safe and able to keep up!
Tell me again what kind of adventures I can have…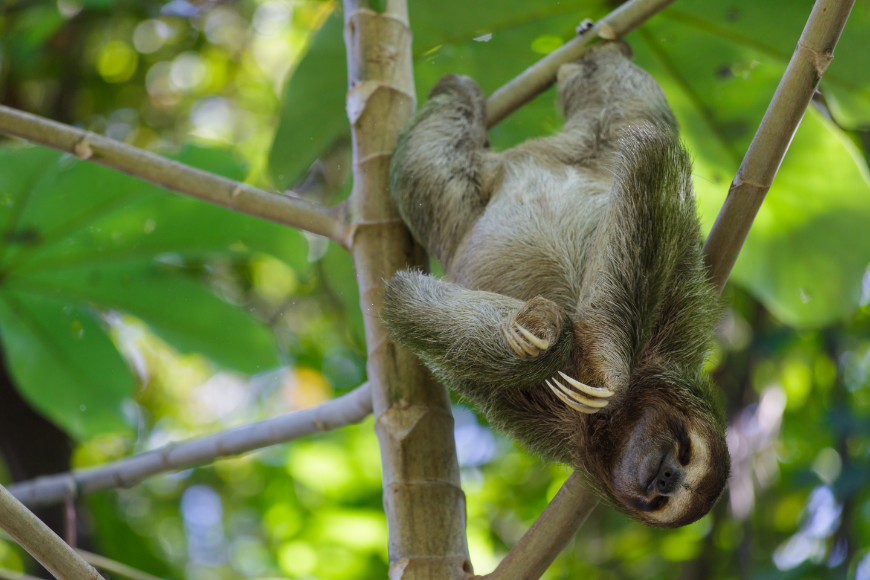 A three-toed sloth hangs upside down in a tree, located in Manuel Antonia Costa Rica.
Almost any kind you want! "Adventure" means different things to different people, and the best adventure trips in Costa Rica grant you the opportunity to do the things you most want to do:
In short, with Anywhere's help, your adventure can be anything you want it to be.
Finally, if you really want to ensure your trip goes flawlessly and could be reimbursed if any situation out of your control arises, why not think about purchasing travel insurance. Get a quote here.
Whether you're planning adventure family trips to Costa Rica, adventure vacation packages for couples, or are indulging in solo adventure travel, the best adventure trips in Costa Rica are those built around your needs and interests. Be honest about how much activity you want to engage in and your experience level, and you'll have a great time, great memories, and great photos.