One author fulfills a teenage dream of visiting a cloud forest in Monteverde, Costa Rica.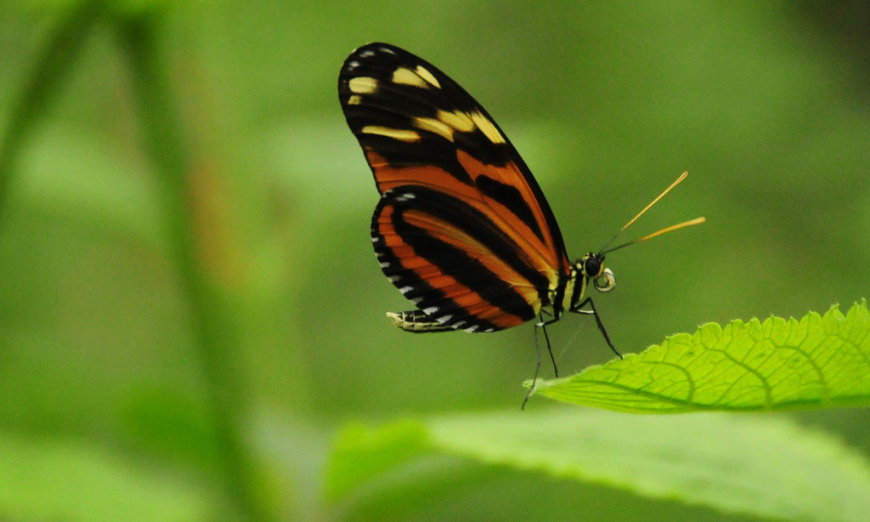 Memories, beauty, and forest friends are awaiting you in Monteverde. Plan your own adventure...
A Guest Post By: Marni Switzer
Our first week in Costa Rica had been full of adventure. When my husband Jake and I booked our vacation with Anywhere.com, we were hoping for a mix of adventure and relaxation, and they definitely delivered. So far, we had watched a nesting turtle lay eggs, as well as baby turtles scuttle their way into the sea. We'd been kayaking in Tortuguero, gone snorkeling in the Caribbean Sea, and seen capuchin monkeys play in the trees. We had survived the rapids of the Pacuare River, and gone horseback riding around Vulcan Arenal, but it was Monteverde that I was looking forward to most.
I had wanted to go to Monteverde ever since I had watched a travel show as a teenager and had seen the beautiful cloud forest on my TV screen. But nothing prepared me for the breathtaking, lush scenery amongst the clouds. Jake took one look and said "we're in heaven" and I couldn't agree more.
Wine and dine at Hotel Belmar
Our first stop in Monteverde was our hotel. I will admit I had never been so excited to check into a hotel in my life! Our hotel had a five leaf sustainability rating, the highest rating possible; I was incredibly excited that Anywhere.com had booked us into the Hotel Belmar. It was made even better when we were told we had been upgraded to a suite.
We climbed up the stairs to our suite, past the hotel's garden, and stepped into our room; instantly, we were blown away by the view. We spent our first night in Monteverde having a delicious dinner in the hotel's farm-to-table restaurant Restaurante Celajes; later, drinking wine in the private Jacuzzi on our balcony—listening to the sounds of the cloud forest around us.
Perk up at Café de Monteverde
Although we were reluctant to leave our hotel room and the amazing view it afforded, the next morning we set off on the first stop of our packed itinerary in Monteverde. Being the coffee fiend that I am, I couldn't come to Costa Rica without visiting a local coffee farm. Our transportation to the farm arrived right on time (as it had done every stop along our trip so far) and whisked us away to Café de Monteverde, so we could learn about their sustainable practices and have a taste or two of their coffee.
Both Jake and I had been to coffee plantations before, but what stood out about Café de Monteverde (and indeed almost everywhere we went in Costa Rica) was its commitment to making as small an impact on the environment as possible. They kept goats to help graze the land and to make milk and cheese; they had pigs and ducks, and harnessed the methane gas from the pigs into a useable source of energy. The family cooperative grows vegetables to feed the workers who come to harvest the coffee cherries. They don't waste anything—from composting to collecting water from rainwater tanks. Café de Monteverde is even "Friend of the Earth" certified for their sustainable practices. And the coffee is pretty fabulous too!
We walked through different types of coffee plants, and even got to listen and glimpse a toucan on our three-hour tour of the coffee farm. We left with a couple of bags of beans to take home with us, explicit instructions on how to brew coffee properly, and a deeper appreciation of all the work that goes into making our morning cup of Joe.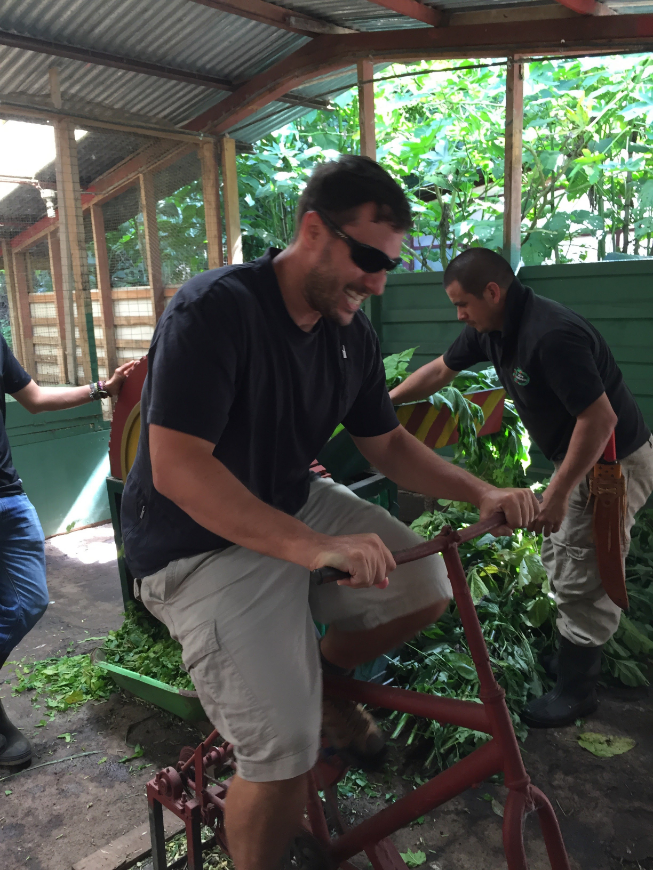 Jake, helping chop leaves for animal feed at Café de Monteverde .
After our tour of the coffee farm, we returned to our hotel for a quick bite to eat, and a change of clothes. The rain had started to come down, but we were soon off to our next adventure—Sky Trek!
Walking through a dream come true
The rainy afternoon allowed us to see Monteverde in its cloud forest glory. The mist and low-lying clouds that came down in the afternoon gave it an almost otherworldly look, quite ethereal. The change from glorious sunshine to thin clouds completely changed the environment, and the sounds around us.
One of the best things about traveling to Costa Rica in September was that there weren't hordes of tourists wherever we went. Most of the tours we had done so far were just Jake and me, and the Sky Walk was no exception. It was just Jake, our guide, and me crossing the hanging bridges and walking through the misty forest. Our guide was excellent, recognizing each animal sound and even showing us a hiding place for butterflies! As we walked on each bridge, we stood in awe of the amazing views over the canopy. Standing on each sky bridge really felt like standing in the clouds.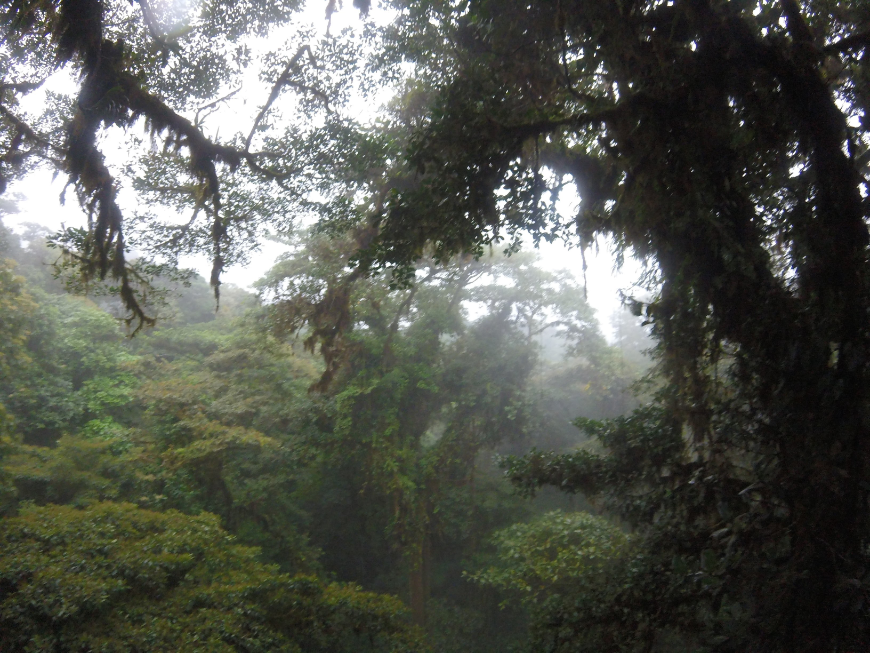 The ethereal beauty of Monteverde.
After our skywalk, we were supposed to do the Sky Trek—the zip line over the canopy, but the rain was really coming down, and Jake wasn't feeling great. So, we decided to skip the Monteverde zip line (we made up for it by doing a canopy tour in Manuel Antonio). We'll just have to go back and zip line in Monteverde another time! (Our guide let us know that it's better to do it in the morning before the rain starts. The rain is pretty consistent in the afternoon.)
Not goodbye, but until next time...
We spent our last afternoon in Monteverde wandering around town and drinking more of the local coffee; later, stopping in the hotel bar for "Tico Hour" to enjoy a few craft cocktails. In the evening, I had an ultimate study in relaxation—an in-room one hour massage. After over a week in Costa Rica, hiking and kayaking, and engaging in all sorts of activities, it was the best way to settle down in this little piece of heaven—listening to the rain outside.
As we prepared to leave for Manuel Antonio the next morning, Jake and I stood on our balcony one last time, watching a coati climbing in a tree—wishing that we had a few more days in the cloud forest, and vowing to return!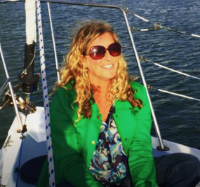 Author: Marni Switzer
Learn more about Marni's hopes, dreams, and daily adventures...
LinkedIn: linkedin.com/in/marni-switzer
Facebook: facebook.com/marni.switzer