Hotel Belmar is located in the luscious green mountains of Monteverde. Find yourself surrounded by the beauty of the cloud forest and its variety of wildlife and dense vegetation famous to this area. It is a place unlike no other, attracting eco-travelers and birders from around the world. Monteverde is a multicultural community with a mixture of Ticos, Quakers and foreigners, all contributing to this rich and cultural place.
Featured in:
Honeymoon, Hilltop, Sustainable, Boutique, Best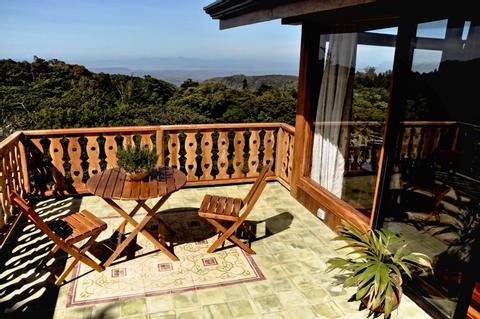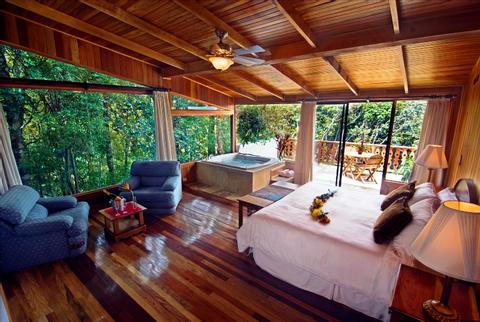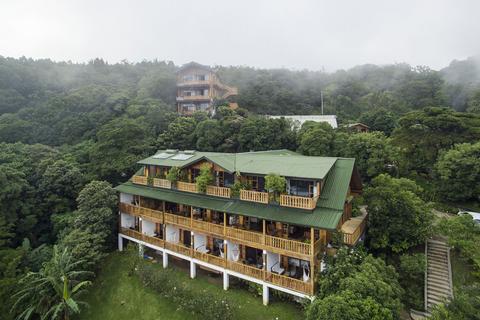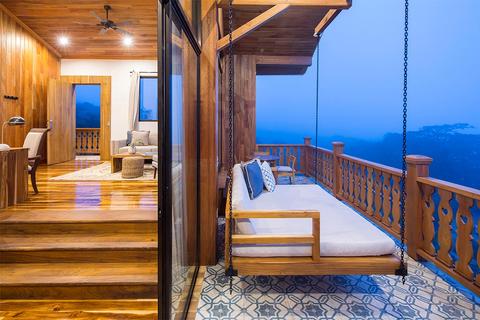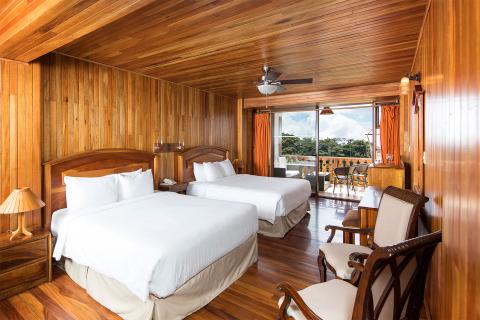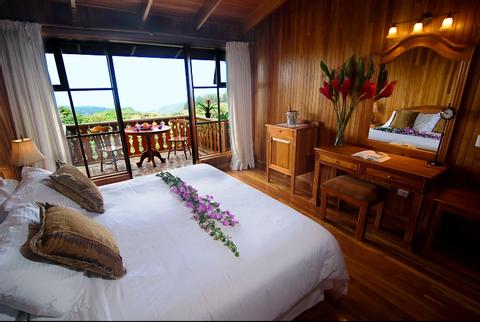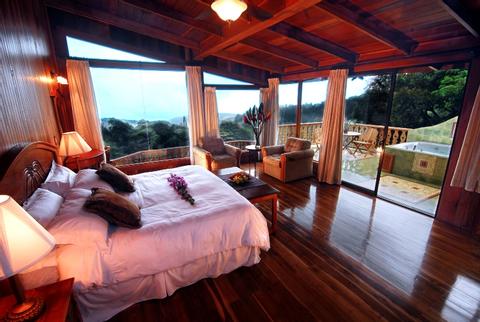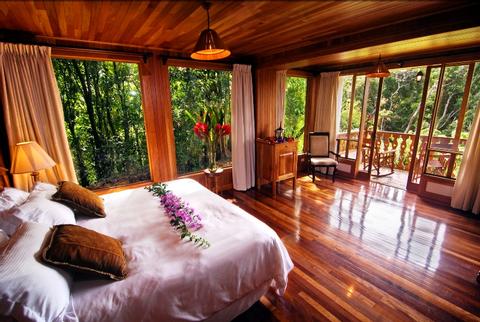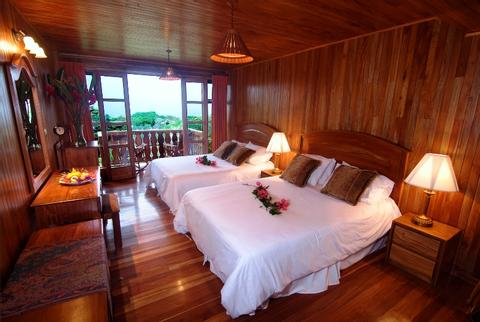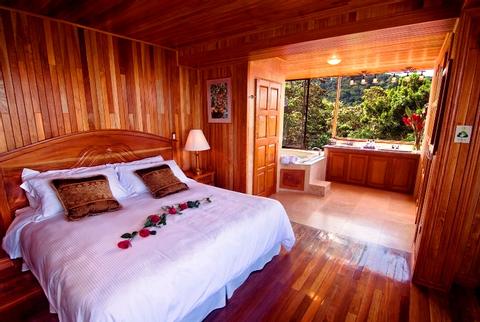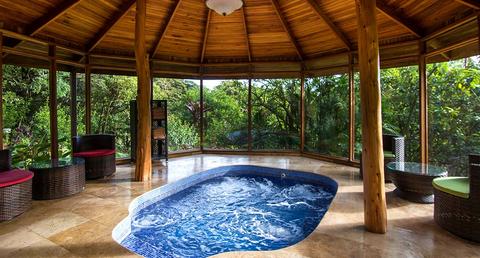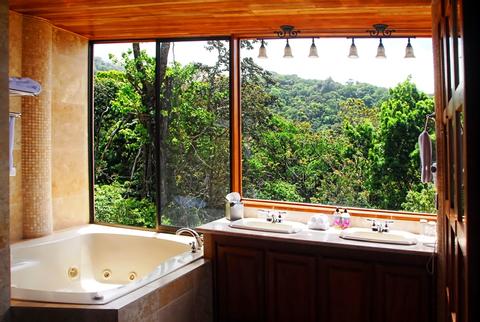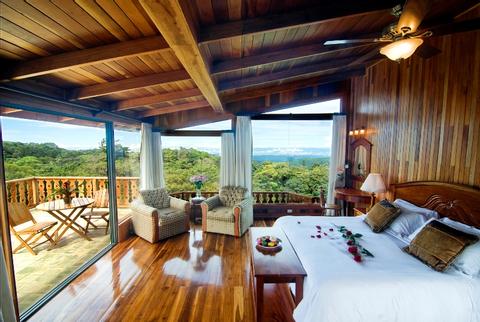 3:00 p.m. check in
12:00 p.m. check out
Restaurant in Hotel
Wireless Internet
Visitors from all over the world come to experience the Monteverde Cloud Forest where a trained guide will take you on an incredible tour of this magical forest. Perhaps even more popular is the opportunity to cruise through the air on an incredible canopy tour, soaring above the tree tops for incredible views on a zip line. Also experience the wilderness at night on one of the remarkable night walks which reveal the area's incredible nocturnal creatures. Also worth visiting are the Frog Pond, the Butterfly Garden, and the various insect museums.
Located high up for incredible views, The hotel offers spectacular views and personalized service in a comfortable and rustic atmosphere combined with the beauty of the surrounding landscape. After an exciting day hiking in the cloud forest, come and soak in the Jacuzzi with a panoramic view of the forest and Nicoya Gulf. Dine in the delicious restaurant serving meals made with fresh and local ingredients. In the evening have some fun with friends and family in the TV and game room.
The lovely rooms overlook either the Nicoya Gulf and Peninsula, or the rainforest. All rooms include a private bathroom with hot water, wall mirror, chest of drawers and a coffee table with chairs on the balcony. Here you will find yourself nestled in the serenity of nature which is sure to relax your senses and provide unparalleled tranquility.
More Property Amenities
Balcony
Bar
Game Room
Gardens
Hair Dryer
Hiking Trails
Hot Water
Internet Access
Jacuzzi
Laundry Service
Mini Bar
Private Parking
Safe Deposit Box
Telephone
Yoga Lessons
Accommodations
Chalet Deluxe - Sunrise Room
Sleeps 2
Hair Dryer
Hot Water
Jacuzzi
Mini Bar
Safe Deposit Box
Telephone
Chalet Deluxe - Sunset Room
Sleeps 2
Hair Dryer
Hot Water
Jacuzzi
Mini Bar
Safe Deposit Box
Telephone
Chalet Deluxe - Belmar Room
Sleeps 2
Hair Dryer
Hot Water
Jacuzzi
Mini Bar
Safe Deposit Box
Telephone
Chalet Deluxe - Canopy Room
Sleeps 2
Hair Dryer
Hot Water
Jacuzzi
Mini Bar
Safe Deposit Box
Telephone
Peninsula Superior
Sleeps 2
Balcony
Hair Dryer
Hot Water
Mini Bar
Safe Deposit Box
Telephone
Balcony
Hair Dryer
Hot Water
Mini Bar
Safe Deposit Box
Telephone
Chalet Deluxe - Forest Room
Sleeps 2
Balcony
Hair Dryer
Hot Water
Mini Bar
Safe Deposit Box
Telephone
Chalet Deluxe- Cloud Forest Studio
Sleeps 3
Hair Dryer
Hot Water
Jacuzzi
Mini Bar
Telephone
Nicoya Penthouse Suite
Sleeps 3
Fan
Hot Water
Jacuzzi
Mini Bar
Safe Deposit Box
Telephone
Wireless Internet
Living Room
Fan
Hot Water
Jacuzzi
Mini Bar
Safe Deposit Box
Telephone
Wireless Internet
Living Room
Feedback from Travelers
staff was amazing-really went out of their way to make sure we were comfortable. After several days of non-stop rain, our shoes, clothes and jackets were all soaking wet. They dried our clothes free of charge and offered us unlimited hot drinks. the indoor heated jacuzzi was amazing. The following day when the sun came out they encouraged us to eat outside, took our photographs and made sure to provide us with vegetarian food
Staff was very helpful and friendly. High,y recommended