The Black Market
Cuba
From pirated DVDs to homemade pizzas, the black market in Cuba is huge and all encompassing. The *bolsa negra*, as it's known here, has become a necessary fixture of the Cuban economy, touching nearly every person on the island and providing goods and services that are otherwise unavailable in the state-run marketplace.
In Cuba, nearly every economic activity is regulated. Raúl Castro has eased up government control in recent years, allowing Cubans with certain jobs the opportunity to work for themselves instead of for the state. This is an important move towards private business and entrepreneurship in Cuba, but the country is still a far cry from any kind of capitalist system. To this day, the state employs four of five workers in Cuba.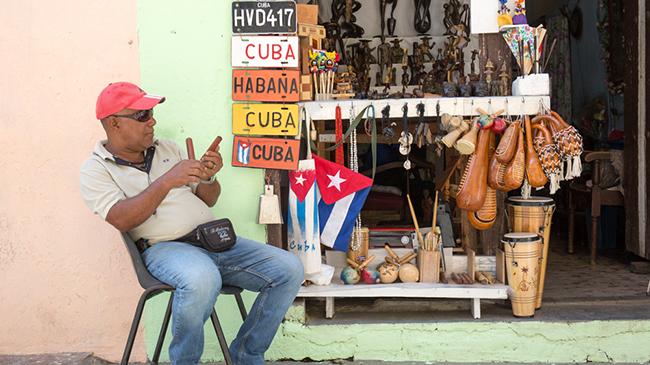 Cuba's black market really took off during the 1990s after the Soviet Union collapsed. Shortages on all kinds of goods followed. This led Cubans to do whatever they could to fill in the gaps in the marketplace.
In other countries, the black market is where drugs and prostitution are peddled. In Cuba, it's where household items, clothing, food, and electronics are sold.
Cubans are a hardy bunch, and rise each day to make what they can from what they have. The verb resolver (to resolve) has become synonymous with making ends meet via legal or illegal means in Cuba. For most people, interacting with the black market is an act of survival, and has simply become the norm.
State employees often steal small items from their place of work — for example, thread to make clothes or flour to bake bread. This is an almost necessary evil given how low salaries are in Cuba. Those with more money may travel abroad to places like Ecuador or Europe and return with items to sell on the black market, including clothing and electronics.
Since the Internet is so heavily regulated in Cuba, the black market is even used to get online. People who are allowed by the government to access the Internet – including doctors and other professionals – may sell time on their accounts to people who would otherwise be unable to access the web. More well-to-do Cubans may also have illegal satellite dishes, which allow them to pick up channels and movies from the U.S.
Most Cubans are self-employed in some way, and use the supplemental income to help them get by on the $20-per-month average salary that is provided by the state. Economists estimate that nearly everyone in Cuba is involved with the black market in one way or another.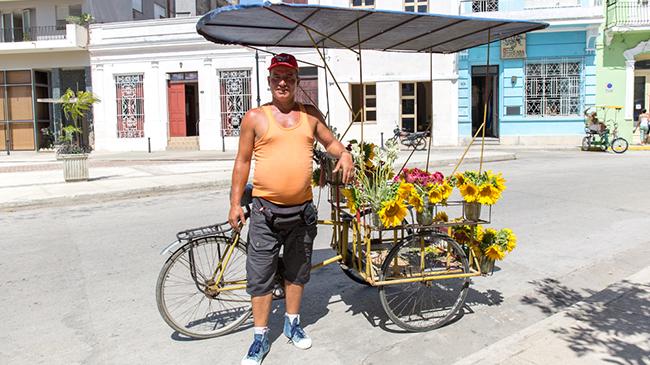 Pesos convertibles (CUC) are also important on the black market. Some people get this currency by selling things to foreigners, like food or handmade jewelry, while others receive cash sent to them from abroad. It's estimated that around 60 percent of the Cuban population has access to pesos convertibles. A new wealthy middle class has emerged in Cuba in recent years, and you'll often see them flaunting items purchased on the black market with pesos convertibles, including cell phones and fancy cameras.
Castro's government is aware of the black market and has taken steps in recent years to gain some level of control over it. Over 300,000 Cubans now have licenses that allow them to work for themselves; their jobs fall under about 200 categories that the government has deemed acceptable. Even so, these new entrepreneurs complain that taxes and social security payments take over 50 percent of their profits. And because there is no wholesale market in Cuba, it's difficult to obtain the raw materials that they need to grow their business.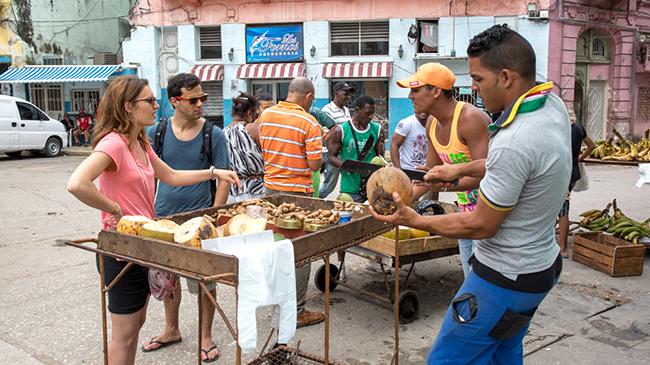 The government is also working to crack down on theft by state employees, and has sentenced workers and officials to long jail terms if caught stealing from the state. In March 2015, a dozen people were sentenced to between 5 and 15 years in prison for attempting to divert millions of eggs to the black market.
The Libreta
Cuba provides all of its citizens with basic food rations through a system known as the libreta. The libreta is shorthand for the ration book that marks the distribution of food and the amount that each person is allowed to purchase. Raúl Castro has flirted with the idea of getting rid of the entire system, but because the subject is so contentious, the issue has been dropped from the party platform. A few items were, however, removed from the government rations, including peas, potatoes, and cigarettes. These items are now available on the free market for a much higher price.
At present, each person in Cuba is allowed the following items per month — 11 ounces of beans, 6 pounds of rice, 4 ounces of lard, 5 pounds of sugar, and 8 eggs. These items are available at local shops known as bodegas. The libreta also outlines who is allowed to purchase certain items; for example, milk can only be bought for pregnant women or children under the age of seven.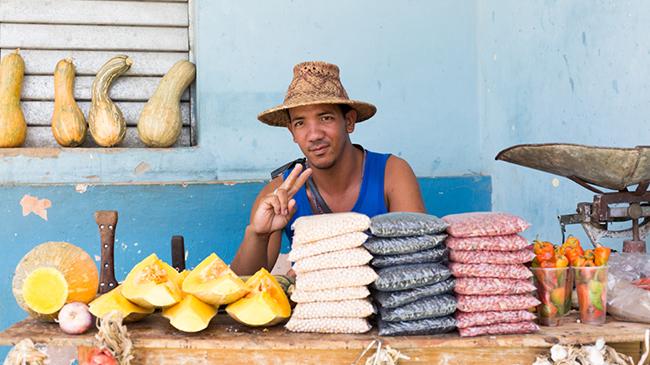 At certain times of the month, however, some items are entirely unavailable. Cuba often blames the U.S. embargo on the shortage of supplies, despite the fact that Cuba buys around 40 percent of its food from U.S. businesses (agricultural products are exempt from the embargo).
A serious problem for most Cubans is that the majority of goods – including soap, toothpaste, and toilet paper – are sold in pesos convertibles, while Cubans are paid low salaries in Cuban pesos (moneda nacional). The markup on the goods is huge (around 240 percent on average), and thus makes daily necessities unaffordable to many Cubans.
Cubans who have access to foreign money – for example, those with relatives in the U.S. – are better able to afford what they need. The same goes for those who work in tourism, as they often receive tips from travelers. However, for elderly Cubans or those who lack sources of foreign currency, it can be nearly impossible to have a surplus of food or money. The rationing program has thus created a dualistic system of haves and have-nots, despite the fact that on paper everyone receives an equal amount of basic food items.
El Mercado Negro
Desde DVDs pirateados hasta pizzas hechas en casa, el mercado negro en Cuba es enorme y englobante. La bolsa negra, a como es conocida aquí, se ha convertido en un elemento necesario en la economía cubana, alcanzando a casi toda persona en la isla y proporcionando bienes y servicios que de lo contrario estarían inasequibles en un mercado de dominio estatal.
En Cuba, casi que toda actividad económica está regulada. Raúl Castro ha alivianado el control estatal en los últimos años, permitiéndole a los cubanos con ciertos trabajos la oportunidad de trabajar para ellos mismos en lugar de hacerlo para el estado. Este es un paso sumamente importante hacia los negocios privados y el emprendimiento en Cuba, pero el país todavía se encuentra bastante lejos de un sistema capitalista. A día de hoy, el estado emplea a cuatro de cada cinco trabajadores en Cuba.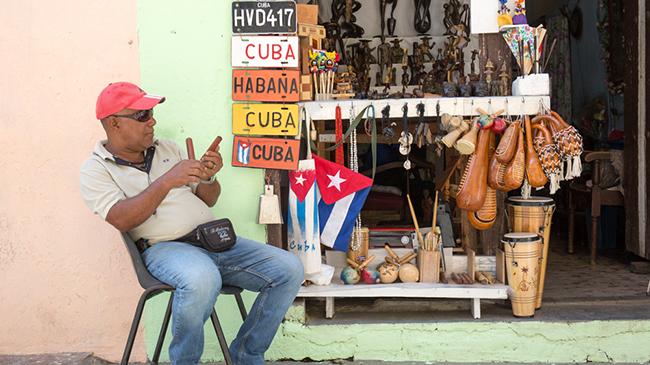 El mercado negro de Cuba despegó durante la década de 1990 después del colapso de la Unión Soviética. Posterior a dicho evento histórico, la escasez de todo tipo de bienes se aproximó. Esto condujo a los cubanos a hacer lo necesario para rellenar los vacíos que se encontraban en el mercado.
En otros países, el mercado negro alberga la venta de drogas y prostitución. En Cuba, es donde se pueden obtener artículos del hogar, ropa, comida, y electrónicos.
Los cubanos son personas resistentes, y cada día se levantan a dar lo máximo de sí para hacer lo mejor con lo que tienen. El verbo resolver se ha convertido en un sinónimo para describir las acciones legales o ilegales que le permiten a los cubanos sobrevivir. Para la mayoría de personas, interactuar con el mercado negro es un acto de supervivencia, y simplemente se ha convertido en la norma.
Los empleados estatales a menudo roban pequeños ítemes de su lugar de trabajo — por ejemplo, hilo para elaborar ropa o harina para hacer pan. Este es un mal necesaio dado a lo bajos que son los salarios en Cuba. Aquellos que poseen más dinero pueden viajar a lugares como Ecuador o Europa y volver con artículos para vender en el mercado negro, incluyendo ropa y electrónicos.
Dado a que el Internet es altamente regulado en Cuba, el mercado negro es utilizado para acceder al Internet. Las personas que tienen permitido por el gobierno el acceso a Internet – incluyendo doctores y demás profesionales – podrían vender el tiempo en sus cuentas a personas que de lo contrario estarían incapacitadas de acceder a la web. Los cubanos más acomodados podrían tener platillos satelitales ilegales, los cuales les permiten recoger canales y películas de Estados Unidos.
La mayoría de Cubanos de cierta forma son trabajadores autónimos, y utilizan el ingreso complementario para ayudarse con el salario promedio de $20 al mes proporcionado por el estado. Los economistas estiman que casi toda persona en Cuba está involucrada en el mercado negro de una u otra forma.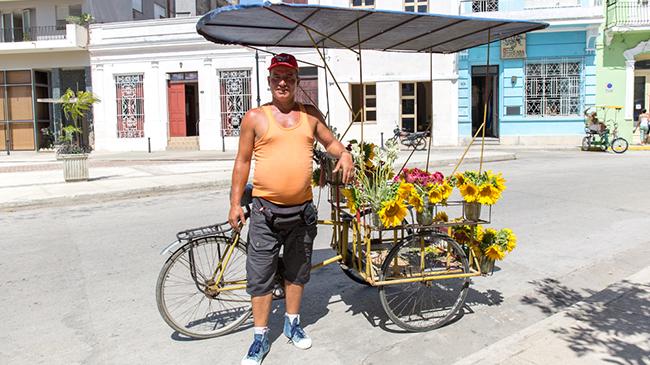 Los pesos convertibles (CUC) también son sumamente importantes para el mercado negro. Algunas personas obtienen esta moneda al vender artículos a los extranjeros, como comida o joyería artesanal, mientras que otros reciben dinero en efectivo enviado desde el extranjero. Se estima que alrededor del 60 porciento de la población de Cuba tiene acceso a los pesos convertibles. En los últimos años, una nueva y adinerada clase media ha surgido en Cuba, y a menudo podrá observarlos exhibiendo artículos comprados en el mercado negro con los pesos convertibles, incluyendo teléfonos celulares y sofisticadas cámaras.
El gobierno de Castro está consciente del mercado negro y ha tomado ciertos pasos en los últimos años para ganar cierto control sobre el mismo. Hoy en día, más de 300 000 cubanos tienen licencias que les permite trabajar para ellos mismos; sus trabajos caen bajo aproximadamente 200 categorías que el gobierno ha catalogado como aceptables. Aún así, estos nuevos emprendedores se quejan sobre los impuestos y los pagos de seguridad social, los cuales se apoderan de alrededor del 50 porciento de sus ganancias. Y dado a que no existe un mercado con venta al por mayor en Cuba, es extremadamente difícil obtener la materia prima necesaria para desarrollar sus negocios.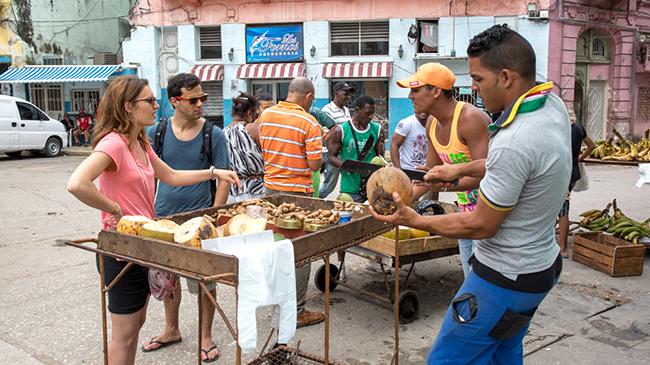 El gobierno también está trabajando duro para acabar con el robo por parte de los empleados del gobierno, y ha sentenciado a trabajadores y oficiales a largas sentencias en la cárcel al ser atrapados robando del estado. En marzo del año 2015, una docena de personas fueron sentenciadas a 5 - 15 años en prisión por intentar desviar millones de huevos al mercado negro.
La Libreta
Cuba le proporciona a todos sus ciudadanos raciones con comida básica por medio de un sistema conocido como la libreta. La libreta es una abreviatura para el libro de raciones que marca la distribución de comida y la cantidad que cada persona tiene permitido comprar. Raúl Castro ha filtrado la idea de deshacerse del sistema entero, pero dado a que el tema es contencioso, el asunto se ha soltado de la plataforma del partido. Sin embargo, algunos artículos fueron eliminados de las raciones estatales, incluyendo guisantes, papas, y cigarros. Estos artículos ahora se encuentran disponibles en el mercado libre por un precio mucho más elevado.
Actualmente, cada persona en Cuba tiene permitido los siguientes artículos por mes: 300 gramos de frijoles, 2.7 kilogramos de arroz, 113 gramos de manteca, 2.3 kilogramos de azúcar, y 8 huevos. Estos ítemes están disponibles en tiendas locales conocidas como bodegas. La libreta también indica quién tiene permitido comprar ciertos artículos; por ejemplo, la leche solo puede ser comprada por mujeres embarazadas y niños por debajo de los siete años.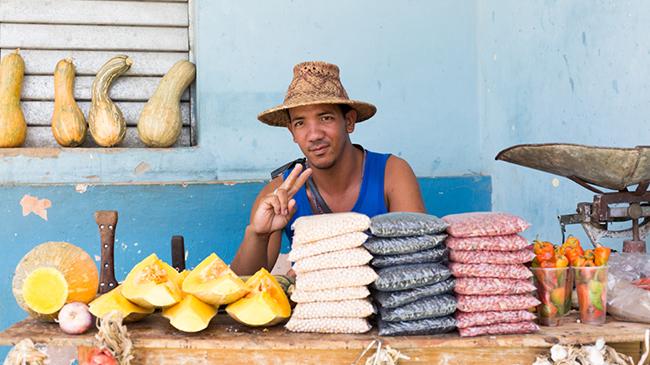 Sin embargo, en ciertos tiempos del mes algunos artículos no se encuentran disponibles. Cuba a menudo culpa al embargo de Estados Unidos por la escasez de suministros, a pesar del hecho de que Cuba compra alrededor del 40 porciento de su comida a negocios estadounidenses (los productos agrícolas están exentos del embargo).
Un problema bastante serio para la mayoría de los cubanos es que gran parte de los bienes – incluyendo jabón, pasta de dientes, y papel higiénico – son vendidos en pesos convertibles, mientras que los cubanos reciben bajos salarios en pesos cubanos (moneda nacional). El aumento en el precio de los bienes es enorme (alrededor de 240 porciento en promedio), y por lo tanto hace que las necesidades diarias sean inasequibles para muchos cubanos.
Los cubanos que tienen acceso a dinero extranjero – por ejemplo, aquellos con familiares en Estados Unidos – son más capaces de costear lo que necesitan. Lo mismo ocurre para aquellos que trabajan en turismo, ya que a menudo reciben propinas de los viajeros. Sin embargo, para los cubanos mayores de edad o aquellos que carecen de fuentes de monedas extranjeras, puede resultar prácticamente imposible tener un excedente de dinero o comida. El programa de racionamiento ha creado un sistema dualista de tener y no tener, a pesar del hecho de que técnicamente todos reciben una cantidad equitativa de artículos básicos de comida.