Gili Islands, Indonesia
Three sun-kissed islands form a popular vacation destination off Lombok's northwest coast. The Gili Islands represent three versions of tropical island paradise. Characterized by white sand beaches and warm turquoise seas, each island — Gili Trawangan, Gili Meno, and Gili Air — has its own personality. The islands are easily reached by boat from Lombok or Bali and are well-known for diving, surfing, partying, and serenity. The Gilis are located in North Lombok Regency, approximately 2.5 hours via transfer from Lombok International Airport.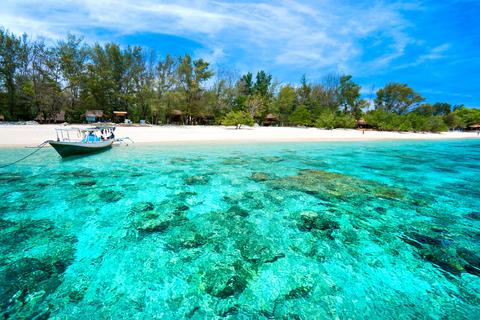 The Gili Islands form a line off the coast jutting into the straits of Lombok towards Bali. Their micro-climate tends to be warmer and drier than the surrounding islands because they are bookended by Mount Rinjani to the east and Mount Agung to the west. The inhabitants of the Gilis are primarily Muslim, with a few Western expats. First "discovered" by backpackers in the 1980s, the islands are now facing booming development and the strain of increasing tourism. They do possess many delights, and prices for basic accommodations remain eminently affordable.
Gili Trawangan, also known as Gili T, is the farthest from the coast of Lombok, and the largest island. Gili T is known as the party island of the three, a product of its rapid development and the proximity of many quality dive sites. The island attracts backpackers, divers, and the party crowd. It has the most restaurants, hotels, and the widest range of accommodations that cater to every budget.
Gili Meno is the middle island and the smallest of the three. It is almost the polar opposite of Gili T. Late night parties are banned and there are long stretches of desolate but beautiful beach to explore. It's the least developed of the three islands, but there are both luxury resorts and budget accommodations. Gili Meno is a favorite of honeymooners and those seeking to truly get away from it all.
Gili Air is the closest to shore, but exists squarely in the middle - it's the second largest island, and has a healthy mix of what Gili's T and Meno have on offer. Half the island is lively and populated while the other side is more peaceful and desolate. The crowd is older and more expats live here. It has accommodations, restaurants, and bars to fit a variety of tastes and budgets. Watersports, diving, snorkeling and visiting the beaches are the main activities.
Gili Islands Personalized Trips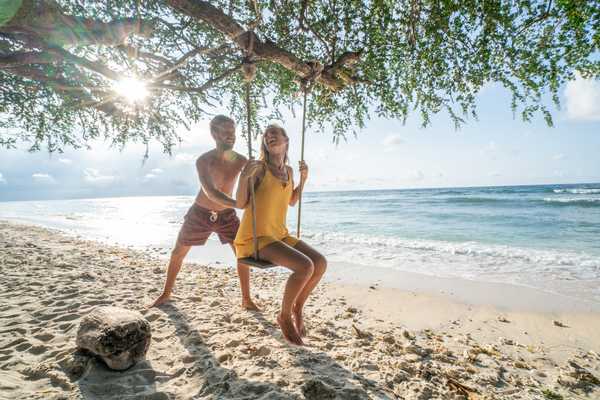 Indonesia
Our Love in Bali & Beyond!
Expert Choice Make a lasting memory when you unplug from the digital world and tune into nature and each other. Island hop your way to happiness and a deeper connection.