Kintamani, Indonesia
The Kintamani area comprises three big villages—Penelokan, Batur, and Kintamani—located nearby the beautiful Lake Batur and Mount Batur. Apart from these three, there are many more smaller, old Balinese villages around the lake—often referred to as Bali Aga villages. The area is about one hour from Ubud and two hours from Kuta.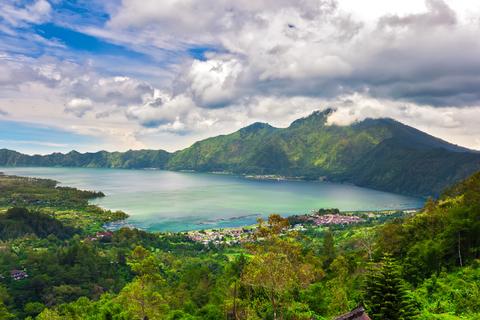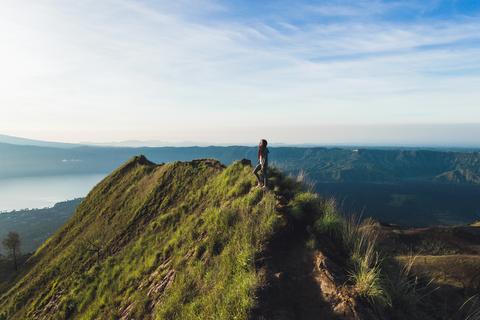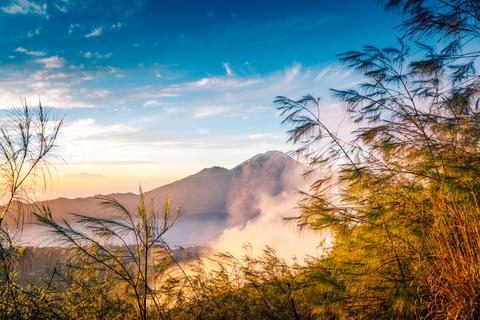 At nearly a mile (1,500 m) above sea level, Penelokan is a popular stopover with hotels, restaurants, and magnificent views of the lush jungle, volcano, and the blue-green lake. Worth visiting is nearby Ulun Danu Batur Temple—not to be confused with Ulun Danu Bratan, which is a stunning temple on the Beratan Lake. These lakes are about a 1.75-hour drive away from each other.
If you're feeling adventurous, Kintamani gives you an abundance of options: highland or mountain cycling, kayaking, ATV trips, or helicopter rides, to name just a few. The most popular adventure tour is volcano trekking. You can hike up Mount Batur or Mount Abang—the second and third highest mountains in Bali—for spectacular panoramas at sunrise. Hiking up Mount Batur usually takes at least 3 hours and official guides are recommended. It's better to book them in advance as there are many self-proclaimed "mountain guides."
This area also has fascinating cultural attractions. West of Mount Abang you'll find a secluded old Balinese village of Trunyan, known for its ancient burial traditions, with open cemeteries covered in skulls and bones. Locals are often referred to as Bali Aga, which means "mountain Balinese," which indicates their conservative, pre-Hindu way of living. They follow their ancient customs and avoid outside influence.
For some relaxation visit Toya Bungkah. It's a natural hot spring that is believed—thanks to the sulphur content—to cure various skin diseases and offer all-over rejuvenation. There are three swimming pools that measure about 50 feet (15 m) across, with water reaching up to 113º Fahrenheit (45º C) and overlooking the Lake Batur area—what else to ask for?
You can also visit local organic farms, as the fertile Kintamani is a top producer of fruits, vegetables and bamboo on the island. Locals also breed freshwater fish here and the lake is the main source of irrigation for most of Bali.
When to go? If you want to avoid monsoon, go in the dry season: between May and September, and August is the driest month. Surprisingly, it can get quite cold during the evenings so pack at least one jacket or a jumper, and some socks (you might need them for hiking anyway). The sun in this season can be quite brutal, making it is very easy to get sunburnt. If you're spending lots of time outdoors, be sure to apply plenty of sunscreen and use a hat.