Bali, Indonesia becomes even more beautiful when you wrap yourself in the luxury of Nusa Dua Hotel & Spa. This hotel on Bali's southern peninsula has hosted dignitaries and potenates, and now, Nusa Dua is ready to pamper you with the royal treatment! Every detail has been tended to, from the immaculate landscaping to the authentic Balinese furnishing, and crisp cotton linens. This vacation, pamper yourself with a trip to paradise.
Featured in:
Beachfront, Luxury, Midrange, Great for Families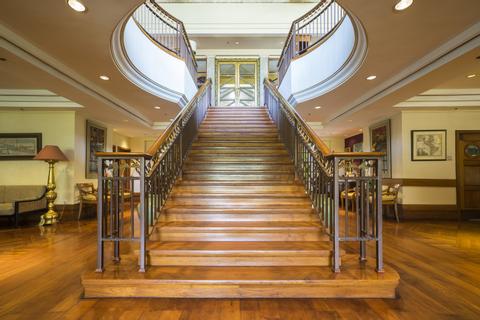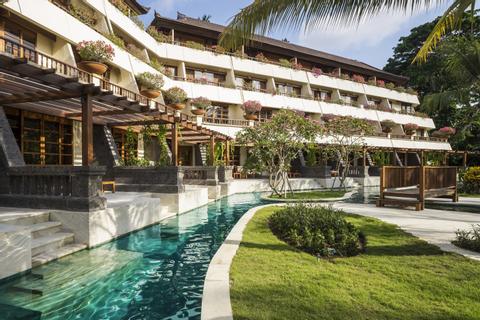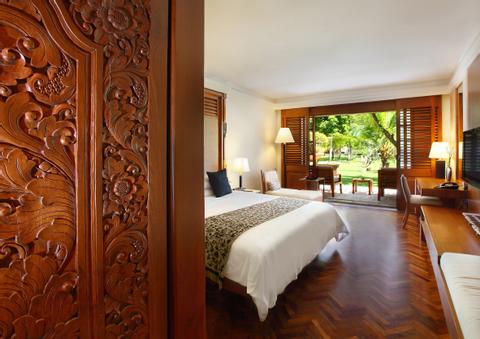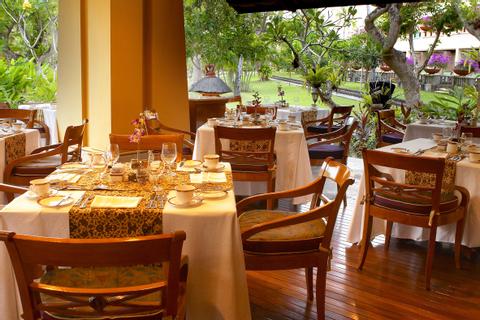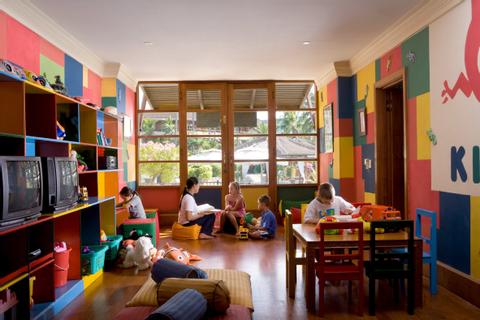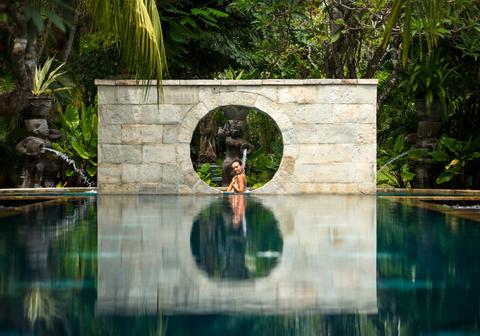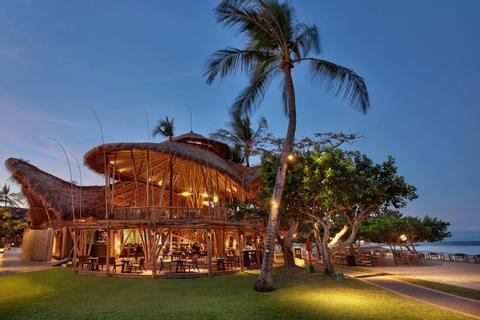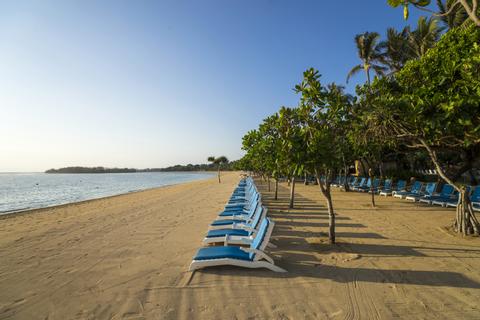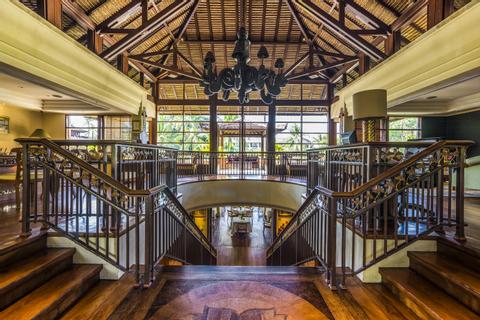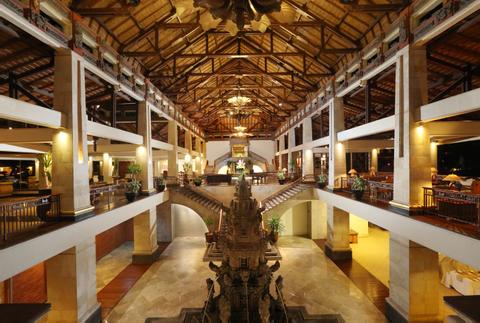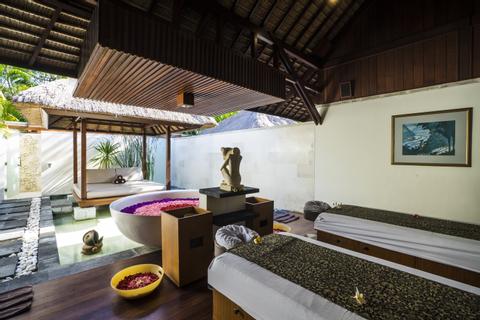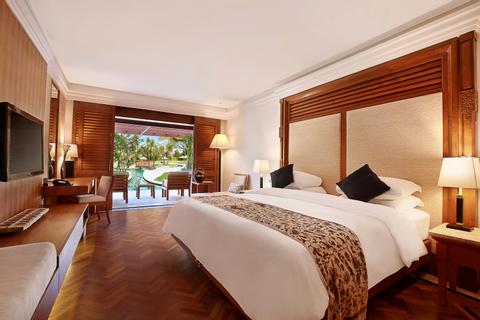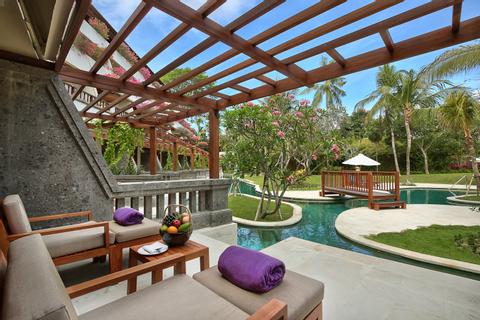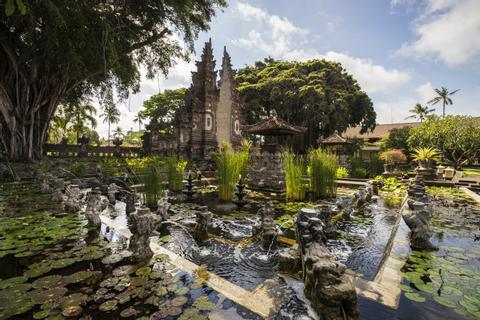 3:00 p.m. check in
12:00 p.m. check out
Restaurant in Hotel
Spa Services
Swimming Pool
Wireless Internet
Free Breakfast
Bali's southern peninsula is where you'll find the beaches of Nusa Dua. This luxury enclave is the pick of choice for travelers who want to enjoy the beauty of Bali, as well as a high-end experience. Luxury accommodations are in ample supply in this region. From private beaches to spectacular views, after a rugged jungle adventure, or a hike to a mountaintop temple, you'll have earned the many indulgences waiting you back at your accommodations. Speaking of...
Amazing Amenities & 9 Spectacular Spaces
Nusa Dua offers you extradorinary ocean and tropical garden views from the comfort of your balcony or terrace. Enjoy three (3) outdoor swimming pools, direct access to 656 feet (200 m) of private beach, an on-site medical clinic, shopping, dining, childcare, and more. When you're not enjoying deluxe amenities and exciting tours, you can treat yourself to the following layouts:
Deluxe Room - Spanning 366 square feet (34 sq m) of gracious space, this entry-level room is anything but average.
Deluxe Plus - 366 square feet (34 sq m) of well-designed space includes a full-size bathtub in addition to the standard rainwater shower.
Premier Room - At 431 square feet (40 sq m) you have plenty of room to enjoy a sitting area. Lounge around after taking a soak in your full-size bathtub.
Deluxe Room for 3 - A king size bed, a twin/single bed, and 484 square feet (45 sq m) of space means there is plenty of space for everyone to roam around and sleep comfortably.
Deluxe Room for 4 - Two adjoining Deluxe Rooms offer 753 square feet (70 sq m) of space. Enjoy a king size bed in one room, and two (2) twin/single beds in the adjoining room, plus storage facilities. A great option for families and groups of friends.
Family Room - Enjoy a combination of privacy and family time with this unique layout. 517 square feet (48 sq m) is the setting for a king size bed and an adjoining bunkbed alcove.
Agung Suite - Enjoy exquisite views of Mount Agung and Palace Club privileges when you stay in this 4th floor 1,787 square foot (166 sq m) suite. Take advantage of the king size bedroom, and ajoining twin/single bedroom.
Batur Suite - One king size bedroom; an adjoing twin/single bedroom; a private plunge pool, garden, and gazebo, plus Palace Club privileges. What's not to love about the Batur Suite? Nothing!
Nusa Dua Suite - From the private driveway to your mosaic tiled swimming pool, this opulent suite offers you two (2) gracious king size bedrooms with en suites and Palace Club Privileges.
The Royal Residence - A private residence now open to guests, this option is the epitome of elegance and luxury. Enjoy two (2) floors, a private full size pool, and rooms too numerous to mention. Palace Club privileges are, of course, included.
Additional Indulgences
Were the previous nine (9) options still not opulent enough? Speak with your Anywhere Local Expert to determine if the four (4) Palace Club layouts are a more appropriate choice for your travel needs.
Looking for even more perks? You'll love the onsite dining available at several restaurants, bars, and lounges; spa treatments; a gym and sports center, and that's just the short list. When Nusa Dua Beach Hotel & Spa claims to have everything, they mean everything! Want for nothing this vacation, because when you book your stay at Nusa Dua, you're guaranteed to have it all.
Your Only Responsibility is to Enjoy Yourself
Indulge even more during your getaway in Bali when you let Anywhere manage the logistics of your tours and transportation. If you're going to stay at Nusa Dua, spoil yourself all the way!
More Property Amenities
Air Conditioning
Babysitter
Balcony
Bar
Beach Access
Breakfast Available
Cable TV
Conference Rooms
Full Size Gym
Game Room
Gardens
Hair Dryer
Kids Pool
Laundry Service
Massage
Mini Bar
Ocean View
Room Service
Safe Deposit Box
Telephone
Yoga Lessons
Accommodations
Air Conditioning
Balcony
Cable TV
Hair Dryer
Mini Bar
Safe Deposit Box
Telephone
Wireless Internet
Deluxe Room for 4
Sleeps 4
Air Conditioning
Balcony
Cable TV
Hair Dryer
Mini Bar
Telephone
Wireless Internet
Premier Room with All Inclusive Services
Sleeps 2
Air Conditioning
Balcony
Cable TV
Hair Dryer
Mini Bar
Safe Deposit Box
Telephone
Wireless Internet
Palace Club Suite with All Inclusive Services
Sleeps 3
Air Conditioning
Cable TV
Hair Dryer
Mini Bar
Safe Deposit Box
Telephone
Wireless Internet
Living Room
Palace Club Lagoon Suite with All Inclusive Services
Sleeps 3
Air Conditioning
Cable TV
Hair Dryer
Mini Bar
Safe Deposit Box
Telephone
Wireless Internet
Living Room
Palace Club Suite
Sleeps 3
Air Conditioning
Cable TV
Hair Dryer
Mini Bar
Safe Deposit Box
Telephone
Wireless Internet
Living Room
Palace Club Room with All Inclusive Services
Sleeps 2
Air Conditioning
Balcony
Cable TV
Hair Dryer
Mini Bar
Safe Deposit Box
Telephone
Wireless Internet
Deluxe Room for 3 with All Inclusive Services
Sleeps 3
Air Conditioning
Balcony
Cable TV
Hair Dryer
Mini Bar
Safe Deposit Box
Telephone
Wireless Internet
Family Room with All Inclusive Services
Sleeps 4
Air Conditioning
Balcony
Cable TV
Hair Dryer
Mini Bar
Safe Deposit Box
Telephone
Wireless Internet
Deluxe Room for 4 with All Inclusive Services
Sleeps 4
Air Conditioning
Balcony
Cable TV
Hair Dryer
Mini Bar
Safe Deposit Box
Telephone
Wireless Internet
Palace Club Lagoon Suite
Sleeps 3
Air Conditioning
Cable TV
Hair Dryer
Mini Bar
Safe Deposit Box
Telephone
Wireless Internet
Living Room
Palace Club Lagoon Room with All Inclusive Services
Sleeps 2
Air Conditioning
Cable TV
Hair Dryer
Mini Bar
Safe Deposit Box
Telephone
Wireless Internet
Deluxe Room for 3
Sleeps 3
Air Conditioning
Balcony
Cable TV
Hair Dryer
Mini Bar
Safe Deposit Box
Telephone
Wireless Internet
Deluxe Room with All Inclusive Services
Sleeps 3
Air Conditioning
Balcony
Cable TV
Hair Dryer
Mini Bar
Safe Deposit Box
Telephone
Wireless Internet
Palace Club Lagoon Room
Sleeps 2
Air Conditioning
Cable TV
Hair Dryer
Mini Bar
Safe Deposit Box
Telephone
Wireless Internet
Air Conditioning
Balcony
Cable TV
Hair Dryer
Mini Bar
Safe Deposit Box
Telephone
Wireless Internet
Air Conditioning
Balcony
Cable TV
Hair Dryer
Mini Bar
Safe Deposit Box
Telephone
Wireless Internet