At Uma by Como, you can choose from 46 suites, rooms, and villas. The resort emphasizes health and wellness, as well as relaxation and poolside bliss. While you're here, you'll be near Ubud's yoga studios and handicraft workshops.
Featured in:
Luxury, Best, Honeymoon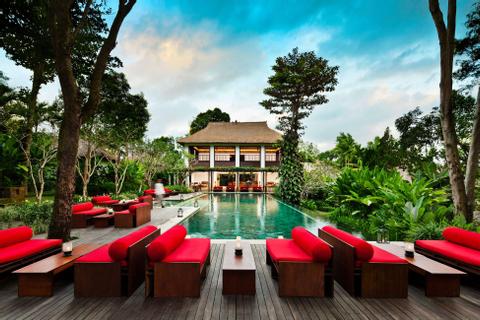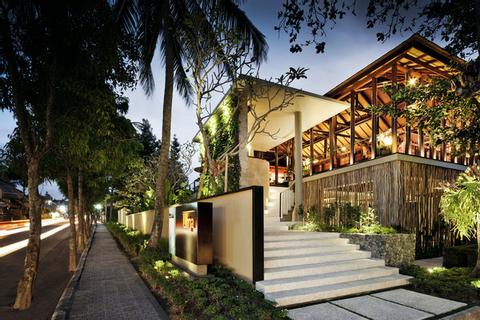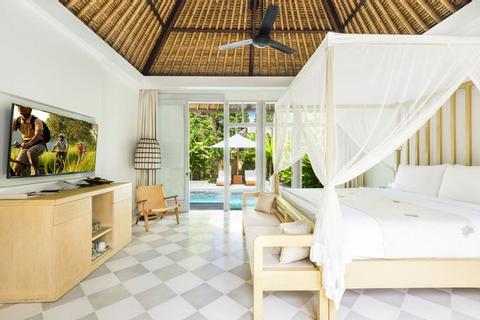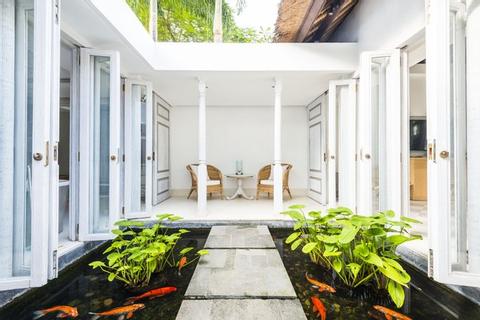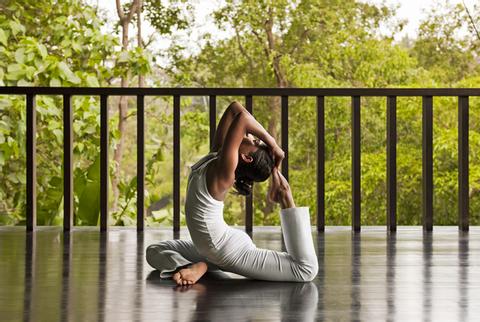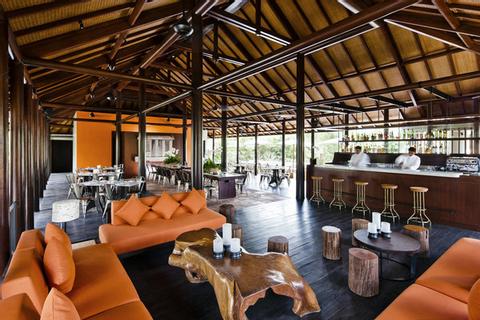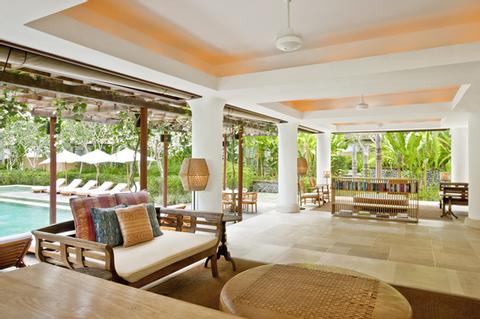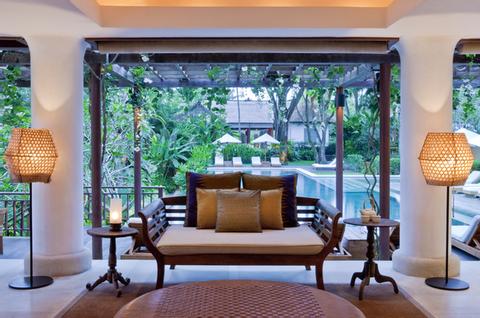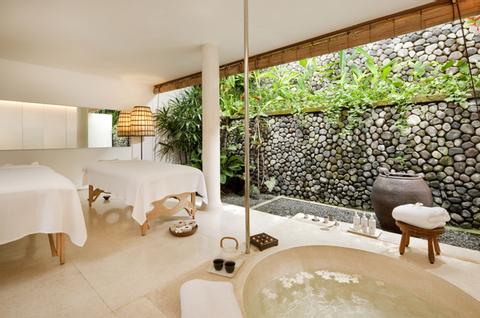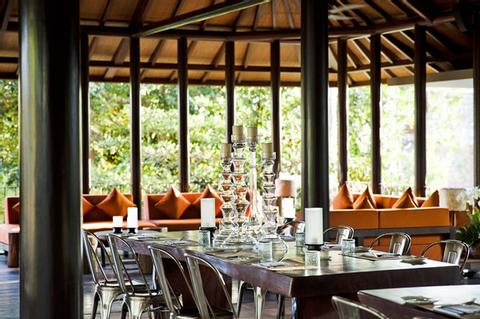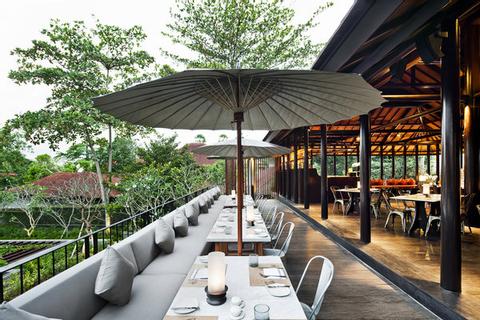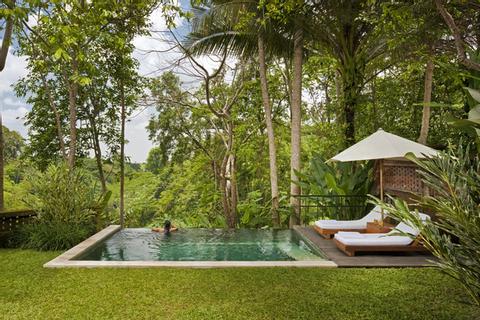 2:00 p.m. check in
11:00 a.m. check out
Free Breakfast
Restaurant in Hotel
Spa Services
Swimming Pool
Wireless Internet
Attractions & Sites
5 km
18 km
8 km
9 km
15 km
Ubud is a hotspot for workshops and handicrafts — take tours to learn more about what goes into handicrafts. There are a few galleries and art museums within walking distance, which has beautifully landscaped grounds as well as carefully curated exhibits. You might also want to check out the rice paddies of Campuhan Ridge — this feature of the landscape is what draws visitors and locals alike to the countryside outside of Ubud. In downtown Ubud, you can tap into the serenity that characterizes the landscape with a yoga class or a visit to one of the affordable spas.
Rooms have wood furnishings and white textiles, softly illuminated by lots of natural light. Private bathrooms offer guests oversized tubs and separate showers. There's also space for your laptop at the room's comfortable desk — while you're there, you'll probably want to connect to the resort-wide Wi-Fi.
You can keep yourself comfortable with the individually controlled air conditioning. There's in-room entertainment in the form of a 42-inch flat satellite screen TV with a DVD player and collection of DVDs. If you're hankering for some refreshment, help yourself to the minibar, coffee, tea, and complimentary bottled water. Store your own drinks in the mini refrigerator. When you're ready to leave for the day, you can put your belongings in the safety deposit box.
You're encouraged to keep fit with the yoga mat in your room. There's also a gym available for guests, as well as a yoga studio. Make time in your schedule for visits to the spa, where you can sign up for massages, nail care, and facials. You don't have to worry about completing any chores thanks to the handy laundry and dry cleaning service.
Green, leafy plants surround the large swimming pool. Next to the pool, you can duck inside to a comfortable lounge and swanky bar. The bar specializes in martinis, wine, and champagne. If you want to use the hotel's beautiful grounds as a backdrop for your next event, keep in mind that the hotel offers spaces for weddings and business meetings.
There are two on-site restaurants that offer elegant meals made from the very best of Balinese ingredients. They make classics dishes as well as their own versions of popular cuisines from other parts of Asia. Dine at the Italian-inspired lounge for a satisfying change of pace, and get your day started with the breakfast that included in your stay. There is a wide selection of fare available on the room service menu.
More Property Amenities
Air Conditioning
Bar
Breakfast Available
Cable TV
Full Size Gym
Hair Dryer
Internet Access
Jungle View
Mini Bar
Telephone
Yoga Lessons
Accommodations
Air Conditioning
Cable TV
Hair Dryer
Mini Bar
Safe Deposit Box
Telephone
Wireless Internet
Air Conditioning
Balcony
Cable TV
Hair Dryer
Mini Bar
Safe Deposit Box
Telephone
Wireless Internet
DVD Player
COMO Villa (Two Bedroom Villa)
Sleeps 4
Air Conditioning
Cable TV
Hair Dryer
Mini Bar
Safe Deposit Box
Telephone
Wireless Internet
Living Room
Deck
Air Conditioning
Cable TV
Hair Dryer
Mini Bar
Safe Deposit Box
Telephone
Wireless Internet
Living Room
Deck
Air Conditioning
Cable TV
Hair Dryer
Mini Bar
Safe Deposit Box
Telephone
Wireless Internet
Dining Room
Garden Pool Villa
Sleeps 3
Air Conditioning
Cable TV
Hair Dryer
Mini Bar
Safe Deposit Box
Telephone
Wireless Internet
Deck
Terrace Room with Pool
Sleeps 2
Cable TV
Hair Dryer
Mini Bar
Safe Deposit Box
Telephone
Wireless Internet
Air Conditioning
Cable TV
Hair Dryer
Mini Bar
Safe Deposit Box
Telephone
Wireless Internet
Deck
Similar Hotels