Komaneka Tangga Yuda is high in the hills outside of Ubud. The grounds are landscaped so you can appreciate the leafy surroundings—there are lovely lookouts throughout the resort that overlook the forest canopy.
Featured in:
Honeymoon, Midrange, Bed and Breakfast, Boutique, Isolated, Best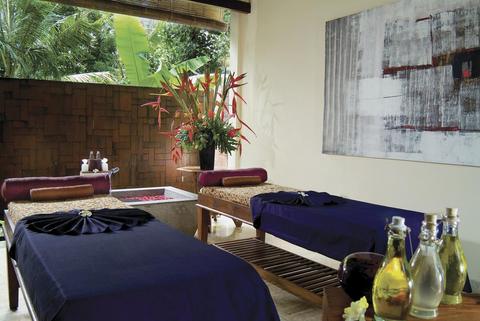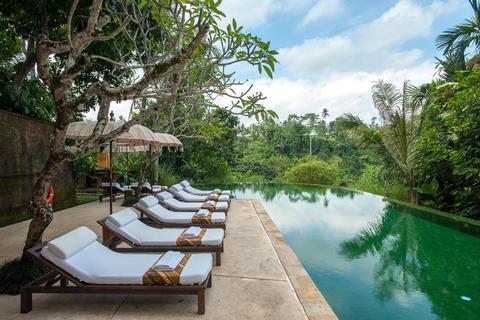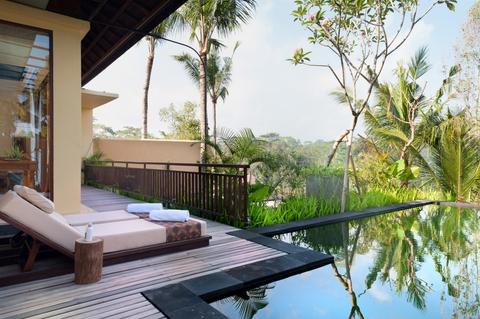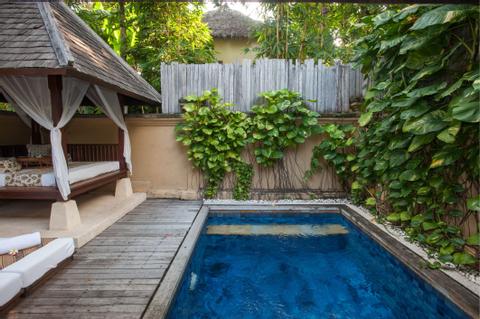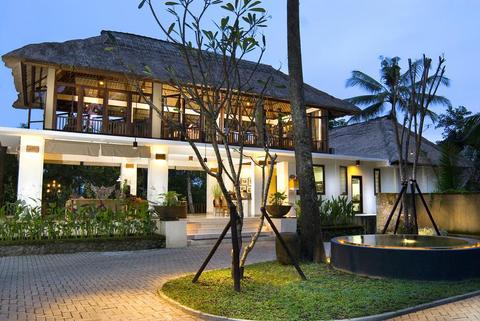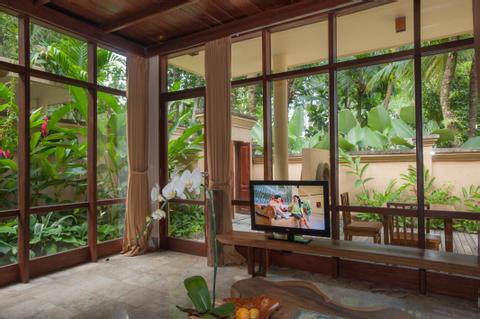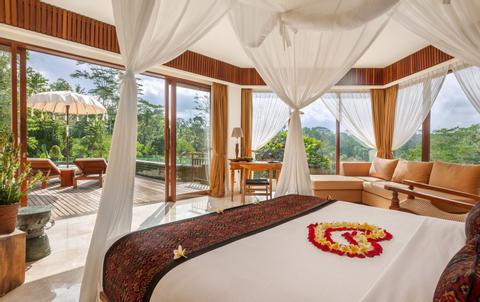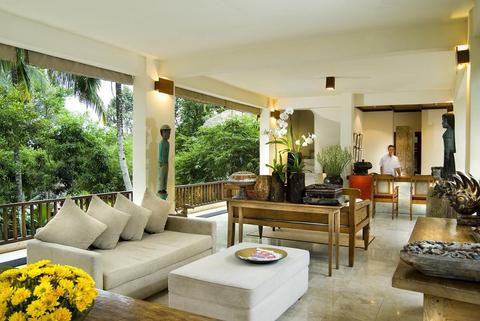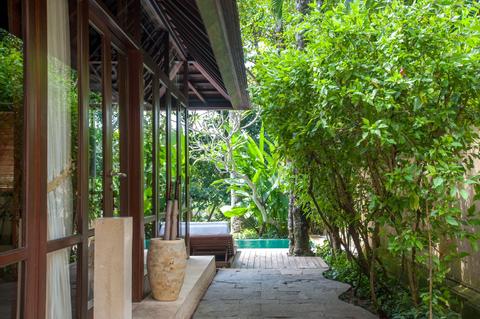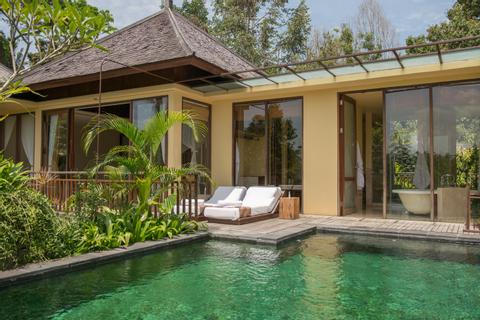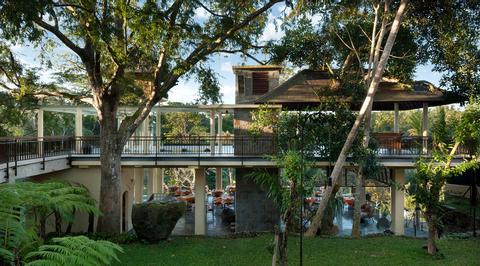 2:00 p.m. check in
12:00 p.m. check out
Free Breakfast
Restaurant in Hotel
Spa Services
Swimming Pool
Wireless Internet
Ubud is a popular area for taking Balinese cooking classes. After trying some of the food on offer in the local restaurants, you'll want to try your hand at some of the local dishes. To experience some local wildlife, visit the Sacred Monkey Forest, where you can watch macaques jumping from tree to tree. Ubud is also a good place to shop for souvenirs in a traditional marketplace and check out some downtown yoga studios.
Koumaneka Tangga Yuda has a freestanding wooden spa where you can get massages and body scrubs made with local ingredients. There's also a 24-hour gym that features a heated plunge pool for added relaxation. You can take a jog on a path that winds through the property's beautifully maintained garden.
The grounds feature two swimming pools with ample room on the sundecks for you to sunbathe. One of the pools is on the terrace, surrounded by lush greenery. The terrace also has its own cafe.
Visit the resort's main house to use the conference room as well as a library with computer facility and printer. Business travelers can take advantage of the meeting room. This resort also offers convenient services like baggage storage as well as laundry and dry cleaning. You can access Wi-Fi throughout the resort.
The restaurant has a rooftop terrace where guests have a view of the Batukaru Volcano. Order from a menu of Balinese home cooking, including fish grilled in banana leaves. There's a courtyard where the staff serves an afternoon tea.
Rooms have contemporary furnishings and muted colors, designed to emphasize relaxation. Each room has an ensuite bathroom with a hair dryer. All of the rooms and villas come with Apple TV and 24-hour room service. Everything stays nice and clean during your stay, thanks to the laundry and dry cleaning service as well as the daily housekeeping.
More Property Amenities
Air Conditioning
Breakfast Available
Cable TV
Hair Dryer
Laundry Service
Mini Bar
Mini Gym
Private Parking
Room Service
Telephone
Accommodations
Two Bedroom Pool Villa Bale Daja
Sleeps 6
Air Conditioning
Cable TV
Hair Dryer
Hot Water
Mini Bar
Mini Refrigerator
Safe Deposit Box
Telephone
Wireless Internet
Premiere Valley Pool Villa
Sleeps 3
Air Conditioning
Cable TV
Hair Dryer
Hot Water
Mini Bar
Mini Refrigerator
Safe Deposit Box
Telephone
Wireless Internet
Valley Pool Villa
Sleeps 3
Air Conditioning
Cable TV
Hair Dryer
Hot Water
Mini Refrigerator
Safe Deposit Box
Telephone
Wireless Internet
DVD Player
Porch
Courtyard Pool Villa
Sleeps 3
Air Conditioning
Cable TV
Hair Dryer
Hot Water
Safe Deposit Box
Telephone
Wireless Internet
Porch
Air Conditioning
Cable TV
Hot Water
Mini Refrigerator
Safe Deposit Box
Telephone
Wireless Internet
Porch
Similar Hotels