Kalaw Heritage Hill echoes the town's colonial past, which was founded by British overseers. Built in 1903, this is the second-oldest hotel in Myanmar, and the decór preserves the original upscale look and feel, with distinctive Tudor architecture.
Featured in:
Boat Hotel, Farm Hotel, Business, Airport, Beachfront, Luxury, Eco Lodges, Honeymoon, Hilltop, Midrange, Sustainable, Bed and Breakfast, Budget, All Inclusive, Cabins and Villas, Boutique, Yoga, Vacation Home, City Center, Great for Families, Isolated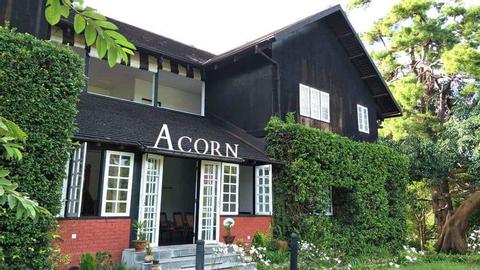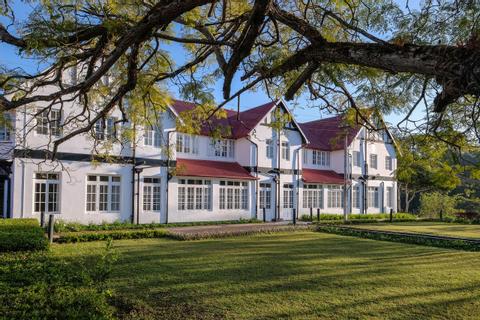 2:00 p.m. check in
12:00 p.m. check out
There are a couple of interesting caves in the area—Shwe Oo Min Paya as well as Pindaya Cave, both of which have transformed over the years into spiritual attractions. Shwe Oo Min Paya is in Kalaw, while Pindaya Cave is a popular pilgrimage destination a bit farther outside of town, with 8,000 statues of Buddha that date back as far as the 18th century. To see some local wildlife, travel by car about an hour north of Kalaw Heritage Hill to the Green Valley Elephant Camp, where visitors are welcome to interact with retired elephants.
You can access the Wi-Fi anywhere in the hotel. Kalaw Heritage Hill also offers business center— a quiet space that also offers Internet access. Business travelers can also book a conference room. Stay active with a few matches at the on-site tennis courts.
Cozy up to the hotel bar, where you can have Western-style cocktails as well as a selection of wine and local beer. There's a fusion of cuisine on offer at the on-site restaurant, which blends international and regional influences. Have your fill at the daily breakfast buffet, which is included in your stay.
There are a total of 45 rooms spread out across three separate buildings. The accommodations' contemporary design gives them an updated feel, with nice details like hardwood floors and good natural lighting. Rooms also have convenient private bathrooms and guests can order room service. Keep your wardrobe looking fresh with the hotel's handy dry cleaning and laundry service.
More Property Amenities
Accommodations
Mountain View Deluxe
Sleeps 2