Explore the world with your favorite person. The most romantic hotels in Peru are luxury getaways; you'll enjoy beautiful scenery, delicious cuisine, and plenty of indulgence.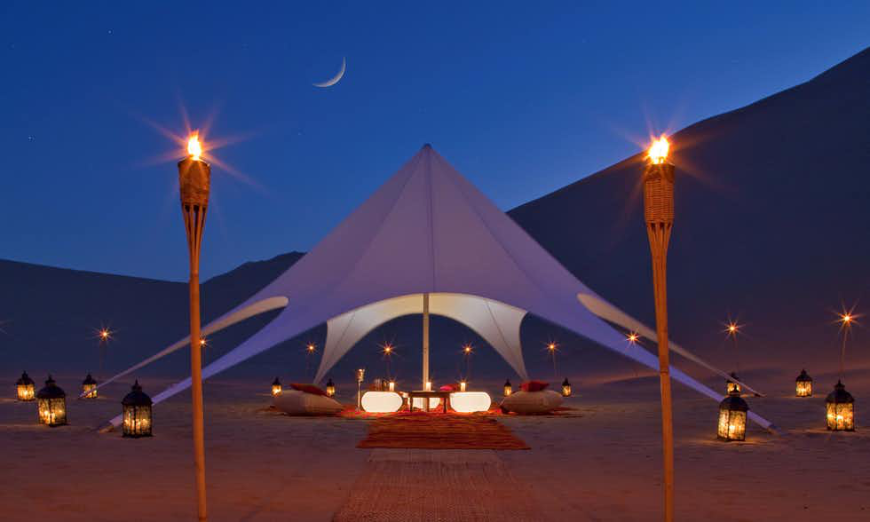 Camping was never this glamorous and elegant. Enjoy an outdoor adventure for two at Hotel Paracas.
Peru has some of the most romantic luxury hotels in the world. All of the properties listed here are a short distance from some of the country's most beautiful destinations for a romantic vacation. These upscale establishments also make it easy to sample a wide range of gourmet food and freshly prepared cocktails.
What makes these the most romantic hotels in Peru is that many of these accommodations preserve historical buildings, with renovated rooms and plush amenities. They're ideally located near some of Peru's most important landmarks, and their architecture connects you to the history of these legendary locations. If you're looking for a venue for your destination wedding or a cozy spot for your honeymoon, start your search here...
Sumaq Machu Picchu
Sumaq Machu Picchu is in Aguas Calientes, near the banks of the Vilcanota River, just beyond Machu Picchu. The communal spaces have impressive views of the green mountains. Cool mountain air filters into the windows, making air conditioning unnecessary and the hotel a bit more ecologically friendly.
For a long time, the best part about Aguas Calientes has been its proximity to Machu Picchu. Now, the region's Sumaq Hotel transports you to another realm with soft candlelight and warm, earthy tones. Sumaq's walls come decorated in geometric patterns that evoke Maya culture. This atmosphere pervades the spa and the dining room, which serves thoughtfully prepared Andean ingredients.
Machu Picchu — aka the Lost City of the Inca — put Peru on the map, and it has become one of the essential photos to snap. It's only a 5-minute walk from Sumaq to the Machu Picchu shuttle bus. Take some of the hotel's vibes with you on a tour of the ruins, and stop at points like the Sacred Stone, which, according to New Age traditions, radiates a mysterious and powerful energy.
Hiram Bingham Luxury Train To Machu Picchu
This isn't one of the most romantic hotels in Peru per se, but it's one of the few forms of transportation that doubles as a romantic getaway. This train is named after the American explorer who hacked his way through the overgrowth to uncover Machu Picchu in 1911. He brought the site to the attention of the Western world and made it into the tourist magnet that it is today.
Outdoorsy types may want to arrive in Machu Picchu at the end of a long backpacking trek, braving altitudes as high as 14,000+ feet (4,267 m) above seal level. If you want to arrive in style, consider taking the Belmond train from Cusco. This mode of transportation comes with perks like on-board entertainment and gourmet meals.
San Augustin Monasterio de la Recoleta, Urubamba
The beauty and elegance of San Agustin Monasterio de la Recoleta is overwhelming — which makes it perfect for a romantic getaway!
What makes this one of the most romantic hotels in Peru? This hotel is right out of a romance novel — it comes complete with its original bell tower, and blends into the idyllic scenery. It has a capacity of just 60 guests, adding to the exclusive feel. The courtyard also has its original architecture, making it a romantic place to sip a pisco sour.
Travelers come to Urubamba looking for adventure and you can choose from hiking, horseback riding, or touring the nearby Inca ruins like Ollantaytambo. This area has pleasant rafting, and the Urubamba River offers Class I thru Class III rapids. Take one of these tours to take in the gorgeous mountains at a breathtaking speed. Ollantaytambo also has a train that leaves for Machu Picchu.
Casa Andina Premium Arequipa
Built in the 1700s, Casa Andina Premium Arequipa was originally intended to serve as Peru's mint. Now it's one of the most romantic hotels in Peru. You can see the historical architecture in the room's lobby and dining room. There are a total of 40 guest rooms.
This hotel is right across the street from the Santa Catalina Monastery, a religious site originally built in 1579. This monastery was built using a pale volcanic material called sillar, which is characteristic of colonial Arequipa. This site is still a working convent. It's an enormous building that takes up an entire city block, and it's worth exploring with a knowledgeable guide.
Casa Cartagena Boutique and Spa, Cusco
Casa Cartagena was built on top of an Inca site — a very unique beginning for one of the most romantic hotels in Peru. The original architecture dates back to the 17th century, when it served as a home for Don Fernando de Cartagena y Santa Cruz, the mayor of Cusco. This hotel has had its fair share of iconic guests, including Che Guevara and Pablo Neruda.
There are a total of 16 suites surrounding an exquisite colonial courtyard. The spa here is designed to echo Inca architecture, and imposing stone walls evoke the drama of the colonial era. Your hosts here pay special attention to detail — rooms greet you with fresh flowers and chocolates. Each suite has a private balcony where you can sip a complimentary cocktail.
Casa Cartagena is in the San Blas neighborhood, which has original Inca stonework along some of its streets. You can walk around 10 minutes to the heart of historic Cusco, the Plaza de Armas. It's here that you can stroll past the Cusco Cathedral, which is an iconic building that was completed in 1654.
Hotel B, Lima
It should come as no surprise that one of the most romantic hotels in Peru is found in Lima. Hotel B is in the Barranco neighborhood, one of Lima's artsiest districts. From here, it's easy to walk to the area's few landmarks, including the romantic Puente de Suspiros, or "the Bridge of Sighs." You can also stroll to some of the area's charming little galleries. Hotel B is also a 15-minute cab ride to the world-renowned restaurant scene in Miraflores.
On the outside, it is a beautiful example of 1920s architecture. Talented sculptors helped with the restoration of this ornate building, which originally served as a seaside retreat for the Peruvian president. Rooms are simply decorated, with contemporary accents that contrast with the historic look of the building.
Hotel Viñas Quierolo in Ica
For a uniquely romantic experience surround yourself with a vineyard at Hotel Viñas Quierolo.
Miles of vineyard and pasture land stretch out around Viñas Quierolo, with the Andes looming in the distance. These grounds offer guests a chance to immerse themselves in Peru's wine country, with a total of 1,235 acres (500 ha). The beautiful scenery makes it an ideal wedding venue.
While you're here, you can fill your days with wine tastings. It's nearby the Nazca Desert, and many travelers choose to take airplane tours over the Nazca Lines. There's a lookout point on the grounds of the hotel that offers a tremendous view of the Ica Valley, which makes it an especially romantic spot to watch the sun set.
Find The Most Romantic Hotels in Peru That Have it All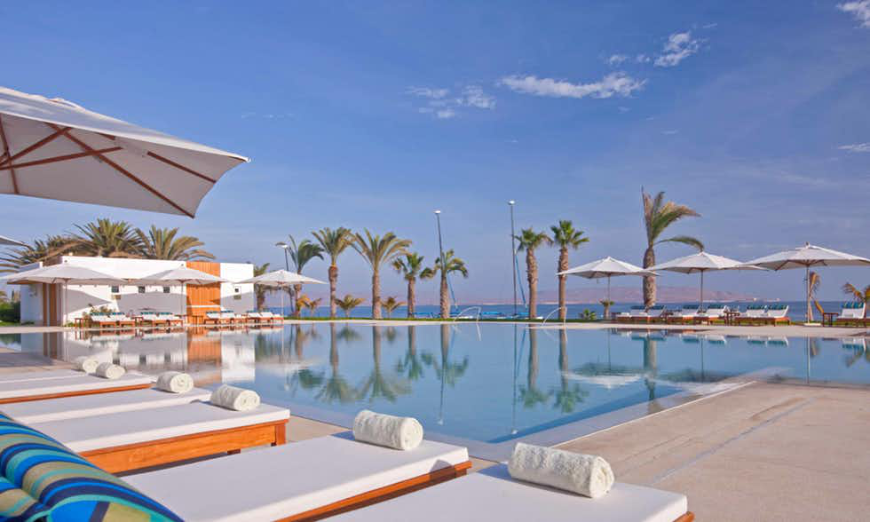 Whatever your idea of romance is, Peru has a destination for you. This poolside retreat is courtesy of the Hotel Paracas.
Romantic vacations are all about spending time together, so pick a hotel that has elements of everything you want in your getaway. These romantic hotels make it possible for you to experience Peru's cuisine, landscape, and culture before you ever leave the comfort of the hotel grounds.