Tranquilo Bay is a gorgeous eco-resort set on Bastimentos Island in Bocas del Toro. The resort has six cozy cabanas and great access to the outdoors. It's a great choice for travelers who want a quiet and natural experience in Panama.
Featured in:
Eco Lodges, Cabins and Villas, Isolated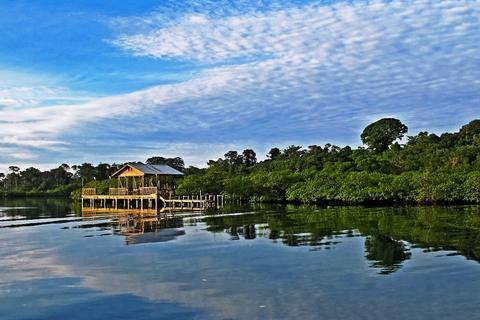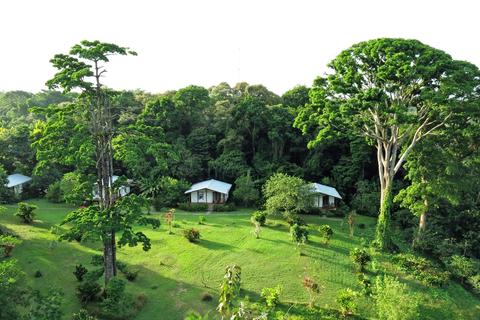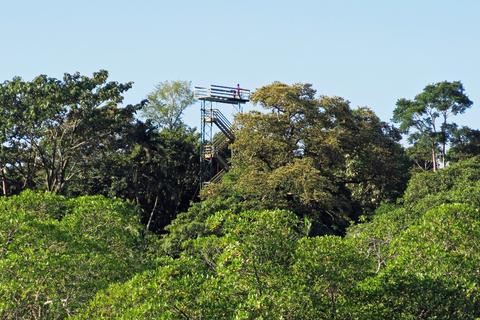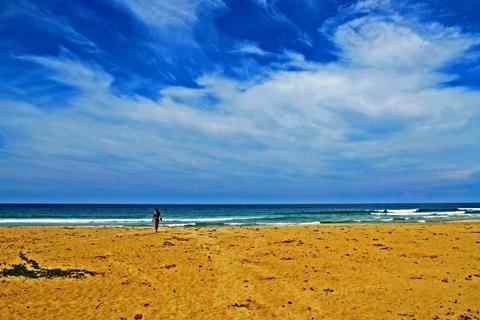 2:00 p.m. check in
12:00 p.m. check out
Bocas del Toro is high on the list for many travelers and for good reason—this chain of islands on the Caribbean coast has lush jungles and stunning beaches. Aside from lounging on the beach, travelers to the area will enjoy snorkeling in coral reefs and surfing spectacular breaks. The archipelago's main town – known as Bocas town – is a funky, bohemian place that attracts travelers from around the world. It has a much different vibe from the rest of Panama.
Tranquilo Bay is set on 100-acre (40-ha) piece of property on Bastimentos Island. The hotel borders 0.6 mi (1 km) section of Caribbean coastline and has hiking trails that wind through the island's forests. Naturalist guides can lead guests on wildlife-spotting hikes or take them on snorkeling adventures. There is also a canopy tower that soars 100 feet (30 m) above sea level. From here, guests have a bird's-eye view of the forest canopy. Over 180 species of birds have been spotted in the forests surrounding the hotel, and there is a chance of spotting white-faced capuchin monkeys, sloths, iguanas, caiman, and a variety of frogs and lizards.
Accommodations at Tranquilo Bay consist of six cabanas. The cabanas are individually decorated with tile floors and local hardwood furniture. The bedrooms come equipped with one queen-size bed or two double beds, although an additional twin bed can be added on request. Every cabana has a private bathroom with a hot water shower and hair dryer. The beds have orthopedic mattresses, fine linens, and reading lamps. All cabanas are air-conditioned and have a small indoor sitting area, as well as a covered porch with hammocks and chairs. Four cabanas have an ocean view and two have a jungle view.
Tranquilo Bay's main lodge is set on a hilltop overlooking the forest and ocean. Its wraparound porch is a great place to search for wildlife or relax with a cup of coffee. The main lodge also has a restaurant and bar where guests can dine and drink. All meals are included while staying at Tranquilo Bay, and there are a good variety of things to choose from. Breakfasts include eggs made to order and a daily entrée, as well as coffee, tea, and juice. Boxed lunches are packed for those heading off on daily excursions, and there is a selection of salads, sandwiches, and soups for those staying at the hotel. There is a cocktail hour each night before dinner. The dinner menu varies from day to day and is posted each day at breakfast—options often include local seafood or beef. Vegetarian meals can be arranged.
All of Tranquilo Bay's packages include transportation to/from Isla Colón, all meals, alcoholic and nonalcoholic drinks, and access to naturalist guides.
Tranquilo Bay Facilities
Restaurant, bar, hiking trails, observation tower, kayak rental, laundry service
Amenities
Private bathroom, hot water, air conditioning, ceiling fan, private porch, hair dryer, coffee maker, hammocks, ocean view, jungle view
Accommodations
All cabanas come equipped with a private hot water bathroom, air conditioning, ceiling fan, hair dryer, coffee maker, seating area, and private porch. Three cabanas have one queen-size bed, while the other three cabanas have two double beds. Twin beds can also be added upon request. Four cabanas have an ocean view and two have a jungle view.
More Property Amenities
Air Conditioning
Bar
Hair Dryer
Hammocks
Hot Water
Jungle View
Ocean View
Accommodations
Within the Reef Package- King Suite Cabana
Sleeps 2
Air Conditioning
Hair Dryer
Hot Water
Within the Reef Package- Deluxe Cabana
Sleeps 4
Air Conditioning
Hair Dryer
Hot Water
Close to Shore Package
Sleeps 4
Within the Reef Package- Standard Cabana
Sleeps 4
Air Conditioning
Cable TV
Hot Water
Similar Hotels