Go back in time on the streets of Havana and stage your own revolution as you learn to dance salsa, dine in style, and delight in the fascinating culture of this sunny, relaxing, and tourist-friendly destination. Let's go salsa dancing in Cuba!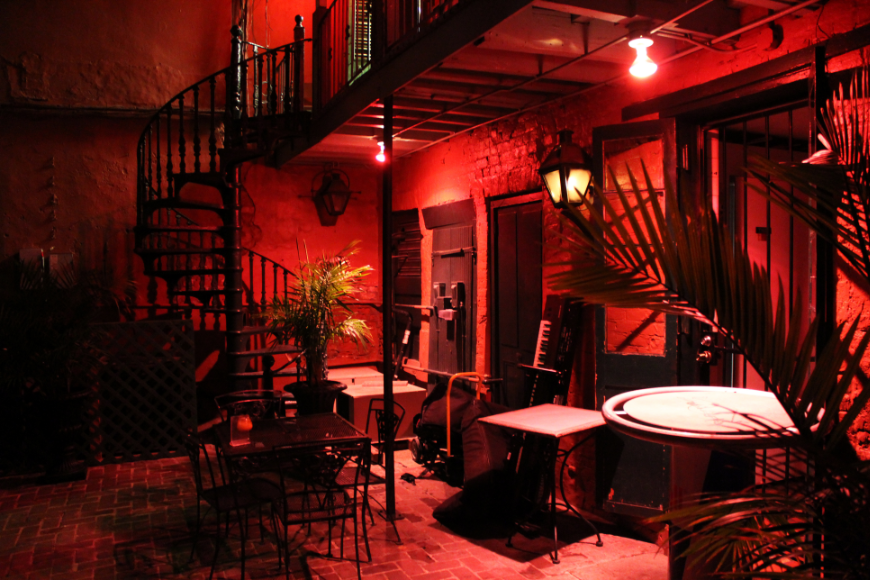 Sultry Cuban nights and sophisticated cocktails. Treat yourself to a party you won't soon forget when you indulge in salsa dancing in Cuba, live shows and music. If you're coming up on 60 or you're getting close to retirement, why not mark the occasion with a Cuban adventure you'll never forget? Affordable, accessible and pulsing with life, this is a land of both infinite beauty and endless discovery. Marking milestones is crucial, so we urge you to kick up your heels and plan yourself a white rum drinking, salsa dancing, classic car driving Cuban adventure. Follow our recommendations for the best Cuban salsa dance spots and live shows for visitors of all ages. We've also thrown in some other amazing activities for those who don't love dancing or Cuban music as much as you do. But remember, it's your party so you can dance if you want to!
A Cuban Dance Holiday With A Difference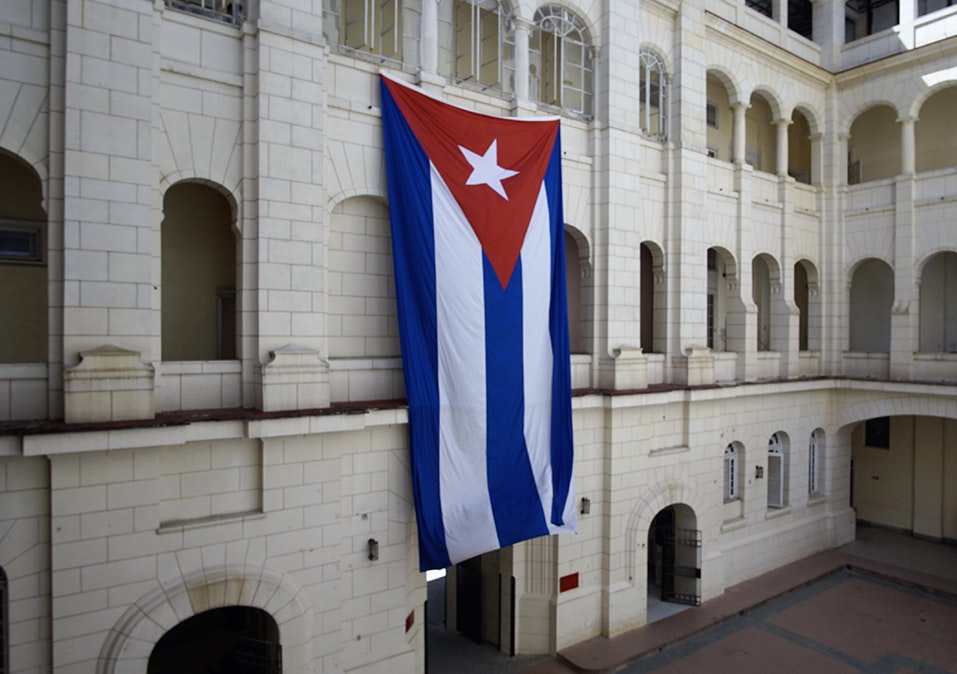 Another thing to celebrate? Whatever country you're coming from, if you book your accommodations and choose some of your restaurants with care, you can genuinely support Cuban Nationals. Read the section, "What about the other category—Support for the Cuban People Travel?" in this article...
Cuba offers travelers a time warp of sorts; think colonial style architecture, quiet streets, classic cars, and long afternoons spent drinking rum-based cocktails as the sun sets and the city begins to come alive. Every evening, the local clubs and resorts offer a fiesta of dance where visitors have the chance to fully let go of their inhibitions, kick up their heels, and immerse themselves in the enchanting culture. And, despite what you may have heard, Cuba is actually a very safe and friendly place to visit. The government is welcoming more solo female travelers and retirees each year, so make sure it's on your list for retirement one day too!
While many of these visitors head to Havana for salsa dancing and live music, we can also recommend Santiago and Trinidad as some top destinations. At all three of these spots, you'll find salsa clubs and Cuban dance shows of every sort. There are also some exceptional dining destinations that will make you never want to come home again. And if the nightlife isn't for everyone in your group, don't worry! There are plenty of activities other than salsa! There's everything from hiking, to golfing (Varadero is home to Cuba's only 18 hole golf course), to historical tours, and gorgeous beaches to keep them busy while you're out there getting spun around on the dance floor by one of the gorgeous local dance instructors.
The Six Best Shows And Salsa Dancing In Cuba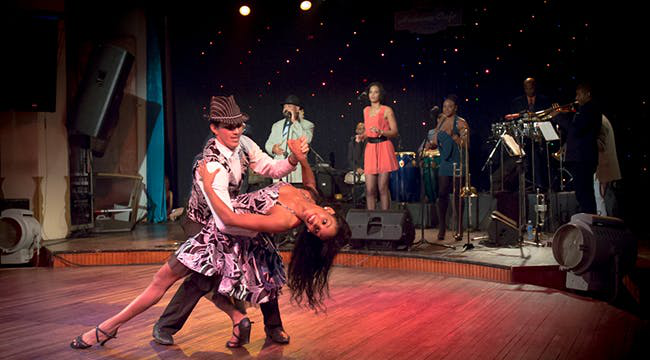 All dressed up and ready to go—watch how it's done then hit the floor.
Cuban salsa is the most popular and well-known dance to learn here, but you'll see all sorts of dance styles in the clubs and dance halls. These include the cha-cha, the mambo, the rumba, kizomba, and even the famous conga line—which could be ideal for a group to learn on the night of your big celebration. We've included places to dance and a couple of venues which have fantastic floor shows.
It's best to come with a little bit of experience but if you're a newcomer, don't worry! You can take an introductory class with our instructors or you can head out to a beginners' night at some of the following clubs and bars. You'll find the Cuban dance community is friendly and accepting, and will be thrilled to learn you are celebrating a birthday milestone. Reminder: Cuba's Communist roots mean the country does hot have all of the modern conveniences you are used to. Given this, the internet is not widespread and many businesses do not have websites. Don't worry, it's easy to get more information when you begin planning your personalized itinerary with Anywhere, and when you arrive, locals are familiar with these hotspots as well.
Dance under the stars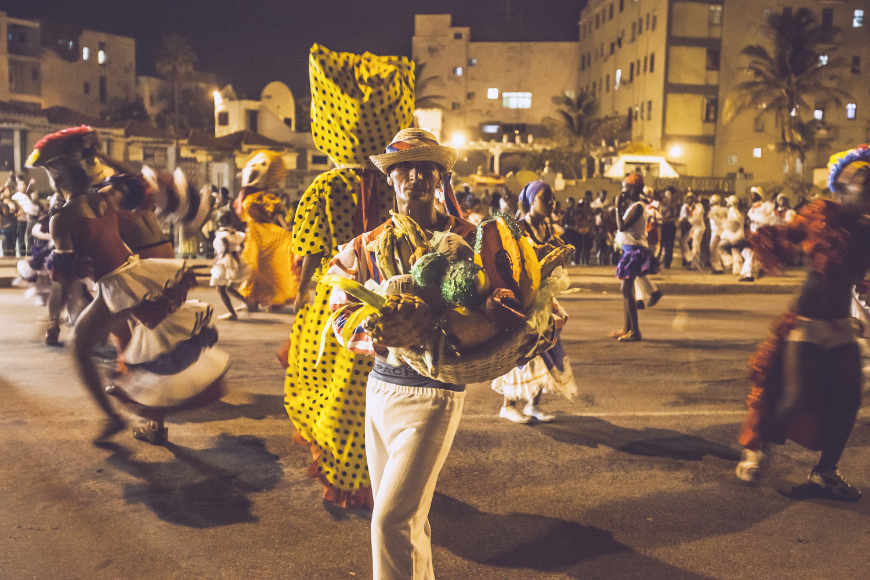 Cuba is alive—once you feel the rhythm, don't be surprised if you can't stop dancing from one venue to another. That's why the country has street celebrations like Carnival...
Jardines de 1830 – Havana
If you are visiting Cuba with a dance-ready partner, then we recommend Jardines de 1830 as an incredible place to dance salsa together under the stars. Jardines de 1830 is right in the center of Havana close to the beach so you'll be able to hear the ocean in the background. Sunday afternoons are particularly enjoyable, and you may find that you love reggaeton—another style of Cuban music that'll have you keen and ready to get up on your feet.
Recommended Restaurant In The Area: El Cocinero Restaurant
Located on the banks of the Almendares river you'll find El Cocinero is an upmarket option for groups wanting delicious food and distinctive flavours. The restaurant was once part of the Havana Street Car offices and they've retained some of the original decor with architecture that you'll be dying to get pictures of. Top it all off with a stunning wine list and you won't be left wanting.
Live music and stunning food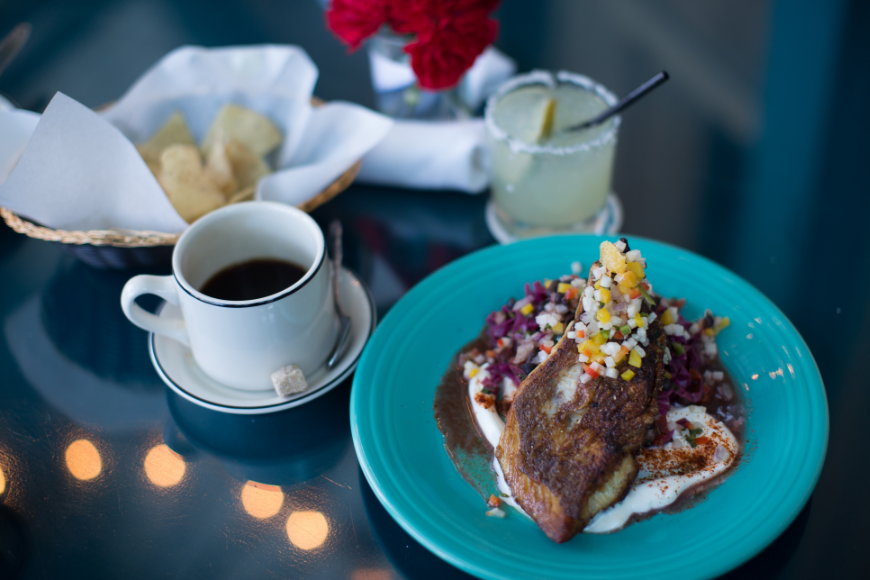 Get the fuel you need for a night of dancing with a Cuban feast.
Patio de Los Dos Abuelos
After Havana, Santiago is the second most commonly visited city in Cuba, and Patio de Los Dos Abuelos is famous for its history as a dance bar and restaurant. Frequented by gents and ladies of the older generation, it's a relaxed and laid back club where you won't be overwhelmed by gyrating youths. We recommend coming early for dinner and then waiting for the waitstaff to clear the tables. The name: Patio de Los Dos Abuelos means 'patio of the two grandfathers,' but these patrons have something unique to show the younger generation about the art of dancing salsa.
Recommended Restaurant In The Area: Jardines
If you don't choose to dine at Patio de Los Dos Abuelos then we recommend you wander through Plaza de Matri and visit Jardines. It's a small restaurant in a little white house with excellent food that's not too pricey. There's also a private room if you want to have your birthday dinner there.
Jazz to soothe your soul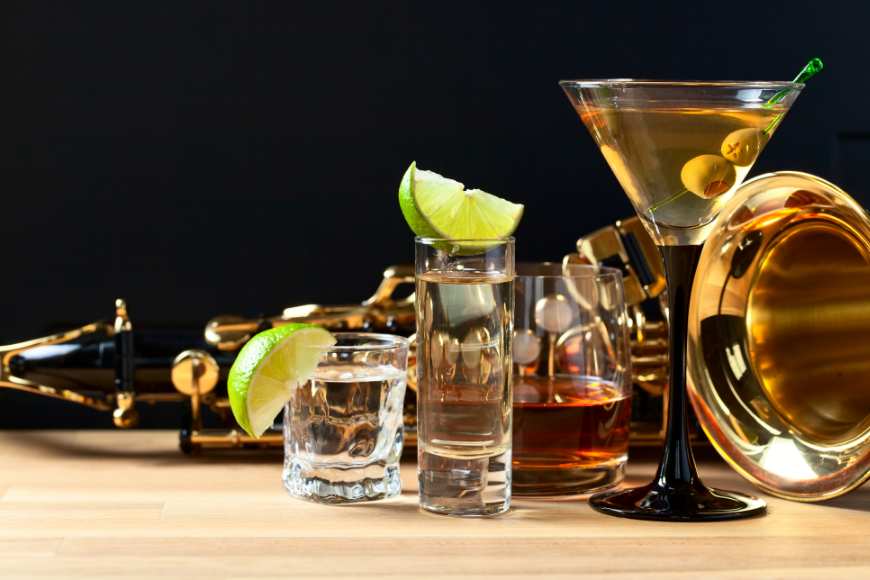 Smooth jazz and smooth cocktails...Best. Birthday. Ever!
La Zorra y el Cuervo (Jazz)
If your feet are tired and you're craving something smoother and more melodic, then take a night out at La Zorra y el Cuervo. It's a contemporary jazz club near old Havana that rivals the best of what New Orleans and New York offer in music, atmosphere, and pure style. Make sure you get there early to snag a seat and you'll have a close-up view of the saxophonist jamming. The drinks are fantastic and there's a small cover charge, but it'll be a night worth remembering for jazz lovers.
Recommended Restaurant In The Area: Restaurante Paladar Café Laurent
It's a little pricey but the view and the food are well worth the cost! Restaurante Paladar Café Laurent is on the top floor; you'll access it by riding in a 1950's style elevator. It feels like a speakeasy and there are four different spaces to choose for a group dinner. We recommend the patio with a view over the bay but the whole place is an absolute treat and the service is lovely.
Dance away the afternoon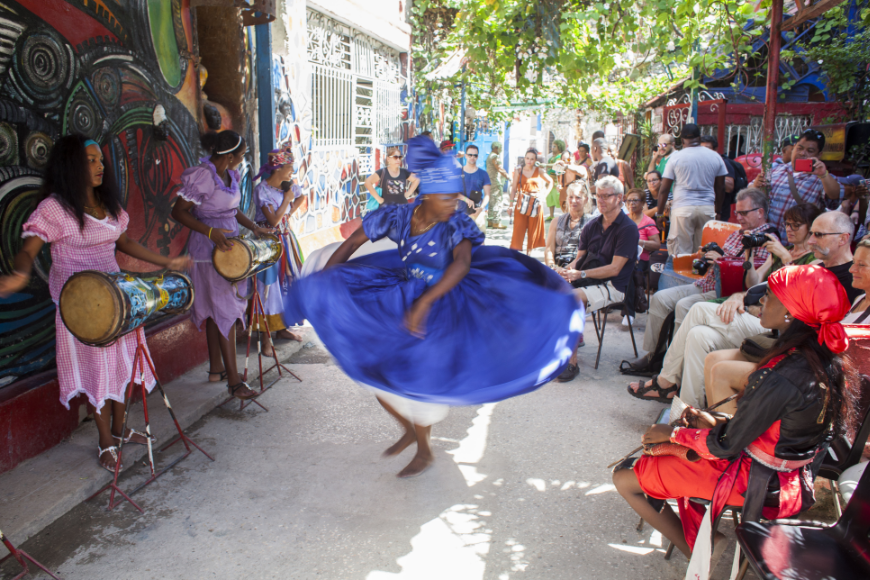 By the way, if you prefer entertainment earlier in the day, there are plenty of opportunities to watch or enjoy dancing in the streets.
Cafe Cantante - Havana
Café Cantante is open from early in the day and tends to host the big name salsa bands. This makes it great for a sunset dance if you want to retire early for the evening. Be warned, Café Cantante is busy and hot! Make sure you have plenty of water on hand as you make your way through the afternoon and into an evening. For those who don't like salsa, there's a Piano bar close by called Delirio Habanero. You can walk between both of these locations and mix up your hot salsa dancing evening with some seated appreciation of cool jazz and a mojito or two.
Recommended Restaurant In The Area: Otra Cosa
With a mix of casual food and relaxed porch seating, Otra Cosa is a great match for dinner after dancing. Don't worry if you're a little hot and sweaty, the cool breeze blows through and it's open late. We recommend you try the ribs and take some time to chat with the staff. They are friendly, and you'll find the service is nothing less than top notch!
Step back in time with sophisticated cocktails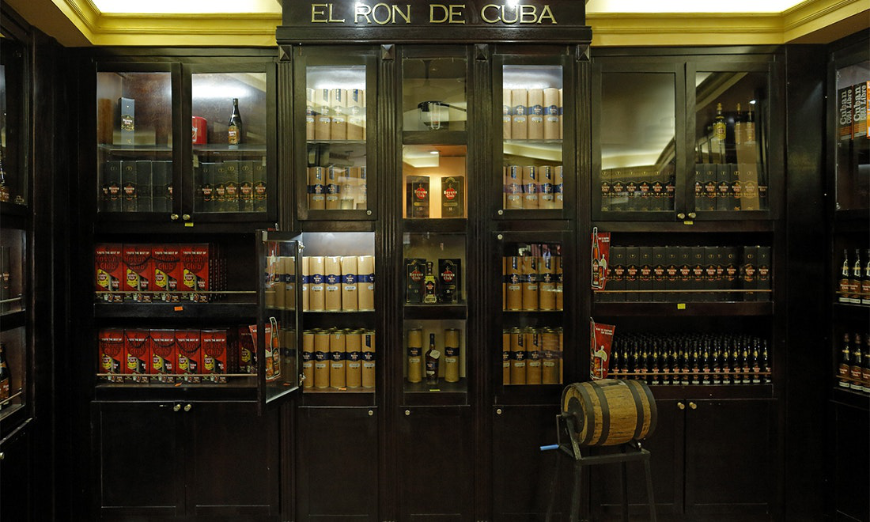 First visit Cuba's Museo del Ron (the Museum of Rum), then impress the guest of honor by using your newfound knowledge to treat them to one of the nation's finest rums.
Hotel Florida - Old Havana
The architecture of this gorgeous hotel will take you straight back in time and you can while the evening away in one of two bars while you wait for the salsa dancing to begin. We recommend you order the Cuba Libre in the piano bar, Maragato, and then stick around as salsa lovers from all over the island show up with outfits to die for and moves you won't be able to resist copying. Hotel Florida is a uniquely Cuban experience for both the dancers and non-dancers in your birthday group.
Recommended Restaurant In The Area: Restaurant Van Van
While we love the dancing and the drinks at Hotel Florida, we recommend you pop around the corner to Restaurant Van Van when it's time for dinner. They have tasty food that's said to be well up to Parisian standards, and legendary piña coladas. They also boast friendly service and are not too expensive. Right now, Restaurant Van Van is a hidden gem of a place, so make sure you pop in before everybody finds out about it. Their reputation won't stay a secret for long!
An extravaganza of a show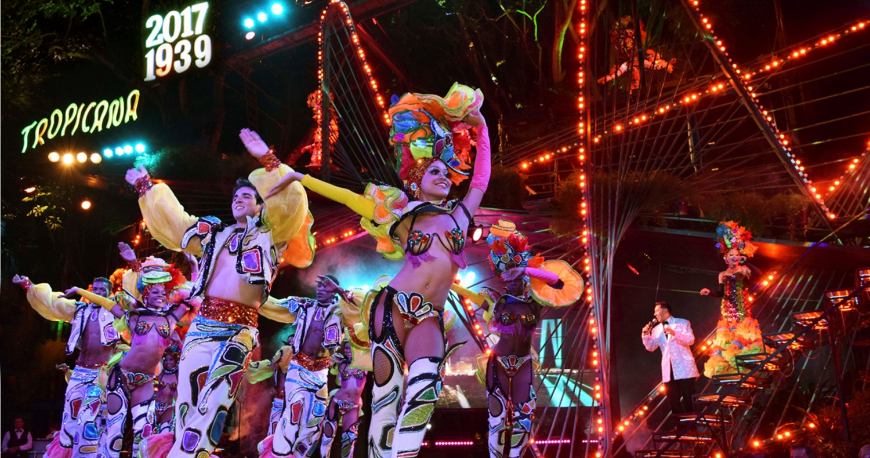 You've never seen a show like this. Feel the rhythm as you move in your seat whilst watching the colorful performers at Tropicana. Photograph courtesy of Cabaret Tropicana.
Tropicana
For a totally historic, outrageously beautiful experience book yourselves a table at the roaring Tropicana. The venue is gorgeous, the costumes are intricate, and you'll enjoy cocktails as a cast of at least 50 singers, musicians, dancers, acrobats and even jugglers put on a world class 2 hour show. Upon entry, women are given long-stemmed roses while gentlemen receive cigars as mementos. Tropicana is a Cuban group outing experience that's been open since 1939. If you talk to the dancers, you're likely to find that generations of the same family have performed here and they won't be shy to pull you up on stage to dance with them!
Recommended Restaurant In The Area: The paladar La Cocina De Lilliam
Called the Paladar for short, this amazing restaurant has been around for more than twenty years. It's very popular so make sure you reserve a table and if you like a breeze, ask to be placed in the Courtyard. We definitely recommend trying the Paella as you sit back and soak in the ambiance. Hot tip: The Paladar is an excellent place for both a group and a romantic table for two, so don't waste time. You're only going to be sixty once in your life!
Love Cuba But Not Salsa Dancing?
Make this the coolest party ever with Cuba's classic cars and architecture.
As experienced holiday planners, we know that salsa dancing in Cuba is 100% as magnificent as sounds for dancers. But we also know that if you're going to throw a group event for your birthday party, it's essential to be able to cater to all of your guests. Dance lessons may not be ideal for everyone, but there are many other amazing things for everyone to do on your Cuban birthday adventure.
As you start the trip planning process, we're here to help you. There are plenty of activities to ensure that you have a great time every minute of your trip. No one will grumble and spoil your good time, because it will be easy to keep everyone happy and busy while you're off learning those slick new moves! See the list of links below which are perfect for husbands with two feet and anyone else who may not be comfortable going out dancing with you.
Your Big Cuban Birthday Party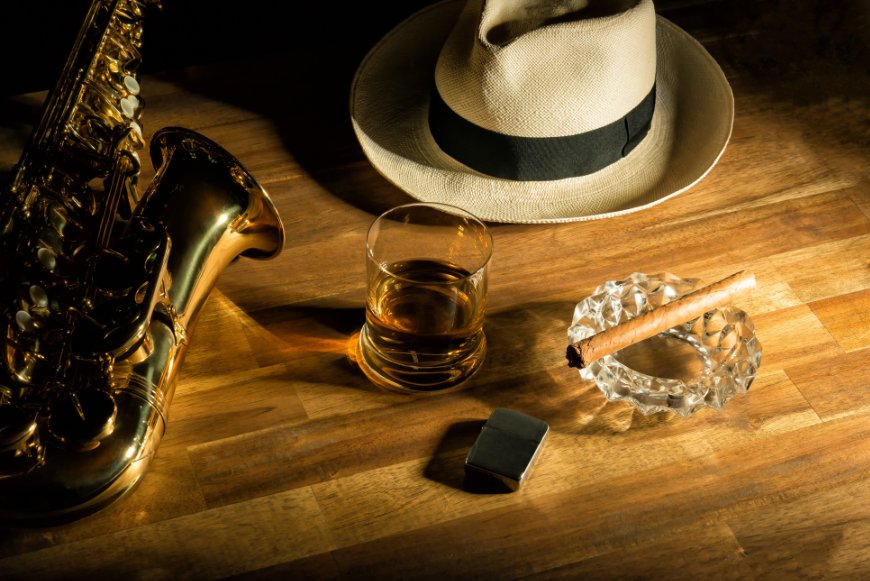 For a milestone celebration, treat yourself to the full Cuban experience—music, dancing, food, fun...and you don't have to smoke and drink rum to appreciate the craftsmanship that goes into them. Take a tour and you'll see what we mean.
You may be reaching a new milestone, but you can celebrate by taking a step backward in time to experience the enchanting old-world architecture and sensual salsa beats that Cuba has to offer. Try the dance clubs above, and don't forget to stop in at the tiny, hole in the wall restaurants with vine-covered courtyards and live music. Or, while away the evening in a classic piano bar where you can drink mojitos and watch the dancers. There are also incredible all night shows full of sparkling professional performers and of course, salsa dancing lessons and salsa nights for those who want to feel the romance and glory of the salsa beat pulsing through their blood. It's never too late to party, so speak with us at Anywhere Travel to plan a 60th birthday celebration that your friends won't stop talking about for years to come.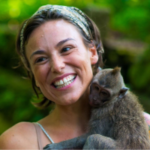 Emma Harrison-Clark, Anywhere Contributor
Emma Harrison Clark is a Bali based writer and adrenaline junkie who loves to travel. When she's not diving, riding fast motorcycles or fighting at mixed martial arts gyms you can contact her at www.emmaharrisonclark.com.