While in Cuba, you won't just want to experience the country's famous nightlife, you'll NEED to! You haven't truly been to Cuba until you've indulged in Cuban nightlife. Visit a cabaret to see colorful costumes on salsa and rumba dancers. Cocktail lounges sparkle with old school Havana charm and are filled with travellers puffing away on cigars. Not content to sit back and watch? Don't worry there's plenty of action waiting for you out on the dance floor...
Make time to see live performances of trova, son, and rumba — all musical styles that are native to Cuba. Don't be surprised when the lure of the rhythm proves to be too much and you're learning a new dance courtesy of the locals. The following destinations have fun, reliable, and safe nightlife options so that you can have the best experience possible. Return home with great memories, and maybe a new music compilation to remind of those sultry Havana nights. When the sun sets Cuba's nightlife heats up.
#1:

 Cuba Nightlife - Santiago de Cuba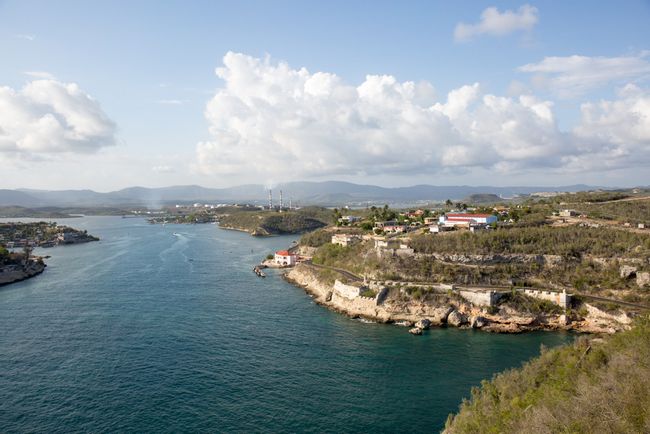 Santiago, Cuba →
In Cuba's southeast, the city of Santiago beats to its own drum, and the locals are more than willing to let you listen. Once the country's capital city, it later became the heart of Cuba's Afro-Caribbean population, and the scene of more than one turning point in Cuba's history. With a culture all of its own, you can be sure that there is a unique brand of nightlife to match. Plus, the city is the birthplace of Barcadi!
Learning about rebellion and revolution at Santiago's museums during the day will fuel the fire of passion for long nights out on the town. Like most of Cuba, the evening starts in large lamplit plazas where guitarists serenade strolling locals and tourists.
Santiago has some of Cuba's best live music bars and you cannot leave without a visit to Casa de la Trova for traditional Cuban ballads. Wherever you end up, make sure to have a mojito and get yourself on the dance floor.