Ambergris Caye, Belize
Ambergris Caye is Belize's largest island and the most well known destination in Belize. Located at the northern end of Belize's waters, a small channel dug by the Maya separates Ambergris Caye from Mexico's Yucatan Peninsula. The narrow, 25-mile (40-km) long island is surrounded by the Caribbean's aquamarine waters and consists of mangroves, lagoons, and the laid back town of San Pedro, which sits upon a low sandy plateau near the southern end of the island.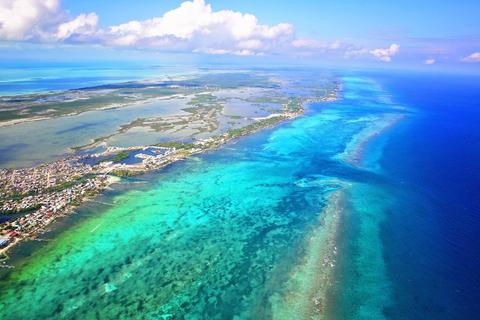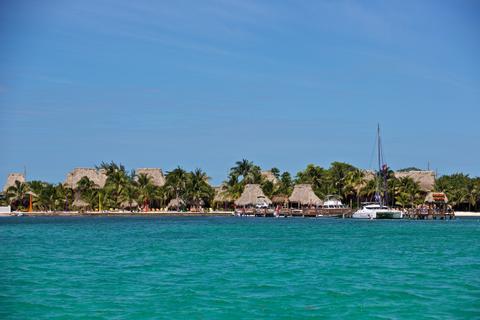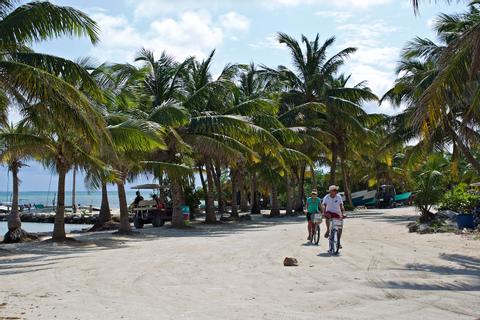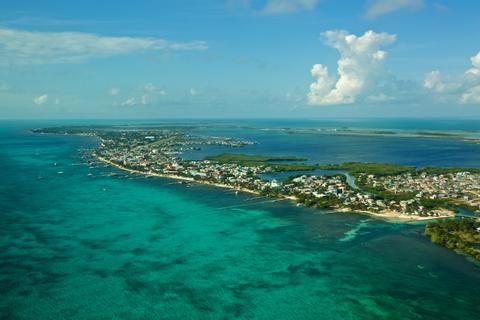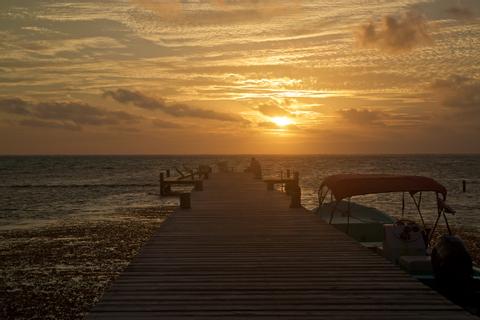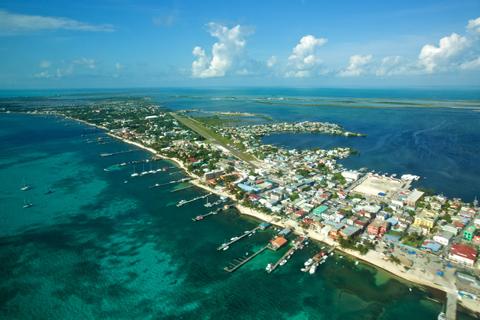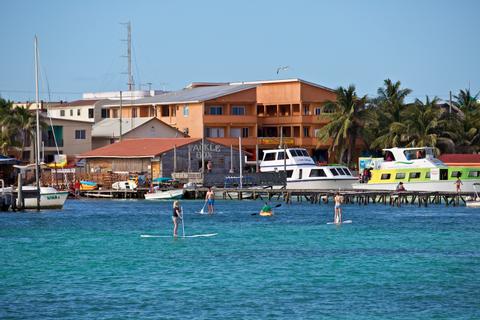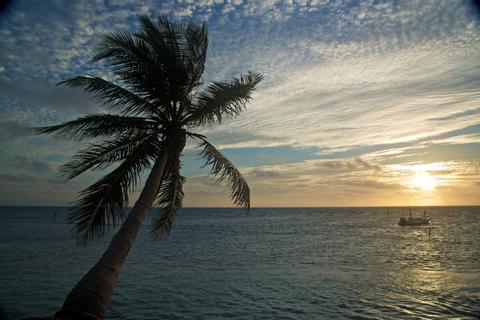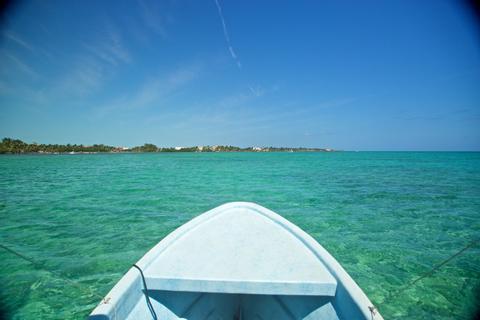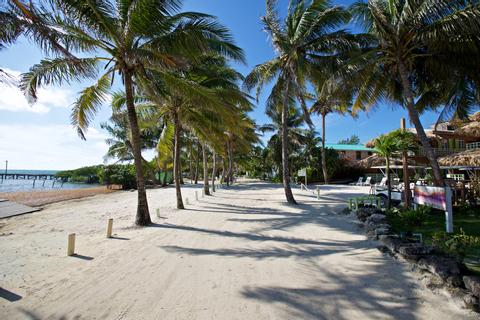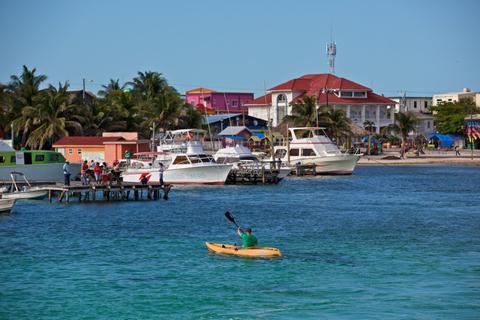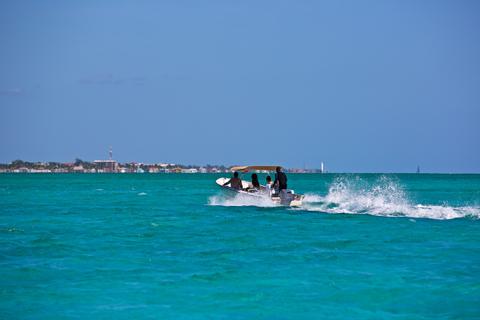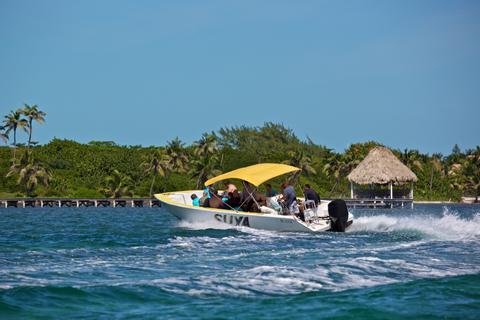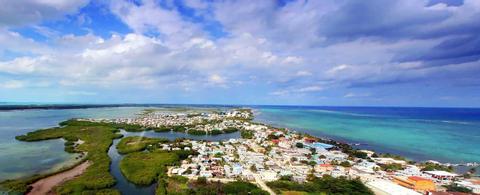 Ambergris Caye vs. Caye Caulker — What's The Difference?
When faced with two equally beautiful islands, which one do you choose? That's the quandary you face when deciding between Ambergris Caye and Caye Caulker, Belize. The silky white sands and aquamarine waters of each island are above reproach, so all that's left to go off of is the vibe…
Though both islands boast a relaxed vibe, Ambergris Caye is the destination of choice if you're looking to relax and indulge. By that we mean, you want an island that's a little more focused on the task at hand, and fully capable of meeting the expectations of Western travelers. The region has a thriving community of expats, so the groundwork has already been laid for you.
By contrast, Caye Caulker is where you'll go for the full Belizean experience. The island's laid-back style changes for no one. Backpackers and surfers don't mind this because they're more interested in waves and snorkeling than pampering themselves — after all, being on the island itself is a treat. So, if total relaxation and a 'no worries' approach to life is what you want, then Caye Caulker will suit you just fine.
Whichever island you choose, you'll enjoy the natural beauty of Belize, and you really can't go wrong — the islands are 15-30 minutes apart (dependent upon your mode of transportation), so you can stay on Ambergris Caye, but still enjoy a day trip to Caye Caulker.
What is Belize Known for? An Insider's Look at Ambergris Caye
Comfortably nestled in Central America, Belize is bordered by warm and colorful Mexico to the north, and the land of Guatemala to the south. The reason everyone from jet-setters to surfers love Belize is without a doubt its unapologetically 'island' attitude. The nation's motto is 'Go Slow!' That's because you're expected to savor every moment of island life; why rush, why worry? Why move at the pace of the Big Apple when you can move at the pace of Belize?
Ambergris Caye is a favorite playground of sunseekers because it offers the best of all worlds: you can enjoy relaxed vibes and pamper yourself at high-end accommodations. A crystal clear ocean beckons with its colorful sea life but so do sandy shores boasting hammocks and shady beach umbrellas. Tropical fruit will satisfy and tempt you…and so will gelato shops full of creamy, cool treats. It's easy to explore the island and literally impossible to speed through life — save for a few exceptions granted to taxis, the primary modes of transportation on the island are golf carts, bicycles, and walking.
Surfing, windsurfing, sea kayaking, snorkeling, and easy access to natural wonders such as the Blue Hole…this is just the beginning of the adventure and excitement that awaits you in beautiful Belize.
"Beautiful island. We could not stop laughing at all the golf carts. Driving around the town was like a real life game of Mario cart!" - Jennifer C.
Best of Ambergris Caye — Can't Miss Sites and Activities
The world boasts so many wonders, both well-known and off the beaten path, so it can be difficult to know what to fit into the course of one trip. Like many travelers, odds are you'll love Belize so much you're sure to visit again, but you may not know when exactly that will be. Squeeze a few activities between leisurely meals and naps from this list, and ensure that you don't miss a moment of culture and adventure. Cave Tubing and Zip Lining: This combination tour is beloved by adrenaline junkies. Zoom across an emerald green jungle on a zip line, and float down underground caverns on a giant innertube. They're an amazing way to learn about and experience nature, so add them to your short-list if youngsters are in tow.
•Cahal Pech Ruins: A 25-minute walk (or 10-minute drive) outside of San Ignacio, Belize, are the remnants of an enclave not too dissimilar from present day Belize. Estimated to be circa 1200 B.C. to 900 A.D., Cahal Pech boasted agriculture, temples, and palaces for a few elite citizens. The more cities change, the more they stay the same…
•Caracol Ruins: Explore the foothills of the Maya Mountains as you observe and explore 30 structures dating back to 1200 B.C. You'll see everything from towers to temples. Be sure to bring your binoculars, because the region the ruins are located in doubles as prime birdwatching real estate.
•Xunantunich: This is no small adventure! Xunantunich is home to the nation's second-largest pyramid. This is by far one of the most impressive Mayan sites you could hope to visit, so put on your archaeological hat for this outdoor expedition!
•Actun Tunichil Muknal Caves: This sacred, ceremonial cave was once the site of human sacrifices. The waters of Belize now guard the entrance to the mouth of the cave, which is filled with ancient Mayan wonders, including ceramics, tools, and yes, skeletal remains. Rarely does one have the opportunity to go spelunking/caving at an ancient religious site!
•Barton Creek Cave: Stalactites, stalagmites, and headlamps, oh my! Explore wet caves that also hold a variety of ancient artifacts, including ceramics and jewelry. This excursion will take you 1 mile (1.6 km) deep into the cave's interior, so there will be plenty to see.
Anywhere Insider Info
Like a chic restaurant hidden behind the plain steel doors of an unassuming brick building, there are some things in life that you'll only experience if you're in the know. Thankfully, with Anywhere's Local Experts, you always are! If you can pull yourself away from luxuriating on the sandy beaches of Ambergris Caye, then you'll be richly rewarded by making the trek to San Ignacio. THE destination for adrenaline-filled activities, San Ignacio, Belize boasts amazing adventures, the history of the Mayan Civilization, and the rugged beauty of Belize's jungles.
This vacation, think big! Why not visit a neighboring country? Guatemala is 30-minutes away. If you add Flores to your itinerary, then you can make the pilgrimage to Tikal — a site of towers and temples which positively dominate the jungle. When you go on an expedition of Belize's Mayan sites, adding Tikal to your itinerary is 'the cherry on top.'
By the way, you'll be plenty ready for hiking, climbing, and the like. The region's cuisine is completely local, so you'll be dining on the freshest ingredients. Anticipate plenty of hearty and delicious meals full of rice, beans, and chicken.
Top Tours in Ambergris Caye — Adventures Recommended by The Experts
Imagine you're visiting your friend in Belize; because they live there, you know they're going to make sure you experience the best of the country. That's what it's like to book with Anywhere. When you and your Local Expert are designing your vacation, don't be surprised when one of these top tours comes up! These beloved activities are popular for a reason…
•Snorkel Hol Chan: The Hol Chan Marine Reserve is full of tropical fish, sea turtles. nurse sharks, and more — all living amidst the thriving coral reefs of Belize. In Maya, 'Hol Chan' translates as 'Little Channel,' a reference to the 'Hol Chan cut,' which is a natural break in the coral reef. This gives you an open space to swim while surrounded by the sea life at home in the nearby coral.
•Mexico Rocks: A natural formation of patch reef, the Mexico Rocks are a favorite spot of divers and snorkelers because of the water's remarkable clarity. You can expect to see a variety of coral species, lobster, tropical fish, eels, and more. It's a lovely place to explore the beauty of Belize below the surface.
•Jet Ski to Caye Caulker: Of all the ways you can get to Caye Caulker, this may be the most fun! Hop on your jet ski to make your way from San Pedro to Caye Caulker with a few stops along the way. Where are you going? That depends on you — you get to design your tour and make stops to explore a variety of things along the way.
•Blue Hole Tour: The world's largest known underwater sinkhole is also one of the most beautiful — a giant sapphire surrounded by a pearl-like reef in the middle of an aquamarine sea. Belize Blue Hole is 984 feet (300 m) across and 410 feet (125 m) deep, and incomparably gorgeous. You can enjoy it by going on a diving expedition or flying over it in a helicopter for an extraordinary aerial view. Insider's Note: The great 'Blue Hole' is not to be confused with 'St. Herman's Blue Hole', a smaller inland sinkhole located in the jungles of the Mayan Mountains.
Make Friends With The Locals — Get to Know The Animals of Ambergris Caye
To see the animals of Ambergris Caye, you'll really need to go below the surface of the island — literally. In this region of Belize, you'll find the waters are filled with graceful moon jellyfish floating and dancing in the water. Colonial anemones seem to control the architecture of the landscape as they spread across the sea floor, serving as gardens and homes to the animals that rely upon them. Meanwhile, you might be able to swim with whale sharks (the world's second largest fish) during their migration season. These gentle giants aren't known for being aggressive, which means you can get a remarkably close look at them. Still, as with all living things, it's important that you approach and treat them with the respect they deserve.
Exceptional Island Accommodations — Where to Stay in Ambergris Caye
Desperate to spend as much time as possible on the silken sands of Ambergris Caye's beaches? From hotels with extraordinary views of the shore to being so close that the sound of the ocean itself lulls you to sleep, discover the perfect lodgings for your needs. This short-list will help you get started, and your Anywhere Local Expert can recommend even more when you begin crafting your itinerary.
"Absolutely loved my time here. Victoria House was a delightful hotel. Clean & comfy room with a very nice balcony with view. Great waitstaff, pleasant & attentive. No grumps whatsoever! Eric the night security guard made me a personal pot of coffee at 5:45 am, since I was the only early riser at the hotel and waiting for some! Also enjoyed Marlon & Carmen, however all the staff were great, just can't remember all the names. I also was very happy with the gym facilities. Included breakfasts always delicious and afternoon snacks and dinners did not disappoint. I would recommend and hope to make it back!!" - Amy M.
Anywhere Experts' Best Family Hotels in Ambergris Caye
Thes hotels will help you bring back the joy of family vacationing! When the little ones or teens are preoccupied, you can indulge in some adult conversation…and maybe a cocktail. Prefer not to drink? Sip on a mocktail or an island fresh fruit smoothie and let your worries melt away — it's the perfect way to prep yourself for family fun.
Grand Colony Isla Villas: You and your family will feel right at home when you book a 2-3 bedroom villa boasting swimming pool or beachfront views. After a day of splashing around and building sand castles, grown-ups can indulge in a spa treatment.

Ramon's Village Resort: A private beach graced with white coral sand, Tahitian-inspired thatched roof cottages, and a swimming pool that's more like a private lagoon are a few of the joys awaiting you. At Ramon's Village, half the fun is in the details. Encourage the children to sketch their surroundings, and bring a pair of binoculars to see if you can spy tropical birds through jungle views.

X'tan Ha Resort: This full-service resort serves up plenty of aquatic family fun; you and your family are welcome to borrow complimentary paddleboats, paddleboards, or kayaks — if you can tear yourselves away from the huge over-water trampoline and in-water volleyball court, that is.
Anywhere Experts' Best Luxury Hotels in Ambergris Caye
A tropical island doesn't truly feel like paradise until you've been liberated from the petty worries of daily life — no emails, no text messages, no binge-watching, no being bothered with emergencies that weren't so urgent after all… Vacation time is YOUR time, and you're entitled to make the most of it. So go all out and treat yourself to over the top indulgence at these fine, luxury accommodations.
Cayo Espanto: For unadulterated luxury, indulgence, and bliss visit 'Spirit Island' (Cayo Espanto) which is accessible only from Ambergris Caye, this private island has seven (7) luxury villas — each with an ocean view, and staggered across the land for maximum privacy. Meals are all-inclusive, so the only thing you need to do is unpack and begin enjoying yourself…

Las Terrazas Resort and Residences: These gracious rooms boast locally crafted furniture and fully equipped kitchens that can even be filled with groceries waiting for you upon your arrival. Head up to the rooftop lounge when you want to kick back after a day spent enjoying the resort's complimentary kayaks, hobie cats, paddleboards, and water bikes.

Victoria House: 42 rooms, multiple layouts, and powdery soft sands from which to enjoy complimentary use of bicycles, kayaks, and paddleboards. This is just the beginning of your vacation victory; how about discussing your amazing day over a private dinner in a gazebo?
Anywhere Experts' Best Overall Hotels in Ambergris Caye
The best way to enjoy your time at Ambergris Caye is to begin and end each day happy and well-rested. It's easy when you choose the right accommodations for your needs. When in doubt, this list covers all bases, and is a great way to familiarize yourself with what you can typically expect during your stay at Amberbris Caye.
You CAN Get There From Here — The Best Way to Get to Ambergris Caye
When visiting an island, the transportation options are few, but what is available is predictable. The nation's only international airport (BZE) is located in Belize City, and it connects to all main destinations. If you find yourself flying into Ambergris Caye from another part of Belize, Anywhere's Local Experts recommend that you use the TZA regional airport. In general, direct flights from mainland Belize to Ambergris Caye take 15-minutes and depart every hour on the hour from 07:00 a.m. to 18:00 p.m. If traffic is exceptionally high, more flights are added.
If you want to make your journey part of your trip then water taxis are your other transportation option. At the Brown Sugar Water Taxi terminal, you'll find a variety of providers and taxi types. When you choose this method, you get the fun of seeing the island grow closer as you approach the dock. Water taxis take about an hour and a half (90-minutes) to make the trip from Belize City to Caye Caulker, and the last stop at Ambergris Caye.
Many travelers prefer flying because it is easy and convenient, but the water taxi is the more economical option if you want to indulge after you reach the island. Whichever method of transportation you choose, please arrive at least 30-minutes prior to your scheduled flight or water taxi.
While You're in The Area…
Add a one day trip to Secret Beach to your itinerary; it offers the beautiful crystal beaches that the Caribbean is known for. If you're staying on Ambergris Caye, then be sure to schedule a day trip to Caye Caulker to enjoy its laid-back bohemian vibe. And, of course, you would be remiss if you didn't visit Blue Hole at least once in your lifetime — it's only a flight away, and oh what a flight it is!
Anywhere Offers You The Professional, Courteous, and Reliable Service You Seek
Planning a vacation should be fun and exciting, not stressful! Take the guesswork out of booking your perfect getaway when you design a personalized itinerary with the help of your Anywhere Local Expert. Familiar with all of the finer points of Belize, you'll feel like you already know the best restaurants, shops, and activities before you ever set foot on the sand. Let your new friend in travel help you select the hotel that best fits your needs, arrange your ground transportation, and make sure you enjoy exciting tours. Best of all, in the event that you encounter a hiccup during your vacation, you'll hardly notice it! Leave the troubleshooting to the travel experts — you just focus on having an amazing time.
Join over 1,300 satisfied TripAdvisor travelers just like you, and make your tropical getaway effortless…
"San Pedro and the Ambergris Caye were absolutely stunning places to visit. The water was pristine and clear, and Hol Chan and Shark Ray Alley were absolutely stunning snorkeling spots-- some of the best I have ever seen! The locals were completely hospitable and I never once felt unsafe-- which is important as a girl. The island has golf cart rentals for decently cheap which I would highly recommend if you want to see a little bit more of the island. I would certainly return to Belize just to stay on this island." - Jamie E.
Ambergris Caye Personalized Trips