Even today, the thought of going back in time seems impossible, and certainly incomparable, but it's still out of reach...isn't it? Not in Cuba. Cuba's top attractions are often relics of the past — including classic cars roaming the streets, smoky clubs filled with music and drink, and colonial architecture, and that's just for starters. Cuba's best places to visit are 'must see' locations such as Havana, but also places like Trinidad where the past is reflected in the very buildings that line the street.
This vacation is a getaway with no regrets. Cuba's top destinations will have you walking down cobblestone streets bordered by Spanish ruins or going for a hike along an ancient, eroded plateau. There is one thing you won't be doing, and that's having a standard issue vacation. Cuba's top attractions will remind you that this island is one of strength, endurance, and beauty.
All of the commodities that put Cuba on the map – including classic cars, rum, cigars, cabarets, beaches, and baseball – continue to make these destinations irresistible. Havana charms visitors with its appealing mixture of culture and history, while places like Varadero boast white-sand beaches and turquoise colored water.
#1:

 Cuba Top Destination - Trinidad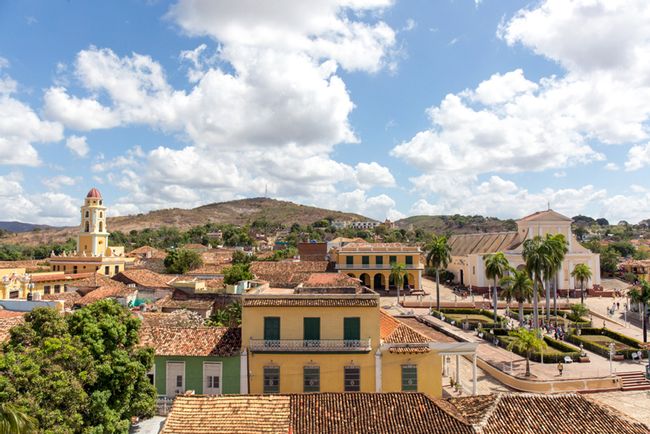 Trinidad, Cuba →
Nestled between the turquoise Caribbean Sea and the forested peaks of the Sierra Escambray, the colonial city of Trinidad seems to have it all. Colorful colonial architecture, beautiful beaches, and fantastic hiking opportunities make it one of Cuba's top destinations.
The city made its mark in the 18th-century sugar rush, and the opulent buildings of that era still standing today give Trinidad its UNESCO World Heritage status. Live music and dance concerts take place in the city's plazas most evenings, surrounded by grand facades and towering palms.
Pine forests, waterfalls, and white-sand beaches are just a short distance from the center of Trinidad, offering natural riches to compliment a cultural tour of this lovely city.
#2:

 Cuba Top Destination - Varadero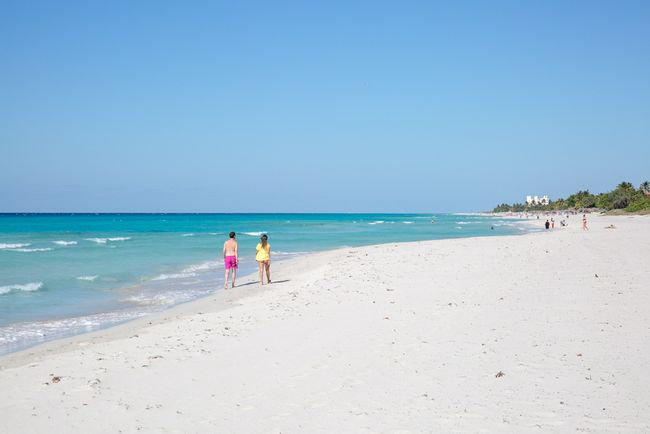 Varadero, Cuba →
Just 90 miles (145 km) from the capital city of Cuba lies a tiny piece of land bordered on one side by white-sand beaches and densely packed mangrove forests on the other. This is Varadero, one of Cuba's top destinations and one of the Caribbean's most stunning beaches.
While this is one of Cuba's busiest tourist destinations, the lack of beachside high-rises and abundance of laid back Cuban vibes helps Varadero maintain a relaxed atmosphere. With cool ocean breezes, warm waters, and oh-so-comfortable resorts, what more is there to do than chill?
With more than 30 dive sites offshore and a plethora of other ocean adventures on offer, it won't be hard for you to find ways to fill your time between sunbathing. Don't forget to head back to the sand in time for sunset though, preferably with a fresh mojito in hand.
Frequently asked questions
Can't find the answer you're looking for? Reach out to ourlocal experts.
Where Is The Best Fishing In Cuba?

Cuba is home to some amazing activities — riding around in classic cars, sipping fine rum in a smoky dance hall, finally learning what makes the nation's cigars legendary, and basking in the golden glow of beautiful beaches. One thing missing from that list? Some very pleasant fishing...Fishing is legal on the beaches in Cuba, and Varadero beach is a popular spot for fishermen. Boats can be hired for deep sea fishing all around the island. Cayo Guillermo was a favorite of Ernest Hemingway, and Cayo Coco is also considered some of the best fishing in the Caribbean. Freshwater lakes near Cayo Coco offer a relaxed fishing alternative.

To make this fishing getaway a reality may require a little effort, but it's well worth it. If you're coming from the United States, please read "How to Legally Travel to Cuba as An American." Even if you're coming from a country that enjoys less complicated Cuban entry requirements, you'll still need to bring cash to this island nation.

Next step, your journey. You can get to the island nation of Cuba by land and sea. The best time to visit Cuba is going to be during the dry season — November to April. Of all the things you should bring for your trip to Cuba the most important may be ear plugs — Cuba is a lively country, and if you're hoping to make your big catch in the early morning, you'll need your rest.

Where Is The Best Surfing in Cuba?

It's not too late to be a modern day pioneer. Surfing is not yet a very popular activity in Cuba, so there are plenty of waves to ride on beautiful beaches, without having to wait your turn. Keep in mind that you may not easily be able to find surfing equipment to rent.It's little surprise that some of Cuba's beaches make for excellent surfing, what is a surprise is that the sport has yet to catch on — after all, surfing isn't exactly new. Slowly but surely, that's changing. For experienced surfers bound for Cuba, Guardalava and Baracoa have beaches that offer large swells. Serious surfers may even travel there at the tail end of hurricane season (August-October) for the big waves.

In general, the best time to visit Cuba is during the dry season (November to April), but in addition to larger swells during the wet season, the waters of the Caribbean tend to get warmer. Surf is fairly unreliable along Havana's coast, but determined surfers still regularly visit the local beaches. Calle 70 or Playa Guanabo are just outside the city, and are popular with visitors and local surfers alike.

Playa Mar Verde and Playa Buey Cabón, outside of Santiago de Cuba, may be better for more experienced surfers due to their point breaks, or waves that break over rocks under the water.

For new surfers, Varadero is a great place to try to catch waves. Private and group surfing lessons are available here.

Unfortunately, the reason it may be difficult to rent equipment is the same reason it will be a challenge getting to Cuba and obtaining entry to Cuba — lingering challenges from the communist government. Although you can get to Cuba by air and sea (land isn't an option for this island nation), that's moot if you are legally prohibited from entering the country. However, once you're granted entry, the beauty of the outdoors and amazing culture await you.