Eclypse del Mar is located on Bastimentos Island. It's a friendly, pleasant place that offers thatch-roof bungalows over the water.
Featured in:
Honeymoon, Sustainable, Best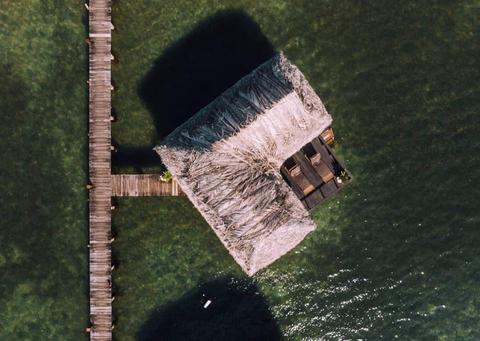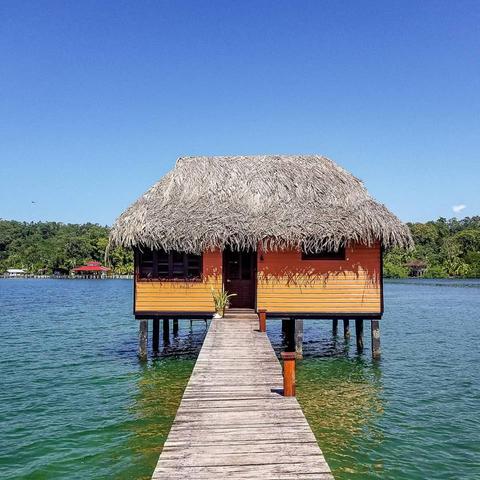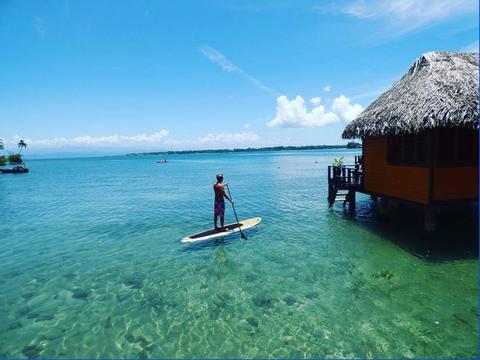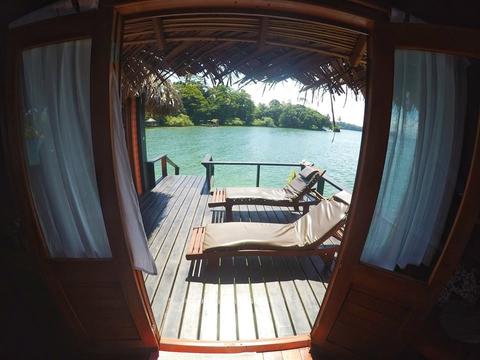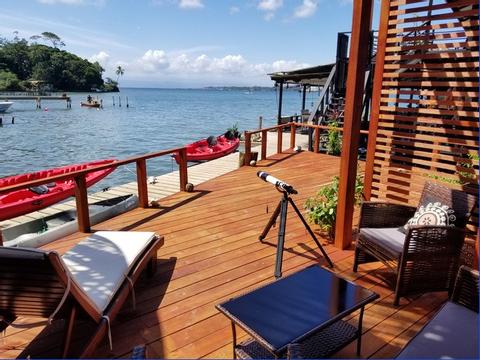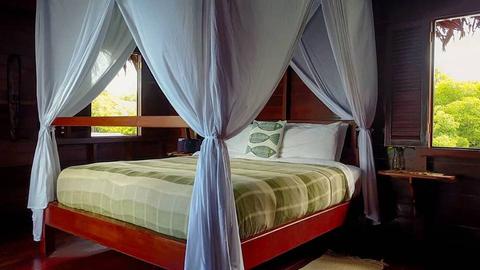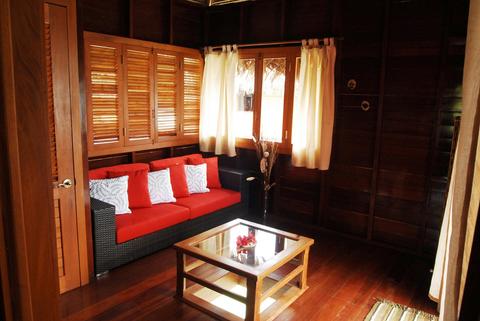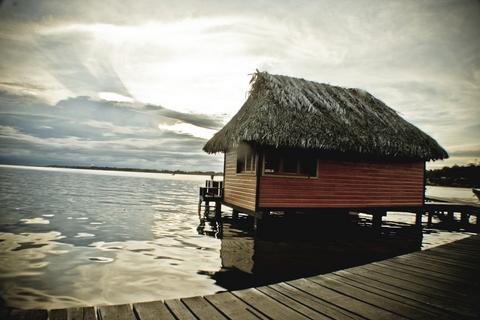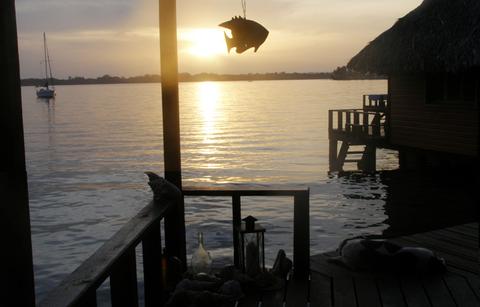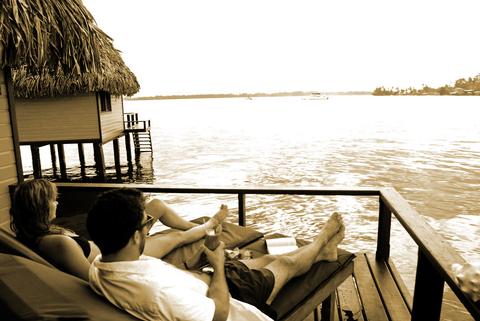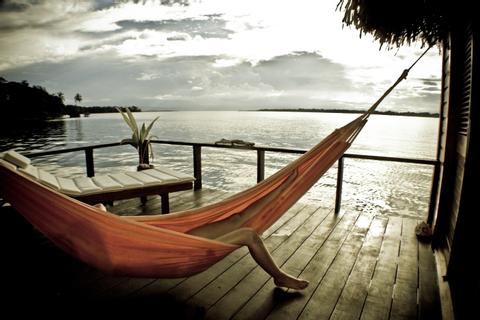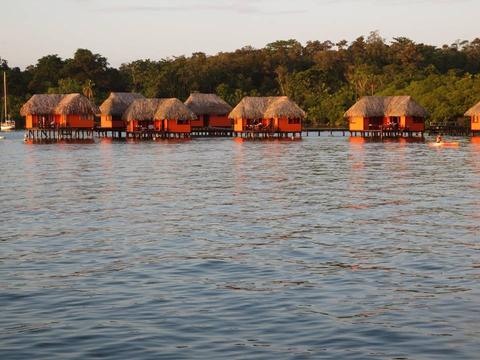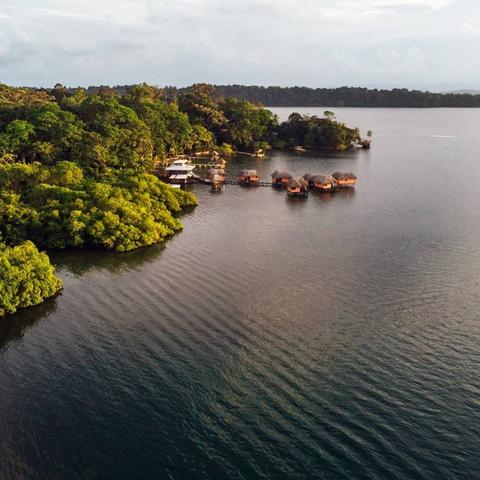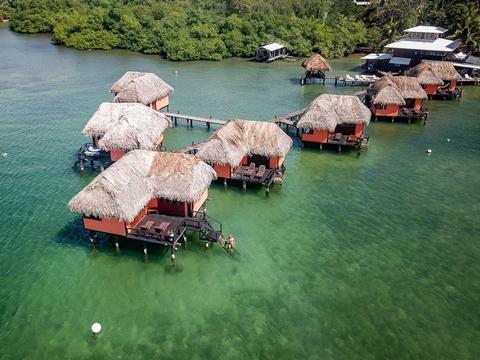 12:00 p.m. check in
11:00 a.m. check out
Free Breakfast
Wireless Internet
Restaurant in Hotel
Bastimentos Island is set within the Bocas del Toro archipelago. It's smaller than Colón Island, but has ample beaches and forests. The north shore beaches of Playa Larga and Red Frog Beach are some of the best—these are great places to soak up sun and stare out at the Caribbean. The middle portion of the island and some of the surrounding waters are part of the Bastimentos Island National Marine Park. This park includes the Cayos Zapatillas, two beautiful islands that have attractive beaches and good snorkeling options.
Eclypse del Mar is fun and lovely. The accommodations consist of brightly painted, thatch-roof bungalows set directly above the ocean. They are constructed from dark wood and have pleasant interiors. The beds are comfortable and all rooms have a ceiling fan, private bathroom, hot water shower, and in-room safe; the floors even have a small glass panel where you can watch fish swim by underneath. Each bungalow has a private balcony with stairs leading down to the water. Waking up and jumping right into the ocean is a great way to start your day.
There are also two honeymoon bungalows (which are larger and nicer than the standard bungalows) and two rooms in the main house. The rooms in the main house are smaller but still pleasant, and have a balcony overlooking the water.
A complimentary breakfast is served on your balcony each morning. Lunch and dinner can be enjoyed at the hotel's restaurant, which also serves beer and wine. Guests can rent kayaks and snorkel gear, or explore trails on the hotel's 6-acre (2.5-ha) reserve. The series of artificial lagoons is a nice touch.
Eclypse del Mar prides itself on sustainable practices. All electricity is generated by solar power and the hotel's water comes from a filtered spring onshore.
More Property Amenities
Fan
Balcony
Hot Water
Ocean View
Accommodations
Standard Bungalow
Sleeps 4
Fan
Hot Water
Wireless Internet
Standard Double Room
Sleeps 2
Balcony
Fan
Hot Water
Wireless Internet
Honeymoon Bungalow Suite
Sleeps 3
Fan
Wireless Internet
Living Room
Deck
Feedback from Travelers
Amazing place and great ethic to preserve the ecology. The food was really good and the setting was beautiful.
Amazing Location. Loved sleeping with all the windows and doors open. Loved the rain. Loved diving into the ocean from the bungalow. Had breakfast, lunch, and dinner here. Food was great. Very relaxing place to start our Panama adventure
Staff were so warm and hospitable, wanting us to have a great time, including arranging boats and local tours. Beautiful location and great aqua bungalow.
Similar Hotels