Costa Rica has a happy future as one of the greenest countries on the planet. In fact, they are aiming to achieve zero emissions in 2050. Can your vacation be part of the progress?
last updated: 1/13/2020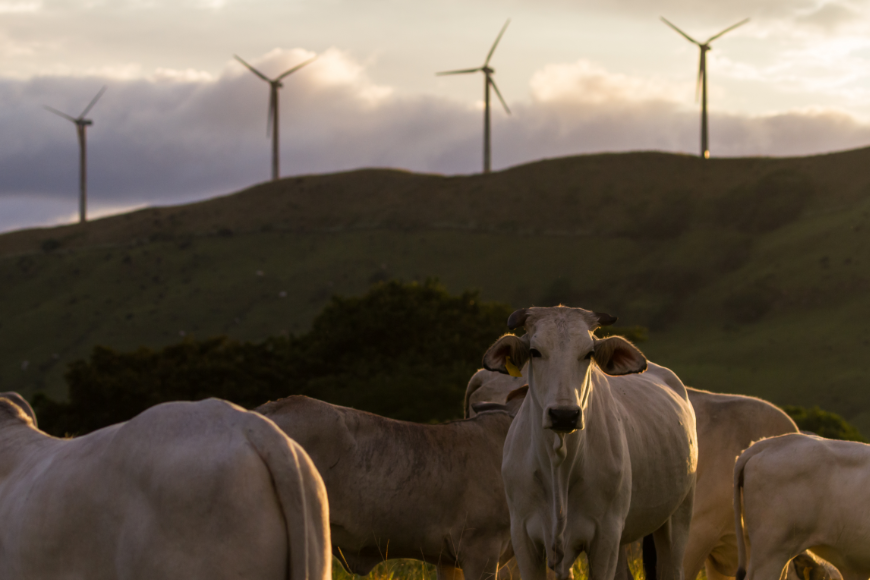 Why is Costa Rica the happiest country? From bountiful agriculture to sustainable energy, the country is a wonderful place to live now and in the foreseeable future.
Every year, the U.N.'s World Happiness Report (WHR) announces which countries score the highest in the happiness index. For the past few years, Costa Rica has consistently ranked as one of the highest. Interestingly, out of the top 20 countries Costa Rica has one of the lowest GDPs. Costa Rica is proof positive that money doesn't buy happiness. The country's lust for life is kinetic. The nation may not rank #1 on the WHR, but the query "Why is Costa Rica the happiest country?" remains popular.
So what's the secret to Costa Rica's happiness? If you've been there, you'll know that it's home to some of the world's most beautiful beaches and rich, colorful jungles. But it's more than attractive views that contribute to the positive national mood. Researchers have identified Costa Rica's primary sources of happiness as renewable resources—strong social bonds, a clean environment, and investment in education. Add a few excursions to your itinerary that let you experience the upsides of Costa Rica's culture and eco-friendly attitude.
Community and Pura Vida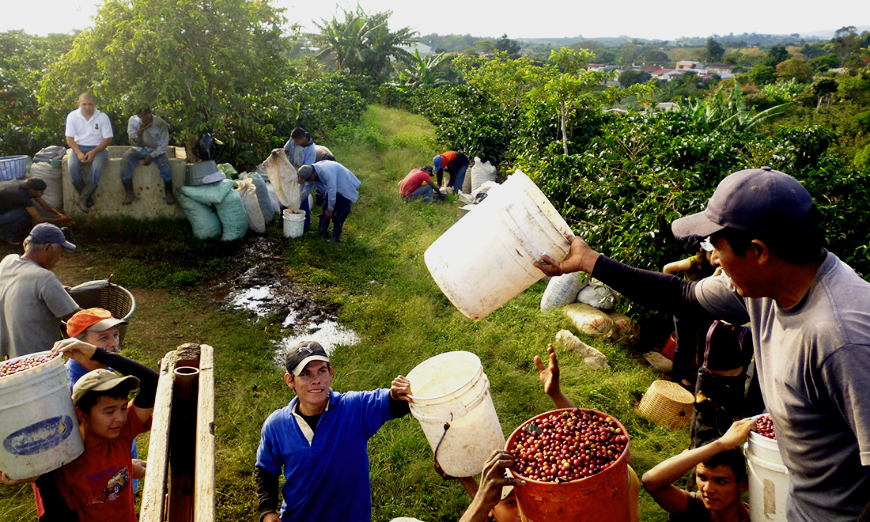 Why is Costa Rica the happiest country? Perhaps it has something to do with the sense of community the country has. You can join the locals during your holiday.
In the World Happiness Report, Costa Ricans reported feeling a good sense of social support from friends and family. Costa Ricans have friendly demeanors, a plus for locals and travelers alike. You'll often hear Costa Ricans use the expression "pura vida," which translates to "no worries." Pura vida isn't just a slogan made up by the tourism board—it's a genuine sentiment, and a popular shorthand for a sunny outlook on life.
Get to experience Costa Rican culture close-up on a multi-day volunteer trip. This is one of your best chances to get to know Costa Ricans while you give back to the environment. You could sign up for a volunteer trip to an organic farm, where you can share a home with a local family who will provide all of your meals. A typical trip involves a visit to 2 to 3 different farms; your days are filled with caring for coffee, fruit, or sugarcane crops.
Environment and Reforestation
The government aims to make Costa Rica totally carbon neutral by 2021. It seems like they're well on their way—98 percent of Costa Rica's electrical power came from renewable sources in 2016. The Costa Rican Electricity Institute (ICE) relies on a combination of hydro and geothermal power, and the country used only sustainable power sources for 300 days in 2017.
As Costa Rica builds a green future, it's also working to fix the environmental damage done in the past. Deforestation was one of Costa Rica's major setbacks in the 20th century. The government outlawed chopping down old growth forests in 1996. In 1997, the government began paying indigenous communities not to chop down trees. Now the government runs an aggressive reforestation campaign, which you can help with by volunteering for a reforestation project.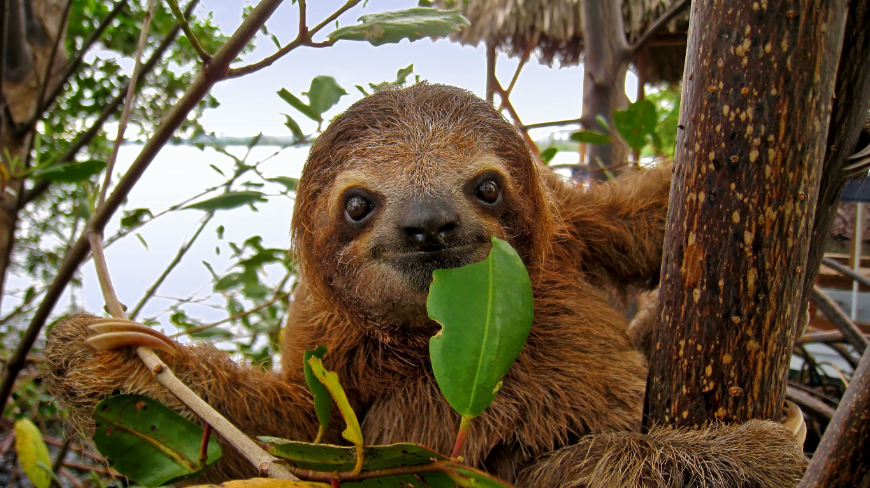 Why is Costa Rica the happiest country? Let's ask the animals...this sloth looks content.
As the forest comes back to life, volunteers can also help care for the forest inhabitants. Wildlife rescue nonprofits protect animals who can no longer live in the wild, and rehabilitate those who just need a little help. There are volunteer programs that allow you to interact closely with wild animals like sloths and participate in daily feeding rituals.
Costa Rica rewards hotels and lodges that uphold a strong environmental standard. The Certificate of Sustainable Tourism program educates businesses on sustainable practices. Businesses that achieve the highest level of environmental standards receive the prestigious "Leaf" award. You can find a good selection of Leaf-worthy eco hotels in some of Costa Rica's most popular destinations, including the Lapa Rios Lodge in the Osa Peninsula and Finca Luna Nueva outside of Arenal. These lodges are not only the greenest, but also some of the highest-rated luxury accommodations in Costa Rica.
Investing in Education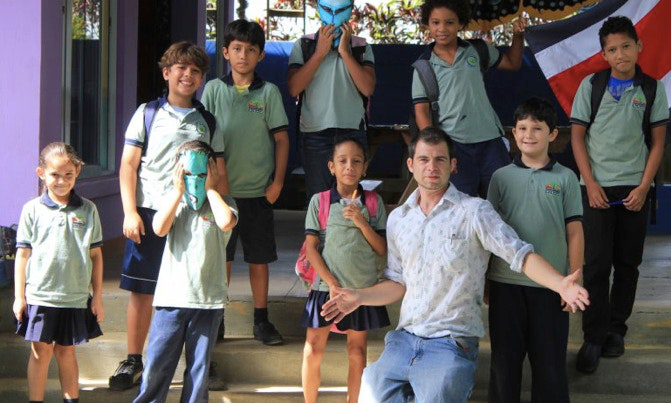 Why is Costa Rica the happiest country? It could be the commitment of leaving a positive legacy for the next generation.
Costa Rica abolished its army in 1949, freeing up their budget to invest in social programs. See Costa Rica's investment in both education and the environment at places like E.A.R.T.H University, a non-profit agricultural college in the lowland rainforest. If you're fluent in Spanish, you can visit a Costa Rican school to volunteer teaching elementary school students about the environment. Children are the future, and Costa Rican children are learning to ensure the future health of the planet.
The Costa Rican economy is heavily invested in tourism, which means there is a wealth of knowledgeable guides to take you on wildlife and nature tours. Some of Costa Rica's most impressive guided tours are bird watching tours—guides on these tours have mastered bird calls and know how to track the most elusive birds. For instance, in the cloud forest of Monteverde a guide can spot the telltale signs of a nearby resplendent quetzal, like a warm avocado pit from a recent quetzal feast.
Immersion is the best way to learn a new language, and Costa Rica also has pleasant facilities for Spanish classes to help you build on what you've absorbed. These lessons can fit into your trips to Heredia, Playa Flamingo, or Monteverde. Instructors are friendly, and locals are happy to have patient conversations with you as you conjugate the night away. (A few sips of spicy chili guaro might make you brave enough to test out your new vocabulary.)
Make Your Visit Count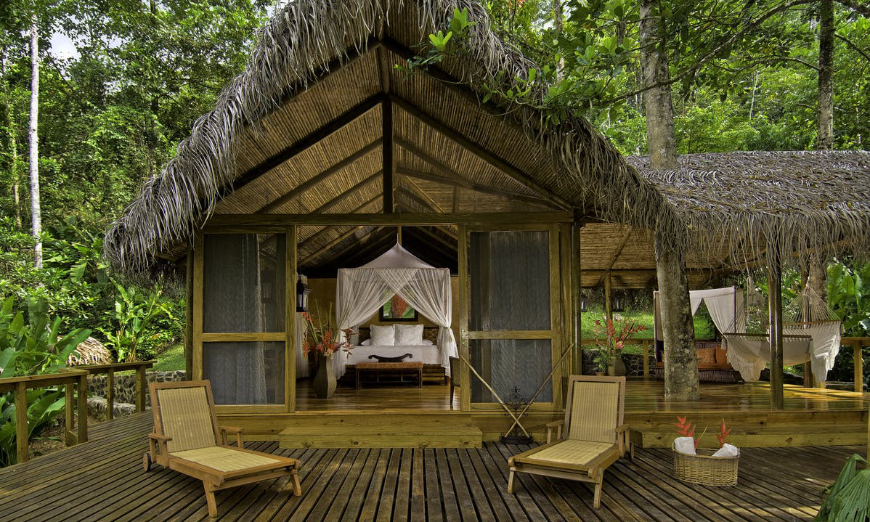 Why is Costa Rica the happiest country? Indoor/outdoor living—never underestimate the power of a little fresh air and sunlight.
Whether you get your hands dirty with voluntourism or relax in the lap of luxury at a beautiful eco-lodge, take a little piece of "pura vida" with you when you leave. Happiness is the world's most essential sustainable resource, and lucky for us Costa Rica can always make more of it.