Go somewhere truly memorable and special on your next trip — enjoy family vacations in Belize and Guatemala.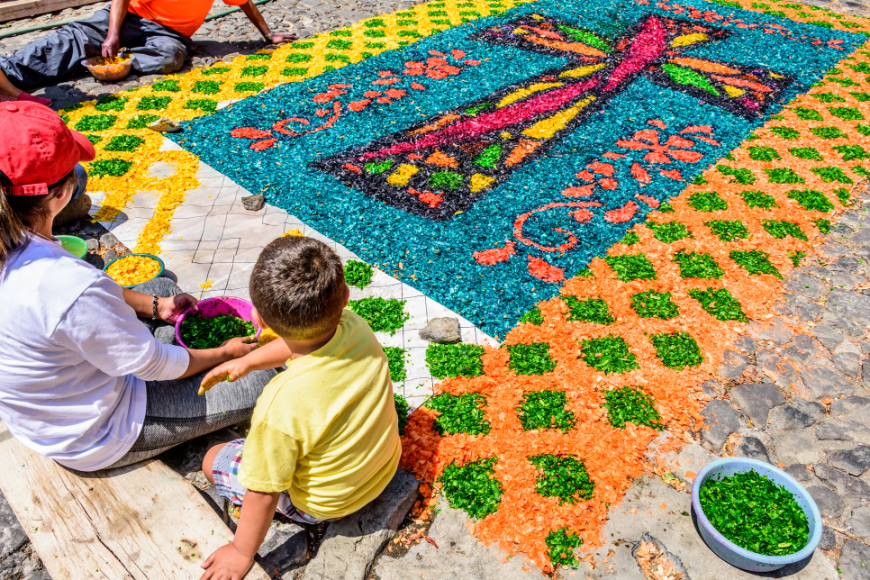 Teach the children that a vacation is a fun learning experience when they learn about colorful customs around the world.
When you picture a family vacation, you probably don't think jungles and Mayan ruins. Who wants to hack through dense jungle foliage with a machete on their vacation? It's hard enough to get everyone on the plane at the same time, so it's tough to imagine going for a full-fledged archeology adventure.
Contrary to what you might have imagined, a lot of what Guatemala (and its tiny neighbor, Belize), have to offer is just a short distance from family friendly resorts and hotels. In addition to easy-to-plan nearby adventures, these accommodations have grounds with lots to keep your younger travel companions entertained. Both Guatemala and Belize are family-friendly destinations, and guides are ready to help you find tours and activities suitable for everyone in your group. Many of these accommodations are all-inclusive, helping to keep your meal-planning to a minimum.
Maybe Maya ruins aren't your thing — if you have your heart set on a family beach vacation, both Guatemala and Belize have exciting shorelines with getaways that make it easy for you to experience the surf and coral reef snorkeling. Find an exclusive beach villa that makes your family vacation more about togetherness, not far from colorful wildlife that will spark the curiosity of even your youngest travelers.
Bolontiku Hotel
Travel to the shore of Lake Petén Itza and stay at the lakeside Bolontiku Hotel. When you arrive, staff will greet you with cooling towels and hibiscus tea. The grounds here have their own trails for hiking and bird watching. There's a small pool and incredible views of the lake from the dining terrace.
This location puts you right between the water and the jungle, and just a 30-minute drive from the town of Flores and Santa Elena. This busy area offers lots of local restaurants to explore, and Flores is a convenient setting off point for trips to local Maya ruins, like Yaxhá, Topoxté, and Uaxactun. Guided tours here are hugely educational, and these sites' wide-open grassy spaces offer kids a lot of space to run around. In the jungles near Petén, you can explore suspension bridges while you're surrounded by the chatter of monkeys and birds.
La Casa del Mundo Lake Atitlán
You can only reach the cliffside hotel of La Casa del Mundo in a boat, making it a memorable stay even before you arrive. Packages make it easy for you to leave meals up to the capable staff. They serve creative, wholesome dishes made from local ingredients, and it's possible to communicate individual dietary needs beforehand. La Casa prides itself on it its family-style service, encouraging you to dine and mingle with other travelers.
Perched on the edge of Lake Atitlán, you'll be excited to get onto the lake for swimming and kayaking excursions. There's plenty to see just on the grounds of La Casa del Mundo, from the tropical gardens and swimming holes. Grownups looking to unwind will find their bliss in a hot tub overlooking the cliff. La Casa del Mundo preserves a tranquil atmosphere, and has quiet hours after 10 pm, perfect for families with earlier bedtimes.
Paredón Surf House
Surfing and boogie boards are both included with the price of your room at the Paredón Surf House. People come here for surf lessons on an uncrowded beach — if your kids have any interest in surfing, get them started here. Depending on what time of year you visit, you might be able to to look for sea turtles on the beach at night.
Paredon Surf House encourages bonding with a family-style meal service. Breakfast and dinner are included in your rate and the cooks are committed to serving a variety that caters to a wide variety of taste buds.
This surf house encourages guests to "pack with a purpose." Set a lasting example for your children when you travel and bring books to donate to the local library. Efforts like this drive home the message that travel isn't just about what you get out of your trip, but a cross-cultural exchange.
Chan Chich Lodge — Orange Walk, Belize
Chan Chich Lodge sits on 30,000 acres of private land —a swath of land with abundant wildlife and traces of Belize's history. The grounds have their own minor Mayan ruins, as well as a dry lake bed where monkeys are known to gather. This area is known for its excellent bird watching opportunities, and even if you're not a birder, the iridescent hummingbirds are a delight to observe.
Besides the natural attractions, vacationing families can also take advantage of the luxurious amenities. There's a beautiful pool, protected from the elements by a greenhouse and surrounded by tropical greenery. In the dining room, you can choose from a well-rounded menu of farm-to-table dishes. Much of the produce they serve comes straight from the grounds.
There's a lot to do here, and it makes for a beautiful place to unplug from the outside world. If you do want to venture beyond the lodge, take a boating trip to the New River Lagoon and arrive on the banks near the Lamanai ruins. Along the way, you'll have the chance to see crocodiles in the wild.
Blue Marlin Resort — South Water Caye, Belize
The Blue Marlin Resort is an all-inclusive getaway on the north end of South Water Caye, one of the small cayes in Belize's Caribbean. The island location gives it an exclusive feel, but you'll also be an easy boat ride from the seaside town of Hopkins and the marine wildlife that thrives in the Turneffe Atoll. While you're here, you'll have plenty of opportunity to experience the local lagoon and a coral reef.
Speaking of wildlife, this is an ideal location for visitors looking to dive at the Belize Barrier Reef. If diving is a little advanced for your crew, consider doing some snorkeling around nearby Tobacco Caye's remote shore.
This resort offers a number of all-inclusive packages that come with all of your meals, a welcome cocktail, and a nice selection of toys (volleyball, kayaks, etc.) to use on the beach. There are cabanas that are specially designed for families — choose from either a beachfront cabana or one with a view of the island.
Belizean Cove Estates
Belizean Cove Estates offers luxurious, individually decorated condos with every amenity you could need. There are a total of eight units, which means you won't have a lot of competition for the pools and the beach. This is ideal for a family who wants their stay on Ambergris Caye attended to by friendly staff.
The estate makes it easy for you to soak up the atmosphere, with lots of convenient activities right on the grounds. There's a series of tranquil pools with water features overlooking the beach. If you want to swim in the ocean, there's a dock that offers a convenient spot to jump in the water. Your stay comes with complimentary bikes, kayaks, and stand-up paddleboards for exploring the coastline. And when mom and dad want to take turns getting some pampering, there's the luxurious on-site spa.
Since the condos come equipped with kitchens, why not plan on a few easy family dinners? The staff can stock your villa's kitchen with groceries before you arrive. There are a few restaurants within walking distance, and the island's main town, San Pedro, is only 3 miles (5 km) away.
Family Travel is the Best Kind of Travel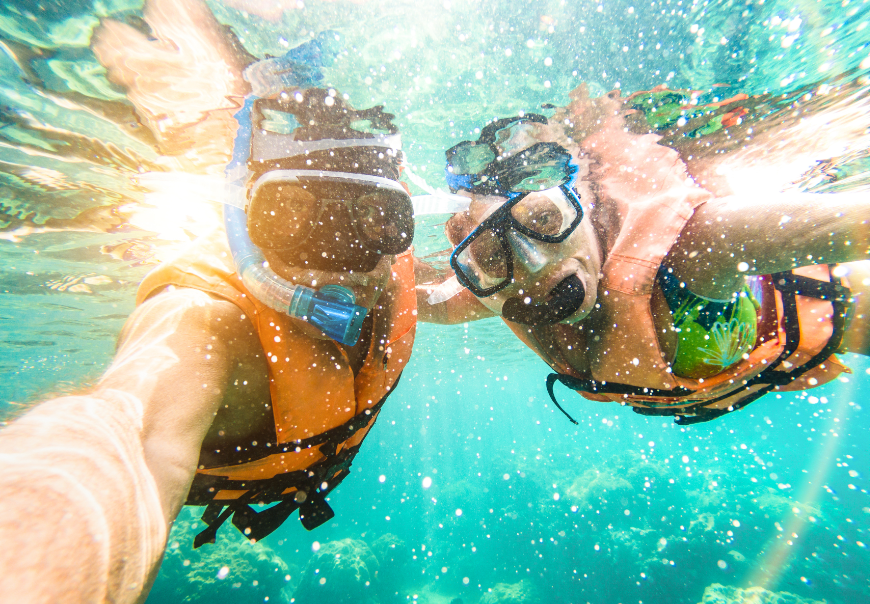 Make sure you bring a camera that can handle your adventures — you never know when the perfect photo opportunity is going to pop up.
Planning a family trip can be overwhelming. These hotels make it relatively hassle-free to reach attractions that have something for everyone — from active kids to bird watchers who want plenty of time to observe their surroundings. Take your family to places that invite you to climb, jump, splash, take pictures, and above all, remember your time together for years to come.