With over 2,025 miles (3,260 km) of coastline, Vietnam's beaches are plentiful and diverse. From remote tropical islands like Con Dao to small fishing villages like Phan Thiet and coastal cities like Da Nang and Nha Trang, there is a little slice of sand for everyone on Vietnam's coast.
The following are some of the best beach destinations in Vietnam and offer a plethora of accommodation and activities to keep you busy. You can snorkel, dive, and sail in Nha Trang; shop, stroll, and sightsee in cultural Hoi An, and do nothing but relax on Phu Quoc island.
Vietnam's coastal destinations offer sun, sea, and sand, as well as culture, nightlife, gastronomy (seafood BBQ is a must!), and adventure. Don't forget to add at least one of Vietnam's beaches to your travel itinerary.
#1:

 Phan Thiet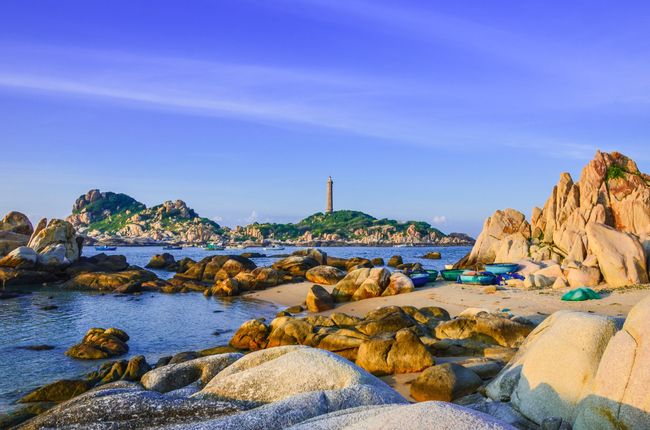 Phan Thiet, Vietnam →
Travel 80 miles (130 km) east of Ho Chi Minh City and you'll hit the coastal city of Phan Thiet, and its beachside neighbor Mui Ne. Here, the beaches are golden, the seafood is fresh, and the sea breeze is strong enough for a spot of windsurfing.
Phan Thiet offers multiple long stretches of sand to explore, from the Mui Ne Cape to the rocky outcrop of Ka Ge Lighthouse. It's a busy coastline, but there's always room for an extra sunlounger.
Wherever you decide to stay, start your day watching the sunrise out of Phan Thiet Bay, as the late night squid fishing boats come ashore. Enjoy the day's catch for lunch in a beachside restaurant and spend the afternoon savoring the sea breeze. Catch the sunset over the red sand dunes just outside of town, and congratulate yourself on a beach day well spent.
#2:

 Phu Quoc Island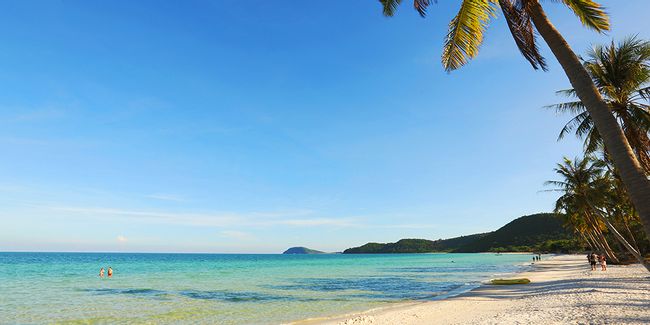 Phu Quoc Island, Vietnam →
Topping all of Vietnam's "best beaches" lists are the glittering expanses of sand on paradisiacal Phu Quoc Island. This is Vietnam's very own Hawaii; far enough from the mainland to feel super exotic but still very much Vietnamese. If you are looking for a beach vacation in Vietnam, you'll be more than happy you chose to fly to this corner of the Gulf of Thailand.
Long Beach is, you guessed it, Phu Quoc's biggest beach at 12 miles (20 km) long. It's where the majority of the accommodations on the island are, as well as restaurants and shops. The other side of the island is far less developed, reached via quiet roads cut through the dense jungle and ending in palm-fringed beaches straight from a travel magazine.
You could spend a week riding around the island, hopping from white-sand beach to white-sand beach and never stepping on the same sand twice.