Rainforests are some of the world's most biologically diverse habitats, so a visit to Panama's rainforests offers you the opportunity to see unique plants and animals you won't find outside of Central America. "Sounds neat, but what specifically can I expect to see?" you wonder. Panama's rainforest animals include monkeys, toucans, anteaters, jaguars, and sloths — all roaming free in their natural habitat.
You'll feel like a proper adventurer when you explore Panama's rainforest, because these destinations are often in rural areas. Hiking trails extend into the hillsides and forests that surround these towns — for this reason, Panama's rainforests are popular with outdoor enthusiasts, but don't worry, there's plenty of jungle for everyone. Naturalist guides are available to help travelers understand the underlying composition of Panama's rainforests and are valuable if you're hoping to trek through some of the country's extremely remote areas such as Santa Cruz de Cana, Punta Patiño Nature Reserve, Mogue, and Piñas Bay.
If you're a birdwatcher, this is your chance to see the harpy eagle — Panama's national bird, and the one of the largest and most powerful raptors in the world.
#1:

 Isla Bastimentos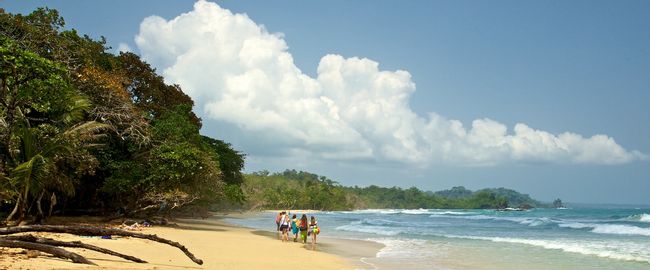 Isla Bastimentos , Panama →
Although best known for its beaches and surrounding islands, Isla Bastimentos has a dense rainforest that covers its untamed inland. On adventures on the island, you'll see parts of the landscape like the pretty Laguna that provides a home to a sizable population of crocodiles.
Near the jungle, you can visit communities like the one near Quebrada de Sal, which is home to the indigenous Ngöbe-Buglé people. After meeting with the villagers, take a hike through the very rainforest that provides them with hunting grounds and medicinal plants.