If you want to vacation as a family — or if you prefer to travel with a big group of friends that feels like family — private Costa Rica villas allow you to feel truly at home.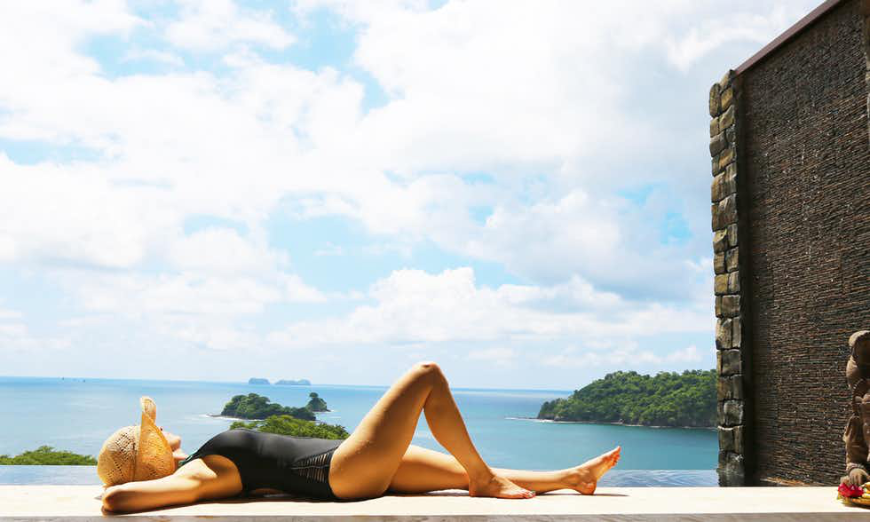 *Sigh* Now THIS is a vacation! Why share with friends and family, not an entire crowd.
This selection of Costa Rican villa getaways offer lots of room to spend downtime as a group, not far from some of the country's most popular visitor destinations, including national parks, beach towns, and remote jungles. These spaces facilitate togetherness with their spacious living rooms, patios, and private pools. Cook as a family in the private kitchens, or opt for an especially luxurious villa where you can have a private chef prepare your meals. And don't worry about losing quality time on basic upkeep – just like a hotel, these villas have housekeeping and laundry service.
Casa Amor
Casa Amor has two bedrooms and three bathrooms — perfect for four people, but with an additional pull-out sofa that allows for an extra guest. Hammocks on the thatched roof porch offer a view of the shallow mangrove pools, and the eight-person dining table has enough room for the whole family (plus a few friends) to indulge in a tasty cookout (or equally tasty takeout).
Tamarindo is one of Costa Rica's most popular family vacation spots — so popular, in fact, that visitors will find a huge selection of services. Amble into town to find lots of restaurants, including plenty of options for picky eaters. Casa Amor is also a short walk from Tamarindo's Saturday farmer's market.
Head to the shore to depart for boating tours and surfing lessons. Younger or less intrepid beachgoers can find plenty of other fun beach rentals like boogie boards and stand-up paddle boards. The waves on the beach are typically pretty small, and great for beginner surfers.
Casa Serenidad
Casa Serenidad is built into the side of a green hill, and the back patio offers a sweeping view of the lush jungle. Get an even closer look at the jungle canopy in the pool on the edge of the patio. Upstairs, there's another patio with sliding glass doors that let in soft, natural light.
This house has a modern kitchen complete with spacious, polished counters. If you feel like showing off your domestic chops, head to the garden on the edge of the property, where you can pick herbs as well as a few vegetables.
Guests can choose from three bedrooms. Whoever calls the master bedroom lucks out — it comes with its own Jacuzzi. Then again the other rooms are on the second floor and offer especially good views of the Manuel Antonio beaches, which are just walking distance from the villa.
Villa La Escapa
Villa La Escapa is a palatial getaway for up to eight guests. This is an ideal villa for a family who wants to spend most of their vacation at the Gulf of Papagayo beaches, with options for nature walks and grown-up outings to golf courses and spas. There are four suites, as well as a special bunk bedroom for younger travelers.
Outside, the grounds are set up for a cookout and poolside cocktails. Next to the infinity pool, you'll find a BBQ area and a wet bar. Inside, there's a den where everybody can cuddle up for a movie night — the TV comes with Amazon video and Netflix.
It's easy to get to the Arnold Palmer golf course nearby, as well as a community center on the property where you can visit a spa and a kid's club. If you'd rather relax in your villa, you can arrange to have a massage or other spa services at the house. Speaking of extras, you can also arrange for a private chef.
Casa Chameleon
Casa Chameleon is part of the Las Catalinas neighborhood, which is designed especially for tranquil vacations — it's a car-free zone, and caters to pedestrians who don't want their beachside idyll disturbed by noise or pollution. In this friendly beachside community, you'll be surrounded by like-minded travelers. This is an adults-only property, so consider this if you're trying to get a big group of friends together, or want to vacation with grown-up relatives.
This is a community that emphasizes health, and you'll find a host of reasons to stay active. Just beyond the property are nature trails through tropical forest, and the nearby beaches of Playa Danta and Playa Dantita make it easy to fill your day with snorkeling and swimming.
Rooms are designed to have a boutique feel, and look like they were taken straight from the pages of a glossy interior design magazine. The infinity pool offers a stunning view of the beach below, and truly makes you feel like you're on the edge of the jungle. You'll also have access to centers that offer spa services and yoga.
Casa Pacifica
At Casa Pacifica, you'll be in the comfy confines of Los Sueños, a community which has its own marina and several golf courses. From here, visitors often depart on deep-sea fishing tours for the chance to reel in gigantic marlin. There's also a club in the neighborhood that has a spa as well as a fitness center. In addition to a maid service, this casa also has an on-site laundry machine, which makes it easy to manage a longer stay.
Casa Pacifica is an enormous vacation home with a total of five bedrooms and enough room for 10 people to spread out. It's designed for groups who want to get in lots of quality time — on the upper floor, you'll find a game room with a pool table and a big-screen TV. Nestled in the middle of the infinity pool, you and your travel buddies can unwind in the 10-person Jacuzzi and admire the dense foliage that surrounds the property.
Casa Oceano
Casa Oceano is one of the most luxurious options for big groups who want their own little section of the Nicoya Peninsula all to themselves. There's nearly a mile of private beach, making it the ideal spot for family photos — family reunion, anyone? While you stay here, you'll have access to the nearby resort's facilities, like a golf course, a tennis court, and a spa.
There are a total of six bedrooms including a master bedroom. It's tough to pick which room — all but one come with ocean views, four have their own balconies, and one attaches to the patio. Three of the rooms also have their own Jacuzzis.
This is one of the villas where you can specially request a chef to come and prepare your meals. The gourmet kitchen has an impressive range of amenities, like a cappuccino machine and a food processor. Outside, you'll find the ideal set up for outdoor grilling, in case you feel like having your own cookout.
Family Time > Travel Time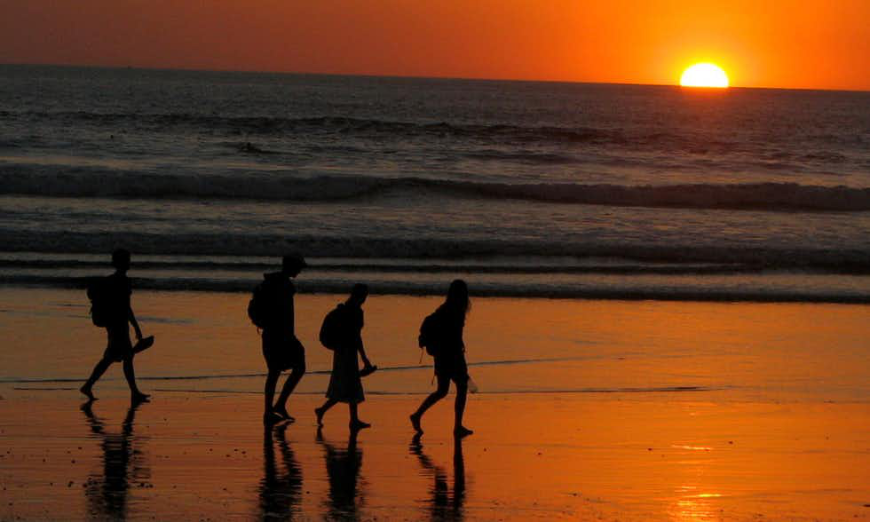 Enjoy when the sun sets on a day of adventure, because tomorrow's another day in beautiful Costa Rica.
Traveling doesn't have to mean sharing the view — see memorable sunsets that are just for you and your crew. These Costa Rica villas make it easy to plan activities for the whole family, whether you're spending lots of time together or splitting off so you can all do your own thing. No matter what incredible sights you see on your trip, one of the best will be the sight of your whole group together, getting the most out your time in your Costa Rican home away from home.