Deepen your travel experience, directly support Cuban nationals and get the inside scoop on local favorites with these Cuban Homestays.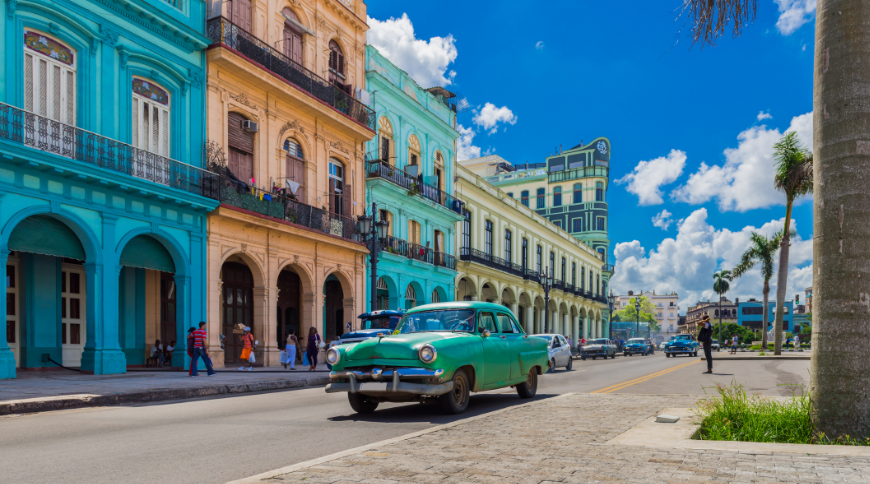 Experience Cuba in all its glory when you stay in a casa particular — the original Airbnb.
In Havana's heyday — from the turn of the century until the 1950s — several grand hotels served as opulent getaways for foreign superstars and high-ranking mafia members. Sadly, these hotels haven't maintained their former glory. Many of them have out-of-order elevators, frequently indifferent service, and peeling wallpaper. For the best stay that you can get in Havana, check out some of the local casas particulares — the private homes that citizens rent out as a distinctly Cuban version of Airbnb. These spots have old-world elegance, friendly hosts, and beautiful views of the bustling streets below. They also come with convenient kitchens, and many offer a breakfast included in your room rate.
Don't get us wrong — Havana's grand old hotels are still interesting places to visit on a tour that introduces you to the history of the city. Many have incredible Art Deco architecture, memorable views, and most importantly, serve as the city's few Wi-Fi hotspots (and you're allowed to stop by to hop on the Wi-Fi). However, by staying at a casa particular in Old Havana and Vedado, you can soak up the ambiance of these hotels without sacrificing your comfort.
Casas particulares have another advantage — hosts offer a personalized touch and can give you the inside scoop on which nearby restaurants to sample and where to hear the best live music. They're also very happy to help you practice your Spanish, even if it's just a few words! Most importantly, hotels in Havana are operated by the government, while casas particulares put money directly into Cubans' pockets.
Hostal del Angel 118
You couldn't ask for a better location than smack-dab in the middle of Old Havana. Hostal del Angel 118's interior echoes the colonial elegance of its surroundings, with its three stories and colorful, ornate facade.
Guests can choose from four bedrooms, and each comes with its own minibar. You'll get all the advantages of a major hotel; during your stay, you'll have access to the gym and pool at the Park View Hotel nearby. The Park View Hotel dates back to the 1920s, and has similarly attractive architecture as Hostal del Angel 118.
Bohemia Boutique Apartments
Bohemia Boutique Apartments have colorful rooms and charming terraces. Choose from rooms with tiled floors that let in the sights and sounds of the sunny street. There's a small dining area, as well as hot and cold water — not always a given in this particularly old part of Havana.
Guests come here so they can be steps away from Plaza Vieja, one of the oldest city squares in Havana. Originally built in the 16th century, it was recently restored to its former glory, complete with an 18th-century style fountain. On one corner of the square, you can visit the Camera Obscura; this fascinating structure offers one of the best views of the city. An optical trick projects the city view onto the walls of a darkened room. This area is also lovely for wandering into a lively bar.
Hostal Vista Al Mar 110 Altos
The six bedrooms at Hostal Vista Al Mar 110 Altos share a Victorian-style parlor as well as a terrace that comes with a view of the sea. Cuba's blue skies make this area especially inviting for a morning cup of coffee or an early evening cocktail. When you're ready to explore more of the surrounding neighborhood, try out some of the bars and restaurants on the nearby Avenida del Puerto — part of the city's Malecón boardwalk.
Casa Suite Habana 62
This casa particular's rooftop terrace has a lovely assortment of potted plants; you'll find during your travels that Cubans appreciate a little extra greenery. Besides the outdoor sitting area, this casa comes with the added luxury of a hot tub.
Casa Suite Habana 62 is just a 6-minute walk to the Ambos Mundos Hotel, which is best known as the hotel where Ernest Hemingway lived for seven years, beginning in 1932. It's also the location where he began writing "For Whom the Bell Tolls." His former room is preserved as a small museum.
Vista Habana 376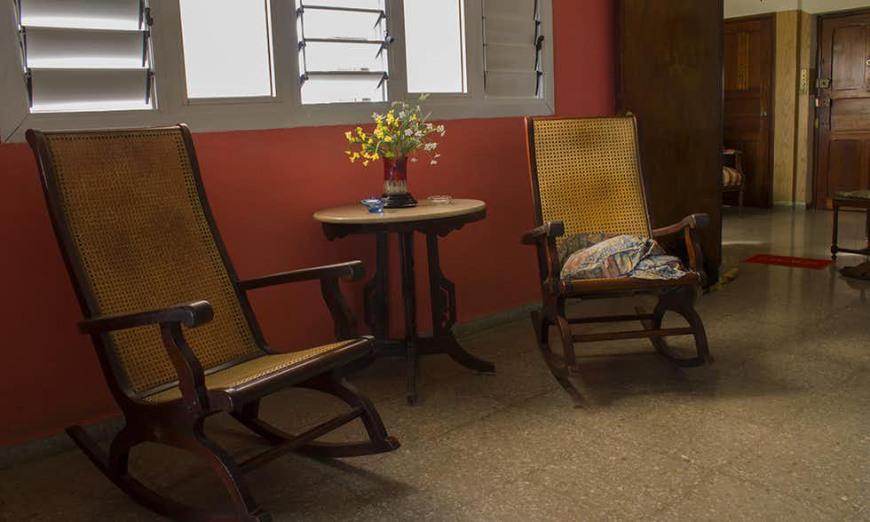 Vista Habana 376 welcomes you to sit for a moment and discuss the day's adventures or plan tomorrow.
This casa's stately furniture gives these accommodations an especially upscale feel. From here, you'll have a remarkably stunning view of the surrounding city, including the Malecón waterfront in the distance.
You can walk from Vista Habana 376 to the National Hotel, one of the city's more storied hotels. This hotel is a must-see while you're in Old Havana. It's prized for both its neoclassical architecture and its incredible roster of guests (including a few infamous gangsters). The hotel has a "Hall of History" which neatly showcases its fascinating past.
Casa Mario
Casa Mario's high ceilings and pillars will make you feel like you're stepping back in time to an upscale Vedado mansion. You'll have six bedrooms to choose from, and a sitting room decorated to celebrate the antique feel of the neighborhood. The casa is named after the host, an Italian expat who can prepare guests Italian meals for a modest additional fee.
Malecón House 215
Malecón House 215's balcony and terrace looks out over the Malecón — from the terrace, you'll see the waterfront as well as an old fortress. The view of the Malecón makes this casa particular ideal for people watching in the early evening; the sun starts to dip and the bands in nearby bars start to warm up. This casa particular has two bedrooms as well as a sauna and a Jacuzzi.
Get to Know the Real Cuba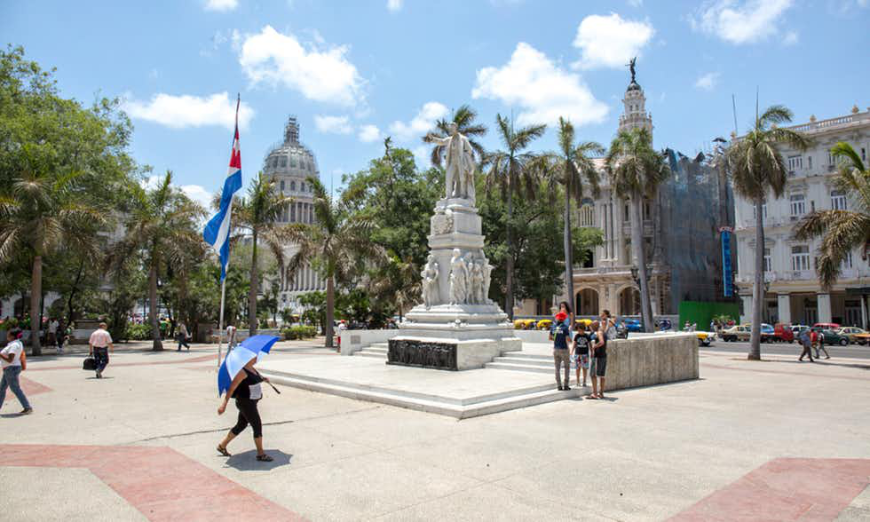 Enjoy your accommodations, but remember the reason for your trip — to experience Cuba.
Cuba has one of the most distinct cultures of all the Caribbean vacation hotspots, which you'll see the more you meet interesting local characters. At a casa particular, you won't just get to know the city, but a particular slice of life that you can't get at a hotel. Even if you prefer to keep to yourself (which hosts are happy to accommodate), the casas particulares exude their own personalities, adding a memorable layer to your time in Havana.