A Cuban beach holiday is waiting for you on this lively and colourful island nation. This list of Cuba's beaches to visit will take you from Baracoa to Maria La Gorda, and more as you explore the coastline. Cuba's beaches are famous for being 'postcard-perfect,' with their white sands and clear turquoise waters. Catch-up on your reading as you enjoy a paperback underneath an oversized umbrella. Seeking a more active beach getaway?...
Cuba's beaches are close to colourful coral reefs where you can snorkel in warm shallow water. Several of the nation's most breathtaking beaches are lined with all-inclusive resorts, which (admittedly) are not without their appeal. Cuba's beach resorts will offer you your own landscaped version of paradise. Still, you don't have to stay at a Cuban beach hotel or resort to enjoy the surf and sand — many of the beaches are public, and just as beautiful as any private parcel.
#1:

 Cuba Beaches - Varadero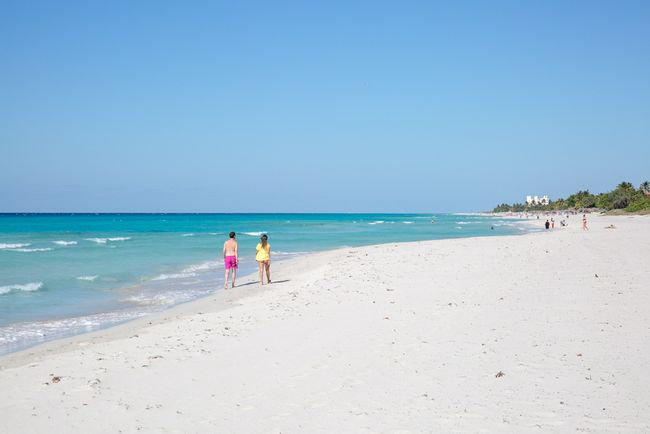 Varadero, Cuba →
Looking for the best beach in Cuba? Varadero, with its 12 miles (approximately 19 kilometers) of white-blond sand and warm waters, is a huge contender for the title. Its proximity to Havana, just a few hours drive away, doesn't hurt either.
While technically a town, Varadero is mainly made up of hotels and dive shops which are stretched out along the Peninsular de Hicacos with enough room for everyone to claim a stretch of sand.
For those looking for all-inclusive luxury, those wanting to take advantage of Cuba's clear waters, and those who need little more than a sun lounger to be happy, there's a place for you in Varadero. If it's good enough for the likes of Al Capone and Irénée Du Pont, who once owned beachside mansions here, then we are sure you'll love it too.
#2:

 Cuba Beaches - Cayo Coco & Cayo Guillermo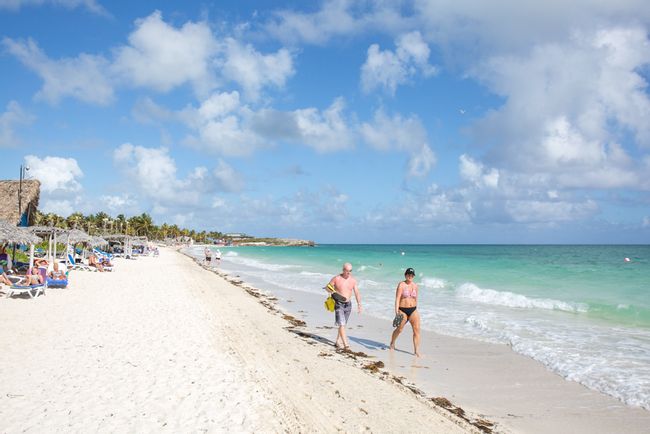 Coco & Guillermo, Cuba →
Between Cuba's north central coast and The Bahamas, you'll find the islands of Cayo Coco and Cayo Guillermo. Strewn with some of Cuba's best beaches, this is the perfect place to head if you are looking for some sand focused vacation time.
You approach these two islands from the south, across a causeway that runs along the ocean between vibrant mangroves. The beaches are on the opposite side of the island, facing the North Atlantic which here takes on a bright turquoise hue from powdery white sands. In fact, all colors seem to take on a shimmering rainbow quality on these paradise islands.
Once you've chosen to travel to Cayo Coco and Cayo Guillermo, the only other step is to pick one of the many beachside hotels to reside in during your stay. With onsite restaurants and options for all-inclusive activities, you'll probably only leave your resort to check out the sand on the beaches nearby.
Frequently asked questions
Can't find the answer you're looking for? Reach out to ourlocal experts.
Where Are The Nicest Beachesin Cuba?

The beaches of Cayo Largo del Sur, in central Cuba, have glistening turquoise water, fine white sand, and little else: secluded and peaceful, this spot is perfect for relaxation and swimming.Varadero is busier, but just as lovely. Resorts and organized activities make Varadero an easy choice for boating, snorkeling, and tours.

For resort amenities and an uncrowded, lush feel, Guardalavaca is an excellent destination on the northern shore of the island. The warm, clear water is lined with thick green jungle.

Cayo Coco & Cayo Guillermo's beaches have incredibly clear, light-blue water. The surrounding area has interesting wildlife, including a small population of flamingos. Visit the nearby El Bagá National Park to see mangroves and go bird watching.

Is It Easy to Get a Sunburn in Cuba?

Cuba is a sunny, tropical country, so it's fairly easy to get sunburned. Make sure to bring sunscreen with you on your travels, especially if you're headed to the beach. The sun is the strongest between 11:00 am and 3:00 pm.