El hotel Posada Amazonas Lodge se encuentra a 45 minutos en un trayecto en barco desde el pueblo de Maldonado. El albergue está bien integrado con la comunidad local y ofrece a sus huéspedes una experiencia auténtica en la selva amazónica.
Featured in:
Great for Families, Midrange, Sustainable, All Inclusive, Isolated, Eco Lodges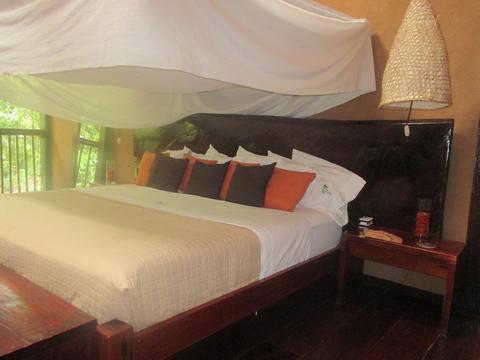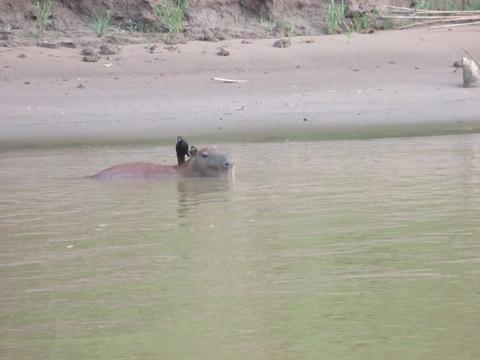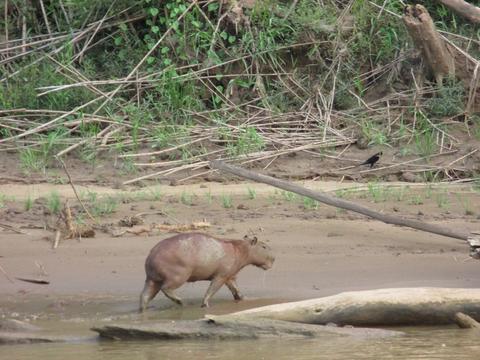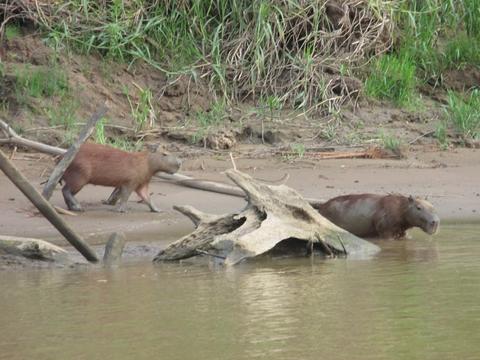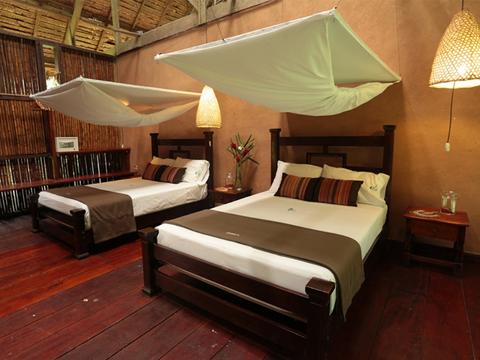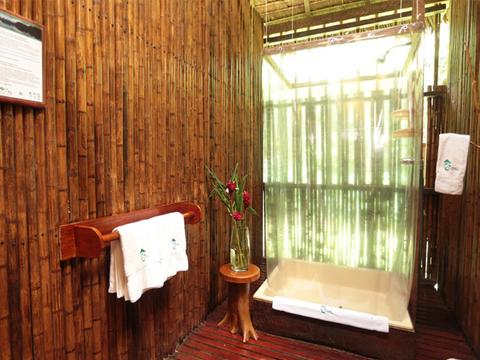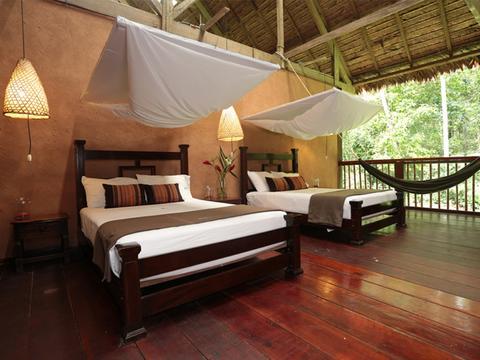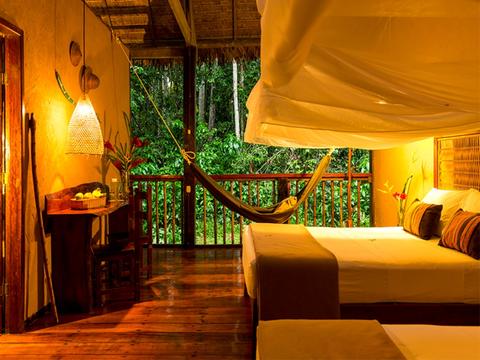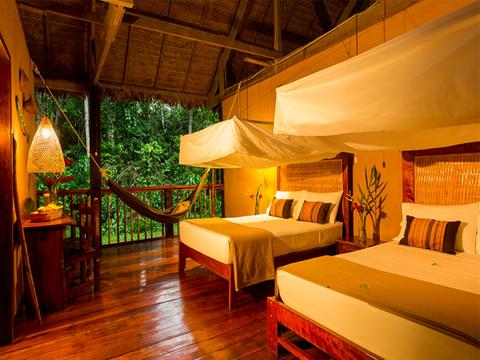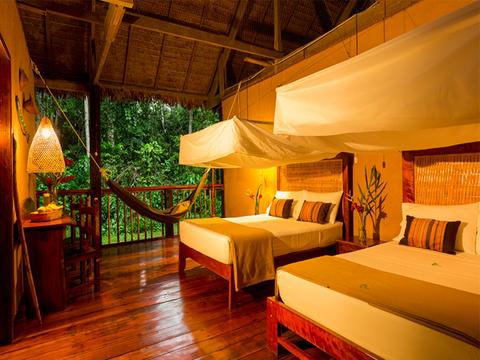 1:00 p.m. check in
12:00 p.m. check out
Free Breakfast
Restaurant in Hotel
Wireless Internet
Puerto Maldonado se encuentra en la selva amazónica del Perú. El pueblo es pequeño y básico, donde la mayoría de los viajeros pasarán por aquí brevemente mientras llegan en autobús, en vehículos o en avión. Una gran variedad de alojamientos en la selva se extienden por toda la zona, muchos de los cuales se ubican a lo largo de dos ríos que atraviesan la zona. Hay dos reservas naturales que protegen las especies vegetales y animales innumerables que viven aquí. Los viajeros disfrutarán explorando la selva en los senderos, en barco o en los puentes colgantes.
Posada Amazonas es operado por Rainforest Expeditions, una empresa turística bien gestionada en Perú. El albergue es un experimento innovador en el ecoturismo y cooperador con las comunidades locales. El hotel trabaja con la comunidad local el Infierno y proporciona entrenamiento, empleos y comparte los beneficios con las personas de Infierno, a cambio del uso de la tierra. El objetivo final es devolver la tierra al Infierno e integrar a la comunidad con proyectos ecoturísticos adicionales.
El albergue está construido con materiales tradicionales, incluyendo madera, bambú, hojas de palma y arcilla; donde 30 habitaciones tienen techos de paja. Cada uno de los dormitorios tiene baño privado con agua caliente y las camas cuentan con mosquiteros. Los cuartos tienen un diseño único con una pared que está completamente abierta a la selva, donde suelen verse aves y monos. Las hamacas proporcionan un lugar para relajarse, además hay un escritorio para escribir o utilizar la computadora. Las velas y las lámparas de queroseno proporcionan iluminación en las habitaciones Classic. Las habitaciones Superior tienen acceso gratuito a Internet y electricidad disponible hasta las 10 PM.
Posada Amazonas ofrece autoservicio, hay comidas de tres platos en un comedor al aire libre. Las comidas mezclan la cocina peruana e internacional y consisten en sopas o aperitivos, ensalada, un plato principal y postre. Todas las frutas frescas y ensaladas se lavan a fondo antes de servir. Los huéspedes tienen acceso a cantidades ilimitadas de agua potable filtrada, así como de café y té. Los chefs aquí pueden adaptarse a las necesidades dietéticas especiales.
El albergue dispone de una sala de hamacas donde puede pasar el rato y relajarse, así como de una biblioteca donde encontrará algo para leer. Aquí se reservan tours en la zona, incluyendo caminatas por la selva, una visita al centro etnobotánica en Infierno y un viaje al lago en forma de U para observar nutrias. El hotel también ofrece una torre de observación de 100 pies (30 m), donde se puede apreciar las vistas espectaculares de la selva y del río Tambopata, tendrá una buena oportunidad de ver tucanes, loros, guacamayos y monos.
More Property Amenities
Balcón
Bar
Desayuno Disponible
Abanico
Jardines
Agua Caliente
Internet
Vista al Bosque
Accommodations
Comfort Room 4 Nights/ 5 Days Package
Sleeps 2
Comfort Room 3 Nights/ 4 Days Package
Sleeps 3
Comfort Room 2 Nights/ 3 Days Package
Sleeps 4
Superior Room 4 Nights/ 5 Days Package
Sleeps 4
Superior Room 3 Nights/ 4 Days Package
Sleeps 4
Superior Room 2 Nights/ 3 Days - A la Carte Program
Sleeps 4
Suite 2 Nights /3 Days - Classic Program
Sleeps 2
Suite 3 Nights/ 4 Days - Classic Program
Sleeps 2
Feedback from Travelers
We absolutely Loved this place. What would have made our experience much better however would have been a double or queen bed as opposed to 3 single beds and a hammock at the room! Other than that no complaints. It was anot experience we will not forget! Our guide Gilbert went above and beyond as well as all the staff including boat drivers, bar tender, etc. Thanks so much!
Similar Hotels