Peru has an enormous and varied coastline that stretches from Ecuador to Chile. The coastal landscape borders the Pacific Ocean and has rocky cliffs, sand that ranges in color from white to brown to red, and desert-like plains. Although the country is generally known for its mountains, Peru's coastline offers a different kind of fun and beauty, and is not to be missed.
Far from being a sleepy beach town, Lima's Barranco Neighborhood is colourful and bohemian — get your cosmopolitan and coastal fix at the same time! Discover the Afro-Peruvian culture of Chincha, where you can enjoy great music and cuisine. Dreaming of a fishing getaway? Cabo Blanco has such excellent fishing that it used to be home to a celebrity-filled fishing club. Vineyards on Peru's coastline? Absolutely! Welcome to Pisco — home of the namesake grape brandy, where you can surf on water or sand.
Dance, dine, drink! Surf, trek, and explore. Peru's coastline is waiting to feed you incredibly fresh seafood, take you on nature tours and cultural excursions, show you exquisite architecture and ruins, and (of course) beautiful towns where the city meets the sea. Follow the sound of the waves to your next great getaway.
#1:

 Trujillo
Trujillo, Peru →
Between the capital of Lima and the border with Ecuador, lies the city of Trujillo. Its location on the coast makes it the perfect first stop on a coastal tour of Northern Peru, and it holds plenty of non-beach related sites and experiences to enjoy too.
The city was one of the first in Peru to claim independence from the Spanish in 1820. Interestingly, the colonial architecture in Trujillo from this period in history is some of the most well-known in the country and makes for very photogenic wanders through town.
Venture out of the city center and you'll find important pre-Colombian ruins in the nearby desert landscape and laidback beach towns like Huanchaco.
#2:

 Chiclayo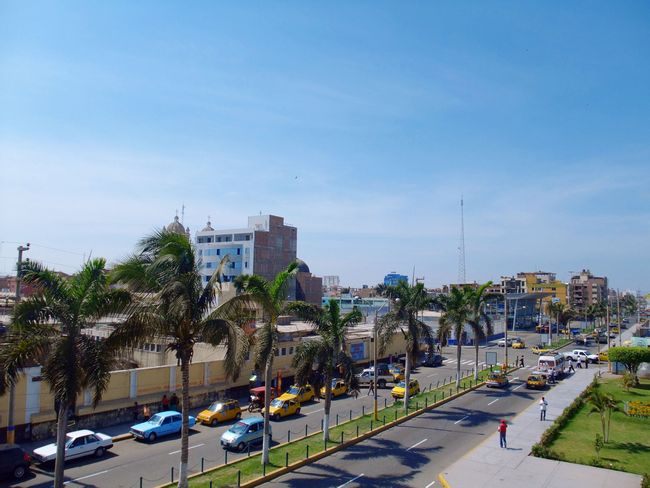 Chiclayo, Peru →
The next stop after Lima and Trujillo on a northern coast tour of Peru is the green valley city of Chiclayo. It's Northern Peru's second largest city, with deserts, forests, beaches, and fascinating archaeological ruins all within reach of the bustling Plaza de Armas.
In the city, spend time wandering around the various squares and popping in and out of cute cafés and gourmet restaurants. You'll definitely want to sample the region's seafood here. At sunset, things get really lively and bars and salsa clubs open long into the night.
From Chiclayo, visit Lambayeque and marvel at the exquisitely excavated tomb of the Lord of Sipa. Known as the 'Tutankhamun of the Americas,' this intact tomb was one of the biggest archeological finds in the country. Head further north to explore the Tucume pyramid complex, or venture East into the forests of the Chaparri Nature Reserve.