If you've got a Peru beach holiday in mind, then you've got plenty of unique beach destinations to choose from. Stretching from Ecuador to Peru, there's a lot of coastline to cover. Start with the beautiful city beaches in Lima to get settled in as soon as you arrive.
Peru is a surfer's paradise, with the wild Pacific Ocean gracing its shores, and many of the beach towns reflect this. Mancora is the unofficial surf capital, with bohemian vibes to match, but you can catch a wave almost anywhere on Peru's coast. Despite being famous for its surf, Peru's waves still remain blissfully uncrowded so it is a great place to learn.
There's also plenty to do in Peru's beach destinations other than surf, like archeology and architecture tours in coastal cities like Trujillo. And then there are also more laid-back beach towns like Punta Sal where the order of the day is simply relaxing on the golden sand.
#1:

 Mancora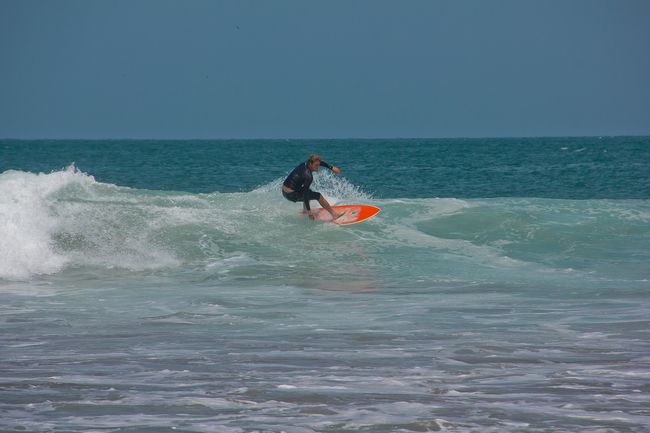 Mancora, Peru →
Most people head to the beach town of Máncora for the surf, but there is far more on this stretch of sand than just epic waves. For one, the main beach is several kilometers long, leaving room for everyone and every kind of beach activity. Kitesurfing, snorkeling, diving, and fishing can all be arranged from Máncora's many travel shops. Plus, beachside restaurants and hotels mean you need never stray too far from the sand.
The city comes alive just before sunset when locals and travelers alike flock to the beach to watch the evening show. Watching the sunset into the South Pacific with a drink in hand is the best way to end a day in Máncora. Then its time to head to Máncora's many bars and clubs for the notorious nightlife.
To the south of Máncora Beach, you can also visit Las Pocitas, Vichayito, and Los Organos on a beach-hopping day tour.
#2:

 Tumbes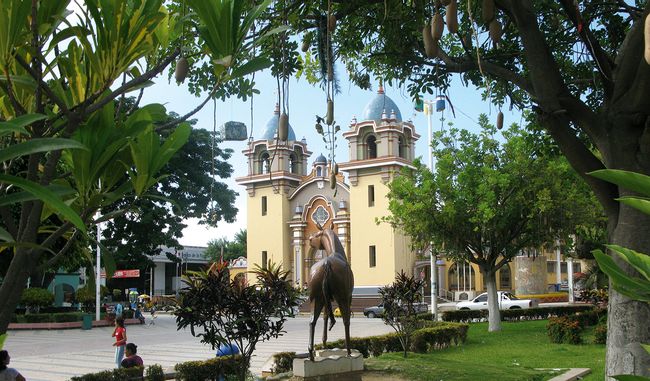 Tumbes, Peru →
Located close to the border of Ecuador, the coastal city of Tumbes is a unique stop on a beach-hopping tour of Peru. Here, the desert-like landscape that characterizes Peru's coast is replaced by maze-like mangrove forests and tropical rainforest reserves.
In Tumbes, you can lounge on a white sand beach one day and then row a canoe through the mangroves in search of crocodiles the next. This border town may not be the prettiest, but the surrounding nature certainly is.
Frequently asked questions
Can't find the answer you're looking for? Reach out to ourlocal experts.
Where are the nicest beaches in Peru?

Peru's best beaches are along the North Coast. Máncora is a favorite of surfers and non-surfers alike. It has steady waves and sees around 300 sunny days per year.Punta Sal is a laid-back, crescent-shaped beach that is perfect for swimming, kayaking, or jet skiing. Just south of Punta Sal is Vichayito, which offers travelers a quiet and pleasant place to stay on Peru's northern coast.

Just outside Trujillo is Huanchaco, a mellow beach and fishing village where you can watch local fishermen paddle out on beautiful reed rafts known as caballitos de tórtora.

Órganos is a broad, white-sand beach that boasts good surfing. Las Pocitas is another lovely beach that sports interesting rock formations and tide pools.

Is it easy to get a sunburn in Peru?

Peru is just south of the equator. The closer you are to the equator, the stronger the sun is. For this reason, it's fairly easy to get sunburned in Peru, especially at higher elevations.In order to protect yourself against the sun, it's important to wear sunscreen with at least SPF 30. Sunscreen can be purchased from most stores in Peru. It's also a good idea to wear sunglasses and to stay hydrated, especially when you're on the beach. Bring a water bottle with you and take breaks in shade throughout the day.