On top of all the travel gems like Machu Picchu and Lake Titicaca, Peru is also a surfer's paradise. With some of the highest, longest and least crowded waves around, Peru attracts surfers from every corner of the world and still remains a haven for beginners.
The best Peru surfing is along the northern coast outside the towns of Trujillo and Máncora. These destinations boast world-class surf breaks and lack large crowds, a perfect combination for both beginning and advanced surfers. With their laid-back vibes and late-night festivities, these destinations have a strong following in the surf crowd. Of course, there are also charming city squares, nearby ancient ruins, and mangrove forests to explore when you need to be on dry land.
The beaches outside Lima also have awesome waves, so you can get into the surfing spirit as soon as you arrive. And there's no need to travel with gear or be a pro here — you can rent boards and take lessons in all of these destinations.
#1:

 Trujillo
Trujillo, Peru →
As well as being a bustling coastal city, with charming plazas and colorful colonial architecture, Trujillo is located near some of Peru's best surf. Closer to Lima than the northern surf town of Máncora, this is a great place to go if you want to try Peru's surf without venturing too far.
Huanchaco is the area to head with your board, with surfable waves for all abilities. Topping the must-surf list, though, is the left-hand break off of Chicama, just 20 miles (32 kilometers) north of Trujillo, which is the longest surfable left-break in the world.
Trujillo is also known for its historic ruins and archaeologists have found pottery in the area that depicts images of fishermen riding their reed boats to shore. Could Peru's ancient Moche and Chima fishermen have been the first surfers?
#2:

 Mancora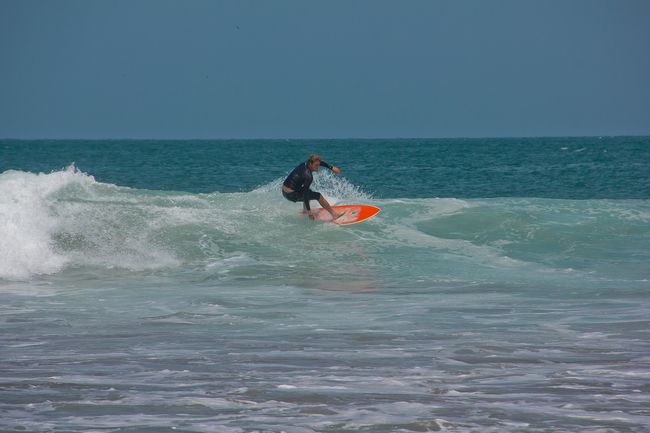 Mancora, Peru →
As the unofficial surf capital of Peru, the northern coastal town of Máncora has all you could need for a surf vacation. Of course, there are the first class waves — long, tubular, and just the right height. Then, there's the city itself.
When you need to get back to dry land, Máncora boasts plenty of hotel options, from cheap and cheerful to beachfront luxury. A diverse range of restaurants line the beaches and backstreets to help you fuel up between waves and after dark is where the real fun is to be had. Máncora is famous for its nightlife, most probably influenced by the rowdy international and local surf crowd.
Summer is the best time for surf in Máncora when big, warm north swells hit for near-perfect rideable waves. With plenty of surf schools, Máncora is also a good place for beginners, even if you don't know what a north swell is!