It's a cosmopolitan getaway...back in time. If you're looking for a high-end vacation with all of the modern amenities, check out some of Anywhere's other exciting destinations. If you want a return to elegance and simplicity then a Cuban cities vacation may be just what you're seeking. It's easy to unplug and enjoy a fine rum when technology isn't everywhere you turn. Explore the shops of the Vedado Neighborhood or the charm of Central Cuba's Santa Clara.
Cuban cities wear their hearts on their sleeves. You'll see crumbling yet grand architecture, and watch classic cars rumble down cobblestone streets. While you're in Cuba's cities of interest, you'll rediscover that live music beats even the best mixes on shuffle. Dance with the locals, who are especially fond of salsa and son. Satisfy your academic side as you explore the art galleries and museums showing off the country's considerable talent — Cuba's cities are full of colourful works...which you'll see reflected in street art as well.
#1:

 Cuba Cities - Trinidad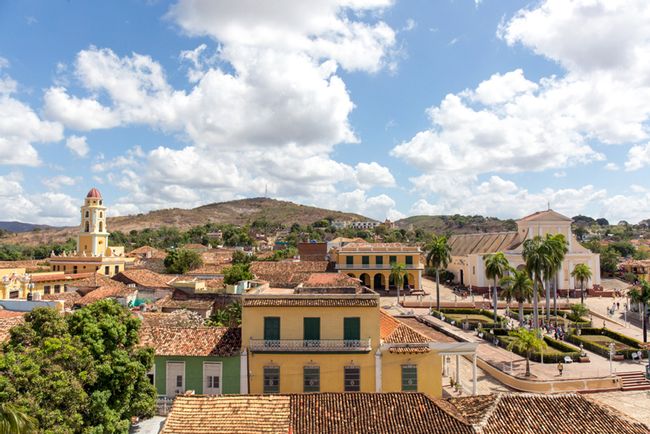 Trinidad, Cuba →
Trinidad, on Cuba's south central coast, is a city of 75,000 people –– a handful of whom still enjoy a casual jaunt through the streets on horseback. This is a city that, despite being at the heart of Cuba's tourism boom, has retained its old-world charm and local vibe.
Cobblestone streets connect a series of sunny plazas, surrounded by pastel-hued homes, tall palm trees, and a collection of the shiniest vintage vehicles to be found outside Havana. In the evening, these plazas come alive with the sultry sounds of Cuban salsa.
Trinidad also boasts easy access to beaches and mountains that rival some of Cuba's most famous, making it an overachieving, all-rounder kind of city destination. You may find it difficult to leave!
#2:

 Cuba Cities - Cienfuegos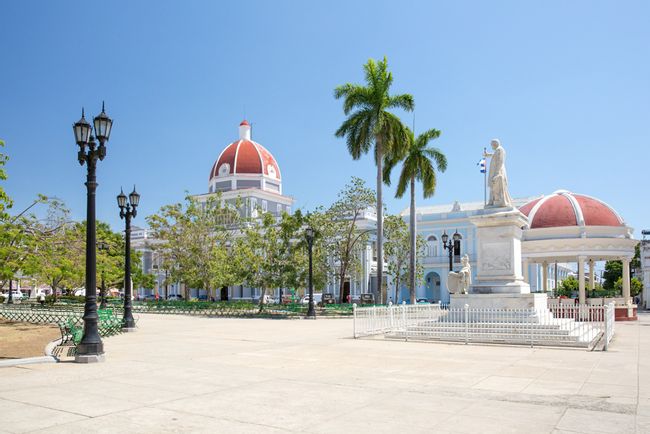 Cienfuegos, Cuba →
If you're a city escape kind of traveler and want to discover more of Cuban city life, then make your way to Cienfuegos. Smaller than Havana and Trinidad, Cienfuegos is a walkable city, and you'll likely find yourself wandering around the plazas, parks, and boulevards from sunup to sundown.
Set on a beautiful bay, the Bahia de Cienfuegos, the city seems continuously bathed in sunlight and warm coastal breezes. With palm trees lining the streets, there is a very tropical vibe here that has attracted visitors for centuries.
Indeed, Cienfuegos is unique to other colonial cities in Cuba in that it was settled by the French for a few hundred years after the Spanish arrived. The striking architecture from those centuries earned Cienfuegos UNESCO status in 2005.