Pacaya Samiria, Peru
At almost 5 million acres (2 million ha), the Pacaya Samiria National Reserve is the largest nature reserve in Peru. Its lakes, swamps, and wetlands protect a huge range of endangered animals and offer travelers a good chance of spotting wildlife.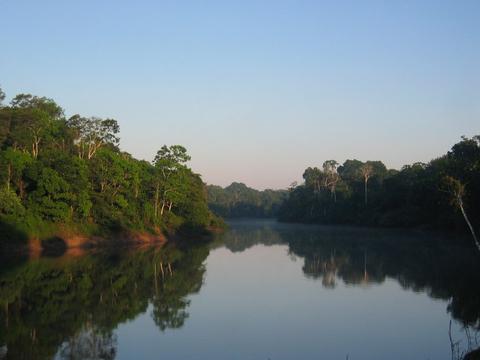 The Pacaya Samiria National Reserve is set within Peru's northern Amazon between the Marañón and Ucayali Rivers. The reserve was established in the 1940s in an attempt to save the endangered paiche fish. This type of fish is one of the largest freshwater fish in the world, capable of reaching up to 7–8 feet in length (2–2.5 m) and weighing over 200 lbs. Biologists quickly realized the incredible biodiversity of this area and began an effort to preserve it—the present reserve, however, was not officially established by the Peruvian government until 1972.
The flooded forests of this reserve are absolutely pristine. Visitors may be able to spot pink and gray river dolphins, Amazon manatees, tapirs, caimans, otters, aquatic birds, 12 types of monkeys, and paiche fish. It's pretty incredible. The best time of year to explore the park is from July–December, when the water is low and animals can be spotted along the banks of rivers.
Although there are no lodges within this reserve, there are more than 30,000 colonists and indigenous people living within its boundaries. Indigenous groups include the Huitoto, Bora, Cocama, and Yagua Indians.
Visitors are required to have a guide to visit this reserve. The reserve is fairly isolated and necessitates a few days to visit, simply due to the amount of time required to get here. You can take upscale cruises to the reserve and even camp here. Paddling a canoe through this flooded forest is truly a once-in-a-lifetime experience.