Huancayo, Peru
Huancayo is a midsize town situated in Peru's Mantaro Valley. The town itself is fairly nondescript, but it provides travelers with wonderful access to the cultural and naturally impressive Mantaro Valley.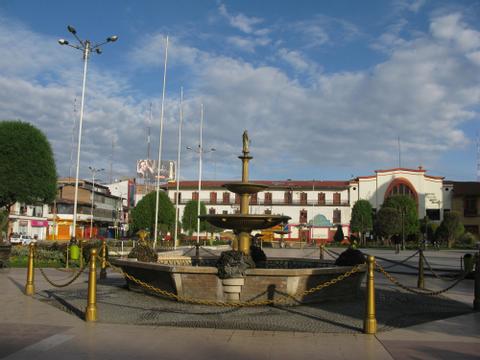 The Mantaro Valley is populated by a string of quaint towns, many of which are home to some of the best artisans in Peru. These artisans produce the weavings, ceramics, jewelry, and other handicrafts that are sold in markets in Lima and Cusco. The artisans are often happy to show (and sell) visitors their goods.
The villagers in the Mantaro Valley seem unaffected by tourism—they tend to go about their lives as they have for hundreds of years, despite increasing numbers of foreigners. Traveling through the valley, you're likely to see them out working the fields or strolling the streets of their town. Aside from being a major handicraft center, the Mantaro Valley is also one of the most productive agricultural areas of Peru. Barley, corn, potatoes, and quinoa are all grown here.
Huancayo was once the capital of the Huanca people, a group that predated the Inca and later warred with them. The Huanca eventually teamed up with the Spanish in the 16th century to fight the Inca. Several centuries later, during the Peruvian struggle for independence, the Spanish established a base at Huancayo and left their mark in the town's houses and buildings—some still have brick courtyards and arched windows.
Huancayo has a few decent attractions. You can get a good view of the city from the Cerrito de la Libertad, and then go visit the eroded sandstone towers of Torre Torre. Travelers may also be interested in visiting Parque de la Identidad Huanca, a park with sculptures, plants, and stone walls. In the center of Huancayo is the church of La Merced, which is where Peru's constitution was signed in 1839.
Huancayo's Sunday market is one of the best in the valley. Tasty food, handicrafts, and more can be found here. The Mantaro Valley also hosts some of the country's most fascinating festivals—if you happen to be around during one of them, be sure to check it out.