This is no ordinary cruise — aboard the Delfin III, you'll glide along the river on a river boat that blends in with your surroundings. You can pick from 3, 4 or 6-day itineraries, which come with morning and afternoon activities. There's also plenty of free time for you to choose how you want to experience the rainforest.
Featured in:
Boat Hotel, Luxury, Best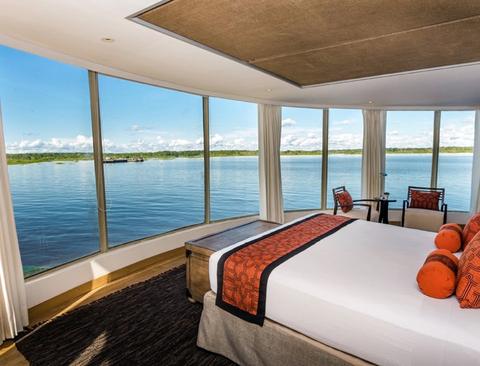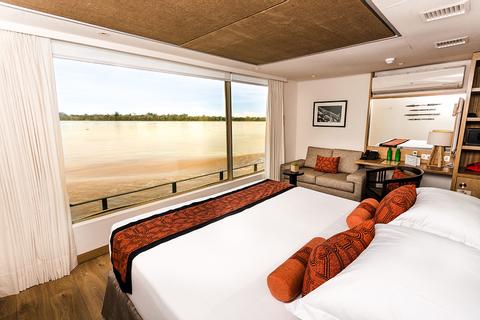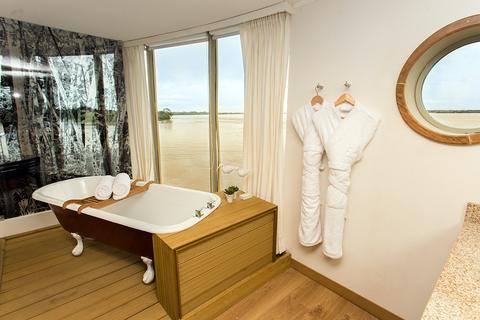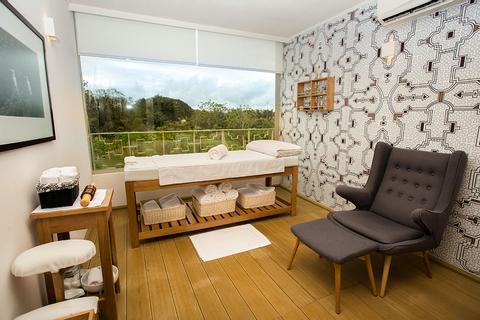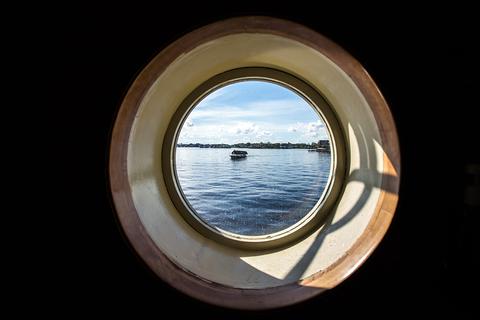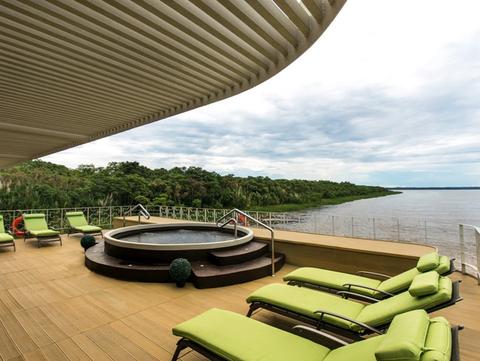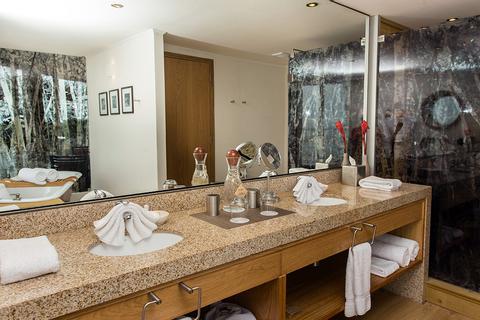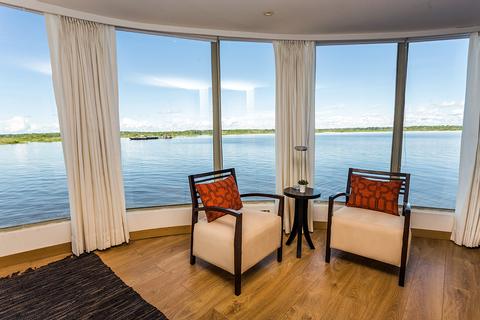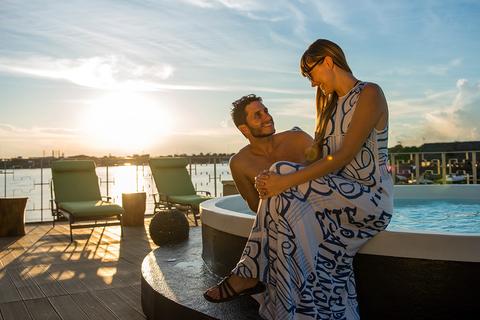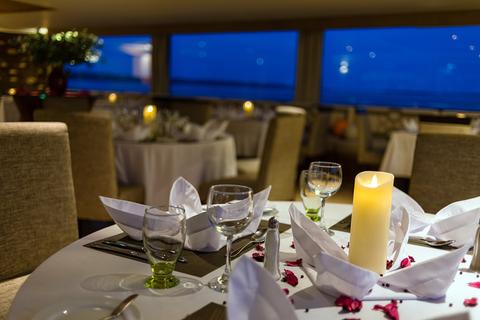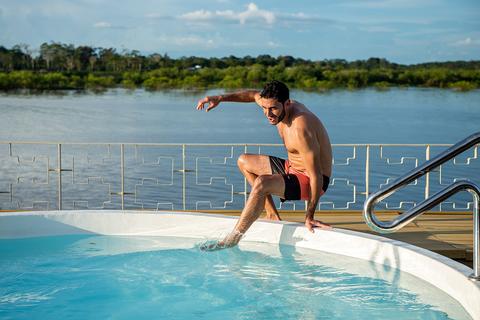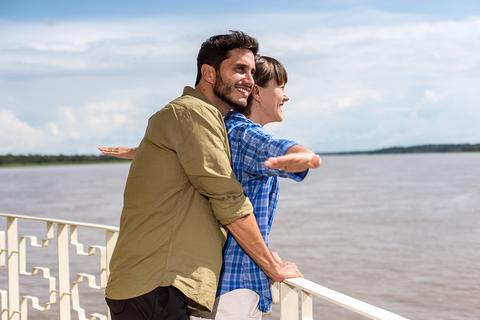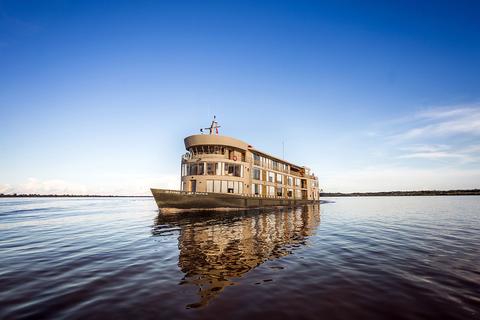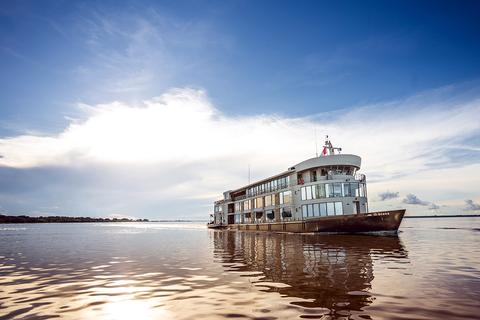 12:00 p.m. check in
12:00 p.m. check out
Spa Services
The Delfin III is the newest of the Delfin fleet. It sets sail from the remote town of Nauta, Peru — from there you'll plunge into the Pacaya-Samiria Reserve, and make your way down the Marañon River and Ucayali River. You can disembark from the boat to go for walks and look for three-toed sloths, toucans, and macaws. Your walk is accompanied by locals who can help you look out for poison dart frogs and anacondas. While you're on the river you can swim with the pink dolphins and fish for piranhas.
On the top deck, you can visit the spa and fitness room. There's also a plunge pool on board. Cool off in the air conditioning in the lounge and the dining room.
This boat can host a total of 42 guests. In your suite, you'll have furniture and decorations handmade by locals. The rooms come with air-conditioning and floor-to-ceiling windows. Every suite has its own bathroom, which equipped with hair dryers and eco-friendly toiletries.
All of your meals are included, and the kitchen serves upscale Peruvian dishes, with a particular Amazonian flair. You'll be treated to beer and pisco-based cocktails, and wine is served with lunch and dinner.
Use the room's yoga mats to do some sun salutations, and look for birds with the supplied binoculars. You can help yourself to the fresh drinking water in your room. Each room has a safety deposit box, and you can keep your clothes neat with the room's iron and ironing board.
If you stay in the Owner Suite or the Corner Suite, a 30-minute spa treatment is included in your stay. These accommodations also come with mini-fridges and some laundry service.
All activities, tours, park entrance fees, and meals are included in the price. Drinks, souvenirs, transportation to and from Iquitos, and travel insurance are not included in the rate.
3-Day Itinerary
Day 1
PM Arrive in Iquitos, transfer to Nauta, embarkation, happy hour and orientation
Day 2
AM Samiria River: Skiff exploration
PM Yanayucu River: Skiff exploration and swimming
Day 3
AM Fundo Casual: Jungle walk
PM Nauta Caño: skiff exploration and piranha fishing
Day 4
Manatee Rescue Center: disembarkation and visit to ACOBIA manatee center
4-Day Itinerary (2018 only)
Day 1
PM Arrive in Iquitos, transfer to Nauta, embarkation, happy hour, and orientations
Day 2
AM Samiria River: Skiff exploration
PM Yanayaquillo River: skiff exploration and bird watching
Day 3
AM Yanayucu River: Skiff exploration and swimming
PM Nauta Caño: skiff exploration and pirahna fishing
Day 4
AM Fundo Casual: jungle walkPM San Francisco: Skiff ride, visit community and local school
PM San Francisco: Skiff ride, visit community and local school
Day 5
Manatee Rescue Center: disembarkation and visit to ACOBIA manatee center
6-Day Itinerary
Day 1
Arrive in Iquitos, embarkation, orientation, and Marayali Creek exploration
Day 2
AM Samiria River: Skiff exploration
PM Samiria River: Skiff exploration
Day 3
AM Yanayaquillo River: Skiff exploration and bird watching
PM Yanayucu River: Skiff exploration and swimming
Day 4
AM Fundo Casual: jungle walk
PM Nauta Caño: Night safari and piranha fishing, salsa dancing, or game night
Day 5
AM Piranha Caño and San Francisco: Skiff ride and visit to community and local school
PM Yucuruchi: skiff exploration and visit a giant lilypad
Day 6
AM Clavero Lake: Skiff exploration kayaking and swimming
PM Yarapa River skiff exploration and kayaking
Day 7
AM Manatee Rescue Center: disembarkation and visit to ACOBIA manatee center
More Property Amenities
Air Conditioning
Bar
Hair Dryer
Iron & Ironing board
Jungle View
River View
Safe Deposit Box
Accommodations
Hair Dryer
Iron & Ironing board
Safe Deposit Box
Hair Dryer
Iron & Ironing board
Safe Deposit Box
Hair Dryer
Iron & Ironing board
Mini Bar
Safe Deposit Box
Hair Dryer
Iron & Ironing board
Mini Bar
Safe Deposit Box