Lima's coastal Miraflores district attracts all manner of high-end businesses. On your way back from a swim at one of the nearby Costa Verde beaches, stop by the Locamar shopping mall to pick up something snazzy to wear on a night out on the town. A short distance from your room at the San Augustin Exclusive hotel, you'll have your pick of swanky destinations.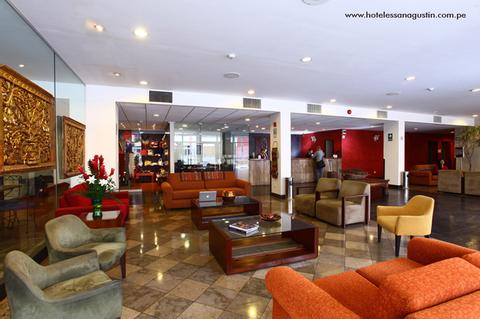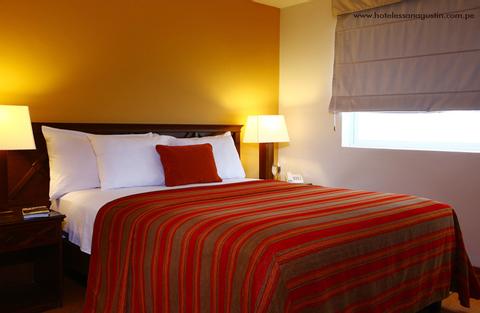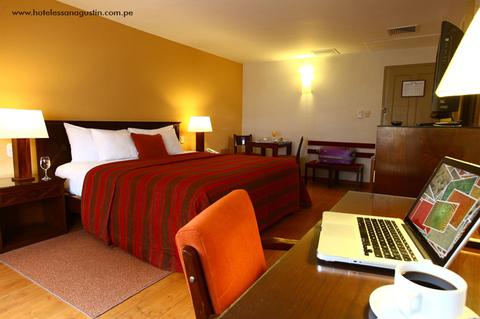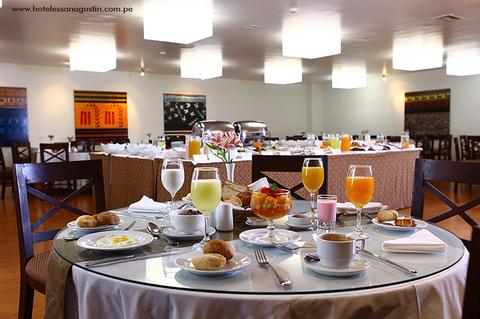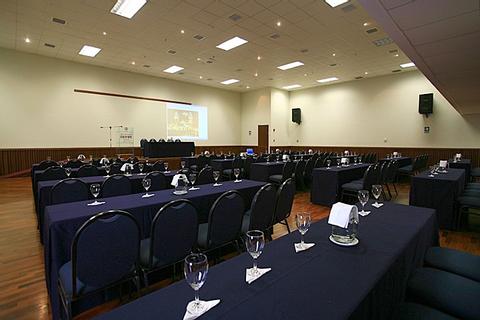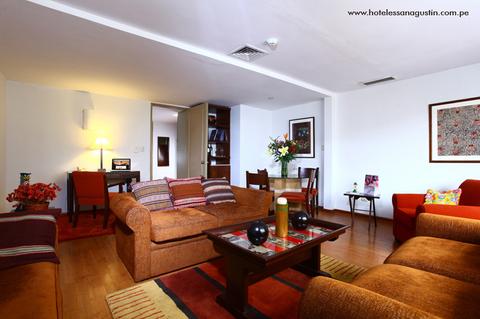 3:00 p.m. check in
12:00 p.m. check out
Free Breakfast
Restaurant in Hotel
Wireless Internet
– Some rooms feature –
Wheelchair Accesibility
Attractions & Sites
2 km
3 km
1 km
16 km
22 km
The comfortable rooms and suites at San Augustin Exclusive have soft lighting and a relaxing vibe. Rooms are decorated with colors and textiles that subtly echo the native Andean aesthetic. If you want a non-smoking room, be sure to request a room on the second floor. You have your choice of full, queen, or king-size beds.
All rooms come with a private bathroom and hair dryer. You can relax and watch cable TV, or check in with family and friends with the direct dial international telephone. Guests have access to Wi-Fi in the rooms as well as the lobby.
When you're out exploring Lima, you can store valuables in the convenient safety deposit box in your room. Let the hotel help take care of your personal upkeep, and leave your laundry in the care of San Augustin's same-day laundry and dry cleaning service.
Included in your stay, you'll have access to the breakfast buffet, serving hot and cold breakfast staples. You'll have access to the hotel restaurant 24-hours a day, for a meal whenever it's convenient. The dining room and lobby are both spacious, so you'll have the option of socializing with other guests, or getting a nice quiet spot to yourself. If you'd like some privacy while you get some work done, take advantage of the hotel's business center.
Besides the famous Miraflores archeological site, Huaca Pucllana, you can soak up some of the area's history at the Museo Amano, home of a small but well-maintained collection of Pre-Columbian artifacts. If you have any questions about a destination before you head out, ask the helpful, multilingual staff.
When you're ready to emerge from your investigation of ancient ruins, enter a world of cutting-edge gastronomy. Miraflores is known for its hip restaurants. You'll find so many versions of the Peruvian classic, ceviche – fresh fish marinated in citrus juice – you may want to take notes so you can remember your favorite. Also look out for upscale restaurants that re-interpret Amazonian ingredients for an area of the city known for its cosmopolitan palette. Because Miraflores attracts so many tourists, there are also plenty of recognizable fast food restaurants.
Lima is known for its lovely parks, and Miraflores is home to some of its best. Be sure to head to Parque Kennedy at least one night during your stay, and listen to a live band playing at the amphitheater. You'll also want to be sure to check out the oceanfront parks like Parque Salazar – facing the beach, with a perfect view of the Pacific.
More Property Amenities
Air Conditioning
Alarm Clock
Bar
Breakfast Available
Cable TV
Conference Rooms
Currency Exchange
Full Size Gym
Hair Dryer
Heaters
Hot Water
Internet Access
Laundry Service
Mini Bar
Private Parking
Room Service
Telephone
Accommodations
Standard Double Room
Sleeps 2
Air Conditioning
Alarm Clock
Cable TV
Hair Dryer
Hot Water
Iron & Ironing board
Mini Bar
Safe Deposit Box
Telephone
Wireless Internet
Wheelchair Accessible
Deck
Standard Single Room
Sleeps 1
Air Conditioning
Alarm Clock
Cable TV
Hair Dryer
Hot Water
Iron & Ironing board
Mini Bar
Safe Deposit Box
Telephone
Wireless Internet
Wheelchair Accessible
Deck
Air Conditioning
Cable TV
Hair Dryer
Hot Water
Iron & Ironing board
Mini Bar
Mini Refrigerator
Safe Deposit Box
Telephone
Wireless Internet
Wheelchair Accessible
Living Room
Similar Hotels