Skylodge Adventure Suites is a hanging lodge composed of cozy capsules attached to the side of a cliff. These unusual accommodations offer unparalleled views of the valley below. And at night, you'll sleep closer to the stars than ever before.
Featured in:
Eco Lodges, Honeymoon, Best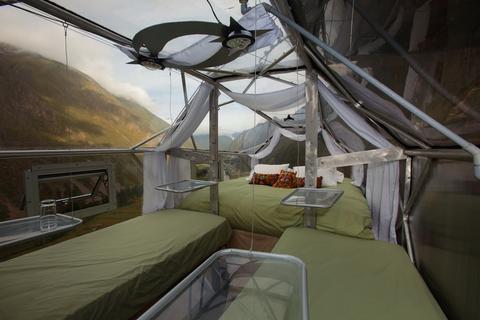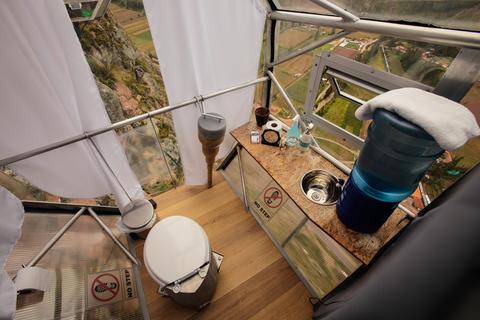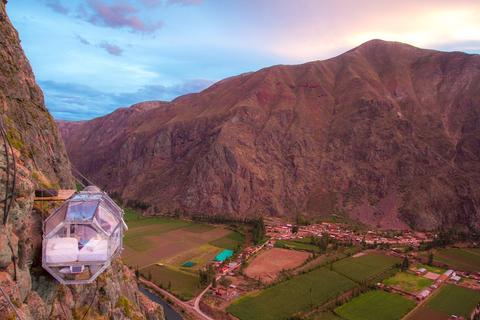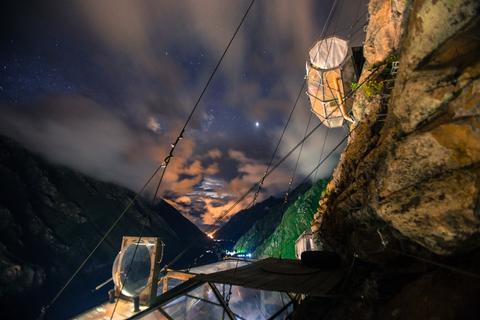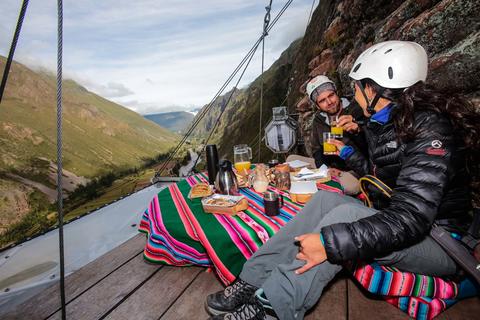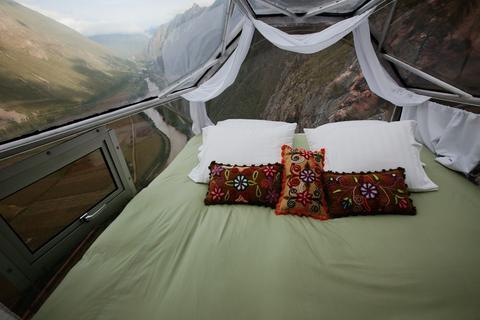 12:00 p.m. check in
9:00 a.m. check out
No children allowed
Free Breakfast
Attractions & Sites
48 km
48 km
30 km
While you stay in Skylodge you'll be perfectly positioned to rock climb, rappel, or hike to other peaks in the Andes. Some hiking, ziplining, and rappelling is already built into your stay. To reach the lodge, you'll climb up rungs that are drilled into the side of the mountain, or take a series of ziplines to your destination. On your return journey you have the option of rappelling or ziplining down the side of the mountain. In the Sacred Valley you can plan trips to the Inca ruins that dot the area, including the salt mines of Maras and the temple of Ollantaytambo.
After you reach the lodge, the staff will serve you a 4-course dinner, including wine. In the morning you'll ascend to the platform above the capsule for breakfast al-fresco, once again delivered by the staff. All your gourmet meals will be freshly prepared – nothing at all like typical campground fare.
There are three capsules, and Skylodge can accommodate a total of eight guests. Each sky lodge is eight feet across and 24 feet long, and comes with a private bathroom. The capsules are made out of transparent (and very sturdy!) material, including aerospace aluminum and polycarbonate. When you want some privacy you can draw the curtains. Ventilation ducts will keep your space comfortable and cool.
All of the lodges have four beds, with two double beds and a master bedroom at the far end of the capsule. Lodges come with reading lamps, which are powered by solar panels. These beds are outfitted with quality mattresses and down comforters, for the most comfortable night you'll ever have at the top of a mountain.
Accommodations
Suite + Via Ferrata
Sleeps 4
Suite +Via Ferrata+Zipline
Sleeps 4
Star Lodge + Via Ferrata+Zipline
Sleeps 2
Star Lodge (only Cabin)
Sleeps 2
Feedback from Travelers
My family's one night stay here will be remembered for long time. Staff/guide are excellent and they did everything for our safety and comfort.